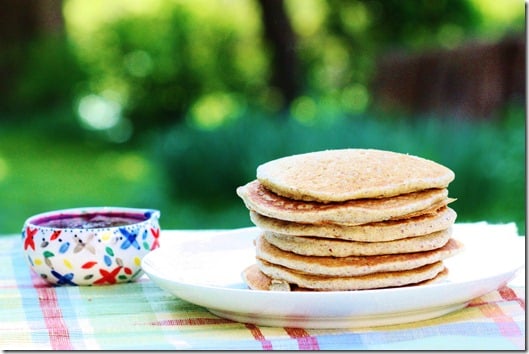 Whenever I counsel people on the road to becoming a home cook, I make sure to say "if you're not making mistakes, you're not cooking." What a lot of people tend to forget about food bloggers is that we, too, make a ton of mistakes as we develop and execute recipes. If we didn't, we wouldn't be cooking, either.
My recipe mistakes range far and wide. There are the tiny missteps that drag an otherwise excellent recipe asunder: that tablespoon too many of lemon juice, that makes a pleasantly tangy dressing downright sour; the extra liquid you added to something that turned it soupy; the recipe that would have been perfect, if you had seasoned it just a little better as you were cooking; the muffins that taste alright, but you forgot the baking powder, so they emerge from the oven looking like hockey pucks.
Then there are the big mistakes, the veritable kitchen catastrophes. These include the time I made a red pepper and seaweed soup that sounded great on paper, yet tasted horrible. There was also the broccoli soup I served my mother that was so lemony she actually puckered her face. The time I decided to make a cantaloupe and garam masala smoothie–yikes. The many, many, many failed loaves of homemade bread that I've attempted (if I ever retire, which, given my constitution, is unlikely, I swear I will perfect bread making). My first risotto, which was an affront to Italian grandmothers everywhere because I tried to speed through it, and ended up with tough rice. Oh yes, there have been many disasters.
Normally, if a recipe makes it to my blog, it's because it either tasted "just right" on the first try, or because I've made it enough times to feel confident that it's essentially foolproof. But the honest truth is that my recipes, like any recipes, are fallible. Oftentimes, I learn that what's perfect for my palate is not perfect for other peoples' (for example, I like a lot more lemon in my recipes than others do). Or I write something down incorrectly as I'm cooking, and end up posting a recipe with an error in it. Or I experience some sort of fluke as I cook–an accident or faulty ratio that for whatever reason wasn't a problem for me, but it's a problem when my readers repeat it. There are all sorts of possibilities for variance in the success of what I make.
None of this should be very surprising–it's the standard trial and error that comes with making food. But to read a lot of food blogs, you'd think that cooking is a seamless process, an elegant, choreographed ballet that's ready for TV syndication. No way: cooking is messy, uneven, and often very chaotic. And I'm absolutely willing to admit to all of you that, for every one of my successful recipes you see here on the blog, there are plenty of flops.
Today, I want to do something I've never done before, which is to "fix" two recipes that readers have had a hard time with, and post the amendments. They are my recent beet granola (so good) and my buckwheat and quinoa pancakes with pumpkin cream. Both recipes worked like a charm in my kitchen. And both have caused a lot of problem in other peoples' kitchens–so much so, that I took the pancakes off the blog, for fear of having my readers waste costly and valuable ingredients.
Typically, if I make something delicious and only one reader reports a snag, I know that his or her execution was the exception, and mine was the rule. If I make something successfully at home, but nearly all of my commenters write in to tell me that they had no such luck, I  know that I'm the exception, and they are the rule. It's usually very easy to know what I did wrong.
Take the beet granola: it became clear very quickly from my comments that I'd used way too much liquid in the recipe. This surprised me, because I did test it in both my oven and my dehydrator, but for whatever reason, it didn't work for anyone else, at least not without a lot of extra cooking or dehydrating time. So the obvious "recipe fix" was to decrease the liquid used for the granola. As I did that, I also nixed the sunflower seeds, which felt slightly extraneous in the recipe when I made it, and also drowned out the delicate flavor of the hemp seeds. This was a win win: I got to fix the big and immediate issue (too soggy) and improve something microscopic, too.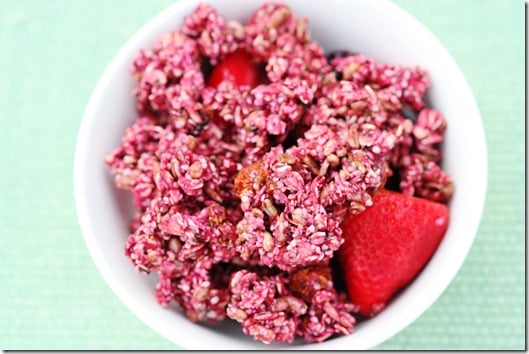 Revised Beet Granola (vegan, raw or cooked, soy free, gluten free)
Makes 2 1/2 cups
1 1/2 cups rolled oats
1/2 cup hemp seeds
1/3 cup goldenberries or raisins
2 tsp cinnamon
Pinch sea salt
4 pitted dates, soaked 1 hour or more and drained
1 small beet, quartered
1/4 cup water
1) Place dates, beet, and water in a high speed blender and blend until smooth. You can also use a food processor, but if you do that you may want to substitute 2 tbsp maple syrup for the dates (as they can be tough to blend unless very well soaked). You should end up with about 1/2 cup liquid, but if your beet is on the large side you may have some extra. Use only 1/2 cup for the granola, and reserve the rest for drizzling on vegan yogurt, oats, or banana soft serve!
2) Mix the oats, seeds, goldenberries, and cinnamon. Pour 1/2 cup wet ingredients over the dry ones. Bake at 350 degrees for about 12-15 minutes, or dehydrate at 115 for about 8 hours, or until dry. Enjoy!
I hope you guys have more success with this dramatically altered portion of liquid. Let me know!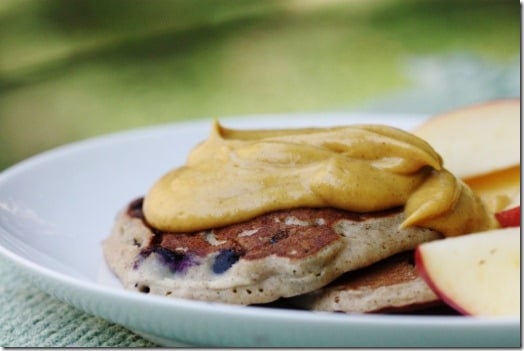 Next up was a revision of my buckwheat and quinoa pancakes with pumpkin cream. This is another recipe that went totally smoothly when I made it, but most people found that it the dough stayed way too mushy through cooking, and never turned into light, easy-to-flip pancakes. Fail! I'm sorry guys. I've revised the recipe considerably; the biggest change is that now the quinoa stays whole, rather than blending in, and there are no berries (probably helpful for texture). I hope it works. You'll tell me, right?
Note that, since I'm on a kick right now of putting beet in odd kinds of recipes—granolas, smoothies—I came up with an alternate sauce beet and berry sauce for the pancakes. The pumpkin cream sauce would rock, too.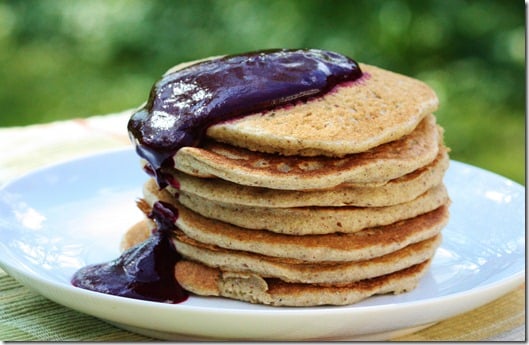 Buckwheat and Quinoa Pancakes with Pumpkin Cream or Beet and Berry Sauce (vegan, gluten free, soy free)
Makes 10 pancakes, or roughly 3-4 servings
1 1/4 cup buckwheat flour (NB: buckwheat is naturally a gluten free grain, but if you are gluten free, double check your flour to be sure it's GF certified to assure safety from cross contamination)
1/2 cup cooked quinoa
2 tsp baking soda
Pinch salt
1-2 tsp cinnamon (I like to go heavy on cinnamon)
1 1/2 cups almond milk + extra for while you make the pancakes
1 tbsp flax meal + 3 tbsp warm water
1 tbsp agave or stevia to taste
1) Mix the buckwheat flour, backing soda, cinnamon, salt, and quinoa in a large bowl.
2) Whisk together the flax and warm water and let sit for a few moments. Then, whisk it together with the almond milk and agave (if you wish—I used about a 1/2 tsp stevia here, but either is fine, and the recipe doesn't need much sweetening).
3) Mix wet ingredients and dry. Keep in mind that you'll need a little extra almond milk because pancake batter thickens as it sits, so have the almond milk handy.
4) Heat a skillet over a medium/high flame. When it's hot enough, drop batter by heaping 1/4 cup servings onto the skillet. Wait until bubbles form on the top, and then gingerly flip the pancakes, one by one. Cook through on other side till batter is used up. Serve with beet and berry sauce OR pumpkin cream sauce, below!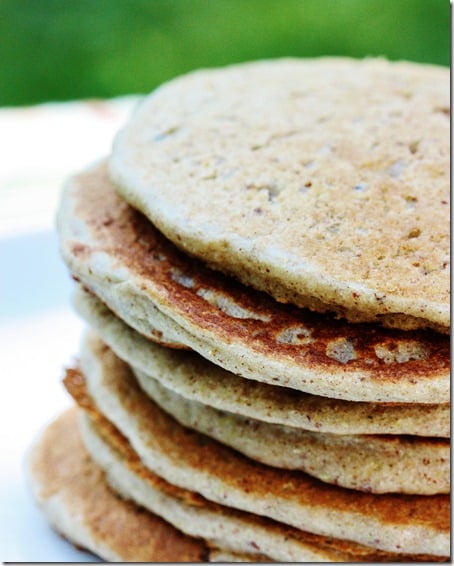 Beet and Berry Sauce (gluten free, soy free, vegan)
Makes 3/4 cup
1 medium beet, roasted or steamed
1/2 cup blueberries (fresh or frozen)
1/4 cup water
2 dates, or stevia to taste
Blend all ingredients together in a blender till smooth, adding more water if needed. Pour over pancakes, and enjoy the benefits of many, many antioxidants in this syrup, which has no added sugar at all!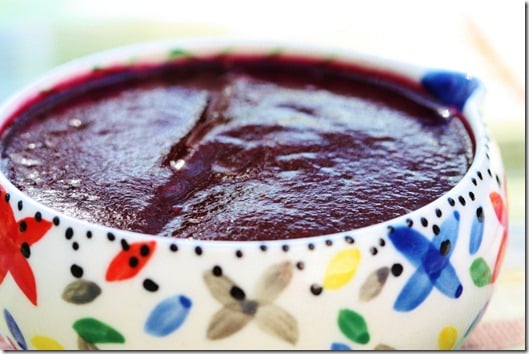 Pumpkin Cream Sauce (gluten free, soy free, vegan)
Serves 2-4
2 cups puréed pumpkin or autumn squash
Scant 1/2 cup almond milk
2 tbsp almond butter or cashew butter
1 tsp xanthan gum
1 tsp cinnamon
Blend all ingredients on high, and serve. Delicious on fruit slices, too!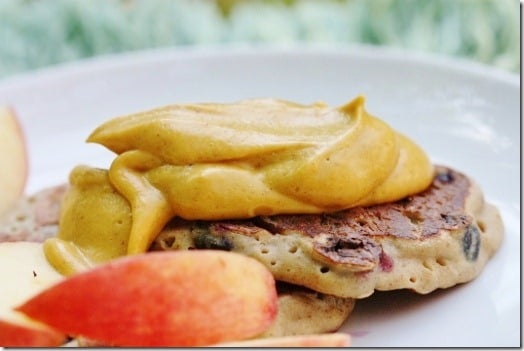 Whichever way you serve these pancakes, I hope that the consistency and overall success is now much better. I really loved the taste when I made them yesterday, and love what the whole quinoa does for texture and chew. Yum.
Part of being a chef means making errors. But I'm lucky to have readers who keep me posted on what works and doesn't. Let me know, so that I can tweak things for you guys!
Tomorrow, I'll have a dual cookbook review here on the blog, and the usual food+life on Sunday and beyond. See you soon!
xo