At this time of year, many of us are comforting ourselves with the thought of spring produce–asparagus, chives, fresh greens–right around the corner. For now, though, we're still doing a lot of cooking from our pantries, and the fresh ingredients we do have shine all the more brightly because they're precious right now.
These red lentil quinoa cakes with harissa are a perfect example of a pantry meal that's elevated by a few small touches: the fresh and slightly bitter taste of parsley, the heat of harissa paste, and a vibrant drizzle of my delightfully green tahini dressing.
Vegan cakes, like vegan burgers, are not easy to get right. My experience with both is that the absence of egg can make binding a little tricky. This gets easier if you use breadcrumbs, but in this recipe I used quinoa. The texture of the cakes is ever so slightly delicate, but they're still sturdy and have a great, substantial texture. Steven and I really loved them, both as a dinner and then as leftovers (we stuffed them into pitas and piled them high with veggies and extra dressing).
Harissa is a chili pepper paste that's widely used in North African and Middle Eastern cooking. I tend to buy it both in the form of a spice mix powder and as a paste. The paste is a bit zestier, but the powder will keep longer and can be easier to store. It's optional in this recipe (cumin, paprika, and oregano still give the cakes lots of flavor), but it's a really nice addition.
Of course, there's no need to serve the lentil cakes with the rice pilaf, but this particular rice recipe is something of a go-to for me at home, so I thought it was worth sharing. The tahini dressing is just an option, too, but it really does make the red lentil quinoa cakes sing.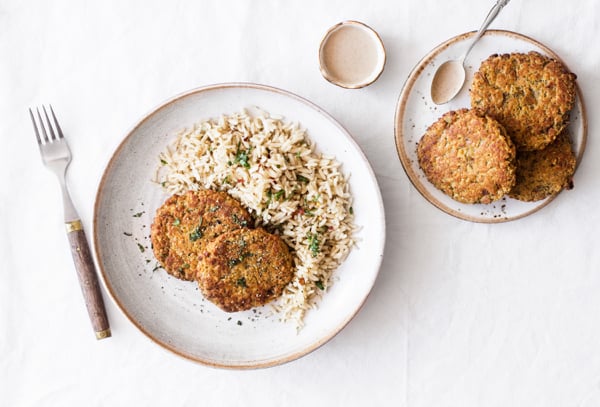 Red Lentil and Quinoa Cakes with Harissa (Gluten Free)
Author -
1

cup

dry red lentils

2

cups

water

1

tablespoon

olive oil

1

small white or yellow onion

chopped (about 1 cup)

2

cloves

garlic

minced

1

teaspoon

ground cumin

1/4

teaspoon

smoked paprika

1

teaspoon

dried oregano

or 1 tablespoon fresh chopped oregano

1

teaspoon

harissa paste or 1/2 teaspoon harissa spice

optional

1/2

teaspoon

salt

1

teaspoon

lemon juice

1

cup

cooked quinoa

2

tablespoons

chickpea flour

1

cup

delightfully green tahini dressing

optional, for serving

Cooked brown rice

optional, for serving
Place the lentils in a small pot with the 2 cups water. Bring to a boil and reduce to a simmer. Simmer the lentils with the lid of your pot on but slightly ajar (to allow steam to escape) for 20 minutes, or until they're turning into a thick, mushy mixture. Once all of the water has been absorbed, remove the lentils from heat and set them aside to cool somewhat.

Preheat your oven to 350F. Lightly oil a baking sheet and set it aside.

Heat the oil over medium heat in a large skillet or cast iron frying pan. Add the onions and cook for 5-7 minutes, or until the onions are clear and soft. Add a few tablespoons of water as you go along to prevent sticking. When the onions are soft, add the garlic and cook for another 1-2 minutes, or until the garlic is fragrant but not burning. Stir in the cumin, paprika, oregano, harissa, salt, and lemon juice, along with the lentils. Mix everything around gently in the skillet or pan to incorporate the seasonings. Allow the mixture to cool for a few moments.

Transfer the skillet mixture to a mixing bowl. Add the quinoa and chickpea flour, and use your hands to incorporate everything. The mixture should be easy to shape into cakes but not too mushy, either (if it is super mushy, add another tablespoon of chickpea flour). Shape the mixture into 8 cakes and place them on the oiled baking sheet.

Bake the cakes for 25 minutes, flipping gingerly once through, or until the cakes are golden on each side. Serve the cakes over rice or in a pita or over fresh greens, along with a very generous drizzle of

delightfully green tahini dressing

.
Cakes will keep in an airtight container in the fridge for up to 3 days in the fridge, and they can be frozen for up to two weeks.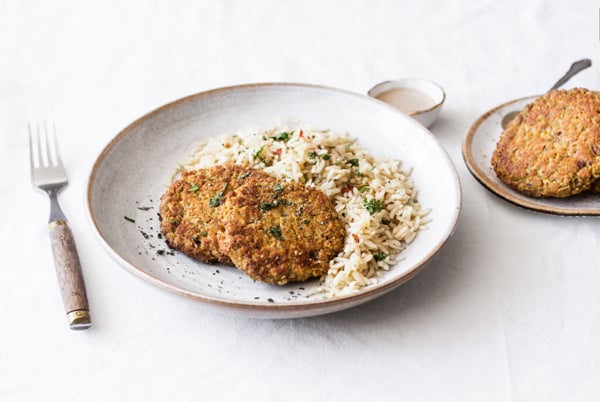 And that's it. A satisfying, nutritious dinner that's easy to prepare with dry ingredients, but freshened up by just a few green touches. Here's hoping you enjoy this one as much as Steven and I did!
This Friday, I'll be back with a new green recovery story. I look forward to sharing it. Enjoy the rest of your weeks!
xo