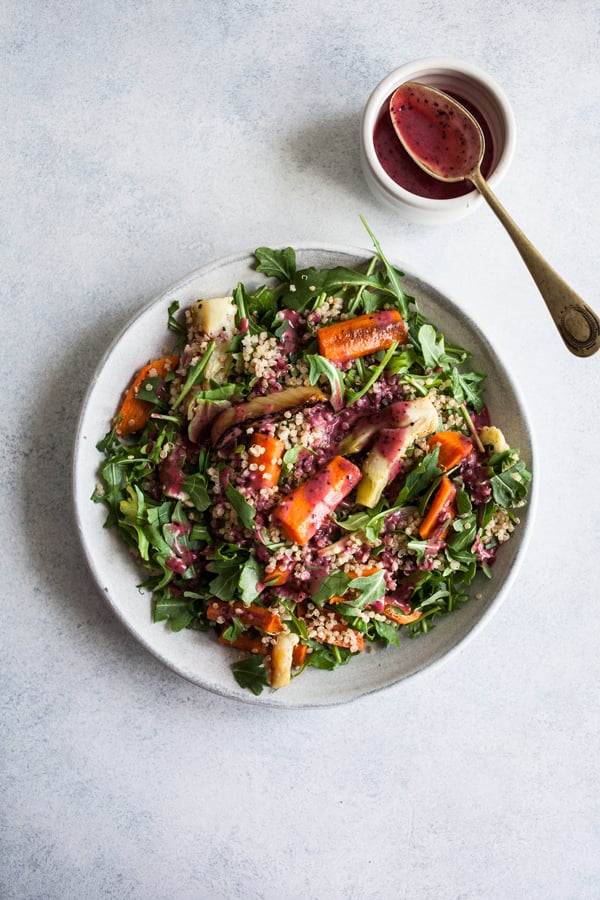 I've been slow to warm up to fruity dressings. I love berries, but to put them in salad dressing has always seemed a little odd to me. I'm still on the fence, but this blueberry chia dressing is the one that's changing my mind. Drizzling it over a tasty, winter-friendly salad of roasted carrots and fennel, quinoa, and arugula doesn't hurt.
The idea behind using chia was to help give the vinaigrette a creamy texture (and a tiny nutrient boost from the seeds). The first time I made the dressing, I used a lot more chia (two teaspoons instead of one), and the finished product ended up much too thick and congealed. Lesson learned: chia seeds are powerful thickeners! One teaspoon, though, is just about perfect: enough to give the dressing an emulsified texture, but not enough to make it gloppy.
Carrots and fennel become deeply sweet when they're roasted. The tart sweetness of the dressing compliments them perfectly, and it's all offset by the nutty, earthy taste of quinoa and the bitter bite of arugula. Lots of flavor and texture contrast, and I love that the recipe is friendly for many seasons!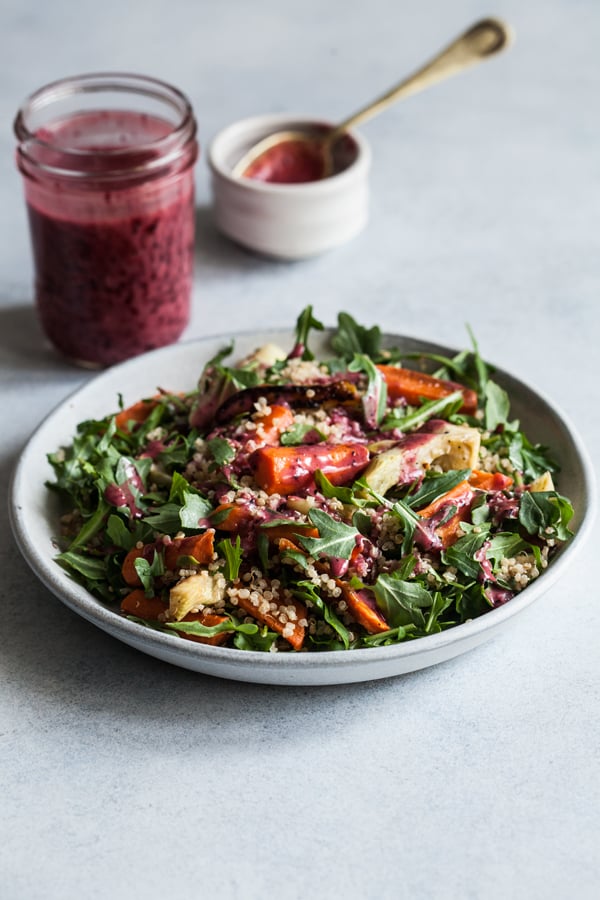 Blueberry Chia Salad Dressing
Cuisine:
vegan, soy free, tree nut free, gluten free
Author:
Prep time:
Cook time:
Total time:
For the salad:
8 medium sized carrots, peeled, halved lengthwise, and cut into 2-inch pieces
1 large bulb fennel, trimmed and sliced into wedges about 2 inches long and 1/2 inch wide
1 1/2 tablespoons neutral vegetable oil, such as safflower or grapeseed
Coarse salt & pepper
3/4 cup dry quinoa
4 cups baby arugula, packed
For the dressing:
1/2 cup fresh blueberries
3 tablespoons apple cider vinegar
1 scant teaspoon chia seeds
1/2 teaspoon fine sea salt
Dash of freshly ground black pepper
1 teaspoon maple syrup
1/3 cup olive or flax oil
Preheat the oven to 425F. Place the carrots and fennel into a large mixing bowl. Add the oil and toss the vegetables well to coat them. Place them onto a lined baking sheet and give them a generous sprinkle of coarse salt and black pepper. Transfer the sheet to the oven and roast for 30 minutes, or until the vegetables are gently browning and tender, stirring them once halfway through.
While the vegetables roast, rinse the quinoa through a fine sieve. Place it into a pot with 1 1/2 cups water. Bring the water to a boil. Lower the heat, cover the pot, and simmer the quinoa for 13-15 minutes, or until the water has been absorbed. Remove the quinoa from heat and allow it to stand, covered, for 10 minutes. Fluff the quinoa with a fork.
To make the dressing, blend the blueberries, vinegar, chia seeds, salt, pepper, and maple syrup in a blender on medium high speed. As the mixture blends, drizzle in the olive oil. Once the dressing is smooth and creamy, taste it and adjust salt and pepper as needed.
To prepare the salad, combine the roasted vegetables, quinoa, and arugula. Divide the salad onto serving plates and top generously with the dressing. Enjoy.
Dressing will keep in an airtight container in the fridge for up to 4 days. Roasted vegetables and quinoa can be prepared up to two days in advance.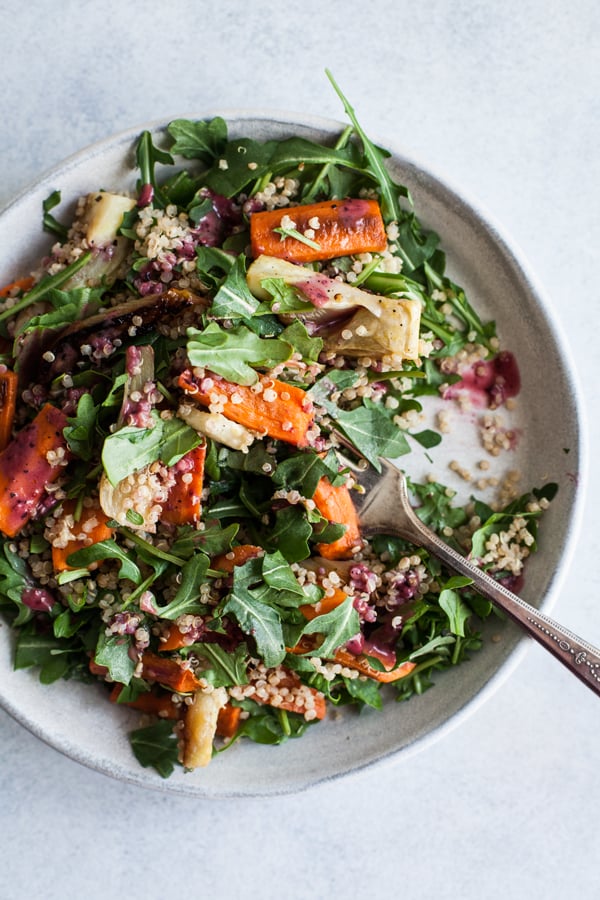 Hope you enjoy this slightly offbeat dressing—and maybe you'll keep chia seeds in mind as a dressing emulsifier for other blends. In place of blueberries, you could definitely use strawberries, blackberries, or raspberries (so long as your blender's powerful enough ;-)). And of course the salad itself would work nicely with any favorite vinaigrette. Enjoy!
xo
This recipe and images were updated in January 2018.