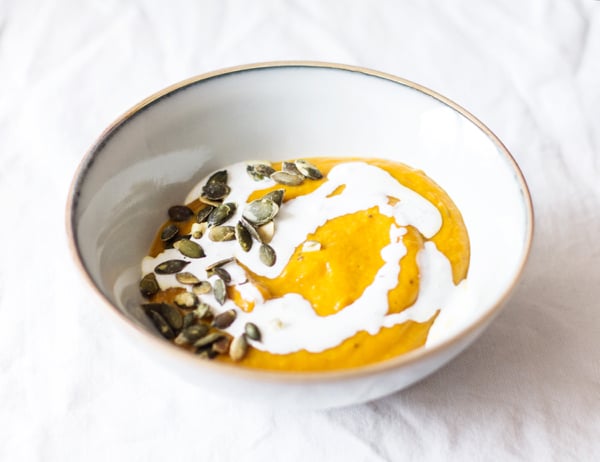 Before I share the recipe for this roasted kabocha squash and pear bisque, let me say that I resisted becoming a kabocha person until it actually happened. It seemed so trendy, so popular; surely there was nothing that made the kabocha squash so vastly superior to other winter squash varieties. Surely.
But actually, kabocha squash is just…better. It's the perfect marriage of sweet potato heft and heartiness with the not-too-sweet flavor of other winter squashes. The flesh is both dense and also magically, amazingly silky smooth. It is, in short, pretty magical, and once you've tasted it–no matter how annoying it is to chop it open and cut it into pieces and roast it–it's hard to go back to butternut without a feeling of slight wistfulness.
Kabocha squash is more work than other squashes for the principle reason that there's no shortcut; it's nearly impossible to find it pre-cut, so if you buy some, it's probably a whole squash (or Japanese pumpkin). It's also got a thick exterior, so the chopping itself isn't easy (as opposed to, say, acorn or delicata squash, which are a breeze to cut). But, once you start to see it as a great culinary project, it becomes easier to embrace working with kabocha.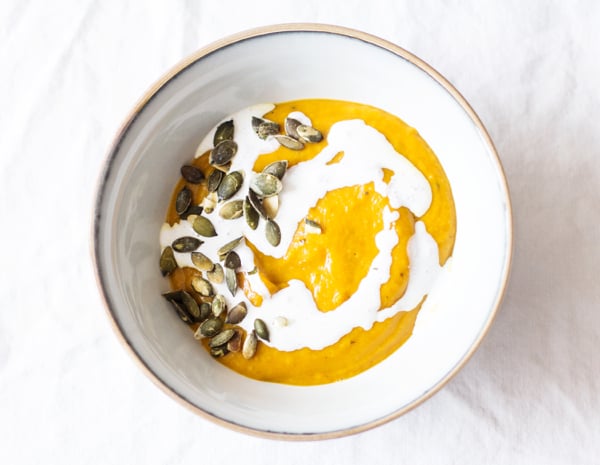 In the past, I'd never have considered blending kabocha squash up into a soup; it felt like too precious an ingredient for that. But now that I've made kabocha soup, I have to say that it was totally worth it, because this particular soup is richer and more complex and somehow more sophisticated than my usual butternut or acorn concoctions. It's a perfect Thanksgiving (or other holiday) appetizer, and if you have time to make it, the cashew cream makes the dish feel super special.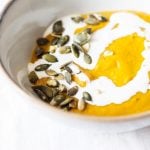 Roasted Kabocha Squash, Pear, and Ginger Soup
Author -
1

medium

3-4 lb kabocha squash, opened, seeded, and cut into rough chunks (I halved mine, then cut each half into 4 crescent shapes)

3

ripe but firm pears

cored and sliced into quarters (I used Bartlett)

1

onion

quartered

2

tablespoons

safflower

grapeseed, or canola oil

Coarse salt and pepper

1

tablespoon

grated ginger

more to taste

3-4

cups

vegetable broth

1/2

cup

soy or light coconut milk

4

tablespoons

pumpkin seeds

optional, for serving

1/2

cup

cashew cream

optional, for serving
Preheat your oven to 400F. Spread the kabocha squash, pear pieces, and onion onto two baking trays. Drizzle the pieces with the oil and use your hands to make sure everything is coated. Sprinkle generously with salt and pepper.

Allow the squash and vegetables to roast until the squash is tender and caramelizing (30-35 minutes). Remove peels from the squash by gently scooping the flesh out with a spoon.

Transfer the squash flesh and the roasted pears and onion to a blender. Add 3 cups of broth and ginger and blend till the mixture is smooth. Check for seasonings, and add extra salt and pepper as needed. Add the coconut or soy milk and blend again, till the soup is lighter in color and very creamy.

Return the soup to the pot and add extra vegetable broth if it's too thick for your taste. To serve, divide soup into bowls and drizzle each one with a tablespoon of

cashew cream

and a sprinkle of pumpkin seeds, if desired.
Leftover soup will keep for up to four days in an airtight container in the fridge, and it can be frozen for up to 1 month.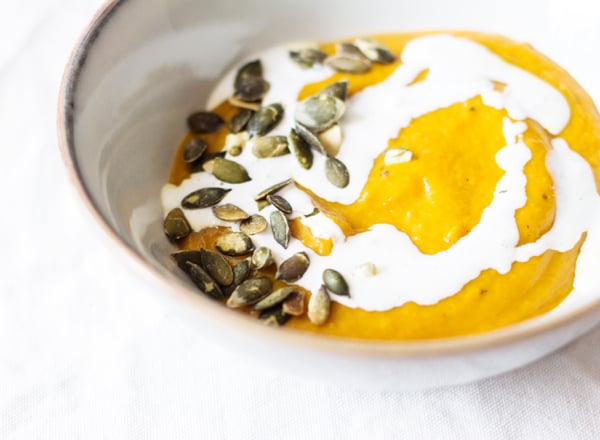 You could skip the roasting in this recipe and try simmering the squash and vegetables instead, but I find roasting to be a little easier, and I also love the deep, sweet taste it brings out in all of the vegetables and fruit. That complexity is evident in the soup, which is super flavorful
As I said, the soup is a great appetizer, but it's also a great lunch, if you serve it with a sandwich or a nice, hearty salad.
Hope you like it as much as I do. I'll be back tomorrow!
xo