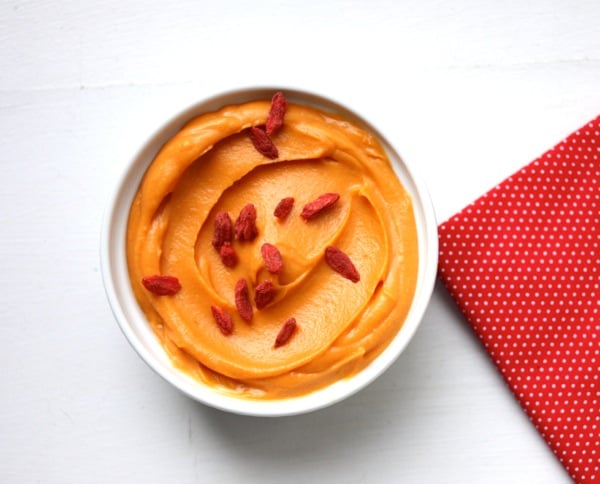 What's better than a five ingredient recipe? A five ingredient recipe that involves sweet potatoes and maple syrup, I say. November might as well be called the month of sweet potatoes, and this recipe is a perfect celebration of my favorite root vegetable.
The "pudding" requires no cooking over the stove; just bake your sweet potatoes, scoop out the flesh, blend them with coconut milk, and go. It's all about as easy as preparing hummus, and the result is a silky smooth pudding that's equally good for breakfast, a snack, or dessert.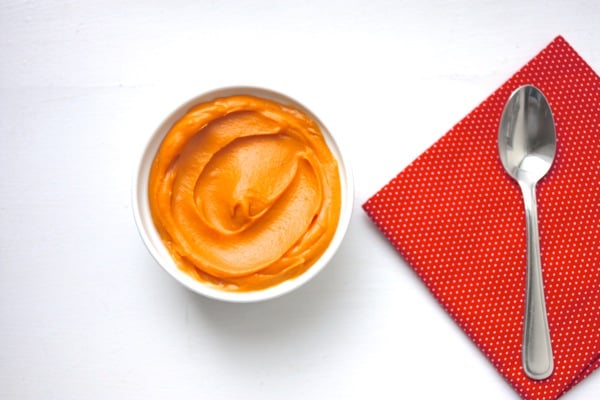 You can use any kind of sweet potatoes or yam-type sweet potatoes in the recipe: jewel sweet potatoes, purple sweet potatoes, garnet yams, or even Japanese yams (which won't have the same vibrant color, but they will taste wonderful). You can also choose to get fancy with spices and sweeteners, if you like, but I chose to keep things very simple here. I whipped up this pudding on Friday morning before traveling, and was delighted to realize that it can be made with common pantry items (potatoes, salt, maple syrup, coconut milk, vanilla). Here's the recipe.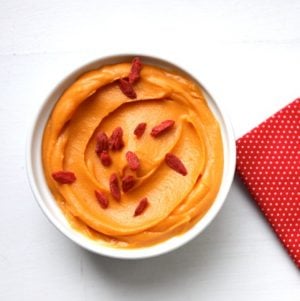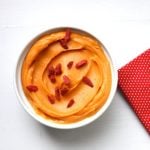 Five Ingredient Maple Sweet Potato Pudding
Author -
2

medium/large or 3 small sweet potatoes

2-3

tablespoons

maple syrup

1/4

teaspoon

sea salt

1

teaspoon

vanilla extract

1/2

cup

coconut milk

full fat, canned, plus extra as needed
Preheat your oven to 400F. Prick the sweet potatoes a few times and roast them on a baking sheet till tender (about 45 minutes).

Allow the sweet potatoes to cool for 15-20 minutes, or until you can handle them safely. Cut the sweet potatoes open and scoop the interior flesh out with a spoon. Place the flesh into a food processor or Vitamix and add the maple syrup, sea salt, vanilla, and coconut milk. Blend until the pudding is silky smooth and has a perfect, pudding-like texture. Add more coconut milk as needed.

Kept in an airtight container, the pudding will keep for up to four days in the fridge.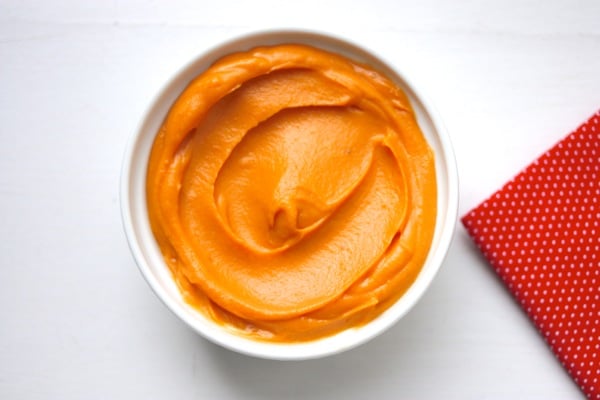 You can choose to add a little less maple syrup than what's called for, as the potatoes add plenty of natural sweetness. I'd imagine that cinnamon, nutmeg, pumpkin pie spice, and chai spices all make wonderful additions. I may experiment with adding mesquite or yacon syrup for depth next time I whip this up, which I have no doubt will be soon.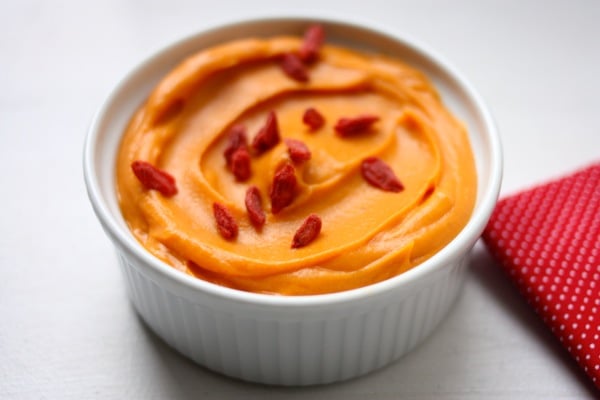 For dessert, a simple sprinkle of goji berries is a perfect touch. If you want to serve the pudding for breakfast, I'd pile it high with some homemade granola — my toasted pumpkin and cranberry granola would be perfect.
No matter how you serve it, I hope you'll enjoy this low-stress treat. The holiday season can be wonderful from a culinary standpoint, but sometimes it's nice to step back and prepare something that's as easy as it is tasty. This one fits the bill.
Till soon,
xo