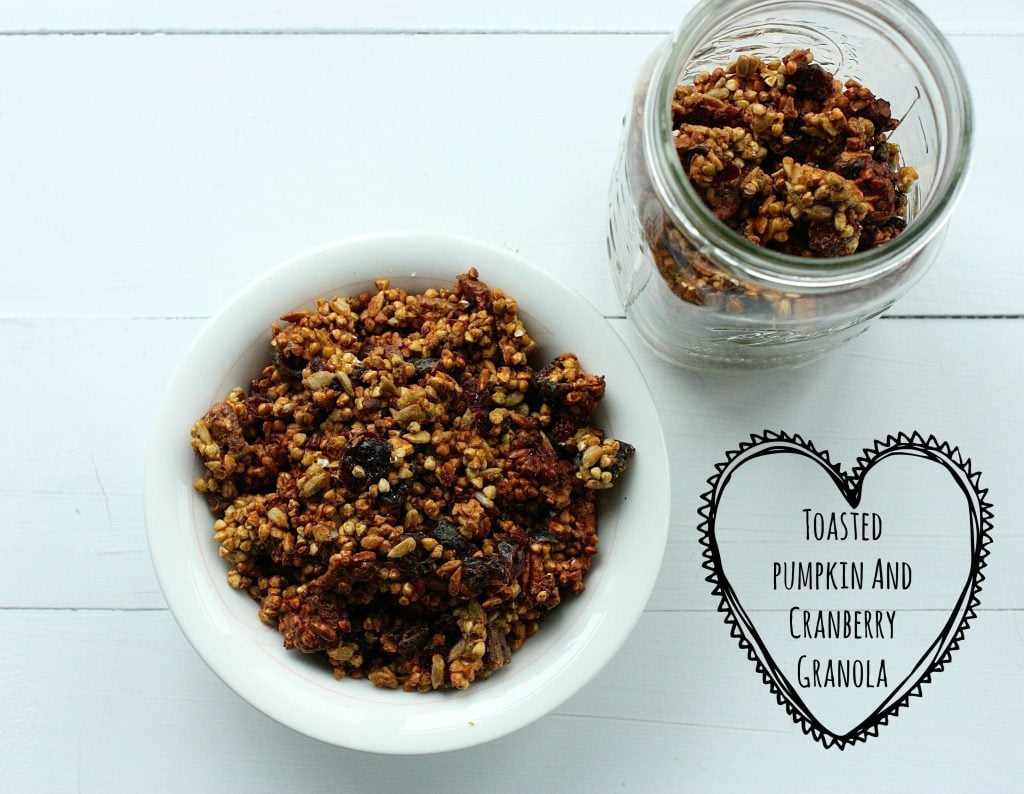 When I prepared this gluten free, vegan toasted pumpkin cranberry granola last week, my first thought was that it was too toasted. A little burnt, if we're being honest. My second thought was that it was probably too toasted, but what did I care? It was absolutely delicious. My suspicions were confirmed when the two friends I shared it with as holiday gifts texted to tell me how much they'd loved it. One even called it the best she'd ever had. That is high praise, so I'm super excited to share the recipe with you today.
Normally when I work with buckwheat, I make buckwheaties (recipe and instructions here) then turn them into a raw granola of choice. I have a bunch of recipes up on the blog, including:
For this recipe, I really wanted the toasted flavor, but I still tested it int he dehydrator, which means you can prep it either raw or cooked. I do recommend the toasted version: it's more flavorful!
Toasted Pumpkin and Cranberry Granola
Author -
2

cups

buckwheaties

1

cup

pecan pieces

1

cup

sunflower or pumpkin seeds

1 1/2

cups

dried cranberries

3

tablespoons

ground flax meal

1/2

cup

maple syrup or agave

1/2

cup

canned pumpkin puree

1/3

cup

melted coconut oil

1/3

cup

almond butter

2

teaspoons

vanilla extract

1 1/2

teaspoons

ground cinnamon

1

teaspoon

ground ginger

1/4

teaspoon

nutmeg

1/8

teaspoon

sea salt

or a bit more if you wish
1. Pre-heat your oven to 325 F.

2. Mix the buckwheaties, sunflower or pumpkin seeds, pecan, cranberries, and flax meal in a large mixing bowl.

3. In a blender, blend the syrup, pumpkin, almond butter, coconut oil, vanilla, cinnamon, ginger, nutmeg, and sea salt. Pour the mixture over the dry ingredients, and mix thoroughly.

4. Oven option: Spread the granola onto a parchment lined baking sheet. Bake for 25-30 minutes, or until it's quite toasty and fragrant. Start checking it at the 18-20 minute mark, to be sure it doesn't burn.

Dehydrator option: Dehydrate granola at 115 degrees for 8 hours, mixing it around a couple of times.
While I challenge you not to prepare this granola and eat it all yourself within days (or, um, hours), it makes a perfect holiday gift, too.
If you're looking for something cute to gift with your granola, you can try a nut milk duo! I've been giving folks a container of vanilla cinnamon pecan milk, along with Brazil nut cacao milk (a new favorite–recipe to come).
A really cute, and delicious gift.
Tomorrow, let's take a break from edible giving, shall we? Instead, I'll be sharing a round up of holiday-ready vegan meals. See you soon!
xo