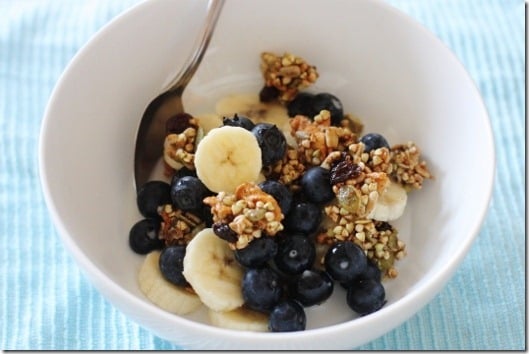 Raw granola is one of the first dishes that many raw foodists try to make at home. It makes sense: granola is a crowd pleaser, and the raw versions don't tend to taste all that different from the cooked ones, so it's a great transition food. The downside is that dehydrators are usually called for; the upside is that raw granola offers more texture and more satiety than a smoothie (of course this depends on the smoothie), which means it's a comforting and convenient breakfast option for those who are stumped for raw breakfast ideas (that doesn't include CR readers, who get tons of breakfast ideas from yours truly!)
The fact that I did not attempt a raw granola until last week is pretty weird, given how popular the stuff is. And now that I have made it, I imagine it'll become a habit, since I absolutely loved the results. As the title of this post suggests, I won't be doing much to alter my recipe: it turned out wonderfully, at least to my taste. This granola is rich in protein, healthy fat, and just the right amount of sweetness, and it has a wonderful cinnamon flavor that enhances the whole dish. It's also very easy to make, especially since most of the proportions work in thirds.
As usual, you can turn this into a regular oven recipe without any fuss. Just bake it at 350 until it has started to get toasty and crispy—I'd say about 30-40 minutes. Enjoy.
Choosing Raw Granola (raw, vegan, gluten and soy free)
Yields about 3 cups
1 cup soaked and dehydrated buckwheat
2 tbsp ground flaxseed
1/3 cup sunflower seeds
1/3 cup pumpkin seeds
1/3 cup raisins
1/3 cup dried, chopped apples
1/3 cup maple syrup (agave is also fine)
1 tbsp coconut or flax oil
2 tbsp water
1 tsp cinnamon
Dash nutmeg
Dash salt
1) Mix all the dry ingredients together in a large bowl.
2) Whisk together the maple syrup, water, coconut oil, cinnamon, nutmeg, and salt. Pour over dry ingredients and mix them well with your hands. If you'd like to make a sweeter granola, you can add another tbsp maple syrup, or a few drops of stevia; the amount listed is intended only to add gentle sweetness and to bind the granola together.
3) Dehydrate at 115 degrees for about 10-12 hours, or until granola is sticky but adhering firmly. Refrigerate till ready to use; this will help maintain crunch and texture!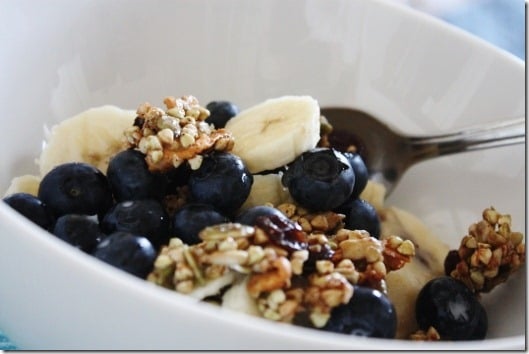 It's heavenly with blueberries, bananas, and almond milk—not to be missed!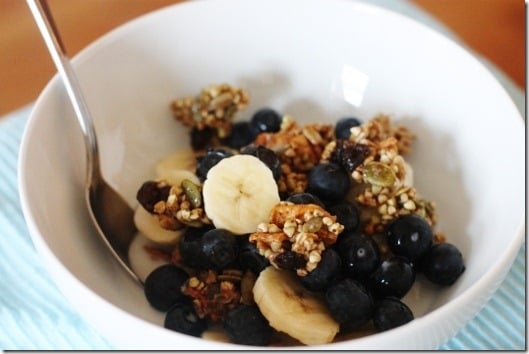 Can't wait for your reactions.
Apartment update! Not much has transpired since yesterday, so I'll refrain from showing you progress photos that don't earn the name. That said, my clothing and bedding has been (mostly) put away. Aside from my horror at how much clothing I own, this is a big accomplishment. So glad you guys like the new place as much as I do.
Hasta manana!
xo