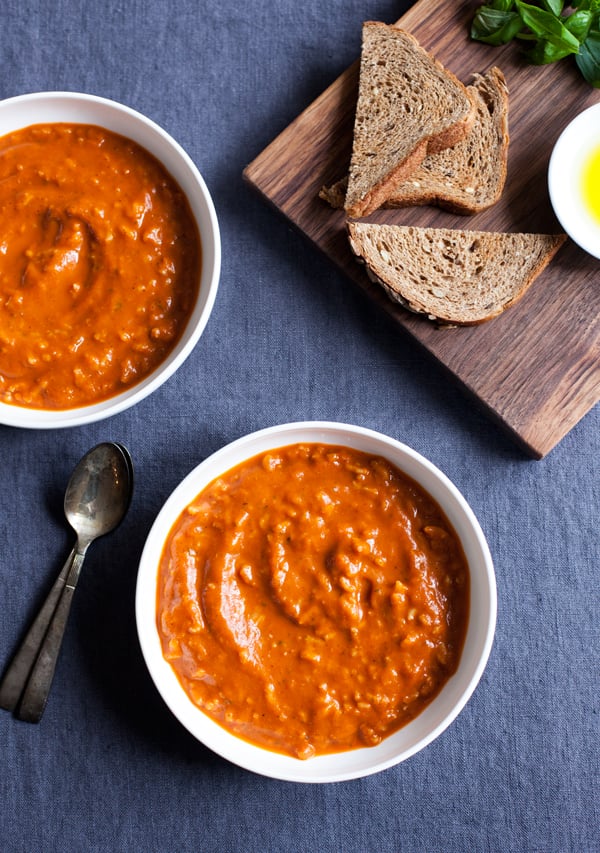 I like to think of this creamy, flavorful tomato basil soup as being a perfect "transition recipe"–a meal that can be carried easily from summer to into fall. Roasting the tomatoes for the soup brings out so much of their natural sweetness and depth of flavor, and the pureed soup that results is quintessentially summery.
At this point, it's delightful on its own, but when I made the soup last weekend, I wanted to create something that was a little heartier than traditional tomato soup. I stirred in some cooked rice, and it turned out to be a felicitous addition. The result was a bowl that has the creaminess and bright flavor of roasted tomato soup, and the thick texture and stick-to-your-ribs appeal of an autumn stew; a soup that can serve as a meal, in other words.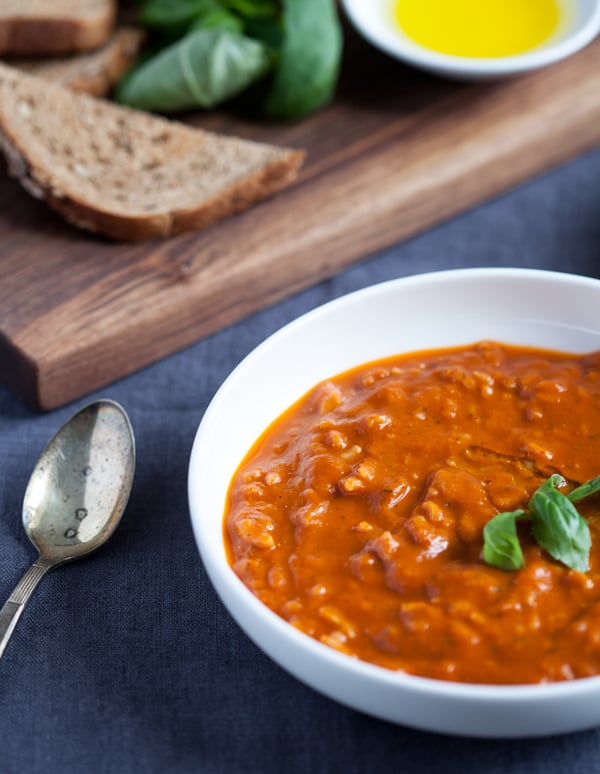 Some tomato and rice soup recipes call for cooking the rice directly in the soup. I like the idea of this, and I'll definitely try it in the future, but for this batch the rice was a game time decision: I had leftover basmati rice in the fridge that was begging to be eaten up.
You can use any leftover cooked grain in this recipe: barley and farro would be incredible, as would cooked quinoa or millet for a less chewy texture.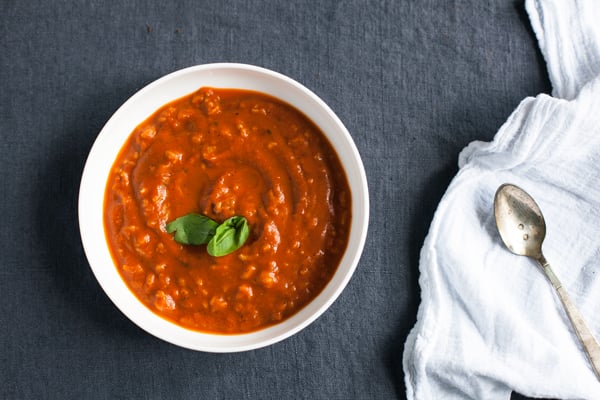 One of the nice bonuses of stirring in the cooked grain is not only a little extra nutrition and staying power, but also that the grains will help the soup to thicken up. This is especially true when you enjoy the leftovers (and the batch makes 6 servings, so hopefully there will be at least a few leftover portions for you to savor!). It's a perfect soup for batch cooking and freezing.
With all of this said, you can create a lighter soup by leaving the rice out altogether, and enjoy the tomato flavors on their own. Here's the recipe.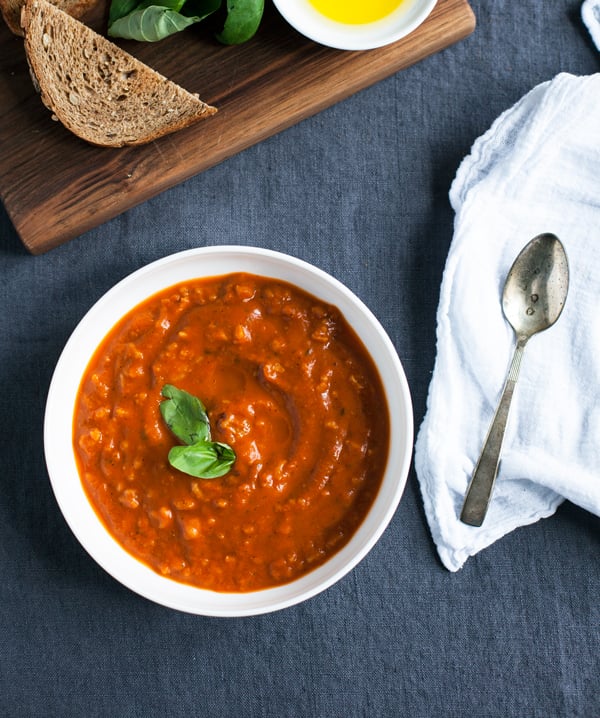 Roasted Tomato Basil and Rice Soup
Author -
4-5

pounds

plum tomatoes

halved or quartered (depending on size--I suggest quartering the big ones)

10

plump garlic cloves

about 1 head

2 1/2

tablespoons

extra virgin olive oil

Coarse salt

large flake sea salt or kosher salt

Black pepper

1

large or 2 small yellow or white onions

thinly sliced

1

tablespoon

organic sugar

coconut sugar, maple sugar, cane sugar, evaporated cane juice, and sucanat are all good choices, as is regular organic cane sugar or brown sugar, optional

3-4

cups

vegetable broth

1

tablespoon

fresh thyme

chopped (or 1 teaspoon dry thyme)

1/2

cup

basil leaves

plus extra for garnish

1 1/2

cups

cooked white or brown rice

or cooked quinoa, barley, farro, or millet, optional
Preheat your oven to 400F. Place the tomatoes, cut side up, onto two large, foil- or parchment-lined baking sheets (a shallow casserole dish will also work well). Drizzle them evenly with two tablespoons of olive oil and then use your hands to coat them well. Sprinkle them generously with coarse salt and then a pinch of black pepper. Nestle the garlic cloves in between the tomatoes. Roast the tomatoes for 50 minutes, or until they're browning and juicy. Remove them from the oven and set aside.

Heat the remaining half tablespoon of oil in a large Dutch oven or pot over medium high heat. Add the onions, along with a liberal pinch of salt and a tablespoon of sugar (if using -- the sugar will help them to caramelize and also to mellow the acidity of the tomatoes). Saute for 10-12 minutes, or until the onions are golden, adding a few tablespoons of water as needed to prevent sticking.

Add the tomatoes, along with all of their roasting juices, to the pot, along with 3 cups of the vegetable broth and thyme. Mash the tomatoes up a bit with the back of a spoon to help release their liquid. Bring the whole mixture to a boil and reduce to a simmer. Simmer, uncovered, for 15 minutes.

Transfer the soup in batches to a blender, along with the basil, and puree till very smooth, or use an immersion blender to puree it. When it's well pureed, return the soup to the pot. Check it for seasoning and add extra salt and black pepper to taste (I added an extra 1/4 teaspoon salt to the soup). Also check the soup's consistency, and add the remaining cup of broth if needed--I like a thicker soup, but it shouldn't look like marinara sauce. Finally, stir in the rice if using.

Divide soup into bowls and garnish with a drizzle of olive oil and a few basil leaves. Serve. Leftover soup will keep for up to five days, and it can be frozen for up to two months.
Steven dubbed this the "perfect fall soup"–he said it was hearty without feeling like a full on winter stew, which is exactly what I was going for.
He thought that toast was mandatory even in spite of the rice addition, which I understand: there's just something about tomato soup and toast.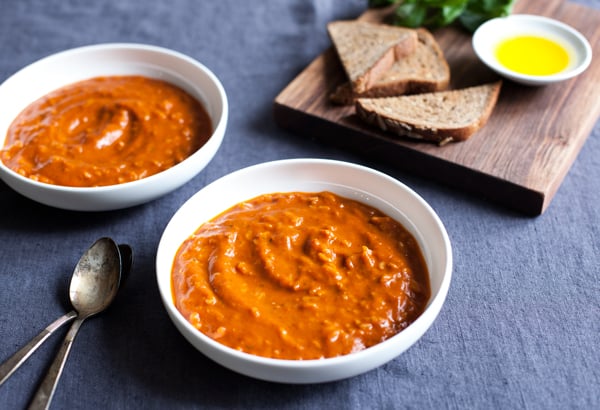 No matter how you serve it–with or without rice, with or without toast, as an appetizer or as a main–you'll love the combination of sweet roasted tomato and garlic, all highlighted by the peppery basil. I hope you enjoy it.
On that note, I'm wrapping up a busy week of school and celebration of Food52 Vegan! Thank you for all of the support you've given the book; it means a lot to me. I look forward to seeing you all over the weekend for a new weekend reading.
xo