Happy Friday, friends! Hope you had wonderful 4th of July celebrations, if you celebrate the day. This was my third Independence Day in Washington, D.C., but it was the first time I've actually observed the day! In the past, there was always an exam looming right after J4, so I didn't make it out to celebrate. This year, I was lucky enough to catch a front row seat for the (awesome) fireworks display.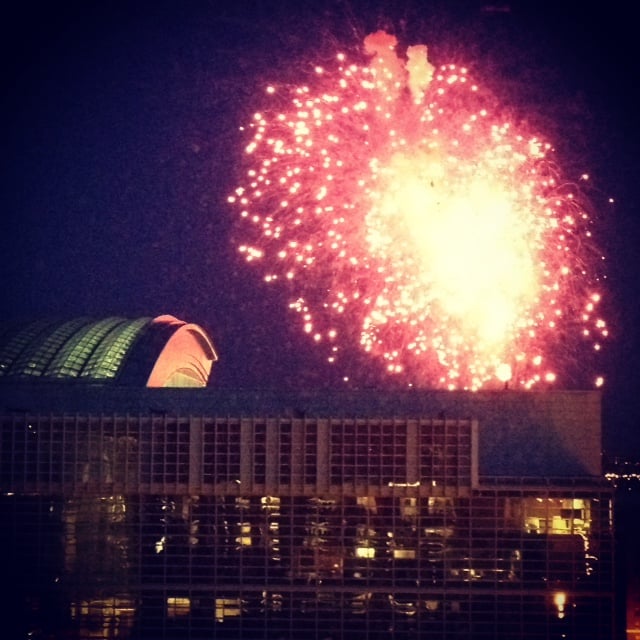 Though I didn't have time to make an appropriately red, white and blue recipe to share with you all (sorry!) I do have some beautiful, bright, and seasonal food to be sharing. This week on vegan lunch at Food52, I mentioned one of my summertime favorites: a berry and avocado salad with fresh greens and hemp seeds.
This is a simple mix of a few cups of mesclun or arugula, a half cup of raspberries and/or blueberries, half a chopped avocado, a tablespoon or two of hemp seeds, and a lemon/orange vinaigrette (2 parts hemp or olive oil, one part orange juice, one part lemon juice, sea salt, pepper, and a teaspoon of sweetener).
The salad is so refreshing–tart, sweet, and creamy, all at the same time.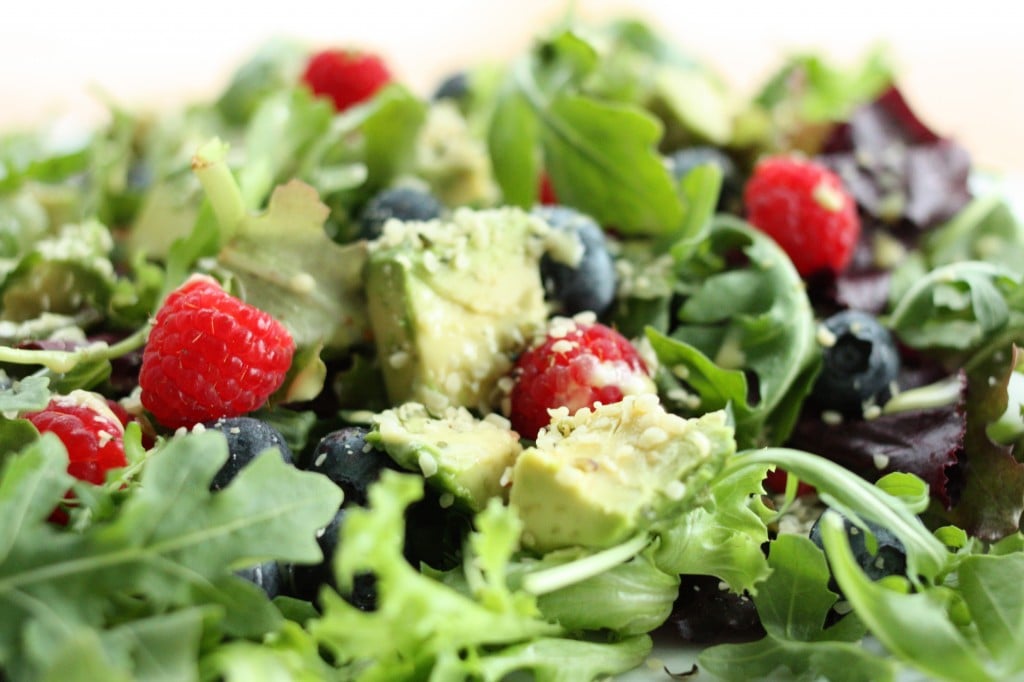 On the side, a small bowl of red potatoes, roasted in coconut oil, sea salt, and pepper.
I love fingerling and red potatoes at this time of year, and they add flavor and comfort to any meal. Yum! For more of my lunch ideas, don't forget to tune into the Vegan Lunch column every other Thursday.
Before I go, a special announcement! You may have seen my posts on Facebook on Twitter that my friend Kris Carr is having a 25% off sale on her fabulous Crazy Sexy Juices and Succulent Smoothies ebook.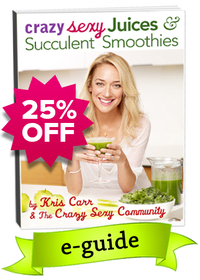 This is a complete guide to everything you've ever wanted to know about juicing and blending–80 pages of information, Q&A, tips and tricks, and 60 tasty recipes. It's an Adobe Acrobat PDF file that you can download to read on your computer, laptop, iPhone, iPad or iPod touch, so it's easy to transport and read anywhere. Among those 60 recipes are a few of my own, as well as countless other creative blends. The recipes are sensitive to varying health needs (low glycemic, etc.) and full of variety. I highly recommend this resource, and now's the time to grab a copy–the sale ends today! Check it out here. 

Alright, friends. It's the weekend send off! Hope there is rest and fun in your near future.
xo