On Friday morning, I rose early for my standard NYC yoga class: "sun celebrations" at Laughing Lotus. This class starts at the perfect time (7:30 am), is the perfect length (1 hr and 15 min), and is the perfect balance of powerful and elegant. Plus, Justin is just really awesome at Shavasana assist.
When I left, I decided to take a stroll through the wonderful Union Square Farmers' Market and pick up some produce.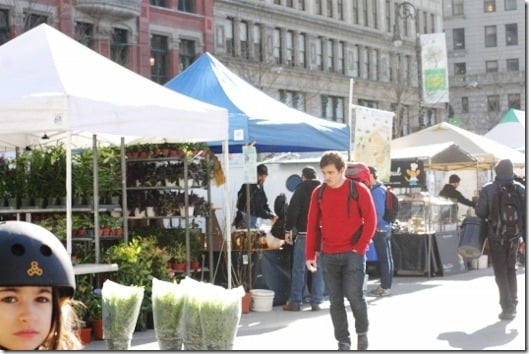 When I worked at FSG, it was literally right under my nose three times a week, at which point I did nearly all of my shopping there. I love strolling through and sampling fresh berries, ciders, apples, and veggies. Friday was no exception, and I spent a few moments meandering before I picked up some kale, onions, and apples: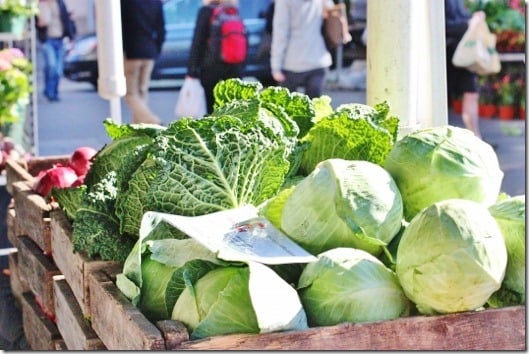 I was about to hop on the N/R when I saw a sight for sore eyes:
Sunflower sprouts!!! Tall, plump, and absolutely beautiful, peeking out from the Union Square Grassman's tent.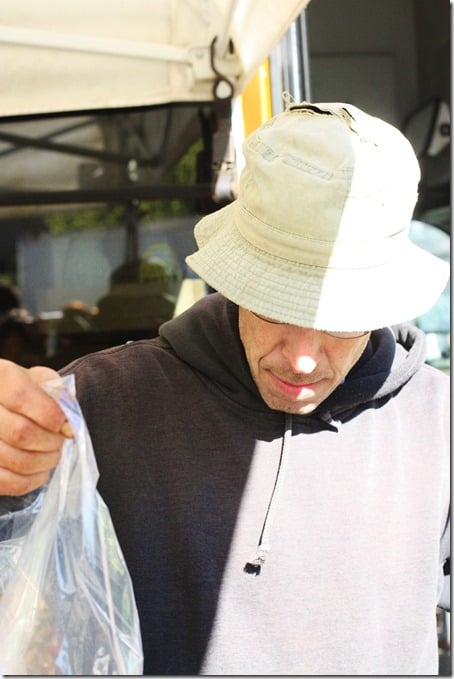 Stuart, the Union Square Grassman, is an iconic figure to healthy New Yorkers. For years, he's been arriving to the market with fresh wheatgrass (which he'll gladly turn into a shot for you) and sunflower spouts and pea shoots galore. For the sprout fanatics among us, this is a tremendous gift. He's also kind, knowledgeable, and he never forgets a face: although it's been almost a year since I've been able to visit his stand, he immediately recognized me (and my yoga mat).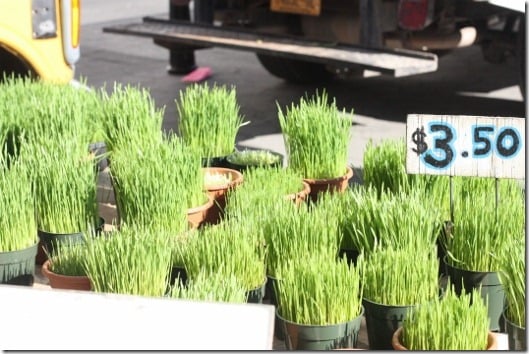 As you can see, Stuart's wheatgrass is pretty gorgeous. Naughty raw foodie that I am, I cannot stand the taste of the stuff! The closest I get is Navitas Naturals wheatgrass powder (which is great in smoothies). So when I visit Stuart, I am immediately drawn to his pea shoots and sunflower sprouts, which are also stunning. I cannot find sunflower sprouts anywhere in DC; pea shoots abound, but the sunflower sprouts are rarer. If anyone in DC knows where they can be easily procured, let me know! If not, my friend Elizabeth Petty, owner of Elizabeth's Gone Raw, has kindly offered to share hers with me! She features them in her sumptuous salads at the restaurant.
Why are sunflower sprouts so good? Well, they're marginally higher in protein than other sprouts. Moreover, they're denser and—to use a word I dislike—"meatier," by which I only mean to say that they provide satisfaction and chew. I highly recommend them if you can find them. And if not, sprouting isn't too hard: check out resources for homegrown sprouts here and here. As soon as the dang post-bacc is done, I'm all over homegrown sprouts.
I put sunflower sprouts on top of all sorts of salads and meals. One of my favorite recipes is a CR oldie but goodie: smoky sprout salad with guacamole. It's been a while, so I'm reproducing it here:
Choosing Raw Smoky Sprout Salad (raw, vegan, gluten free, soy free)
Serves 1
Ingredients:
2 cups sunflower and broccoli sprouts and pea shoots, chopped
1 cup red cabbage, shredded
1 cup carrots or romaine lettuce (or both), shredded
½ cup cilantro, chopped
¾ cup smoky guacamole, below (or guac of choice)
Procedure:
Mix all of the sprouts and veggies and cilantro together. Pile the guacamole on top, and mash it into the salad. Sprinkle with generous amounts of lemon juice (and anything else you'd like as a topper), and dig in!
Smoky Guacamole (raw, vegan, gluten free, soy free)
(Yields 1 ½-2 cups)
2 large avocados
¼ cup cherry tomatoes, chopped
¼ cup bell pepper, chopped
¼ cup cilantro, chopped
¼ cup red onion, finely chopped (if desired)
2-3 tbsps lime juice
½ tsp (or more) sea salt
1 tsp chili powder
1/2 tsp smoked paprika
½ tsp cumin
Sprinkle cayenne pepper
Procedure:
Mash avocado, lemon, and salt together. Add remaining ingredients and mix till well combined. Enjoy with your sprouts—or by the spoonful!
The guacamole in this recipe is worth making alone—so delicious and unique. But I encourage you to try the whole salad, which is fresh and delicious. In honor of it, I was tempted to make lunch with the sprouts I had procured, and came up with the following nutrient dense mix:
.
spinach (2 cups or so)
1 cup shredded red cabbage
1 heaping cup sunflower sprouts
5 cherry tomatoes, halved
2/3 cup chickpeas
guacamole (about 1/3 cup)
Along with some raw crackers (unpictured, but purchased at Organic Avenue uptown for while I'm home), it was a perfect high raw lunch!
Tomorrow, I'll return with some thoughts on making healthy fare at home with (and for) my Mom. Have a great Saturday and—for those of you who observe it—Easter morning.
xo