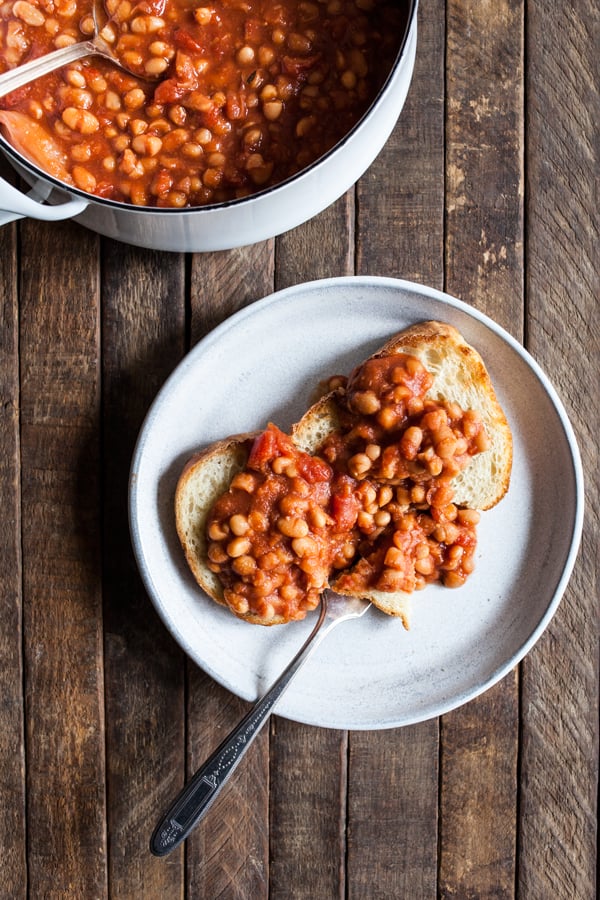 I know that I may have exhausted your interest in toast and toast toppings with Tuesday's post, but I'm hoping you'll have the bandwidth for one more—especially since the recipe is good for more than bread alone. These herby, slow cooker tomato white beans can be served with noodles, over your favorite whole grain, with crackers, with steamed greens, and yes, they make for killer toast.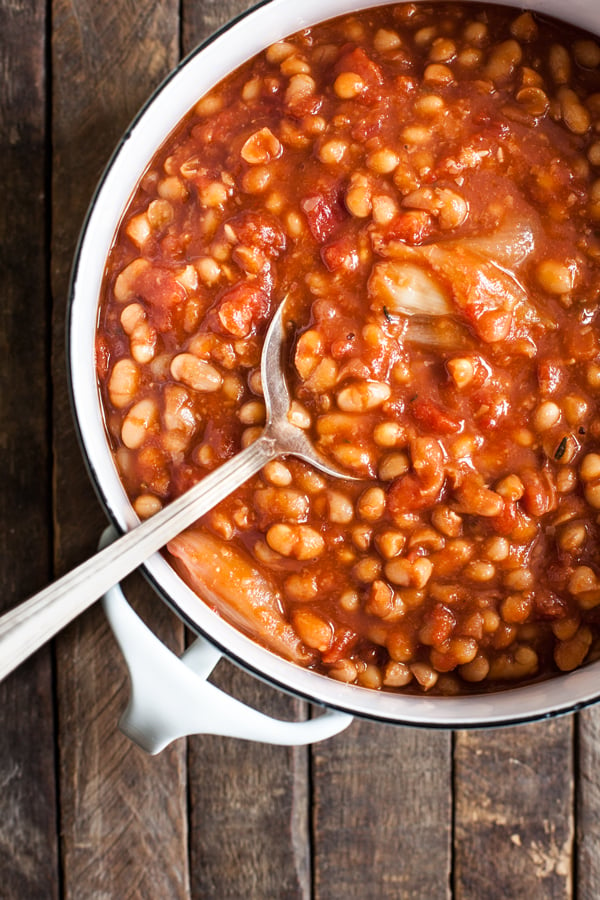 It's actually been a while since I used my slow cooker, but with final exams and end-of-semester papers approaching, not to mention some deadlines for my book manuscript, I'm anticipating a busy few weeks ahead. It's a good time for big batches of food, and since I'm on this bread kick, I figured I'd prepare something that was good for scooping up with Ali's peasant bread. A big pot of soupy, saucy, fragrant legumes fit the bill.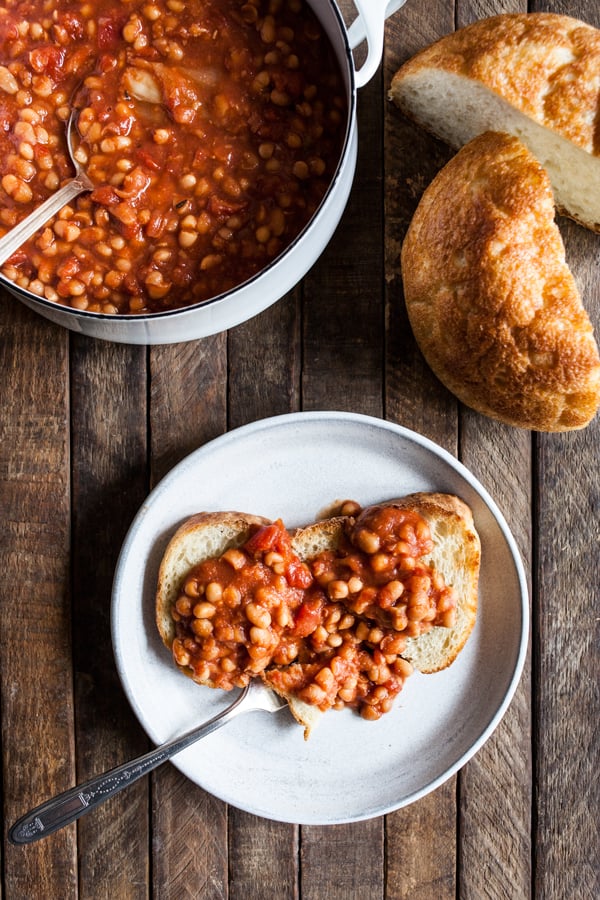 Funnily enough, after I prepared the recipe I saw that Ali has got a very similar one for gigante beans with pancetta on her blog, which was in turn inspired by one of Jenny Rosenstrach's recipes. Friendly minds think alike, and now I'm eager to try this recipe template with gigante beans, which would probably remind me of my Yaya's cooking (in fact, I don't think I've had gigante beans since I was little). For now, this recipe is more Italian than Greek—I used thyme and rosemary sprigs, along with plenty of garlic—but you can take tons of liberty with the herbs and flavorings you use.
I threw the beans in the slow cooker pretty late, after a long and tough day, so my tolerance for chopping was low. I peeled an onion, halved it, and threw it right into the pot, a la Marcella Hazan's tomato sauce. I worried that the onion wouldn't get tender or impart enough flavor, but of course eight hours was enough to tenderize it completely. In fact, I didn't even remove the onion once the beans were done; I just smashed it a bit with a fork, to loosen up the pieces, then stirred it in.
Same for the garlic cloves, which I dropped into the slow cooker whole. By the time the beans were finished, the cloves were practically melting into the beans and so very sweet; you can definitely leave them whole, and if you happen to see one on your toast, you can smash it a bit to unleash more of its flavor!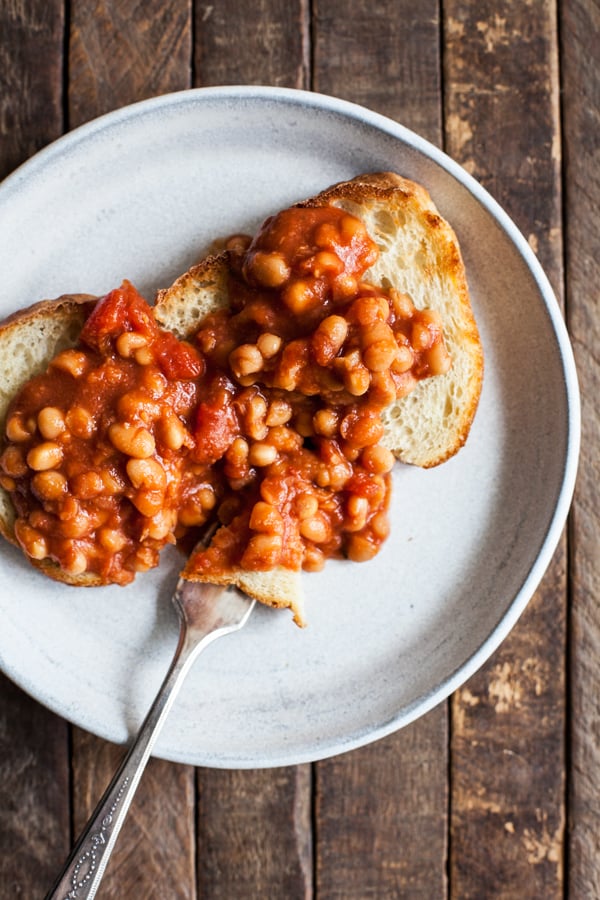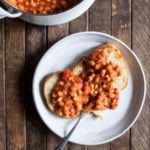 Slow Cooker Tomato White Beans
Author -
1

pound

about 2 1/4 cups white beans (navy, cannellini, great northern, or gigante), soaked overnight and drained

1 28-

ounce

can crushed tomatoes

1 8-

ounce

can tomato paste

3

cups

water

1

onion

peeled, trimmed, and cut in half

8

garlic cloves

peeled

1

teaspoon

kosher salt

1

tablespoon

sugar

optional

10

sprigs fresh thyme and 4 sprigs rosemary

tied together with twine or string

2

bay leaves

Black pepper to taste

1-2

tablespoons

olive oil

optional

For serving: Toast or bread cooked whole grains, pasta or noodles, steamed or sautéed greens, vegan parmesan or hempesan
The beans can also be prepared by simmering in a Dutch oven, covered, over low heat, for about 2 hours, or until tender. Remove the onion halves, bay leaves, and herb bundle before serving.
Leftovers will keep in an airtight container for up to 5 days in the fridge. They can be frozen for up to 6 weeks.
For me, the whole point of using a slow cooker is to conserve time and effort, so it's especially nice when I can load it up with ingredients, set the timer, and fall asleep—no chopping or mincing or preliminary sautéing required.
As for the beans, they're just so good: garlicky, creamy, and packed with rich tomato flavor and umami. I love that they're thick enough to hold their own with bread, but also soupy enough to work nicely with pasta. For the last few nights, I've boiled and drained pasta, then mixed it with a heaping cup of the beans and some cooked greens or asparagus. It's a simple, almost-instant dinner that tastes homey and comforting.
I've also tried scooping the beans over cooked couscous or bulgur, then pairing them with whatever veggies I've got. You could try this with quinoa, rice, barley, millet, or any whole grain you love. And once again, hempesan or vegan parmesan would be a great finishing touch.
I've got a six quart slow cooker, which works best for sizable batches, but you could definitely cut the recipe in half if you've got a smaller slow cooker (or if you make it in a Dutch oven instead). Even now that I'm only cooking for one, I find it helpful to make big batches and freeze half right away. It's such a relief to have ready-made, healthful food at the ready when I need it; just earlier this week I finished the last of my spicy black bean soup, and I was sorry to see it go.
If you haven't yet entered to win a copy of Ali's new bread baking book, I'm running a giveaway for the next two weeks. In the meantime, I hope some of you will get to try these beans soon. If you do, let me know what you think! Happy weekend,
xo