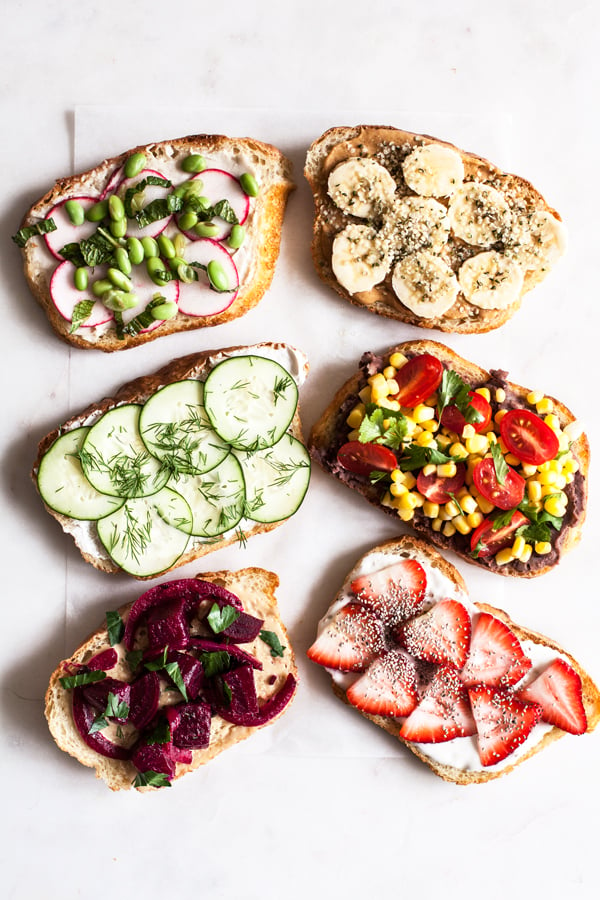 I've mentioned recently that I'm dipping my toes (gradually) into the world of homemade bread making. Like a lot of home cooks, I've harbored a fear of any recipe involving yeast for as long as I can remember, which doesn't really make sense: yeast is just another ingredient, and it's probably less temperamental than some others. But as soon as I start to read about proofing and resting and autolysing, my eyes start to glaze over.
The thing is, I really, really love bread. And while I'm always happy to support awesome bread brands (like Silver Hills, which I wrote about recently), it seems like a shame not to have the tools to prepare a food I love so much at home. This is why I'm thrilled to have found Alexandra Stafford's book, Bread Toast Crumbs, and her game-changing peasant bread recipe.
Ali is the voice behind Alexandra Cooks, a chronicle of many types of home cookery but especially anything involving bread (and all of the things you can make with bread). Ali went to culinary school and has spent time in the kitchens of some masterful chefs, but her style is rustic and homey. She features simple, timeless, family-friendly recipes that you'll make on repeat. Her blog isn't vegan, but many of her weeknight recipes—including curries, grain salads, and a plethora of chickpea-based dishes—are, or easily can be.
Most of all, Ali is a champion of homemade bread, which her mom baked and served at the family table every night during her childhood. When Ali moved away she missed the bread more than any other fixture of home, so her mother gave her the recipe, which she quickly started baking for friends and roommates. Years later, she begged her mother to allow her to share the recipe—which was until then a closely guarded family secret—on her blog, and it became an internet sensation.
It's not hard to see why. The bread is no-knead, but it doesn't require any long rise times or fermentation or overnight stints in the fridge. It doesn't even demand folding or gentle kneading: after the first rise, you simply deflate it with two forks, use the same forks to divide it in half, then plop the dough into two buttered pyrex bowls (this video sums it up in about a minute). You bake the bread in those same bowls, which means that the entire process is essentially mess-free.
One of the major deterrents of bread making (at least in my experience) is creating a sink full of floured and greased bowls to clean, not to mention flour-dusted countertops, a dirty stand mixer…you get the idea. The beauty of this recipe is that it's not messy, cumbersome, or time consuming: it's bread you can make if you plan to be home for two hours doing other things.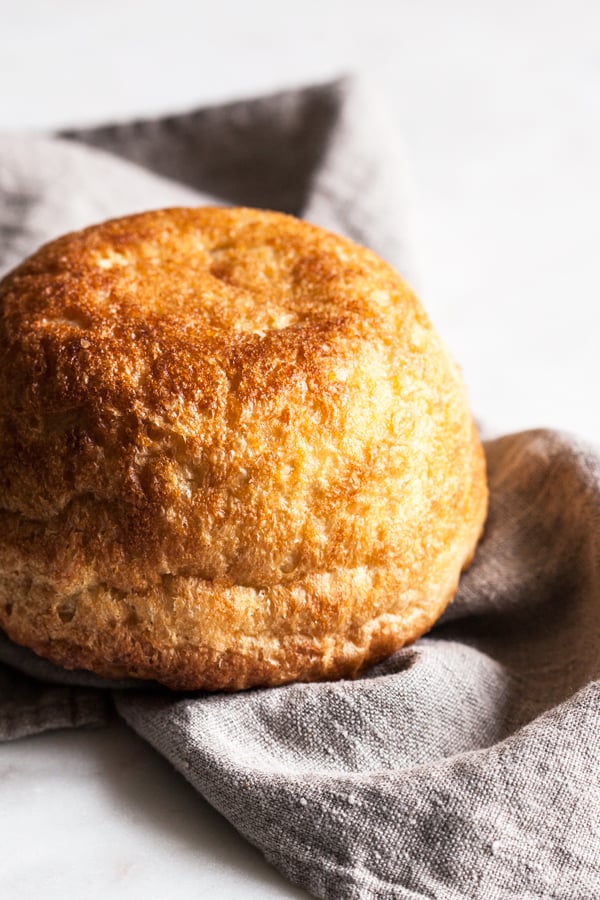 In spite of being almost entirely hands-off, the bread has a perfect texture, a nice, golden crust, and an adorable round shape. It's delicious enough to tear apart and eat as it is, but it also makes stellar toast.
Bread Toast Crumbs is dedicated to showing off the bread's versatility: the first third of the book features the master peasant bread recipe, along with a ton of variations, from whole grain versions to cinnamon swirl loaf to olive and other savory breads. The second third features toast or bread-based fare (sandwiches, bruschetta), while the final third features recipes that you can make with all of your bread ends and crumbs (soups, pastas with buttery crumbs, that kind of thing).
It's basically a bread lover's dream come true.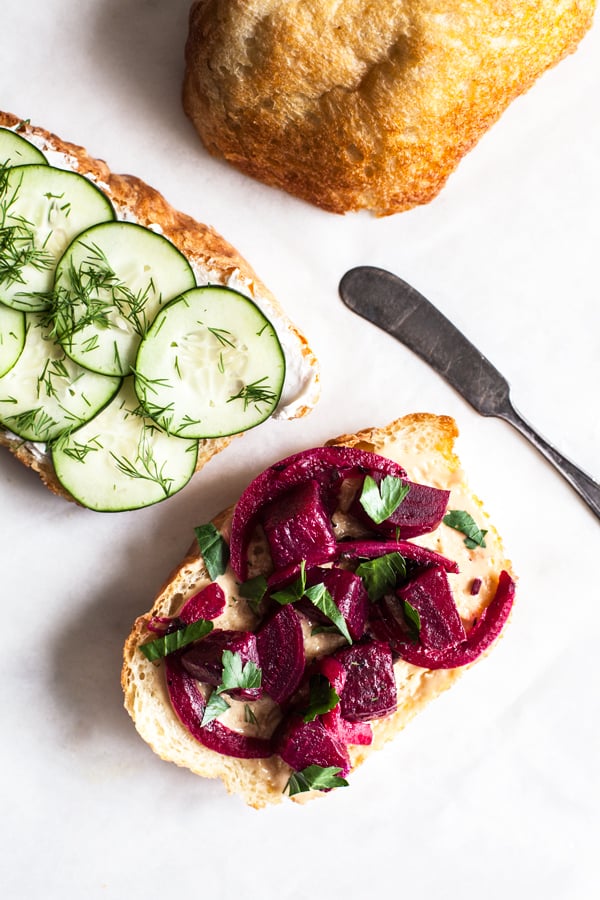 Best of all, the peasant bread and most of its variations are all vegan-friendly. The only thing you'll need to do is swap vegan buttery sticks or coconut oil for the butter you'll use to grease the pyrex bowls (or another baking vessel). After that, you simply need water, salt, yeast and flour.
Some of the vegan-as-written recipes include the three-seed, rosemary semolina, quinoa flax, einkorn, walnut, rye, bulgur, kalamata olive, anadama, and oatmeal maple breads; ones that can be veganized with a simple swap (honey for maple syrup; buttermilk for a non-dairy milk + vinegar combo) include the honey whole wheat, cinnamon swirl, pumpkin harvest, and dark chocolate breads. Ali even has a tried-and-true, gluten-free option.
I haven't yet explored all of these variations, but I've got them bookmarked. For the time being, I've been marveling over how easy it is to prepare the peasant bread every couple of days. The recipe yields two loaves, and I usually keep one and share the other with a neighbor or friend or with my mom (who now claims she doesn't want to eat any other bread). I never imagined that it could be so easy to integrate bread-making into the bustle of everyday life, but I think that's exactly what Ali is going for with this book: an approach to bread-making that feels fear-free and realistic. And I can't imagine a warmer or more personable voice than hers to demystify the process.
In a second, I'll share some of the toast ideas that have recently emerged from my bread-making efforts. But first, here's Ali's famous peasant bread recipe.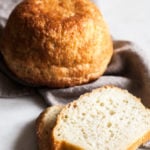 Print Recipe
Alexandra Stafford's Peasant Bread
Servings:
2
14-ounce loaves
Ingredients
4

cups

512 grams unbleached, all-purpose flour

2

teaspoons

kosher salt

2

teaspoons

sugar

2 1/4

teaspoons

instant yeast

2

cups

lukewarm water

made by mixing 1/2 cup boiling water with 1 1/2 cups cold water

Softened vegan buttery sticks or solid coconut oil

for greasing*
Instructions
In a large bowl, whisk together the flour, salt, sugar, and instant yeast. Add the water. Using a rubber spatula, mix until the water is absorbed and the ingredients form a sticky dough ball.

Cover the bowl with a damp tea towel or plastic wrap and set aside in a warm spot to rise for 1 to 1 1/2 hours, until the dough has doubled in bulk. Note: Here's a trick for making the perfect warm spot for the dough to rise. Set the oven to 400° F and let it preheat for 1 minute, then shut it off. The temperature will be between 80° F and 100° F. You should be able to place your hands (carefully) on the oven grates without burning them.

Set a rack in the middle of the oven and preheat it to 425° F. Grease two 1-quart oven-safe bowls, like Pyrex, with softened vegan buttery sticks or coconut oil—be generous. Using two forks, deflate the dough by releasing it from the sides of the bowl and pulling it toward the center. Rotate the bowl quarter turns as you deflate, turning the mass into a rough ball.

Using your two forks and working from the center out, separate the dough into two equal pieces. Use the forks to lift each half of the dough into a prepared bowl. If the dough is too wet to transfer with forks, lightly grease your hands with butter or oil, then transfer half to a bowl. (If your dough drops and breaks apart on the transfer, don't worry, just divvy the dough between the bowls and it will come back together as it rises.) Do not cover the bowls. Let the dough rise on the countertop near the oven (or another warm, draft-free spot) for 10 to 20 minutes, until the top of the dough just crowns the rims of the bowls.

Transfer the bowls to the oven and bake for 15 minutes. Reduce the heat to 375° F and bake for 17 to 20 minutes more, until evenly golden all around. Remove the bowls from the oven and turn the loaves out onto cooling racks. If the loaves look pale, return them to their bowls and bake for 5 minutes longer. Let the loaves cool for 15 minutes before cutting.**
Notes
*I think the buttery spread gives much more flavorful results, but both options will work.
**If you don't have 2 one-quart bowls, you may use other vessels, though differences in pan sizes will affect the shape of the final loaves. This recipe can be adapted for 2 loaf pans (preferably 8.5 x 4.5-inch pans) by multiplying the quantities of ingredients by 1.5 (i.e. 6 cups/768g flour, 3 cups water, etc.).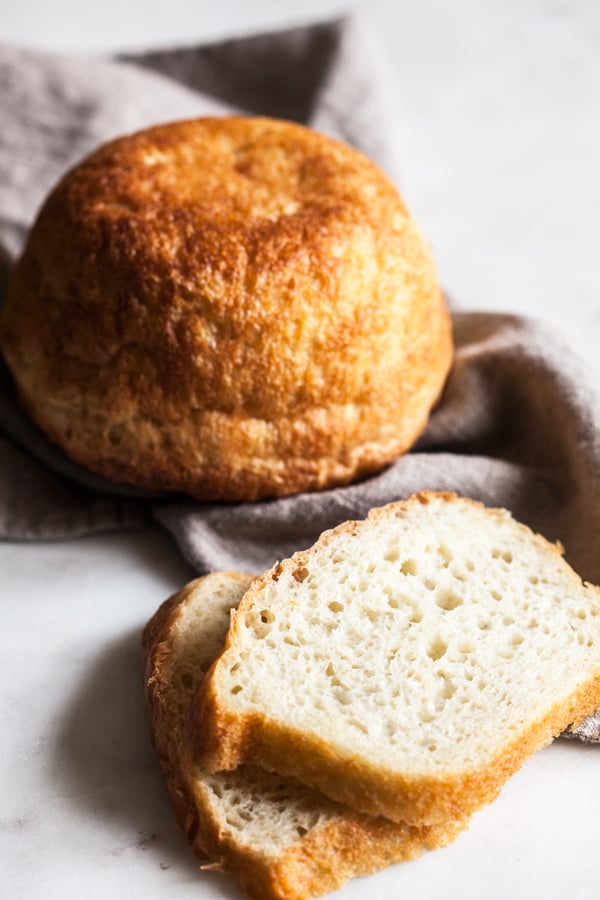 Once you've got bread, it's time for toast. Of course any of the usual suspects—avocado toast, hummus toast, PB & J—are great. But I thought it would be fun to share some of the less-usual toast combinations I've been enjoying lately, both savory and sweet.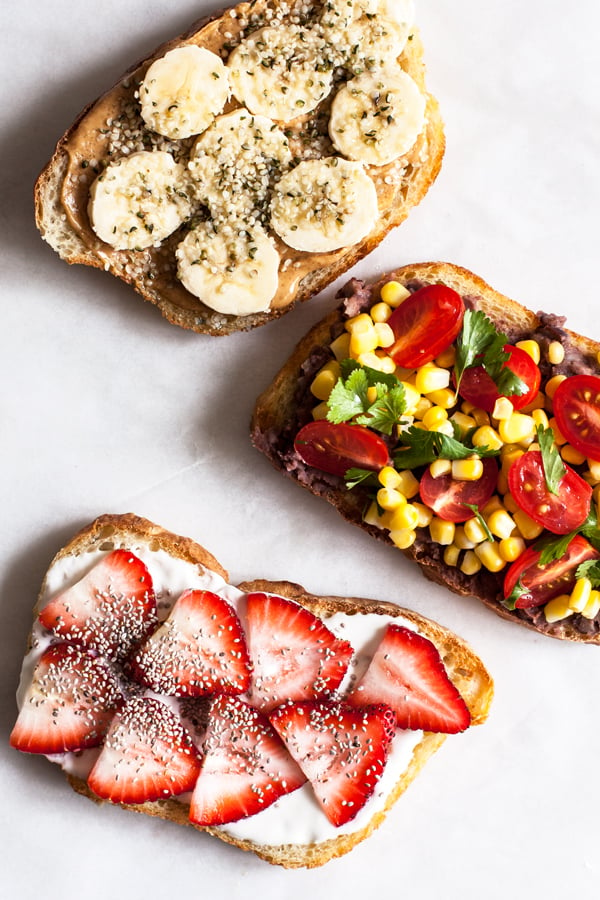 Breakfast Toasts
PB, Banana, and Hemp Toast: Spread your favorite peanut butter over toast. Top with freshly sliced banana, shelled hemp seeds, and a drizzle of agave or maple syrup.
Black Bean Toast with Quick Corn Salsa: Top toast with some vegan refried beans (I like the refried black beans from Whole Foods' 365 brand and the refried black beans with chiles from the Pacific brand). Toss some corn kernels (fresh and blanched or frozen and heated) with halved cherry tomatoes, lime juice, a drizzle of olive oil, and fresh, chopped cilantro. This one's also great with some finely chopped red onion or diced avocado!
Yogurt Toast with Berries and Chia: Top toast with your favorite vegan yogurt (my favorite is Nancy's soy yogurt or Kite Hill yogurt), sliced strawberries (or any other berry) and a sprinkle of chia seed.

Lunch (or Dinner) Toasts
Cashew Cheese with Edamame, Radish, and Mint: Spread some of my go-to cashew cheese recipe (or your favorite spreadable/soft vegan cheese) over toast. Toss some steamed, shelled edamame, thinly sliced radish, and finely chopped mint with a squeeze of lemon and a little drizzle of olive oil (if desired). Pile the edamame mixture over the toast.
Tahini, Beet and Parsley: Spread tahini on your toast. Toss some steamed or roasted beets with red onion (or pickled red onion), parsley, olive oil, and lemon. Pile the beets over the tahini toast.
Cream Cheese, Cucumber, and Dill: Spread your toast with vegan cream cheese (I still love the Tofutti non-hydrogenated better-than-cream-cheese, but Go Veggie, Kite Hill, Follow Your Heart, and Daiya make great varieties), thinly sliced cucumber, and fresh dill.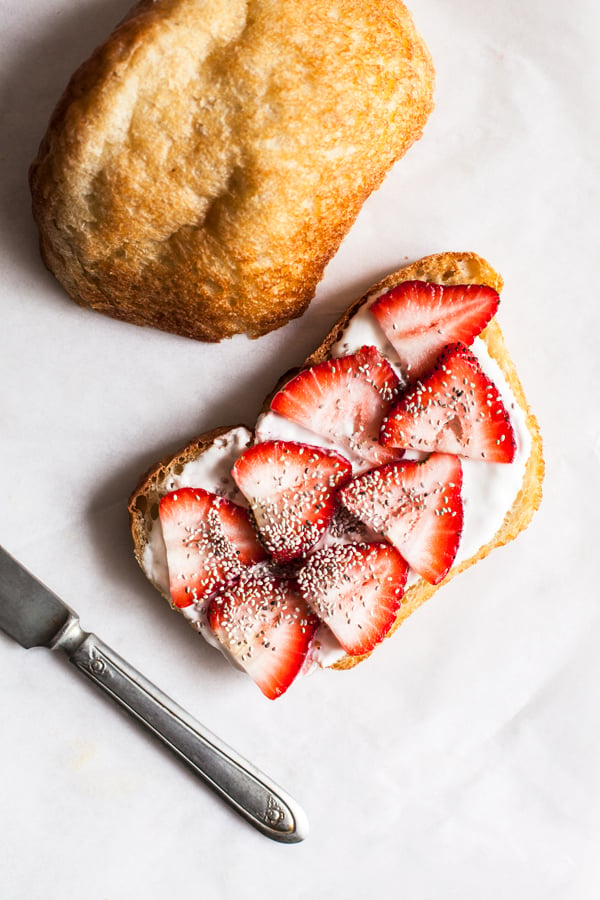 Sometimes a cookbook seems to fall into your hands at just the right time. In these past few weeks, as I adjust to new circumstances, I've been craving simple, comforting food—bread, toast, and soup especially. It feels wonderful to have the tools to make my own bread, week in and week out, easily and without fuss. Once I have a good feel for the process, I look forward to branching into other loaves and different blends of flours. And I'll be sharing what I learn here on the blog!
If you'd like to join me in exploring the world of homemade bread, I'm happy to say that Ali and her publisher are offering one of my readers a free copy of Bread, Toast, Crumbs. The giveaway is open to US and Canadian readers, and I'll pick and email a winner two weeks from today.
Of course, these toast combos will work nicely with any bread you like. You can use your own cherished recipe, or you can try them with your favorite bread brand. I hope you'll enjoy some of them in the months ahead. Later this week, I'll check in with yet another toast topping idea, but one that's also great for serving with noodles, whole grains, or veggies. Stay tuned!
xo