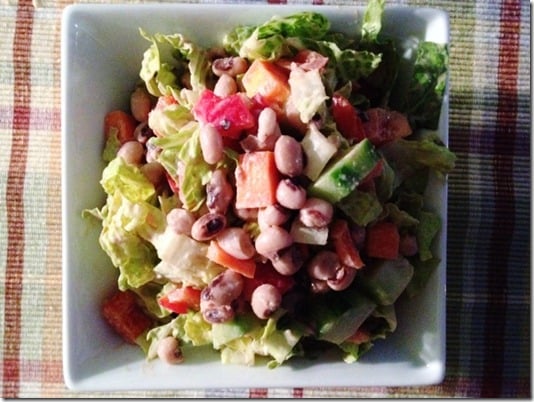 "Speedy" refers not only to the recipe in this post, but also to the time in which I have to write the post itself. So let me get to the point: this black eyed pea salad is delicious. It may not be the most beautifully photographed salad I've shared, because I took the photo on my iphone, at night, too tired to break out the fancy camera, and it may not be the most exotic or creative. But if you're in a time crunch, this salad is very tasty, very nutritious, and it's well worth your making.
I tend to ignore black eyed peas in my kitchen. They invariably come out at least once a year, at New Year's, when in keeping with tradition I whip up something like this year's Hoppin' John salad:
But really, why should we limit our black eyed pea consumption to New Year's? These tasty beans—for they're really beans, not peas—are loaded with folate, manganese, Vitamin A, soluble fiber, and protein. They keep their shape well (I know this because I recently overcooked them in my pressure cooker, only to find that they didn't turn into mush, the way chickpeas often do), and they're cool looking. All of which means that I should add them into my more typical rotation of black beans, chickpeas, red lentils, and navy beans.
This salad is a simple mix of raw veggies, black eyed peas, and an easy almond butter dressing. It took me about 10 minutes to prepare, and the leftovers were great—not too soggy. In these busy days, this is exactly the kind of no-fuss recipe I need.
Speedy Black Eyed Pea Salad
Author -
2

cups

cooked black eyed peas

1

cup

diced cucumber

1/2

cup

diced carrot

1

cup

diced bell pepper

2

cups

shredded romaine lettuce

1/4

cup

almond butter

1

tbsp

low sodium tamari

1

pitted date

1

tbsp

fresh lemon juice

1/4

powdered ginger

1/2

cup

water
Mix all of the vegetables and the peas together in a large mixing bowl.

In a blender, combine the almond butter, tamari, date, lemon, ginger, and water. Blend till smooth. It may look thin at first, but this dressing will thicken considerably in the fridge.

Pour dressing over the salad according to how thickly you like your greens dressed. Serve with a sprinkle of fresh herbs, and enjoy! This salad serves about 2.
So what if this salad doesn't appeal? Fear not. Because I made a giant batch of black eyed peas—four cups worth of them, cooked—I also whipped up some of Valerie's delightful cilantro scallion black eyed pea dip. I noticed this when Val originally posted it, and made a note to try it. It is really, really good: the herbs give it tons of flavor, and it's nice to try a hummus/dip now and then that doesn't use tahini. Val's recipe calls for avocado oil, but olive is what I had, so olive is what I used.
I highly recommend checking out the recipe!
And that's it for me today, folks—so sorry to be brief. A more thoughtful post tomorrow, and a recipe courtesy of Brendan Brazier coming to you on Friday.
xo