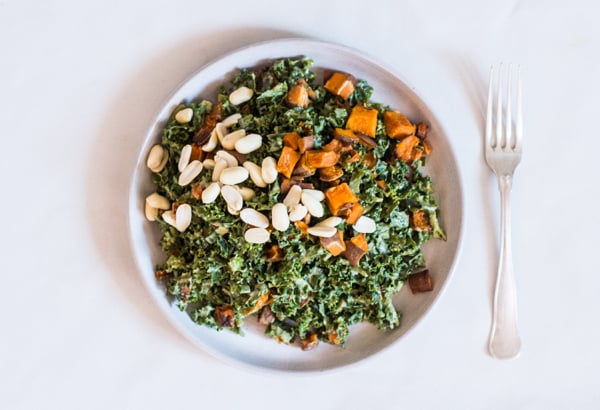 This spicy peanut kale salad is a proof that delicious recipes and meals can grow out of paltry fridge scrapings. Last weekend, I found myself home at lunchtime with two remaining bits of produce (a bunch of kale, almost one its last legs) and a sweet potato (not sure how long it had been in my fridge, but "too long" is probably the answer). But there are far worse starts to a meal, and as soon as it occurred to me to make a good, salty, spicy dressing, I was on my way to a pretty stellar lunch.
As I was throwing this salad together, I wondered if I shouldn't run to the grocery store for some red pepper to chop in, or some purple cabbage, or…something. That would make it prettier, I thought, and a little more varied. But lately I've been trying not to focus so much on making every recipe "perfect" or picture worthy. I've been trying to use what I have, rather than constantly re-stocking in order to execute a vision. I've been trying to cultivate trust that I can create something tasty even if I don't have a fridge full of produce to work with.
I've been trying, in other words, to go with the flow. It's a good lesson in my education as a home cook. And yes, there's probably a recovery lesson in here someplace, too. Learning to be a little more reactive–adjusting to what's available and what's on hand–rather than proactive and planning-oriented, is, I think, a useful lesson for those of us who tend to obsess over or be perfectionists about food. Obviously, it's commendable (and downright necessary) to be organized when it comes to food/groceries/weekly meals, so I won't belabor this point. But I do think I'm benefiting from a less thoroughly organized approach to my meals these days.
Especially when the result of my spontaneity is a salad like this one.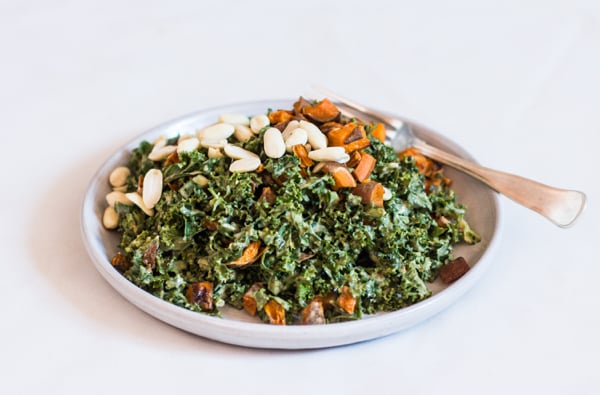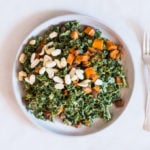 Spicy Peanut Kale Salad
Author -
1/4

cup

organic peanut butter

1/3

cup

water

1

tablespoon

tamari

substitute coconut aminos

1 1/2

tablespoons

rice vinegar

1

tablespoon

apple cider vinegar

1

teaspoon

sesame oil

1/2

tablespoon

finely minced ginger

2

teaspoons

maple syrup

Dash of sriracha OR cayenne pepper

to taste (make sure you are using gluten free sriracha if you don't consume gluten)

1

large sweet potato

cubed

1

tablespoon

coconut oil

1

large bunch curly kale

stems removed, washed and chopped into small pieces

1/4

cup

peanuts

toasted (almonds or walnuts are also fine)
Preheat oven to 400 degrees. Toss the sweet potato with the coconut oil and place on a foil lined baking sheet. Roast for 25 minutes, or until tender.

Blend the peanut butter, water, tamari, rice vinegar, cider vinegar, sesame oil, ginger, maple syrup, and sriracha in a blender till smooth, or use a fork to whisk it all thoroughly.

Massage the dressing into the kale, using only as much as you'd like and saving any extra. Add the sweet potato and toss everything to combine. Divide the salad onto plates and top with peanuts. Enjoy.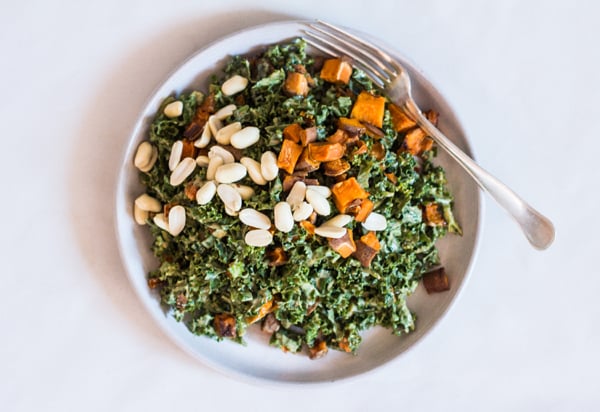 Of course, the "spicy" bit in this salad is the sriracha or cayenne, which you can adjust as needed. I'm a wimp about spice, so my "dash" was pretty tiny. But go crazy, if you're so inclined.
It's amazing how two vegetables can create something this good. Hope you'll enjoy the salad as much as I did, and that you have a great evening.
xo