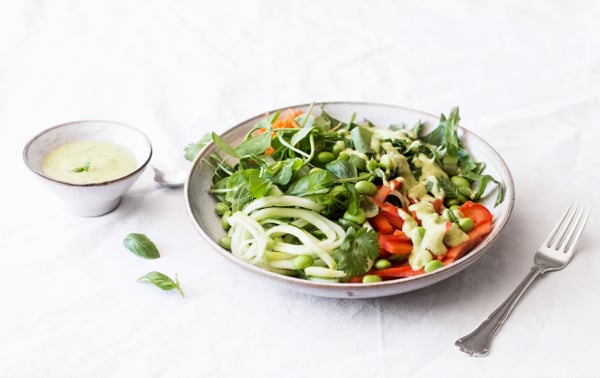 Tonight's dinner was inspired by Tuesday's lunch. On Tuesday, in unseasonably sweltering heat, I met a friend at Caravan of Dreams, which is a vegan lunch spot tucked away on 6th street. I like Caravan because it's cozy, welcoming, and it has an extensive vegan menu with both raw and cooked options.
On this visit, I decided to try the restaurant's Thai avocado salad, "a mixture of avocado, tomatoes, cucumbers, nori pieces, and carrots served over fresh onganic seasonal greens tossed in Thai spicy citrus dressing." Of course, I forgot to take a photo. But fear not: I liked it so much that I decided to re-interpret the spicy Thai salad tonight.
This salad is so flavorful. It's sweet, spicy, and infused with fresh basil and cilantro. The dressing is avocado based, and it's thick and tasty enough to serve as a vegetable dip as well as a salad dressing. Poured over spirals of carrots, cucumber, red peppers, red cabbage, and pea shoots, it's absolutely divine. And some extra avocado doesn't hurt the finished salad, either.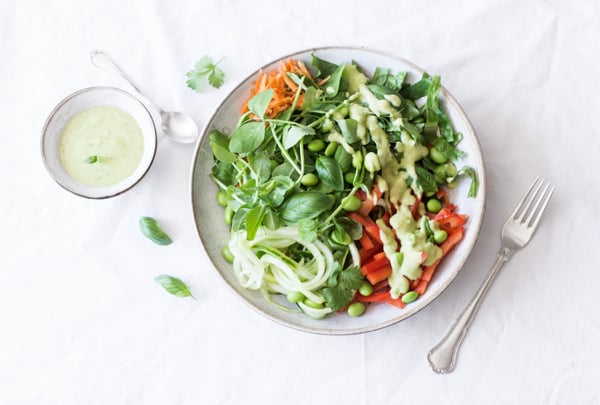 Spicy Thai Salad
Cuisine:
vegan, raw, gluten free, soy free, no oil, tree nut free
Author:
Prep time:
Cook time:
Total time:
Serves:
Makes 3-4 servings
For the spicy Thai dressing:
1/2 Hass avocado
1/2 cup water
3 tablespoons freshly squeezed lime juice
2 tablespoons fresh cilantro
2 tablespoons fresh basil
2 pitted Medjool dates
1/2 inch peeled raw ginger root
¼ tsp salt (more to taste)
Pinch cayenne pepper
For the salad:
2 cups spiralized or thinly sliced cucumber
1 red bell pepper, cut into matchsticks
2 cups grated carrot
1 cup pea shoots
3 cups chopped romaine lettuce
1/2 cup finely chopped fresh basil leaves
1/4 cup finely chopped fresh cilantro
[i]Optional[/i]: 1 ataulfo mango, peeled and sliced into matchsticks
[i]Optional[/i]: 1/2 cup shelled, steamed edamame
Blend all dressing ingredients in a blender till smooth.
Pour dressing over all salad ingredients. Toss well to combine and serve.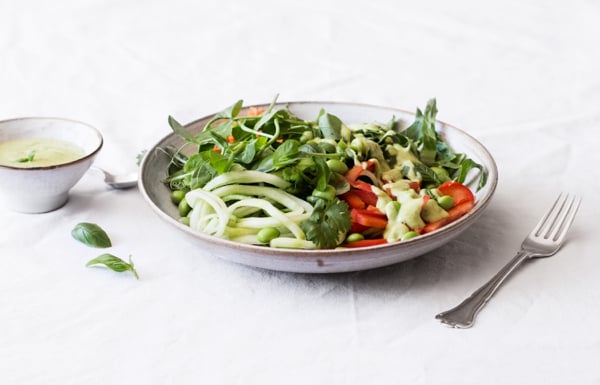 It was absolutely delicious! Alongside some baked sweet potato (which I forgot to photograph), it made for a great meal. This one will definitely be a keeper for summer.
That's it for now, all – have a great night 🙂
xo