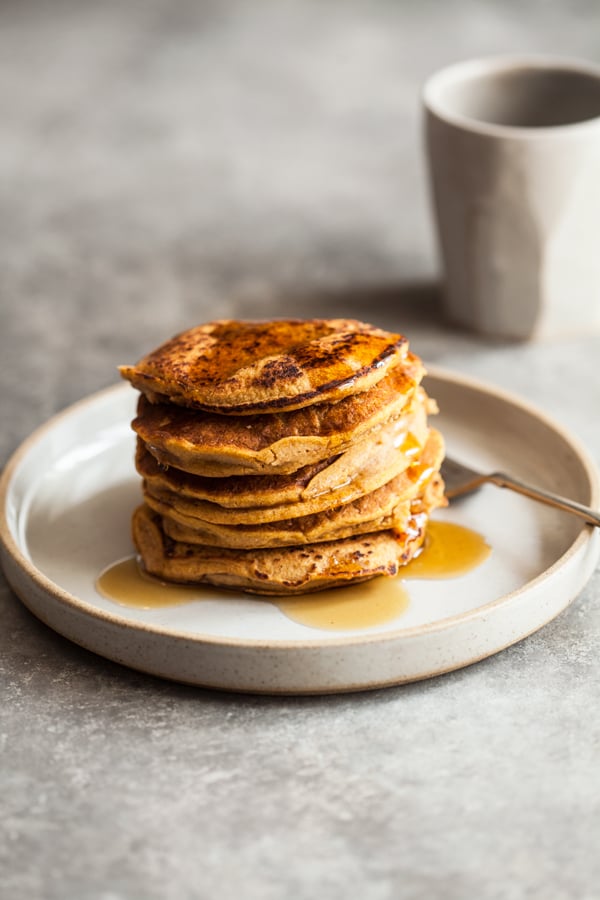 I was curious to see how long it would take me to break out the canned pumpkin this year–it's a waiting game each autumn, a question of when, not if, and once I get started there's no stopping me–but this year, sweet potato seems to have beat pumpkin to the finish line. I can't think of a more wonderful use for it than these sweet potato millet pancakes, which combine the mild sweetness of millet flour with the bolder sweetness of sweet potato puree. They have a beautiful orange color, and they'll make your entire home smell like fall as they heat up on the griddle.
One of my favorite parts of homemade baking is to experiment with different whole grain flours. Often my baked goods ends up being a combination of flours, since many of the whole and ancient grain varieties seem to work really well when they're combined with spelt or gluten-free, all-purpose flour.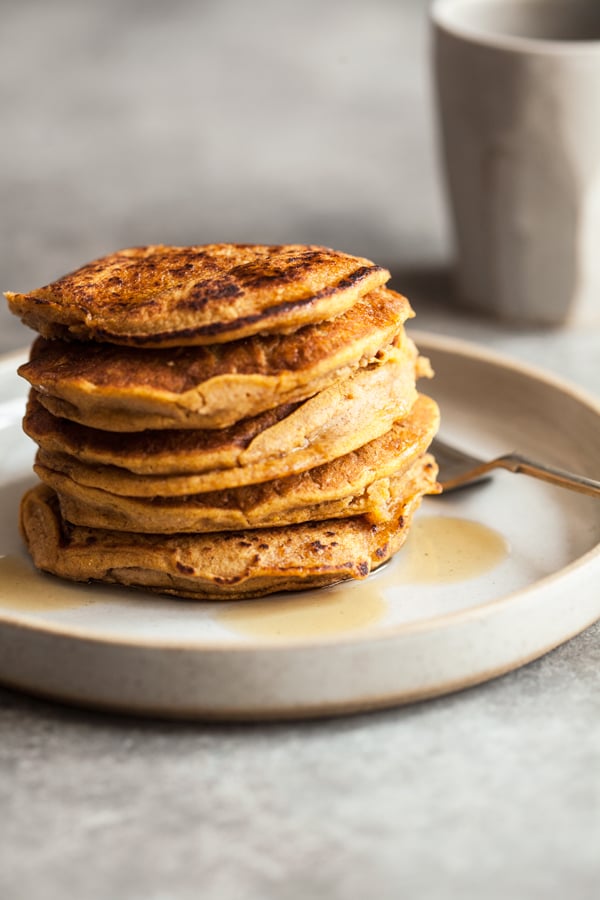 That's precisely the case here: I use a ratio of one part millet flour to two parts spelt or gluten-free, all-purpose. I tested the recipes both ways; spelt flour gives the pancakes a slightly nutty flavor, while gluten-free all-purpose (or regular all-purpose) will allow the mild sweetness of the millet flour to shine through a little more. The pancakes have a lovely, pillowy rise, as you can see above, but the sweet potato gives them a slight heartiness, too. I used homemade sweet potato puree because I was eager to use up my sweet taters before traveling this past weekend, but of course, canned puree is just fine. And, if you just can't wait for pumpkin, go for it–you can use the same amount in place of the sweet potato.
This recipe is part of a little celebration that some of my fellow bloggers and I are having for Lindsay Love, fellow NYC-lady and author of the wonderful blog Dolly and Oatmeal. I've been a fan of Lindsay's creative, artful recipes for a long time, and this year I was introduced to her awesome book, Chickpea Flour Does it All.
While not entirely vegan, the book features a ton of vegan or mostly vegan recipes featuring chickpea flour. I've definitely known chickpea flour to be a versatile baking ingredient before–I've used it in quick breads, flatbreads, crepes, socca, and my favorite chickpea flour scramble–but Lindsay has opened my eyes to so many new uses, including dressings and sauces, desserts, and even a soy-free "tofu." The book is well worth checking out, especially if you're gluten free and eager to incorporate a higher protein flour into more of your home cooking.
Lindsay happens to be counting down the days until a new member of her family arrives, and so some of her blogging friends and admirers are gathering some recipes together as a baby shower offering for her. When I think about the recipes that might mean something special to me as I was going through a big life transition, I think about recipes that are comforting and cozy. I think about autumnal spices and the familiar smell of pancakes being flipped over the stovetop while coffee is brewing.
In other words, I think about something a lot like these pancakes. Lindsay, congratulations, and I hope that perhaps a friend or loved one will treat you to breakfast soon, as you settle into your new role as a mom!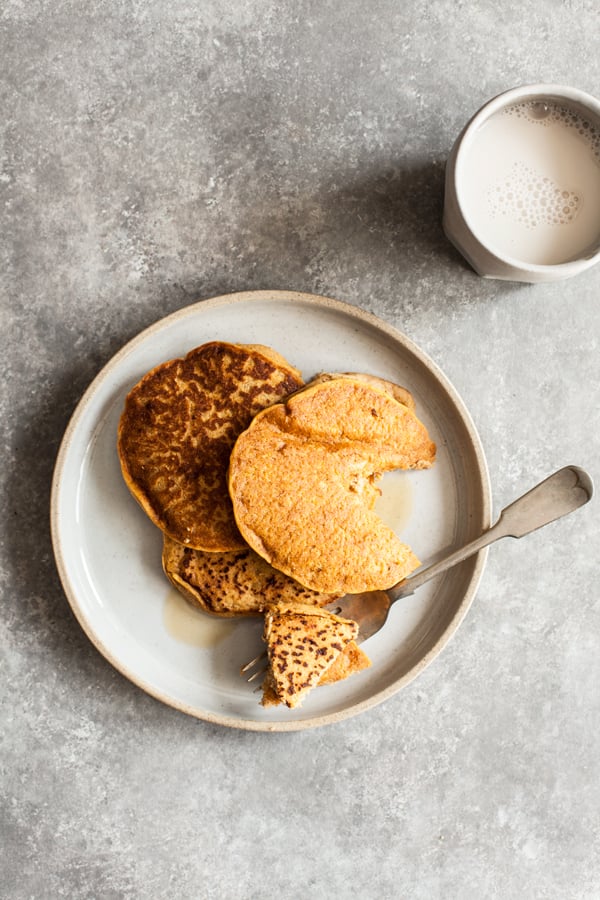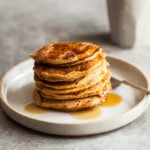 Sweet Potato Millet Pancakes
Author -
1/2

cup

millet flour

1

cup

spelt or gluten-free

all-purpose flour (I like Bob's Red Mill One-to-One or King Arthur Gluten-Free Multi-purpose flour)

2

teaspoons

baking powder

1/4

teaspoon

salt

1

teaspoon

ground cinnamon

1/4

teaspoon

ground nutmeg

2

tablespoons

cane sugar or demarara sugar

1

teaspoon

apple cider vinegar

1 1/4 - 1 1/2

cups

almond or soy milk

start by using 1 1/4 cups

1

tablespoon

vegetable oil

such as safflower, grapeseed, or canola

3/4

cup

sweet potato puree*
Lightly oil a large skillet or griddle. Whisk together the flours, baking powder, salt, cinnamon, nutmeg, and sugar.

Whisk together the apple cider vinegar and 1 1/4 cups of the almond or soy milk. Stir in the vegetable oil and sweet potato puree.

Add the wet ingredients to the dry and mix until they're well combined. If the batter is overly thick, add more almond or soy milk, two tablespoons at a time, until it has the right consistency for pancakes (not runny, but easy to scoop and pour into your skillet).

Allow the batter to rest while you heat the skillet or griddle over medium heat. When the skillet is hot, add the batter in 1/4-cup scoops. Allow the batter to cook until small bubbles are forming on the surface of each pancake and the bottom is firm. Flip the pancakes and allow them to cook on the other side for another 2 minutes, or until both sides are golden and the pancakes are fluffy. Transfer the pancakes to cooling rack or a plate while you finish up the batter.
*3/4 cup sweet potato puree is about 1 medium sweet potato, baked or steamed and flesh mashed. You can also use canned puree, or you can substitute pumpkin!
In place of spelt or gluten-free, all-purpose flour, you can use regular, all-purpose flour or whole wheat pastry flour.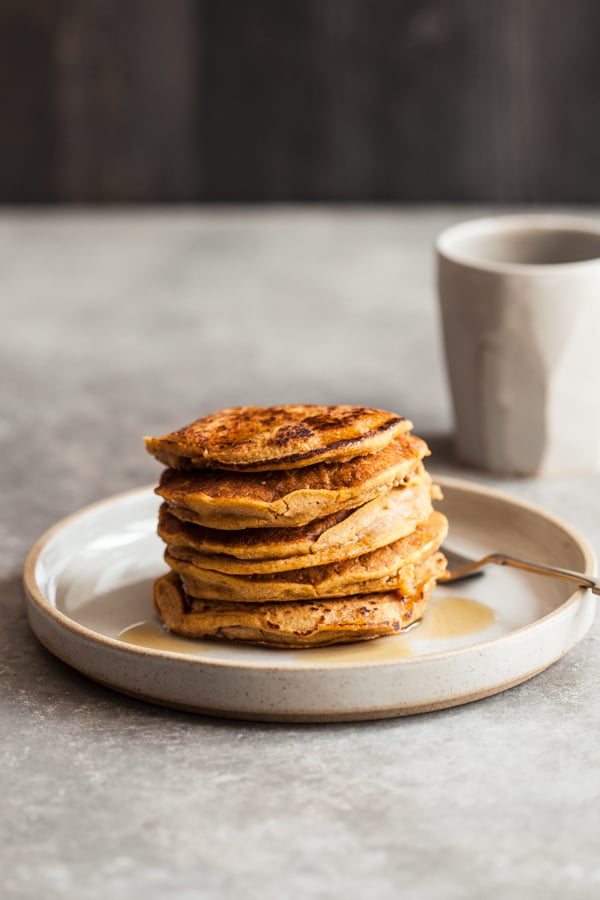 These may just become Steven's and my go-to pancakes this coming fall. It's been a while since we varied our breakfast routine–most of the time, honestly, I whip up my tostadas or oats and he pours his cereal, and we call it a morning–but when we first started dating, we made pancakes almost every weekend. It was a nice tradition, and I'm thinking it's worth re-creating.
And if you're on the hunt for fall recipe inspiration, take some time to check out other contributions to Lindsay's shower, all of which are dairy and gluten free and many of which are vegan!
Mushroom and Kale Tacos | Brooklyn Supper
Butternut Squash French Toast | Edible Perspective
Chocolate Chip Ice Cream Sandwiches with Honey Olive Oil Ice Cream | Cake Over Steak
Roasted Green Tomato Soup with Herbed Oil | With Food + Love
Tart Cherry, Chocolate & Hempseed No-Bake Oat Bars | Kale & Caramel
Dark Chocolate Hummus | A Couple Cooks
Maitake Steaks with Cauliflower Purée | O&O Eats
Cucumber & Chamoe Melon Salad | Two Red Bowls
Strawberry Rhubarb Jam | The Sugar Hit
Miso Edamame Hummus with Baked Furikake Sweet Potato Chips | Fix Feast Flair
Mini Hazelnut Cakes | I am a Food Blog
The Magic of a Mandolin: Vegetable Carpaccio | Eat Boutique
Almond Chia Pudding with Roasted Grapes | Tending the Table
Peanut Butter and Dark Chocolate Puffed Millet Bars | Heart of a Baker
I hope you'll love the pancakes, too. And I wish you a wonderful start to the week.
xo