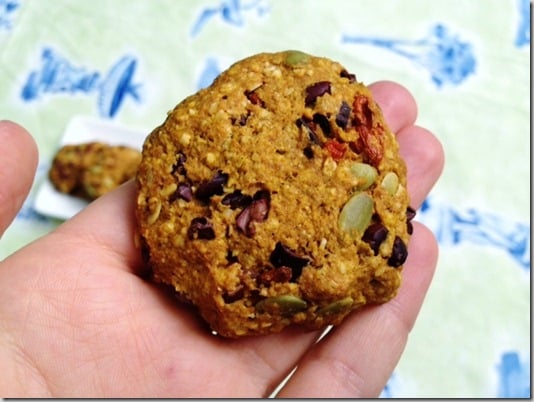 As I may have mentioned, Wednesday marked my return to post-bacc life. In spite of my grumblings and expressions of dread, I'll admit that I'm still very susceptible to "back to school" glee: the organizing, the purchasing of new pens. It's all so hopeful and structured. For a while, anyway.
My extensive spreadsheets and calendars and shiny new pencil tips may not make it to October, but what will make it there, I'm sure, is my need for nourishing student snacks and after class treats. The most common email request I'm getting lately is for snack and packed lunch ideas, and I promise, I'll be sharing. We can start with these adorable, healthy little cookies, stuffed with superfood ingredients!
I can't decide what to call these guys. Breakfast cookies? Snack cookies? Dessert? They can be all of those things. They're sweet and taste mildly of coconut (I use coconut oil in the recipe), but they're not sugary, and you can modify the level of sweetness as you like. Obviously, part of my goal with these cookies was to pack in some antioxidant-rich superfoods, and I sure did: between the cacao nibs, the pumpkin seeds, and the pumpkin itself (which I use for moisture), the cookies are brimming with micronutrients and healthy fat. But they're also tasty and satisfying: perfect with a glass of almond milk, after a long lab.
You can substitute applesauce or pureed pears for the pumpkin in this recipe if you like! And if you have a gluten intolerance or celiac disease, please be sure to purchase certified GF oats.
Superfoods Stuffed Vegan Oatmeal Cookies (vegan, GF option, soy free)
Makes 16-18 cookies
1 1/3 cup quick oats
1 cup oat flour
2 tbsp ground white chia seed
1.5 tsp baking powder
1 tsp baking soda
2 tsp cinnamon
Dash salt
1/3 – 1/3 cup maple syrup (adjust as desired)
1/3 cup oil
2/3 cup pumpkin puree
1/2 cup pumpkin seeds
1/3 cup cacao nibs
1/2 cup goji berries
1. Preheat the oven to 350 degrees.
2. Mix the oats, oat flour, ground chia, cinnamon, baking powder and soda, and salt in a mixing bowl.
3. Whisk together the syrup, oil, and pumpkin puree. Add wet ingredients to dry and mix well. Add the pumpkin seeds, cacao nibs, and goji berries, and incorporate them evenly.
4. Bake for 10-12 minutes, or until golden.
The texture of these cookies is soft, not crispy, and they smell like fall.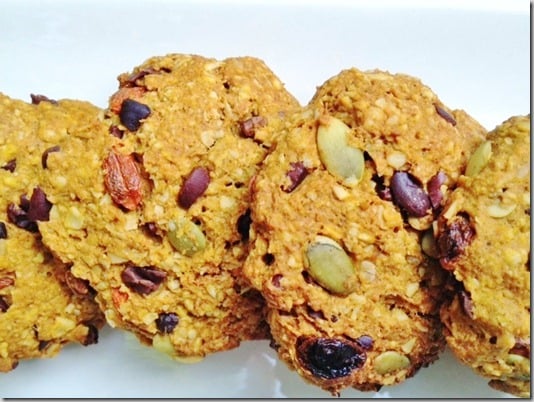 Yum. It goes without saying that the cookies are good for little students, too–not just career changers like this girl! Feel free to make them super kid friendly by adding your childrens' favorite goodies (raisins, chocolate chips) in place of any of the superfoods. Enjoy!
On a more somber note, did anyone read this story about Joshua Shelton, who is said to have killed 70,000 chickens while drunk? He accidentally cut of their food, water, and cooling fans at a factory farm. It's terrible. As I read, I was both appalled and also cognizant of the fact that 286 chickens die every second in the US alone for human consumption, and so I don't want our focus on this particular atrocity to take away from our general awareness of how dire things are. Still, I was deeply saddened, and also struck by how this massive crime was described in terms of human, financial losses, rather than in terms of life lost.
I'd invite you all to give some thought to this event tonight, and then to think about ways in which we can help to change and challenge a culture in which it's possible for animals to be treated this way. News like this is deeply discouraging, but it also presents us with a chance to try to make a difference.
xo