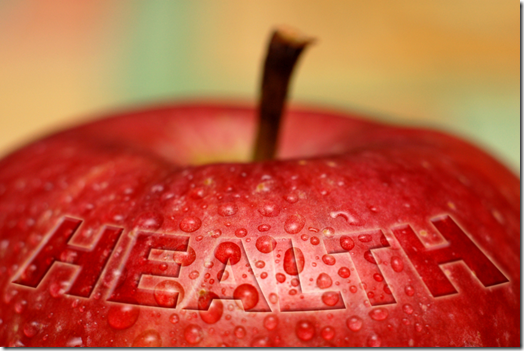 A few months ago, I offered one ticket to a conference called Take Back Your Health, which featured a number of prominent health experts. Among them was Joel Fuhrman, the father of "nutritarianism" (a philosophy that emphasizes a high density of micronutrients and low density of calories). Today, I got to attend the conference with the lovely Valerie.
The first person I saw when I arrived at the Crystal City Marriot in Arlington was Ryan, whom I've corresponded with for years, and whose blog I love to read. Ryan was a co-organizer of the conference, and she graciously ushered me into the main auditorium, where Jason Wrobel was speaking.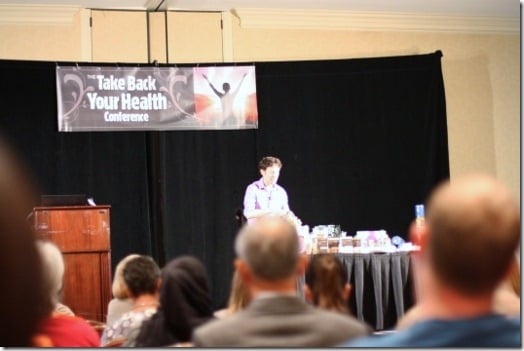 This was the first time I'd seen Jason speak, but we'd met briefly at Expo East, and I'm a huge fan of his giant personality and his fun, passionate, and conscientious approach to raw foods. I knew that the conference itself would offer up many health perspectives, not all of them consistent with the raw foods philosophy, so I was thrilled to connect with a fellow "rawbie." And I must say, Jason has that infamous "raw glow":
Jason and I enjoyed a brief chat before Dr. Fuhrman's presentation. In the moments before he went onstage, Dr. Fuhrman graciously stopped and chatted with me and Val. I told him that Eat to Live (his most well known book) had inspired me in many important ways, and I also mentioned to him that I'm a pre-med student. He asked me how far along I was, and I said that I'm about halfway through my post-bacc.
You can imagine how moved I was when Dr. Fuhrman told me that he'd gotten a post-bacc himself, and that he didn't start med school till he was 29. As you all know, my age was a big deterrent when I was considering the post-bacc, and it's still a source of self-doubt, given how unbelievably long the process of med school, internship, residency, and fellowships will be (presuming, of course, that I get into med school at all). It was wonderful to hear that an inspiring and pathbreaking plant-based physician began his medical career on the later side, and that he would do it all over again.
In his presentation, Dr. Fuhrman stressed the importance of micronutrients (vitamins, antioxidants, minerals), the importance of eating a diet that's high in volume and high in vital nutrients, but low in caloric density, and the possibility of disease prevention and reversal through wholesome food choices. Since he's heavily interested in maximizing the nutrition of the foods we eat, Dr. Fuhrman also shared information on which vegetables release most of their disease-fighting properties through cooking (for example, mushrooms) and which are most potent when eaten raw (onions). I find this fascinating, as I'm always striving to eat a raw/cooked balance that maximizes nutritional density. Left to my own devices, I often prefer raw food to cooked, but I'm also mindful of the fact that cooking does release certain vital compounds, like the lycopene in tomatoes, which is one of the reasons I've always had a semi-raw lifestyle.
I thought you'd find the following slide interesting. Dr. Fuhrman shared a breakdown of typical SAD diet composition. As you can see, a staggering 62% is refined grains, oil, and sweets. Another quarter is animal flesh, eggs, dairy, and fish. No matter how many times I read these statistics, I'm always galvanized to help change the way we think about our plates in this country.
It's no doubt daunting for a person who is new to healthy eating to be presented with as much detailed nutrition information as Dr. Fuhrman has to share, but he presented in a friendly, humorous, and accessible fashion, and it was very inspiring to watch.
We broke for lunch, at which point Val and I devoured some raw kale chips, some kale salad that was being sold by Whole Foods, some fresh honeycrisp apples we'd picked up in the morning, some raw crackers, and a snack bar or two. It was a little raw food lover's picnic. And after, we readied ourselves to see Andrea Beaman, holistic health coach and natural foods chef, speak. Many of you may remember Ms. Beaman from her stint on Top Chef, season 1 (she was the "healthy" chef). Val and I had both heard great things about her work, and were excited for the presentation.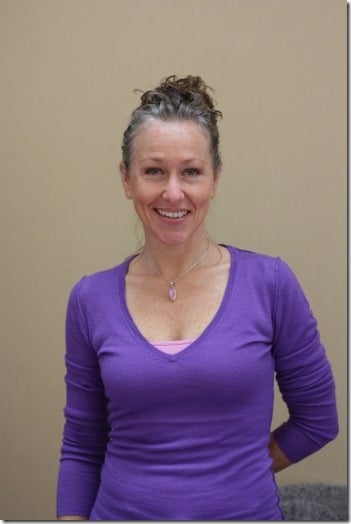 Isn't she a picture of energy?
Ms. Beaman was diagnosed with a goiter and an array of thyroid problems (at various moments, she tested positive for hypothyroidism and hyperthyroidism) at a relatively young age. She was told by doctors that these conditions were untreatable, except with synthroid or another form of thyroid medication. Instead of taking that route, she changed her diet and lifestyle, and she was able to heal the disorders entirely. Her speech was angled specifically to sufferers of thyroid problems, but she said that her health advice could be applicable to most anyone, whether healthy or facing a health crisis.
What struck me as problematic about this presentation, though, was that Ms. Beaman presented advice that's specific to thyroid afflictions as though it's prescriptively appropriate for most anyone. For example, she made a point of discouraging the audience from eating raw goitrogens (kale, broccoli, and cauliflower, as well as unfermented soy foods). It was clear that this advice was loosely intended for thyroid problems, but it also seemed to me that those foods were being cautioned against in general. A few audience members who'd just eaten raw kale for lunch seemed perplexed, and I was left with a feeling I've had before in natural health circles, which is that it's very important for people who lecture about healing to not allow their personal healing stories to dominate their points of view.
Naturally, many health practitioners get into the health field because of personal struggles, and these struggles inform what they teach. Because I've had an eating disorder and IBS, I'm interested in helping people find solutions to those problems. But I also try to remember that not everyone has my history, and that what worked for me is not a universal prescription. If there's anything the holistic health world should offer us, it's a remembrance of the fact that bodies vary, and that there's no single dietary structure for everyone. Ms. Beaman tried to drive this point home, but she also seemed very intent on discouraging raw foods, encouraging the use of butter and other animal foods, and even discouraging almond milk, ostensibly to benefit the thyroid, but with a fairly universal slant.
More troubling than this was Ms. Beaman's attitude toward the power of intuition when it comes to healing. She made a great point of emphasizing "ancient wisdom" and the body's own healing powers, which I respect, but she also made a point of taking jabs at doctors, medical school, and anything to do with the mainstream medical establishment. She also kept insisting that "there is no disease your body can't heal"—a common viewpoint in holistic circles, with which I will never agree. When asked by an audience member if cancer fits into this statement, she responded with a resounding "yes," and, after a vague discussion of the cell biology of cancer, Ms. Beaman asserted that cancer is often an "idea" that someone can't let go of (she also believes that her thyroid ailment was linked to an inability to "speak up" in that decade of her life).
I know that statements like this are meant to be empowering. But I think that the suggestion that cancer is an "idea" is an insult to anyone who has suffered through the disease, or lost a loved one to it. I was reminded of Susan Sontag's superb Illness as a Metaphor, written when the author was battling cancer, which reminds us all to resist the impulse to imagine sickness as an extension of personality.
I was also reminded of how careful we must be when we talk about the body's power to heal. No one feels more passionately about the power of diet and lifestyle to transform personal health than I do. But I also recognize the limits of human agency when it comes to sickness and wellness. There are many things we can control, and some we can't: DNA changes and cells divide for reasons we don't fully understand; autoimmune diseases crop up mysteriously; childhood cancers strike long before lifestyle habits have formed. There is a difference between the Dr. Fuhrman's assertion that we can help to control heart disease and diabetes through diet, and the suggestion that our bodies are capable of conquering any kind of sickness, regardless of its nature. The latter is not only incorrect, but also misleading to the many men and women who suffer from ailments that won't respond to healthy lifestyle habits.
In all, I'm so glad I had a chance to celebrate our power to embrace good health through diet and lifestyle today, and I thank the lovely Ryan and Robin Shirley for organizing the conference. I do, though, wish that Ms. Beaman's positive message had been tempered with a bit more respect for the many important interventions that modern medicine has afforded us, and a somber recognition of the body's limits. The body is powerful indeed, and beautiful, but the sad reality is that sickness can often defy even our most conscientious efforts to live healthily. Here on this blog, we celebrate the power of nutrient dense, healing food. But I'd like to think that we all also understand the inherent mystery of health, and our limitations in controlling it.
Local readers: there is a major discount if you sign up for tomorrow's events today. Check out the conference website for details!
What do you guys think? Is every human ailment within our power to control? How do you feel about allopathic vs. holistic medicine? Illness as a metaphor?
I'll see you back here tomorrow.
xo