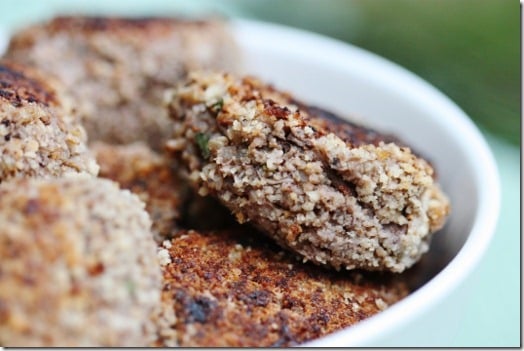 Morning, folks! Thanks for your comments on Saturday's post. I didn't expect that one to go so deep, but I was really fascinated by our conversation about the values and limitations of both holistic and allopathic medicine. It was also nice to see that so many of you are hungry for more integrative practices; that's precisely what I've set out to do

These mushroom, lentil, and quinoa croquettes happened spontaneously last week, as a means of using up some portobello mushrooms that were languishing in the back of my fridge. They're proof that some of the best recipes happen organically, as we fool around in our own kitchens: I put the dish together at random, but the end result was so tasty and ideal that I wouldn't go back and fiddle with anything.
I would imagine that these make great appetizers (you could serve them with a mushroom gravy, a dressing, or some cashew cream), fantastic fillings for a whole wheat pita pocket (think falafel, but untraditional), and of course I enjoyed them over and in a couple of meal sized salads. No matter what you choose to do with them, they're delicious: a little cheesy, a little herb-y, and packed full of health fats, protein, and vitamins.
Mushrooms add texture to this recipe, but since I heard Dr. Fuhrman extol the virtues of mushrooms on Saturday, it would be remiss not to mention that they are also a potent example of food-as-medicine: the polysaccharides in mushrooms are thought to stimulate immune cells, potentially staving off tumor growth and infection. As an example, shitake mushrooms have been linked to the cell death of breast cancer cells, and regular mushroom consumption has been linked to at least some degree of breast cancer prevention in post-menopausal women. All told, mushrooms are as potentially health-boosting as they are delicious. Eat up!
Small disclaimer: this is a long ingredient list, but everything is common to plant based kitchens, and the flavors are solid. Don't get intimidated: if you line your seasonings up beforehand, these are easy to make!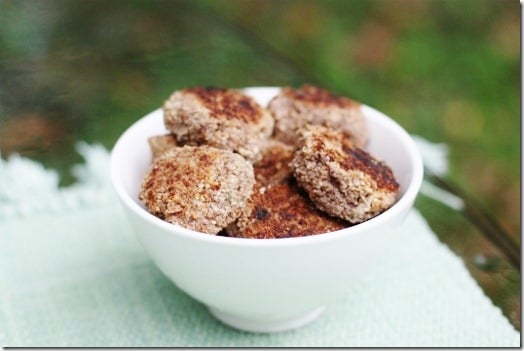 Mushroom, Lentil, and Quinoa Croquettes (vegan, can be gluten free if you use GF breadcrumbs at the end)
Makes about 20 croquettes
1 tbsp water or 2 tsp olive oil
1 clove garlic
1/2 yellow onion, chopped
6 oz portobello mushrooms, chopped (you can substitute button or cremini)
1 tbsp balsamic vinegar
Dash salt and pepper
1 can lentils
1 cup walnuts, processed in a food processor, nut grinder, or Vita-Mix till they resemble a coarse meal
1 1/2 cups cooked quinoa
1 tbsp apple cider vinegar
1 tbsp tamari or nama shoyu
1 tbsp maple syrup or agave
1 tsp liquid smoke
1/2 cup nutritional yeast
1/4 cup fresh chopped parsley (or 1 tbsp dried)
2 tsp herbes de provence (or a mix of thyme, rosemary, and oregano)
1 cup whole wheat bread crumbs (or rice bread crumbs for GF eaters)
1) Sautee the onion and garlic in water or oil till tender and translucent. Add the mushrooms and sautee till they're tender and well cooked. Add 1 tbsp balsamic vinegar and a dash of salt and pepper. Keep sauteeing till the mixture has only a small amount of liquid left.
2) Add the lentils and walnut meal to the pan, and give it all a few quick stirs. You want to keep stirring for about a two minutes, so that the walnuts take on a toasty flavor.
3) Transfer everything to a big mixing bowl. Add the quinoa, ACV, tamari, maple syrup, liquid smoke, nutritional yeast, parsley, and herbs. Mix well with hands, as if you were making meatloaf (ick!). If it's too thick and pasty, add a little water; if it's too mushy, feel free to add a little more quinoa.
4) Shape into something that's about the size of falafel: bigger than a meatball, smaller than a veggie burger. Roll each in the whole wheat bread crumbs. Spray a fresh pan with coconut oil spray, and pan fry till each side is crispy and they're very hot.
Alternately, you can bake these at 375 for about 30 minutes. Serve.
These are so savory and delicious: I'm dying to make them again.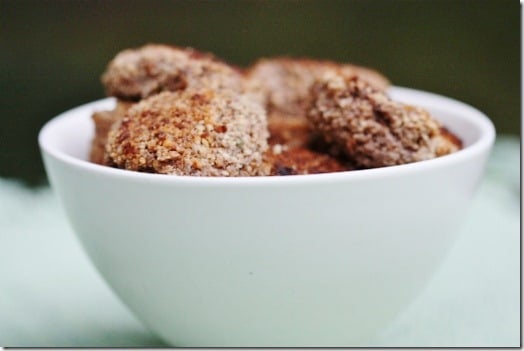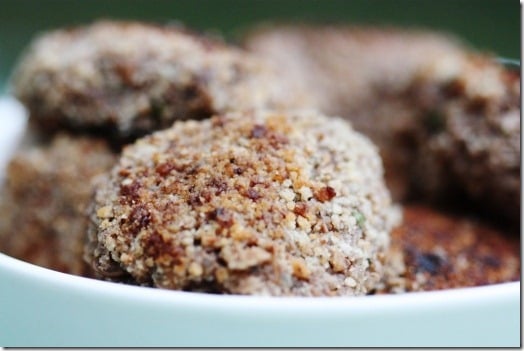 Enjoy!
Before I go, I might as well extend my Twitter poll to my blog: I'm thinking about getting an iPhone rather than upgrading my Blackberry. The reason I might want to is because my Blackberry's browser isn't great, and I'd like a sturdier, less feckless device; the reason I hesitate is because I'm not interested in apps or graphics, and I use my phone primarily for writing emails, so I'm afraid I might go nuts with the touchpad and autocorrect. Thoughts? Advice?
xo