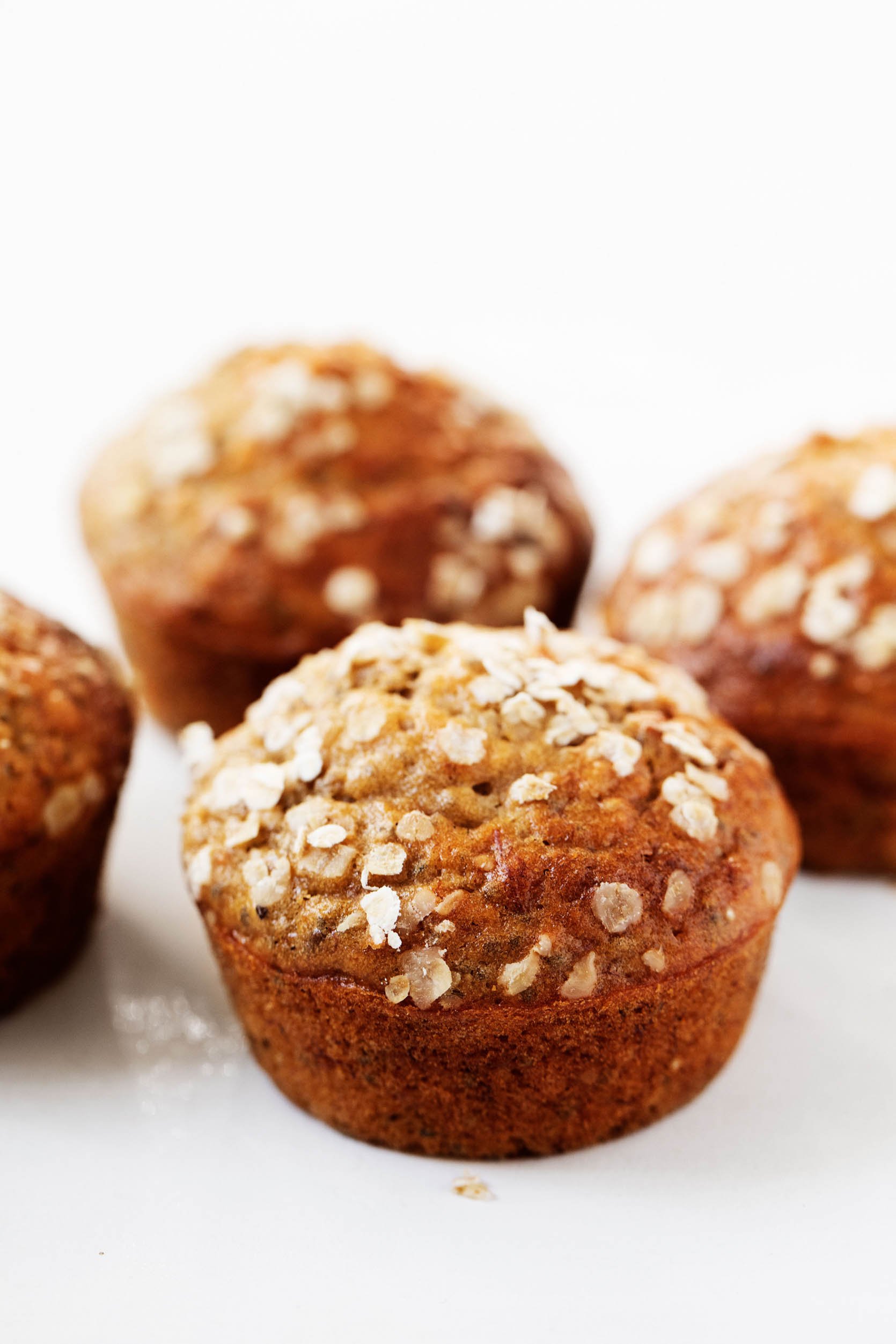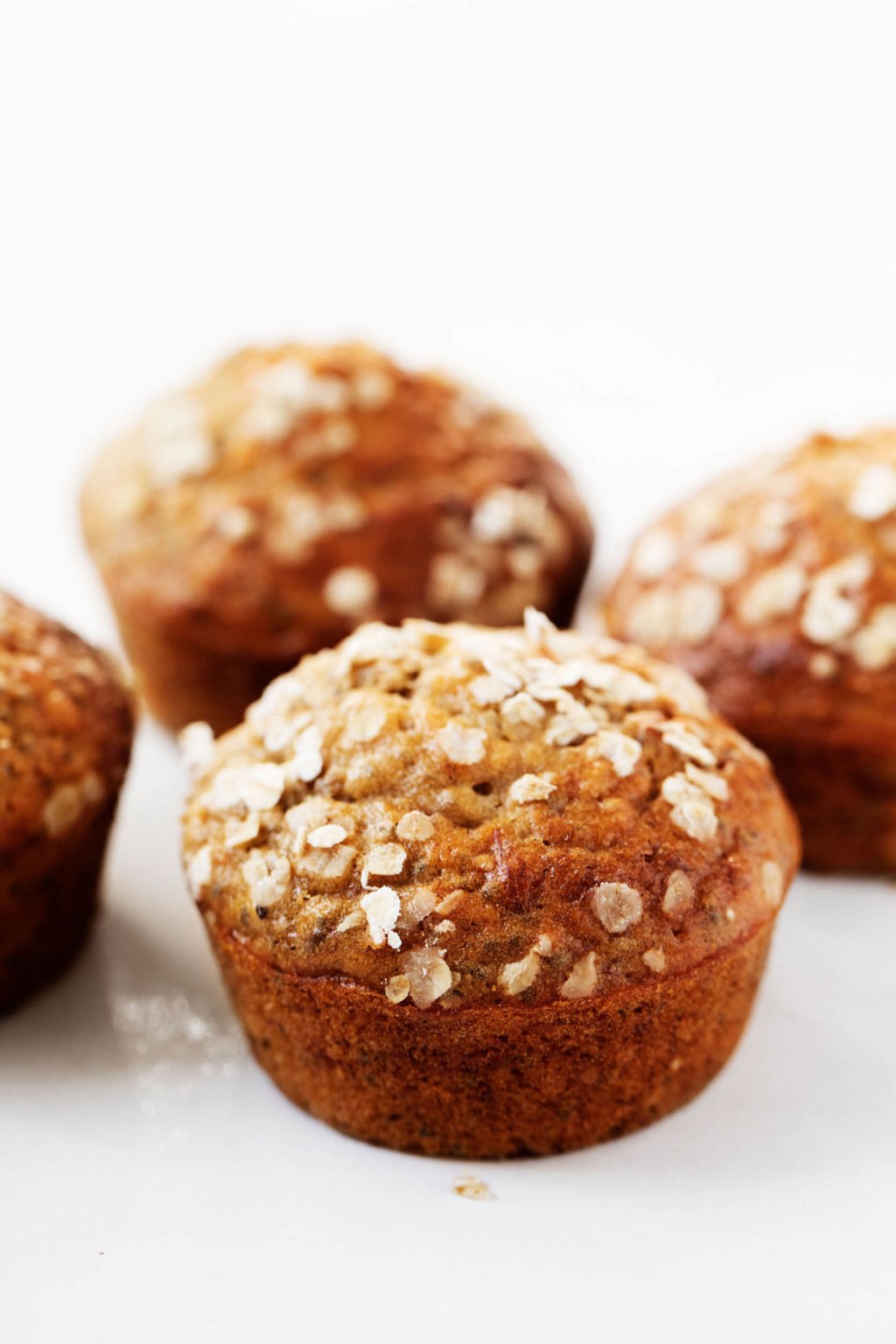 Banana oat chia muffins: could any baking recipe sound more wholesome from the get go?
In spite of all the fiber-rich ingredients, these muffins aren't dense or bland. They're light, crumbly, and just the right amount of sweet.
The muffins feature white whole wheat flour, rolled oats, freshly mashed banana and chia seeds. As a result, they've got a little protein and a fair amount of fiber. Like most muffins, they'd be pretty light for breakfast, but not if you pair them with some fruit or spread them with almond butter. And certainly not if you have two.
They're also a perfect snack, which is how I tend to enjoy muffins most often these days: wrapped up, tucked into my backpack, waiting to give me happiness between afternoon classes.
Ingredients for a wholesome muffin
Chia seeds
I'm accustomed to making chia puddings with my chia seeds: matcha chia pudding, turmeric chia pudding, pumpkin chia pudding, strawberry ginger chia pudding, and more. But chia seeds are useful for many more purposes than pudding. They can be blended up and used as a thickener (like flax meal), incorporated into a dressing, mixed with fruit (a wholesome jam), or used in baked goods. These banana oat chia muffins included.
Chia seeds are a good source of healthful, Omega-3 fatty acids, protein, and fiber. They're worthy of the label "superfood." You can use white or black chia seeds in the recipe.
Oats
I like to use rolled oats in this recipe, especially for sprinkling on top. But quick oats will work nicely, too—use what you have!
Oats are also rich in fiber. Specifically, soluble fiber, which is a type of fiber that can be soothing for irritable bowl syndrome (IBS) and irregularity. They're associated with digestive and cardiac health, they're filling, and the help to give these muffins a toothsome texture.
Banana
Bananas add natural sweetness to the muffins, and they also eliminate the need for an egg replacer. If you have a banana allergy, or you don't like bananas, you can replace them with a heaping cup of applesauce instead.
Same rule that goes for my classic vegan banana bread and banana chocolate chip muffins applies here: use spotty bananas! The darker and more overripe, the better.
Flour
I tend to find that 100% whole wheat flour leads to baked goods that are a little dense for my liking. But I do like to get the goodness of whole grains into my muffins and quick breads. I like to use white whole wheat flour for baking (King Arthur's is my favorite). I also like light spelt flour and whole wheat pastry flour.
If you don't consume gluten, you can substitute your favorite, all-purpose gluten free flour in the recipe. I love King Arthur's Measure for Measure. You can also use unbleached, all-purpose flour, of course.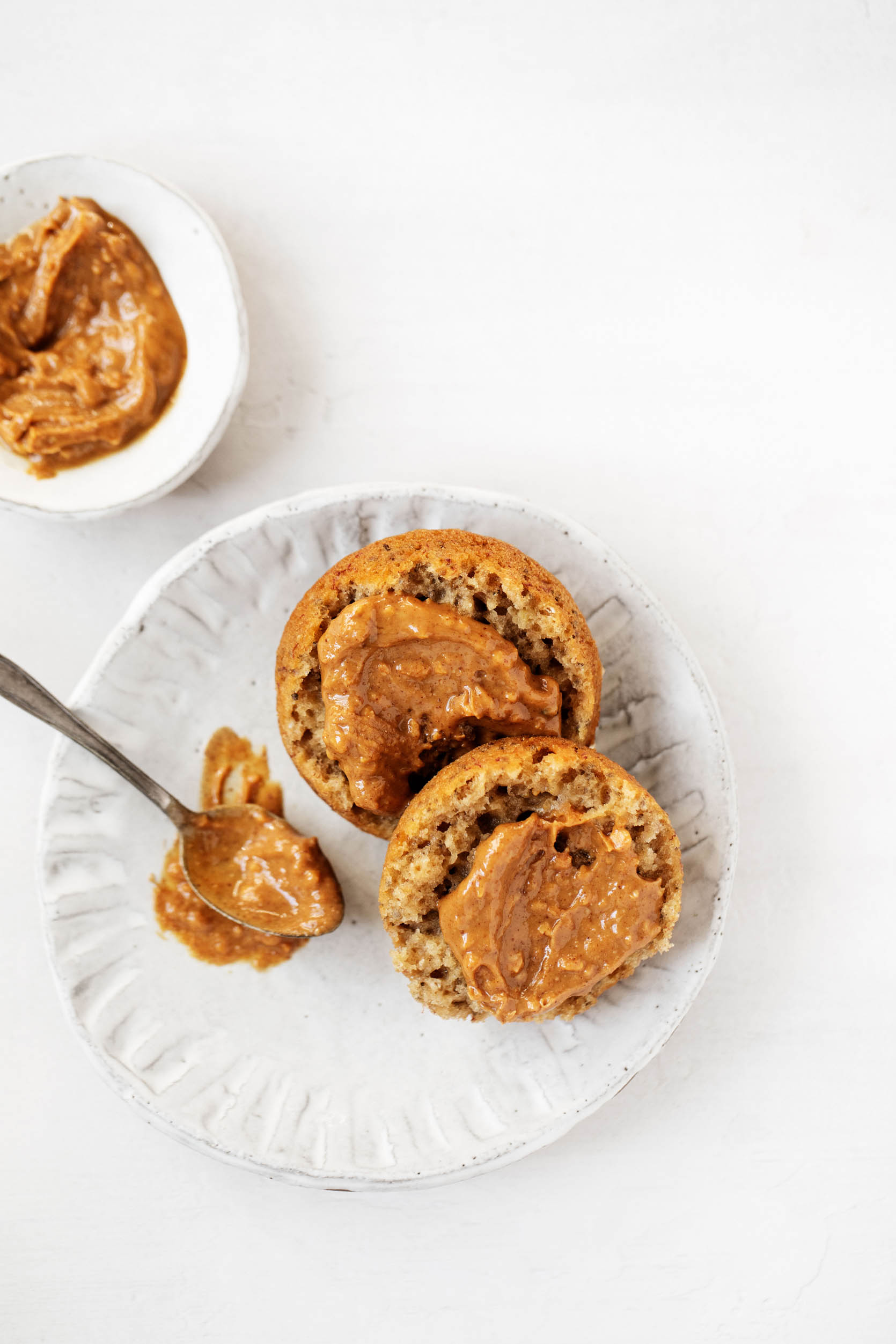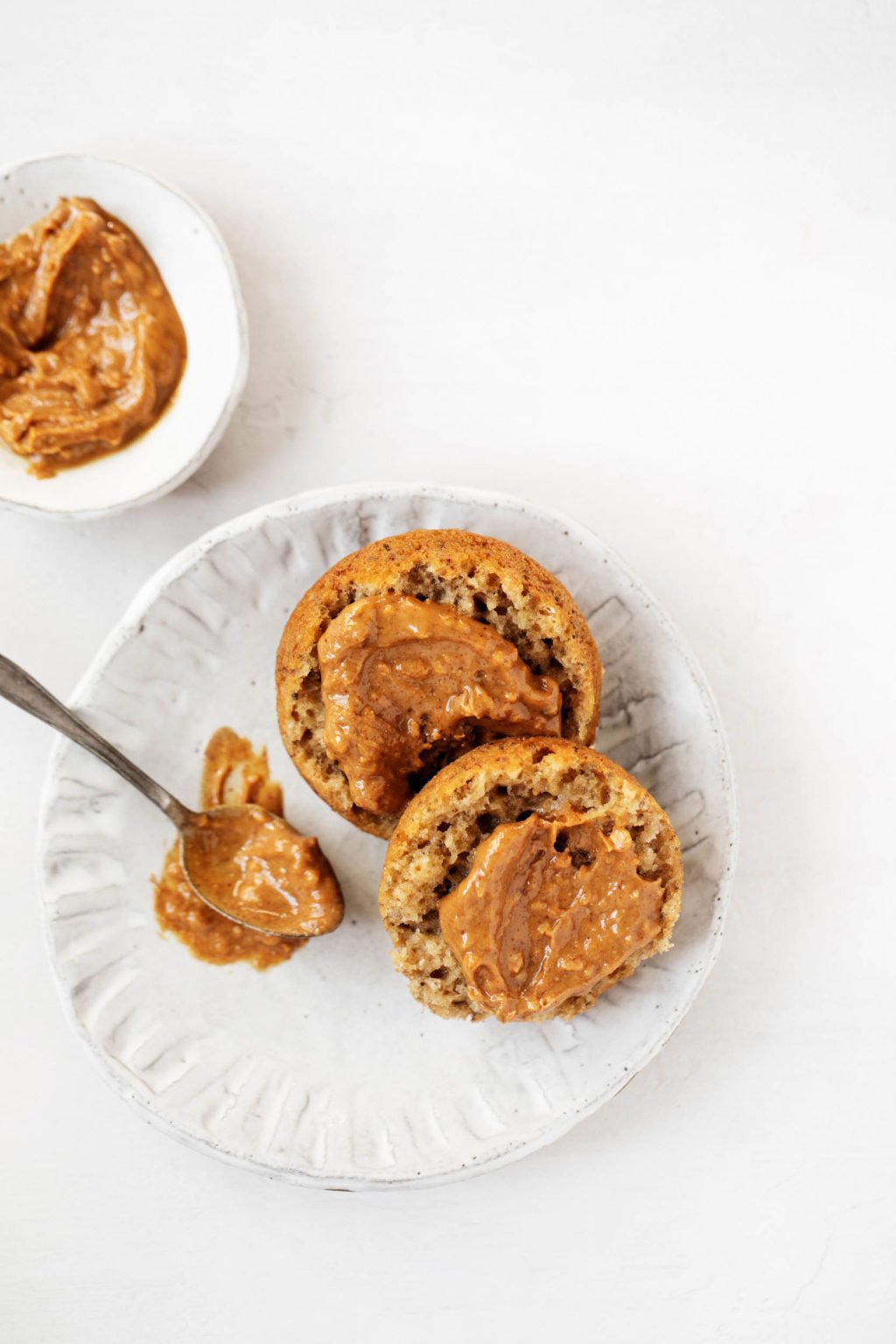 Storing banana oat chia muffins
I love making these muffins on a Sunday, so that I can enjoy them as treats/snacks/breakfast options through the week. They make 12 large or 14 smaller muffins, so they're a great component for plant-based meal prep.
The muffins will keep in an airtight container in the fridge for up to 4 days. You can also freeze them for up to 6 weeks, which is especially helpful if you live solo and have a big batch. I usually make them, save six for the week ahead, and freeze six for later.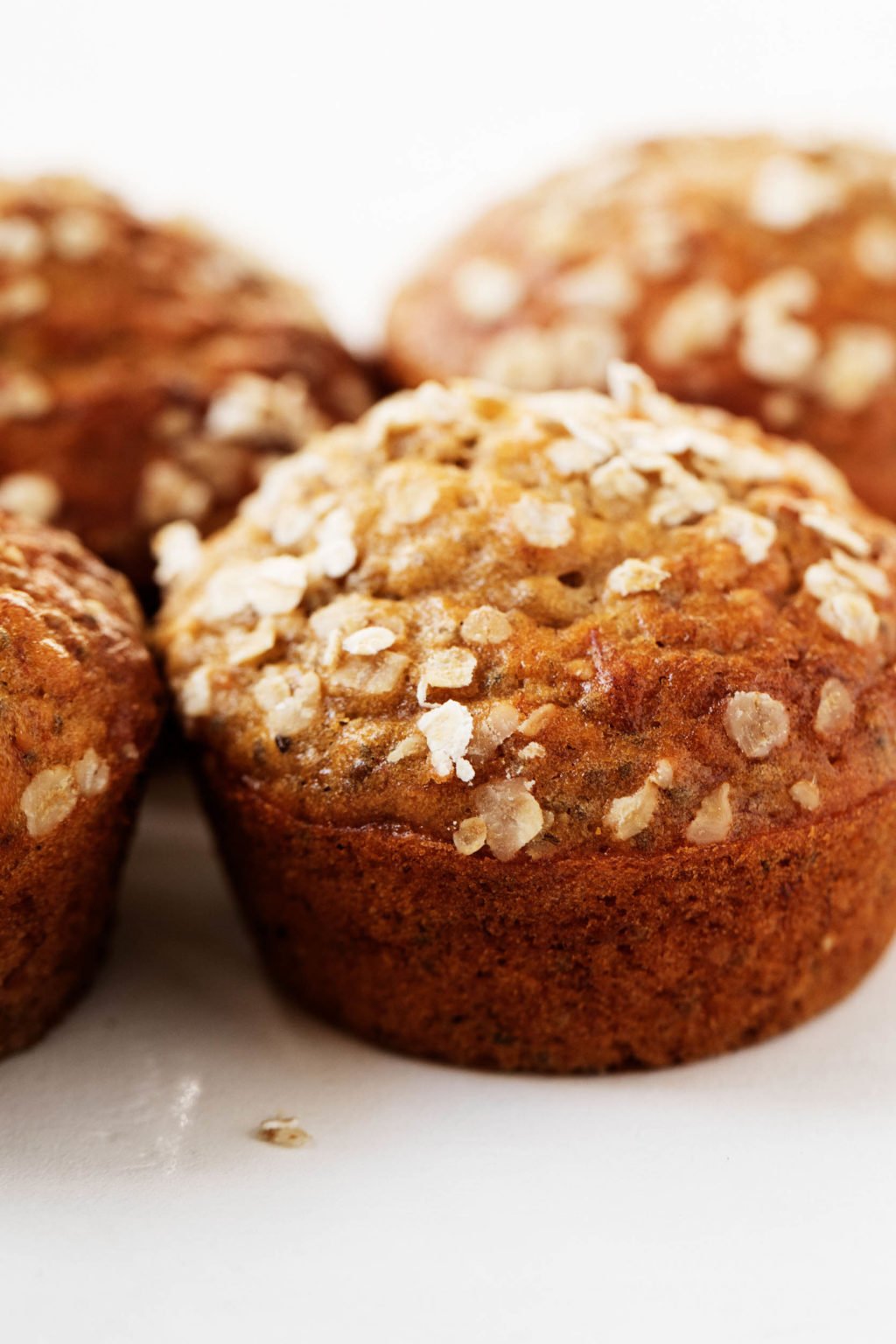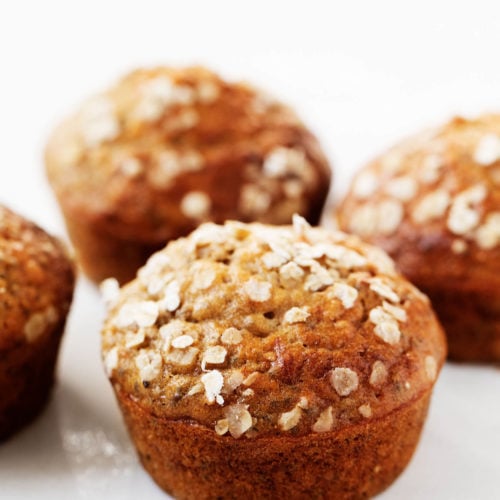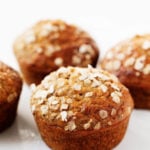 Banana Oat Chia Muffins
Author -
1

tablespoon

(6 g) flax meal

2

teaspoons

apple cider or white vinegar

2/3

cup

(158 mL) almond, oat, or soy milk (or another non-dairy milk of choice)

2

cups

(240 g) white whole wheat flour (substitute all-purpose, light spelt, or whole wheat pastry flour)

1

cup

(100 g) rolled oats

2

teaspoons

baking powder

1/2

teaspoon

salt

1/2

teaspoon

cinnamon

3

tablespoons

chia seeds

1

cup

(250 g) mashed banana (3 large, very ripe bananas, mashed)

3/4

cup

(144 g) light or dark brown sugar

1/3

cup

(79 mL) vegetable oil (such as grapeseed, refined avocado, or safflower)
Preheat oven to 350 degrees and lightly oil a 12-muffin baking pan. Whisk the ground flax with 3 tablespoons warm water and set aside. In a medium sized bowl, whisk together the milk and vinegar.

In a large mixing bowl, combine together the flour, oats, baking powder, salt, cinnamon, and chia seeds.

Add the mashed banana, sugar, and oil to the milk & vinegar mixture. Stir in the flax mixture. Add these wet ingredients to the dry ingredients. Mix with a spatula until the batter is evenly combined. Don't overmix: a few small lumps are OK!

Add 1/3 cup batter to each well in the muffin pan. Sprinkle the tops with extra rolled oats and bake for about 22-25 minutes, or until muffins are browning and a toothpick comes out mostly clean.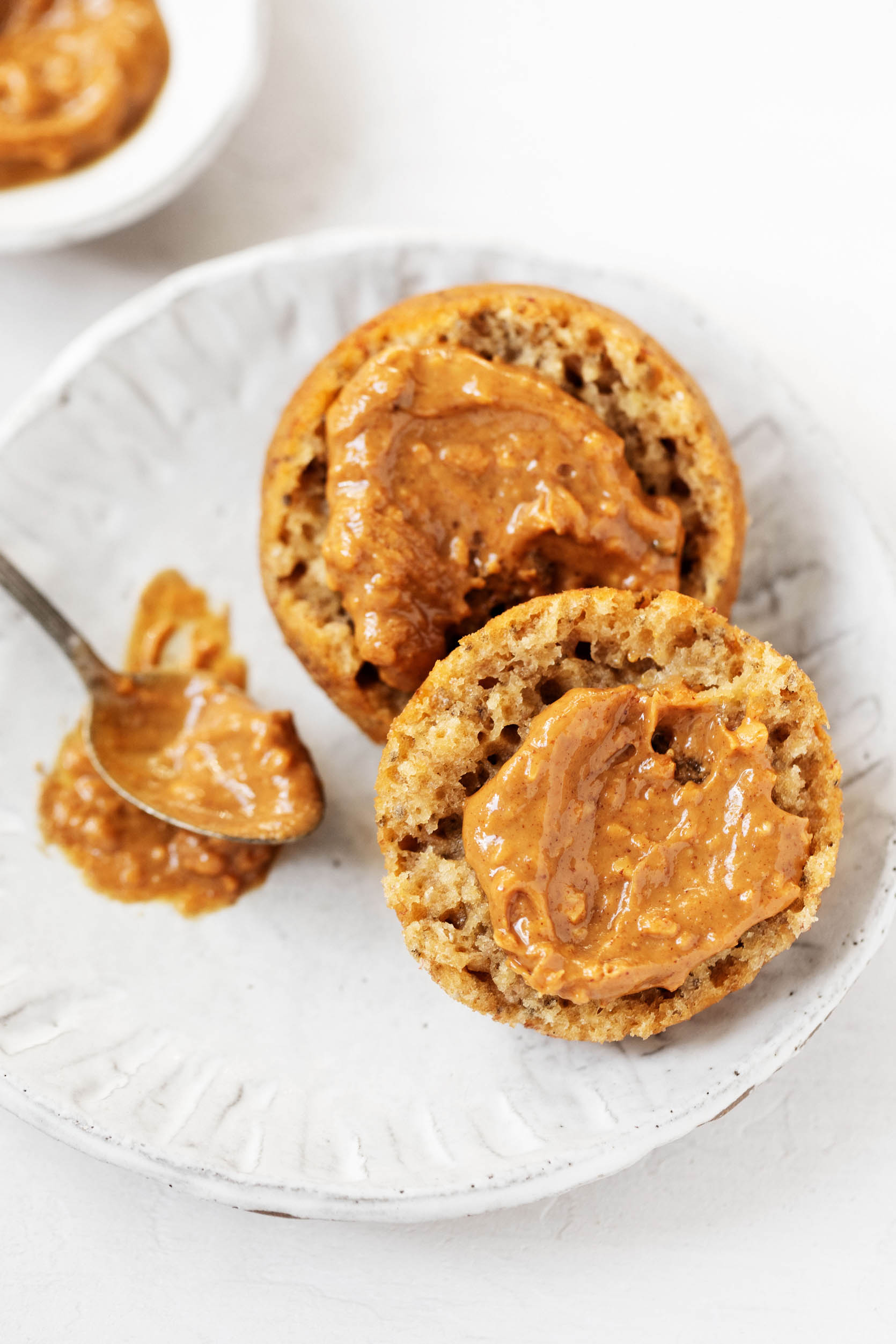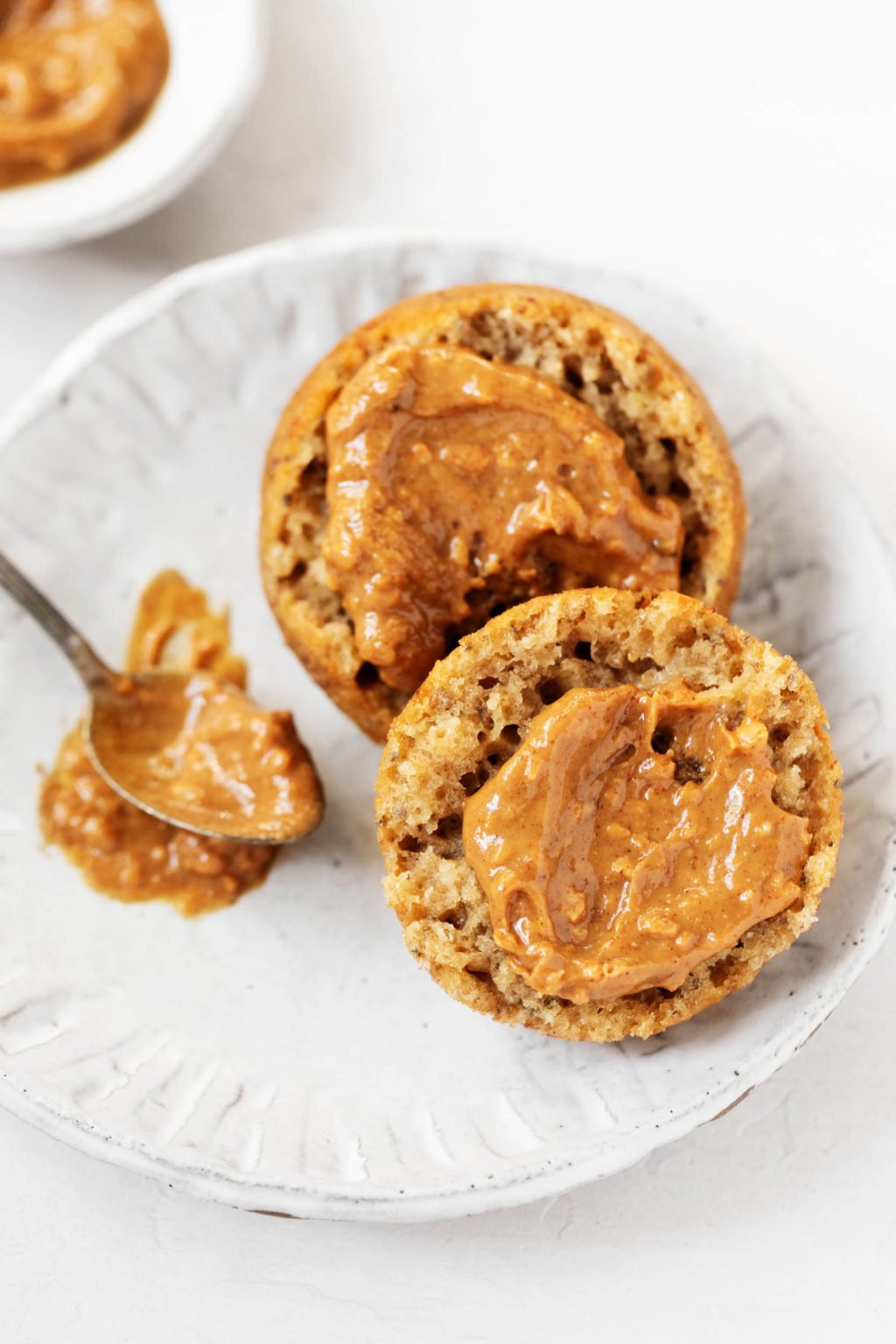 The muffins have just a hint of cinnamon. They'll make your home smell delightfully of banana bread while they bake.
These, like my whole grain plum muffins and zucchini date muffins, are sure to become a staple baked good for me, and I hope they might become a regular treat for you, too. See you back here tomorrow!
xo