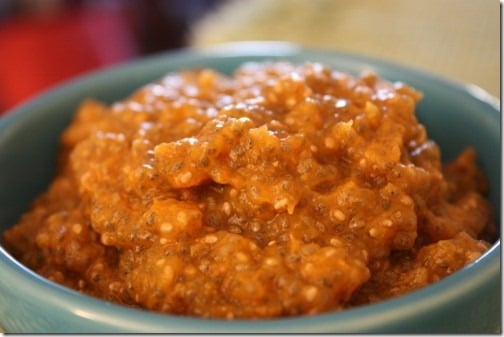 Hey all!
It's an exquisite day in the Northeast, which makes it an awful shame that I'm on a bus right now. In a few hours, though, I'll be safely settled in D.C. and having what I hope will be a spectacular dinner at Nora's! I've been told that food photography is off limits, but I'll try to at least get some phone photos for you all.
This morning, I woke up bright and early to yet another winter squash themed breakfast. (Yeah, I'm still on the kick. I'll let you guys know when I start to develop signs of beta carotene toxicity.) Instead of making my typical smoothie, I decided to make a chia seed pudding, courtesy of a brand new bag of chia seeds from my from my friends at Chia Seeds Direct. I've written about these guys before; they're by far my fave chia seed resource. They're cheap, reliable, and quick to deliver! Chia seeds aren't generally an inexpensive ingredient, but Chai Seeds Direct makes stocking them a lot more reasonable. Believe me when I say that they'd be my go-to supplier even if I hadn't been offered samples way back when. And if you're not sure, I may or may not have a giveaway around the corner to convince you 😉
Back to food. This pudding is simple and delicious. How could it not be? It's pretty much my butternut squash smoothie in pudding form, except that I used canned organic pumpkin in place of squash. In a matter of minutes, a perfect breakfast was served.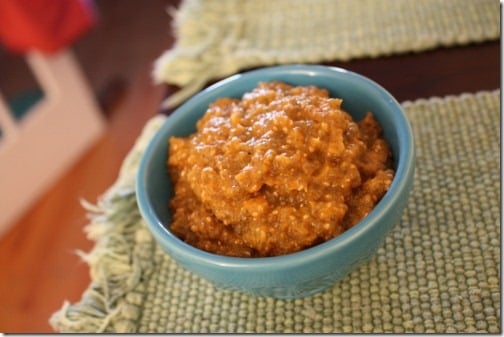 Pumpkin Chia Pudding (serves 1)
1/2 cup pumpkin puree
3 tbsp chia seeds
3/4 cup almond milk + extra as needed
1 tbsp maple syrup
1 tsp cinnamon
Dash nutmeg
Blend the pumpkin, almond milk, maple syrup, cinnamon, and nutmeg in a blender till smooth. Pour over chia seeds and stir. Continue to stir once every ten minutes for thirty minutes. Let pudding sit for another hour, or overnight, till it has reached a tapioca pudding texture.
Someone once told me that chia pudding creeped him out because it reminded him of a sea sponge. I had a hard time imagining how anyone could dislike the stuff, but looking at this photo, I sort of see what he meant: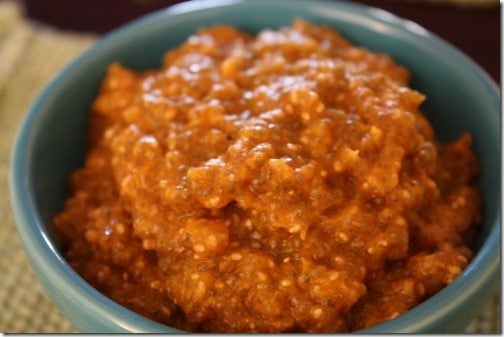 Well. Sea sponge or not, it's delicious. If you've been on the pumpkin/squash smoothie wagon, I highly recommend adding this to your rotation!
And now, it's time for a Megabus nap. Hope you're all enjoying the day. Any fun weekend plans for you?
xo