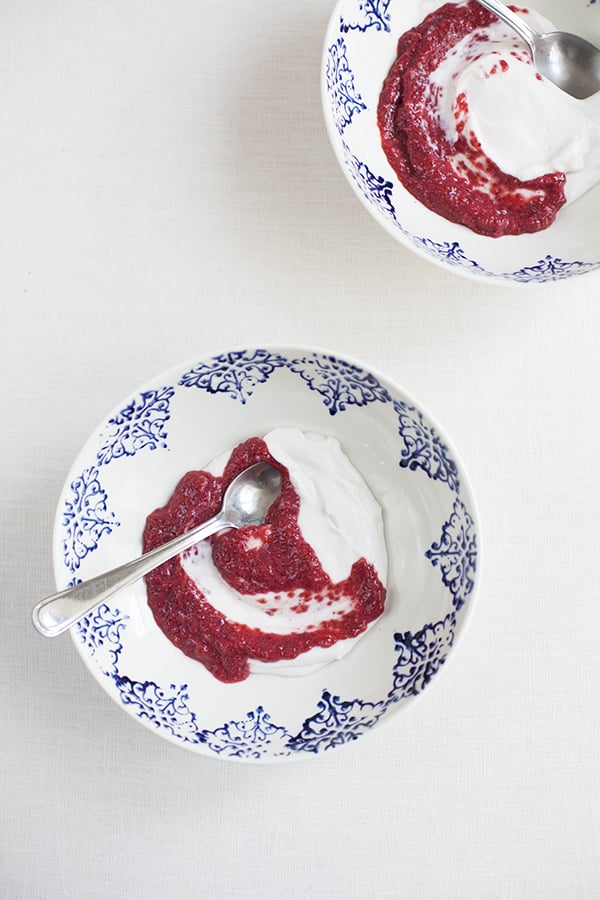 In my time as a vegan blogger, I've developed quite a few techniques for making non-dairy yogurt. There's a simple reason for this: when I went vegan, Greek yogurt was the hardest non-vegan food for me to give up. I liked cheese as much as the next person, and I loved a swirl of half and half in my coffee. I was ambivalent about eggs, tired of poultry, and had stopped eating red meat as a child. But I really loved Greek yogurt, especially when it was swirled with sweet fruit or a nice spoonful of jam.
This recipe is my tribute to the yogurt/fruit combination — you know, all of the yogurts that come with a little pocket of fruit preserves or a swirl of fruit at the bottom of the cup. I like to think it's a wholesome spin on the recipe, featuring healthy fatty acids from the chia, electrolytes from the fresh coconut yogurt, and a little less sugar than the store-bought varieties.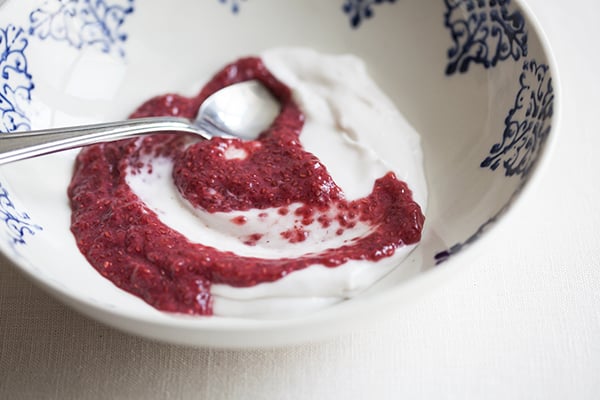 Before saying anything else about this recipe, I want to make clear that you don't have to bother with homemade yogurt if you're not up for it. Why? Because it's another step, and we're all busy. If you do want to make your own yogurt, you'll see that I've given you a slew of options. My unabashed favorite is unfortunately the most time intensive: my young Thai coconut yogurt. It's a lovely recipe that calls for quite a bit of young Thai coconut meat, which means arm strength and patience. I happen to think the effort is well worth it, or I'd never bother myself, but really, this recipe will be lovely with any non-dairy yogurt you love.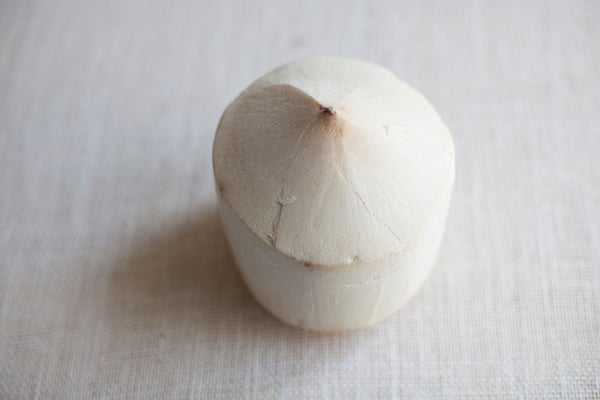 If you do want to create this recipe using the young Thai coconut yogurt, begin by checking out my tutorial on opening young coconuts. It includes photos, step-by-step instructions, and tips on storing the coconut meat.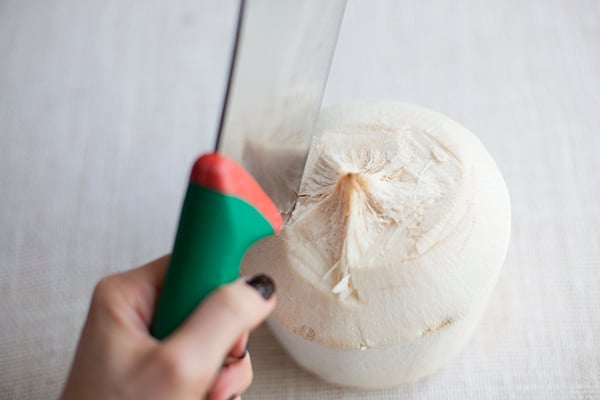 If you can't find young Thai coconuts or the idea of using a cleaver freaks you out, fear not. You've got lots of options. Among the store-bought yogurts, my all time favorite is Whole Soy & Co plain soy yogurt. It's super tasty (very reminiscent of regular yogurt, with a pleasant tanginess), and the ingredient list is excellent (Filtered Water, Organic Soybeans, Organic Evaporated Cane Juice, Organic Cornstarch, Tricalcium Phosphate, Organic Natural Flavor, Live Active Vegan Cultures (L. Acidophilus, B. Bifidum, L. Bulgaricus and S. Thermophilus)). The sugar content is pretty reasonable, compared to most commercial yogurts.
A lot of folks also love the So Delicious coconut milk yogurts. I'm personally not a fan of the taste, but they're great for those with soy allergies. Finally, I've always liked the Amande brand of almond milk yogurt, though I don't always have an easy time finding it in stores.
On my website, you'll find my three recipes for homemade non dairy yogurt. The first, my favorite, is the aforementioned young coconut mixture. I love it because the taste is subtle, and because the texture is the closest I've ever come to re-creating Greek yogurt at home.
The second option is my homemade coconut milk yogurt. This is my easiest option, which is why I like it: you simply wait for coconut milk to separate and blend the cream into a rich, thick mixture (along with some probiotics and maple syrup). The downside of this recipe is that it's almost overwhelmingly rich, thanks to the full fat coconut milk. (I also find that coconut milk coats the palate the way that regular dairy does, which I don't love.) For that reason, I like to use this in small doses (for example, any recipe in which yogurt would be swirled into a soup, or dolloped on top of a grain or legume).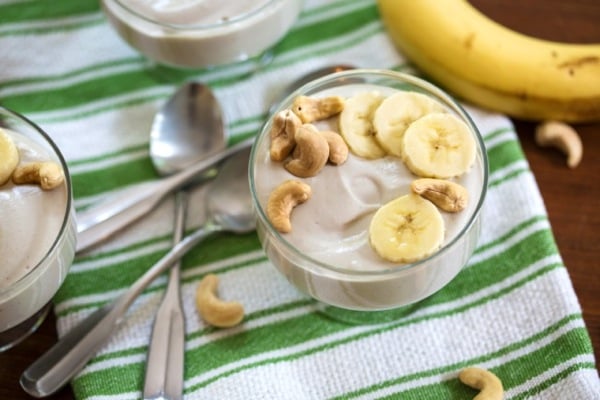 The last option is my banana cashew yogurt. This recipe is delicious–perfect for banana lovers–and it's one of my favorite of the breakfast options from my book.
Bottom line: choose the non-dairy yogurt that works for you.
Now that I've dissected your yogurt options in excruciating detail, a word about the berry chia pudding.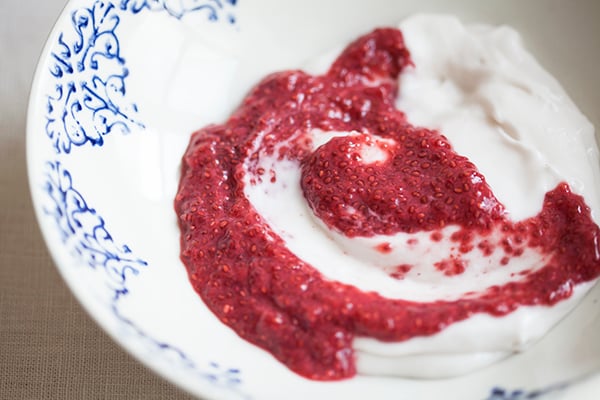 I've been reluctant to make a fruity chia pudding, because so much of what I love about chia pudding is creaminess. But I'm so glad I decided to try it, because it was a surprising success. It was easy to make–just a blend of fresh berries, coconut water, and a touch of maple syrup–and the resulting pudding is super refreshing. It would be great to swirl into hot porridge, to use as a dip for banana slices, or even to mix up with banana soft serve (YUM).
The combination of tart yogurt and sweet, textured berry chia pudding? Heavenly.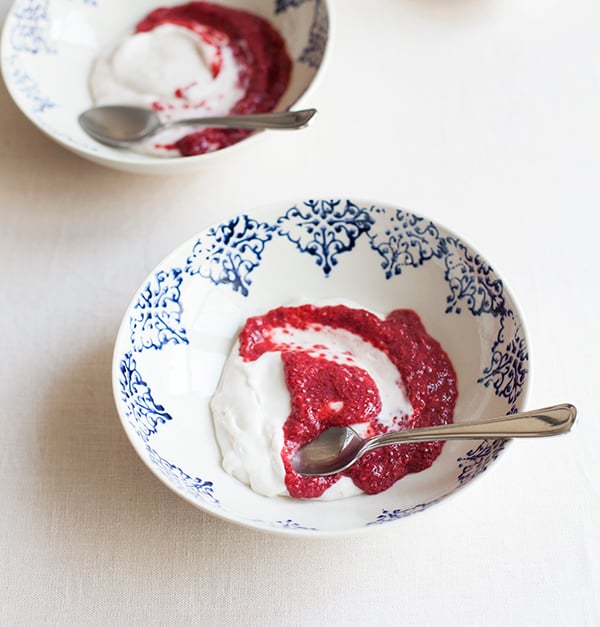 Coconut Yogurt and Berry Chia Pudding Swirl
Author -
*For the Yogurt and Berry Chia Pudding Swirl*:
2

cups

non-dairy yogurt of choice

if you want to use something homemade, try my young Thai coconut yogurt; alternately, you can try my coconut milk yogurt or my banana cashew yogurt

1

recipe berry chia pudding

below

Optional add-ons: Buckwheat

granola, rolled oats, nuts, seeds, fresh fruit
*For the Berry Chia Pudding*:
To make the berry chia pudding, blend the berries, coconut water, maple syrup, lemon, and vanilla together till smooth. Pour over the chia seeds. Stir the mixture every 5 minutes for 15 minutes, and then let it sit in the fridge overnight (covered). Give it a good stir before using.

To make the swirl, simply combine half a cup of non-dairy yogurt and half a cup of the chia pudding in a bowl. Swirl it up. Top with your add-ons of choice (granola, buckwheat, fruit, nuts), and enjoy.
I love the combination of textures here. So colorful and cool.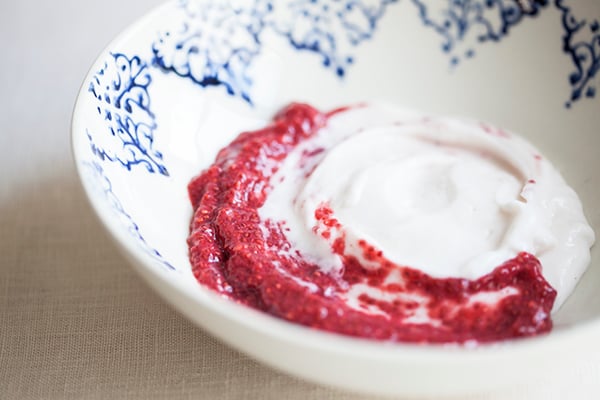 As far as building a meal goes (or "balance your plate," as I like to call it), this would make for a wonderful breakfast when combined with some granola, some buckwheat groats, and some freshly sliced fruit.
It's also an uplifting afternoon snack — especially if you combine with fresh berries!
No matter how you choose to serve it, I hope this recipe will brighten up your days. And on that note, I'm off to grab some for an afternoon snack 🙂
Happy Thursday, and I'll be back soon.
xo