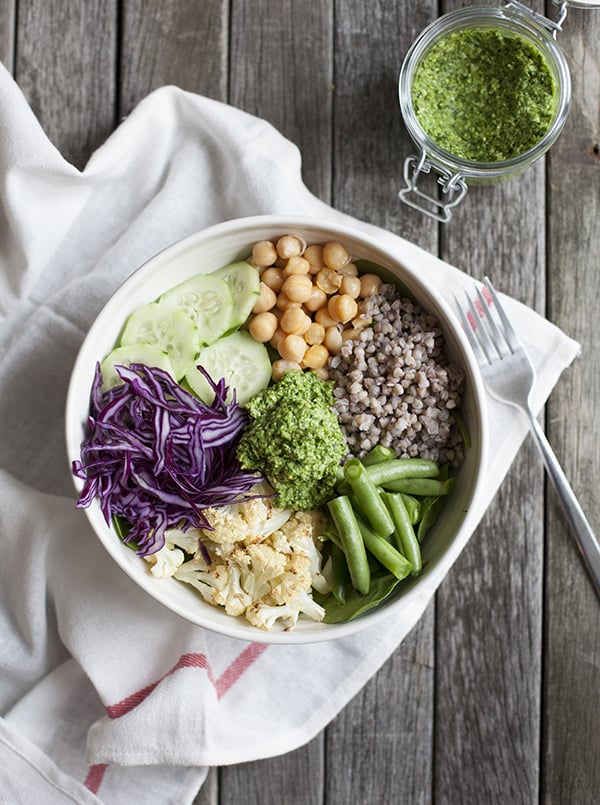 Happy St. Patrick's Day, everyone! When I woke up this morning, I saw a multitude of green smoothies and green lunches on Instagram. I'm totally behind the curve, posting a green recipe of my own when the holiday is almost behind us. But this recipe–a chimichurri-inspired parsley and pumpkin seed sauce–is worth making on any day of the year, green-themed or not.
Chimichurri sauce isn't typically associated with vegan fare. The sauce hails from Argentina, and it is traditionally paired with grilled meat. The standard recipe calls for parsley, oregano, garlic, oil, and white vinegar. There are numerous variations on the recipe, of course; if you do a quick search on Epicurious or Food52, you'll find a bunch of different approaches. I myself made modifications galore for today's post, namely the addition of pumpkin seeds. I've always loved the pumpkin seed / parsley combination (I'm not sure how much this has to do with my love of alliteration), and I also liked the idea of increasing the nutrient density of this recipe by adding seeds, as opposed to a standard oil/vinegar/herb base.
Pumpkin seeds are nutritionally noteworthy for being rich in zinc. Zinc is a vital cofactor in many enzymatic reactions that take place in the human body, and it's linked to proper immune function as well. They're also good sources of Vitamin E, which plays a role in muscle integrity, red blood cell formation, and in fighting oxidative damage. I like to sprinkle pumpkin seeds on salads or oats, but I also love them for nut pates, and this recipe is similar to a nut pate in texture. What makes it stand out, though, is the flavors we associate with bold chimichurri sauces–tartness from vinegar, zesty garlic, and the fresh bite of parsley.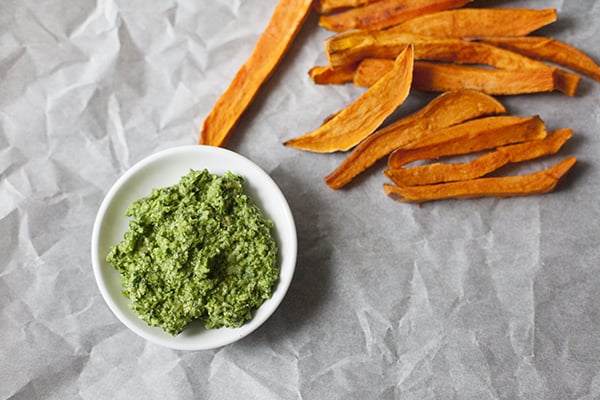 You can enjoy this "sauce" (which is a little thick to rightly be called sauce, but that's OK) over grilled tofu or tempeh, cauliflower steaks, whole grains, or any delightful plant based alternative to the meat with which chimichurri usually appears. Today, as I was putting the recipe together, I found that the chimichurri is an incredible dip for sweet potato spears.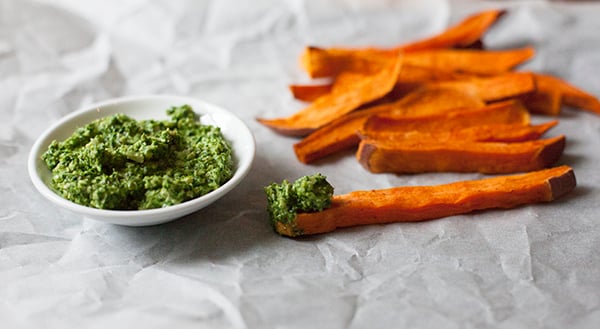 Yum. Seriously.
The chimichurri would also be a perfect dip for pita wedges, carrot or jicama slices, or even as a spread for polenta squares or bruschetta.
And if none of those ideas appeal, you can simply serve the it over a big, green lunch bowl, like this one: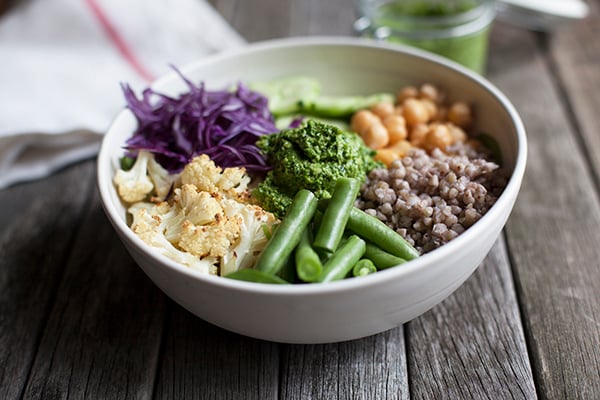 My Instagram account has essentially become a repository of lunch bowls lately — the result of working from home more than usual and finding it easiest to bulk cook staples (grains, legumes) and pair them together for an afternoon meal. It's been fun sharing my favorite creations (for more tips on creating lunch bowls, check out this post):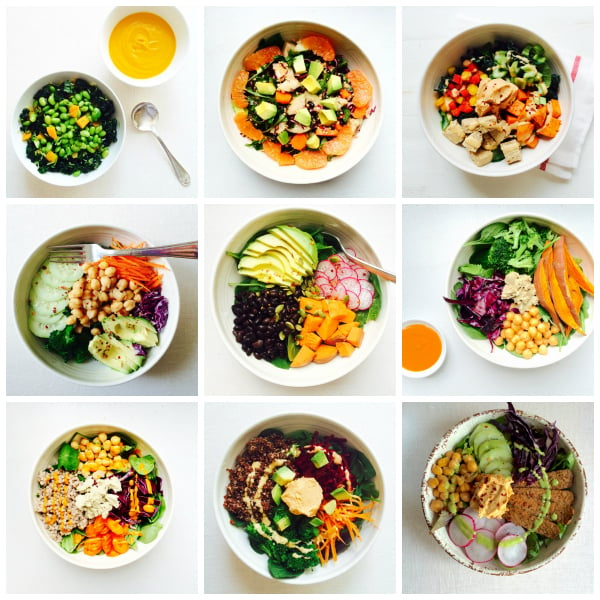 This is the latest bowl to capture my heart, and it puts the chimichurri at front and center.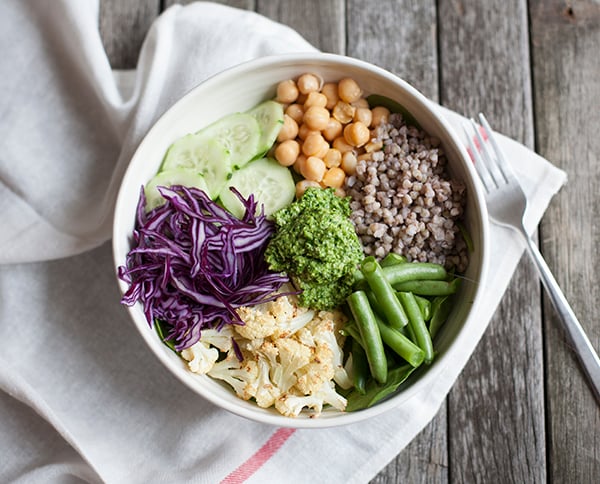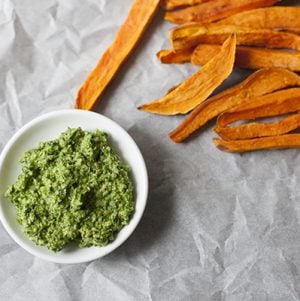 Parsley and Pumpkin Seed Chimichurri and my Big Green Lunch Bowl
Author -
Yields:
3
/4 cup chimichurri
*For the parsley and pumpkin seed chimichurri sauce*:
1/2

cup

pumpkin seeds

soaked for 2 hours, rinsed, and drained

1

cup

tightly packed parsley

leaves and top parts of stems only

1/2

cup

tightly packed arugula

1

teaspoon

fresh oregano leaves

or 1/2 teaspoon dried oregano

1-2

cloves

garlic

quartered

1/2

teaspoon

salt

2

teaspoons

red wine vinegar

1

tablespoon

olive oil

3-4

tablespoons

water
*For the big green lunch bowl*:
2

cups

greens of choice

1/2

cup

cooked chickpeas

or another legume of choice

2/3

cup

cooked buckwheat

or another whole grain of choice

3-4

tablespoons

parsley and pumpkin seed chimichurri

1/2

cup

roasted cauliflower

or any roasted vegetable you have; to roast, I simply tossed a few cups of cauliflower florets with a drizzle of safflower oil and roasted at 400F for 30 minutes

1/4

cup

trimmed and steamed green beans

1/4

cup

red cabbage

shredded

10

cucumber slices
To make the chimichurri, put the pumpkin seeds, parsley, arugula, oregano, garlic, and salt into a food processor fitted with the S blade. Pulse to break down the herbs and fully incorporate them with the pumpkin seeds.

Add the vinegar and oil. Pulse a few times more. Drizzle in the water with the motor running, until the mixture has reached a desired consistency (you may wish for it to be thinner or thicker--adjust it according to your tastes). Store the chimichurri for up to four days in an airtight container in the fridge.

To make the big green lunch bowl, layer your greens into a generous serving bowl. Arrange all other ingredients on top, and serve, adding an extra sprinkle of pumpkin seeds if desired.
And there you have it: a very green sauce in honor of March 17th. But really, this is a perfect sauce for springtime in general, when herbs are cropping up at farmers' markets and we're all craving fresh tastes and vibrant colors. I hope you enjoy using it as a condiment for a multitude of springtime dishes. (Sidenote: this recipe was totally inspired by Food52's recent parsley + green sauce roundup).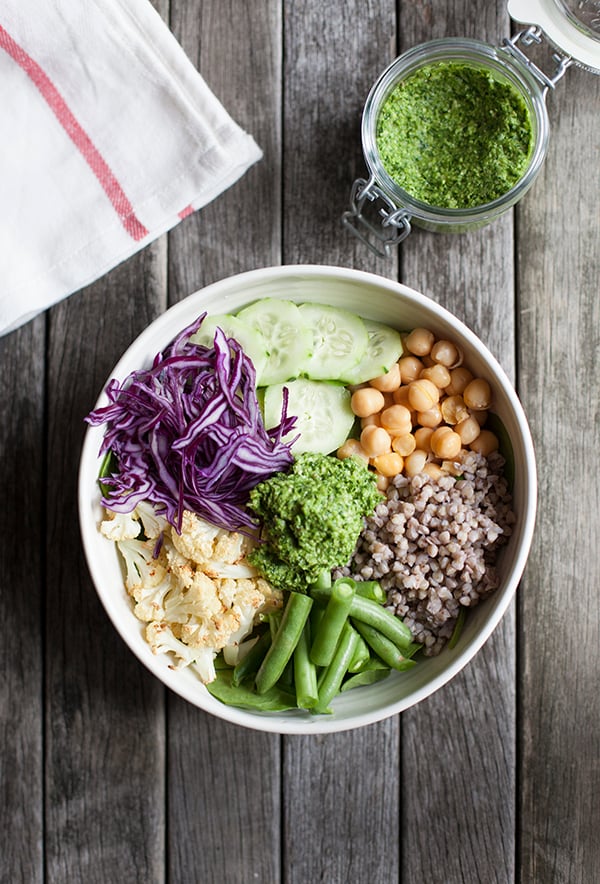 Have a lovely evening, friends. I have a new breakfast recipe for you all on Thursday!
xo