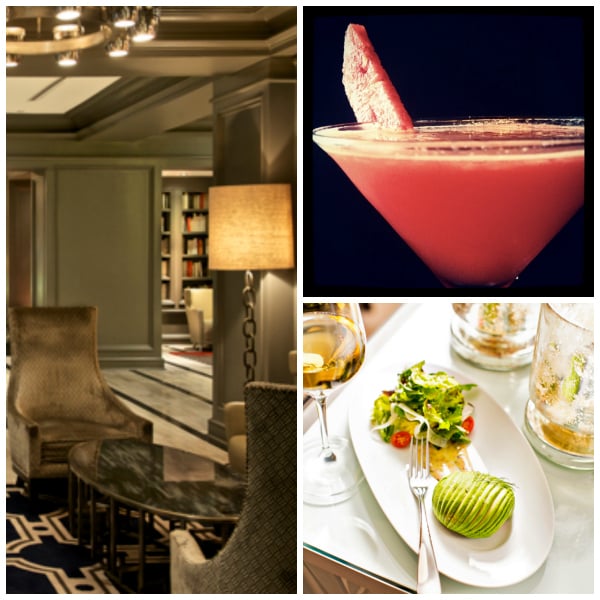 Last month, Steven and I returned to D.C. for the first time since we lived there. It's hard to believe that we've been in New York for less than a year — for both of us, the time we've spent living here together feels much, much longer. Perhaps that's because New York has always been home to me, and because Steven has lived here before, too; we had a shared sensation that our move here was more of a homecoming than a relocation.
Whatever the reason, I can't believe that it was only seven and a half months ago that I wrote my farewell post to D.C.. My D.C. years weren't easy ones, in part because they were difficult for me personally and in part because they were circumscribed by my post-bacc. But I came to have enormous fondness for Washington and the life I lived there. As Steven and I were traveling to D.C. from New York, we were both struck with a wave of nostalgia–heightened by the fact that D.C. is where we met–and also excitement to be visiting.
The occasion for our visit? Dinner at Jardenea restaurant, a farm-to-table eatery in the Melrose Hotel.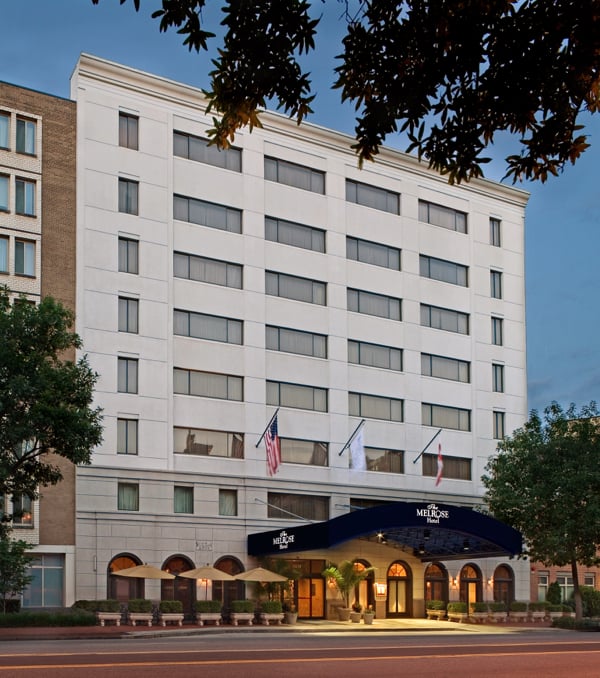 Leave it to me to have discovered this lovely eatery only after I left the District! The folks at Jardenea and the Melrose reached out to me in November, asking if I'd be interested in visiting the hotel for a weekend in order to experience a meal at Jardenea. I said that I was, of course; I loved that the restaurant was built around a farm-to-table concept, serving up fresh produce from local Virginia and Maryland farmers. I asked whether or not there were vegan options available, and my contact at the Melrose responded enthusiastically that there were.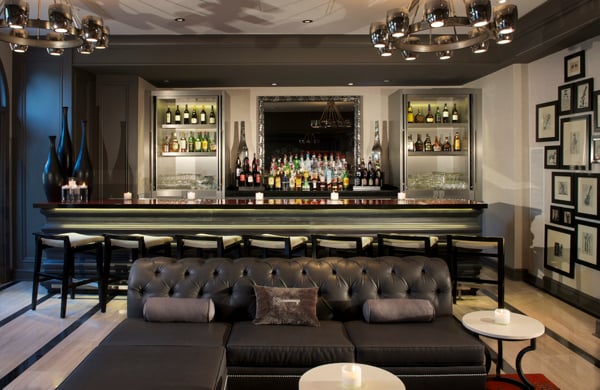 The Melrose is a super chic hotel on the Foggy Bottom/Georgetown border. It's got a very cozy vibe (fireplaces, bookshelves, and lounge chairs), but it also feels hip and modern. The rooms are simply and elegantly decorated, with whimsical reminders that one is indeed in the District of Columbia:
We felt totally spoiled at the Melrose–even the small details were thoughtful. When we arrived on Friday it was pretty late, and we were welcomed with a lovely platter of snacks (including hummus and olives), and the rest of our stay was defined by that same level of hospitality.
Of course, dinner at Jardenea on Saturday was the real highlight of the trip. We were so excited to taste the restaurant's offerings. We knew already that Jardenea was known for seasonal fare and special cocktails, but we were excited to see what was on the menu (as it changes regularly to incorporate fresh produce).
The Jardenea menu is divided up into sections based upon where the dishes in question come from. Of course, we both went directly for the "fields" section, which had vegan or veganizable offerings. We were told that the pappardelle wasn't easy to veganize, so we decided to go for the veganized mushroom risotto and the already-vegan coconut curry quinoa (we pretty much split both dishes).
But first, we began with a lovely salad of pickled onions, local greens, poached pears, marcona almonds, and endive. Simple, pretty, and very flavorful.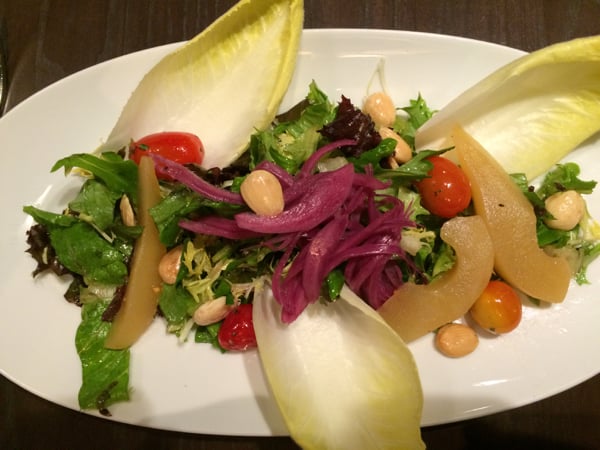 Of the two entrees, I was more partial the coconut curry quinoa–it was full of bold flavors and a lot of spice (but not too much heat, which I'm sensitive to). The quinoa was also cooked beautifully, and the portion was generous: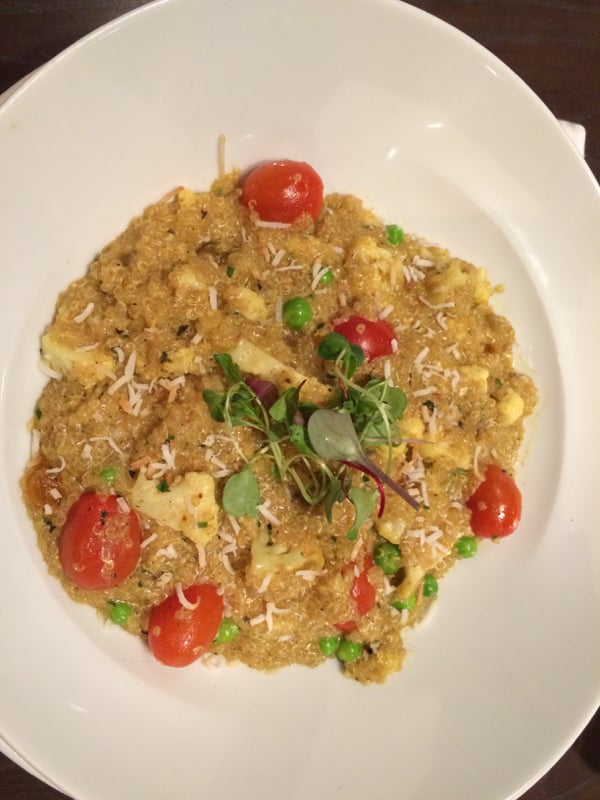 That said, the risotto was also great–very hearty and filling. Mushrooms and peas were a perfect touch — and just a tiny bit suggestive of springtime on the way! I was really impressed by how creamy this dish was without any dairy (and, I assume, without nooch, which is my risotto secret weapon).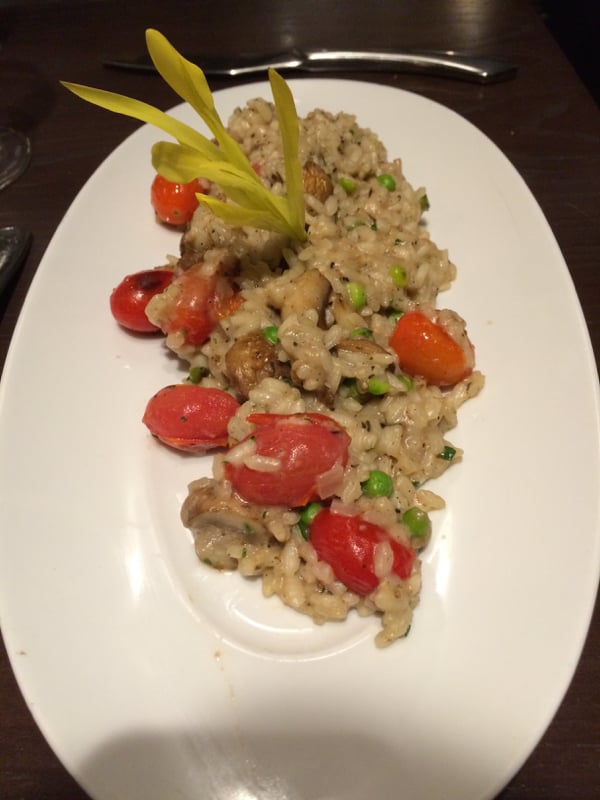 I loved the sweet, juicy cherry tomatoes in both dishes–and the fact that Steven doesn't care for them meant there were twice as many for me 🙂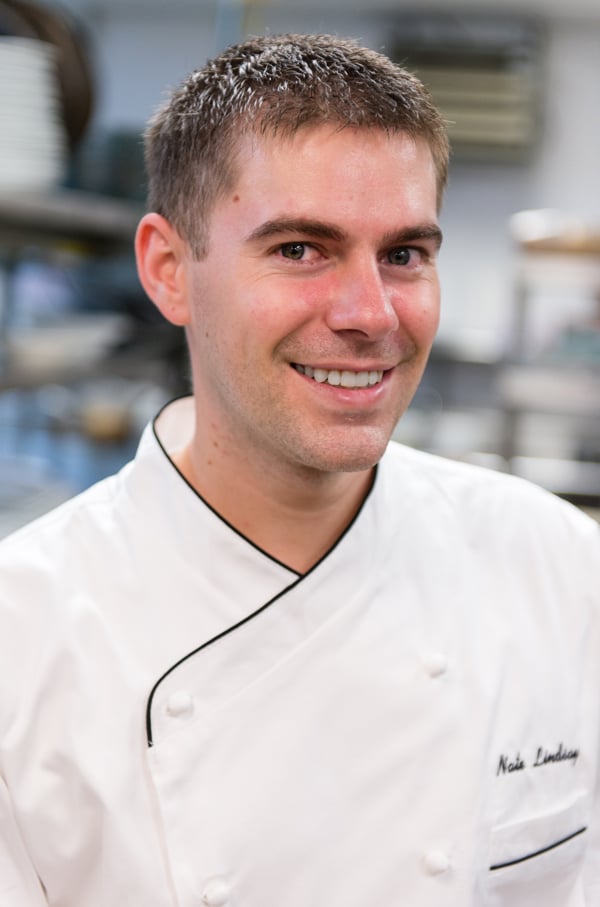 In between courses, chef Nate Lindsay came out to chat with us personally about Jardenea and what he's trying to accomplish there. He emphasized the farm-to-table concept and also the fact that he's trying to incorporate global flavors into the menu while using locally sourced ingredients. He was obviously very passionate about the work he's doing, and he walked us through his vegan offerings carefully.
For dessert, there weren't any vegan options as listed, so Chef Lindsay sent out banana with pan roasted strawberries. So simple, but honestly? Sometimes those are the best desserts–a reminder that nature gives us all of the sweetness we need.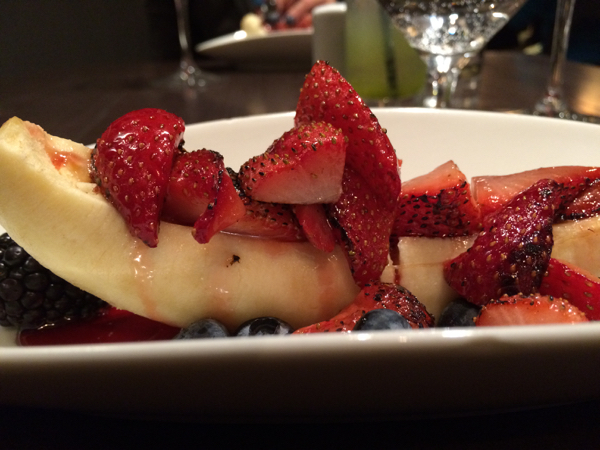 Throughout the meal, we were also given a chance to sample the restaurant's super cool, innovative cocktails. I can't honestly say that I remember what this was, ingredient-by-ingredient, but it contained fresh cucumber juice, and it was so tasty. (Sorry for all of the iPhone photos, folks!)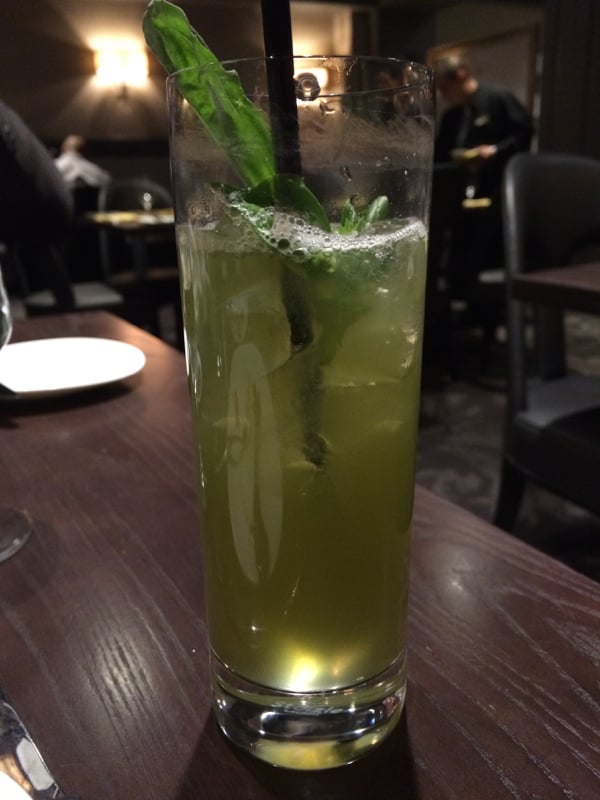 In all, it was a lovely dinner. I did wish that there were more vegan options as written; the menu was definitely focused around animal proteins. (I think this is often true at farm-to-table spots; there's a lot of emphasis on locally raised meats and poultry and dairy foods.) Still, I always feel grateful when any restaurant incorporates vegan options. Ten or twenty years ago, it was hard to find any vegan main dish at a lot of fine dining spots, including hotel restaurants. That restaurants like Jardenea now how vegan (and gluten free) options listed is a sign of changing times, a signal that chefs are being asked to recognize special diets, and that they're accepting the challenge.
For what it's worth, I also think it's wonderful when a vegan dish appears next to an omni dish on a restaurant menu. I love supporting all-vegan establishments; I celebrate what they're doing, and I'm always happy to help them succeed. But I also recognize that there's a lot of value in restaurants that can accommodate diners of all dietary stripes side by side, because no one feels left out. Folks to whom veganism still feels foreign might be gently inspired by the vegan offerings they see, or by a friend who orders a vegan meal — rather than feeling forced into not eating meat, which is how an all-vegan dining experience might feel to them.
Hopefully, in a few more years, more and more restaurants will do as Jardenea is doing, and recognize the demand for menu options that suit people who come from all different sorts of dietary philosophies. Hopefully more and more farm-to-table eateries will place less emphasis on dairy and meat, and more emphasis on the wonderful crop of produce that our local farmers grow each year. In the meantime, it's wonderful to see the tides turning in so many eateries around the country, one by one.
A big thanks from me and Steven to Jardenea for generously sharing their vegan offerings with us–and to the Melrose for such a lovely stay. We hope to return sometime soon.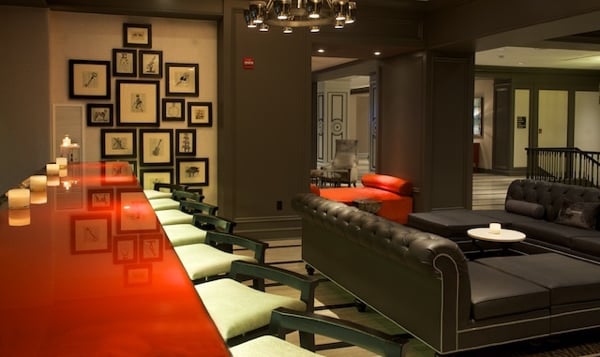 xo
NB: Our accommodations and dinner were provided courtesy of the Melrose Hotel. All opinions expressed in this post are my own.