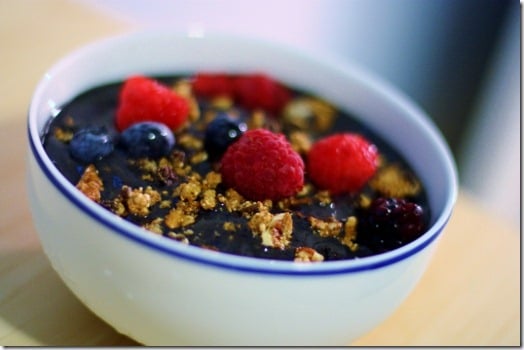 A few weeks ago, the wonderful folks at Vega sent me some of their fabulous Whole Foods Optimizer, on the house. They had asked me to participate in the "Vega Breakfast Challenge," which is an initiative to show how Vega—my favorite vegan protein powder and supplement—stacks up to an average breakfast when added to smoothies, puddings, and so on. I was happy to participate, of course: it's no great secret that Brendan is a dear friend, and that I love the whole Vega line.
The problem, I quickly realized, was this: my breakfasts aren't so far off from the kind of morning meal that Vega offers. For example, let's take my typical weekday breakfast: chia pudding with almond milk, rice protein powder (or Vega!) a chopped banana, and cacao nibs.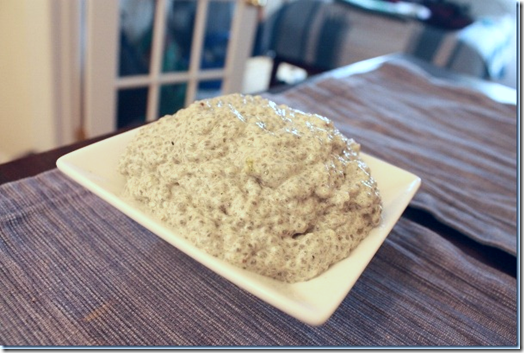 This is what comes with me to school nearly every day. If I were to calculate stats on this, it would look something like:
Kcal: 500
Protein: 25 grams
Fat: 15 grams
Carbohydrate: 60(ish) grams
Potassium: 600 mg
Calcium: 60% RDA
Iron: 25% RDA
This quick count doesn't include the many healthy EFA's (omega 3's and 6's) from the chia. Note that I typically use storebought almond milk during the week (time-saver), but always make my own on weekends. This reflects storebought nutrition info, so fortification accounts for 30% of the calcium. But even so, the other 30% (from chia) is substantial!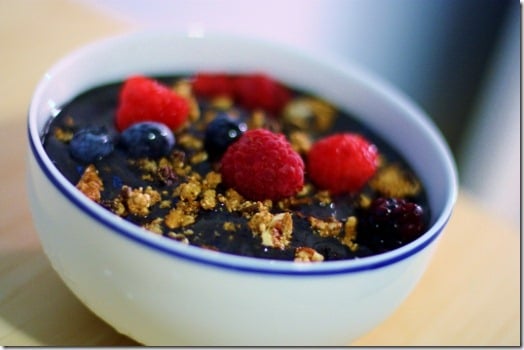 The other morning, I decided to take the Vega challenge, and I created a smoothie with a packet of the chocolate flavored whole foods optimizer, a frozen banana, half a cup of frozen blueberries, a cup of almond milk, and a topping of granola (the granola version of my no-bake sunflower oat bars). It was scrumptious, but my real curiosity was about its stats: how would it stack up to my typical chia seed creation? Here's how it looked:
Kcal: 450
Protein: 15 grams
Fat: 13.5 grams
Carbohydrate: 68 grams
Calcium: 80% RDA*
Iron: 45% RDA*
Potassium: 1050 mg
*Wowza!!
Once again, the calcium value reflects fortified almond milk. But even if I'd used my own version, I'd still be looking at 50% of my RDA. Which is fantastic—not to mention the very high iron count.
What I realized is that the backbone of my home breakfasts is a lot like the Vega breakfast: similar caloric intake, similar fat and carbs, and a difference in protein, but not a vast one. What makes the Vega breakfast stand out is the fact that it's not only a boost in macronutrients (protein, carbs, fat) but in micronutrients: it's a supplement, ready to blend into your smoothie. When I take Vega, I forgo my daily supplement, since Vega contains the whole spectrum of essential vitamins and minerals: Vitamins A, C, D, E, K, Thiamin, Riboflavin, Niacin, B6, Folate, Biotin, B-12, and so on, not to mentioncalcium and iron. It also contains a perfect ratio of Omega-3 to Omega-6 fatty acids, chlorella (which is fantastic), a probiotic blend, and maca.
In short, it gives me what a bunch of supplement pills would give me, but it gives those nutrients to me in a delicious and accessible breakfast form. Vega isn't notable because it's a protein powder: as you've probably noticed, the price point is just a notch higher than many vegan proteins. It's notable because it's a whole foods supplement: an easy to digest, easy to assimilate helping of not only protein, but rather all of the most essential nutrients for optimal performance and health. This is why I so constantly advocate it to my clients and friends: not only is the product top-of-the-line in terms of quality, but it's also unparalleled in terms of nutritional scope.
It's also worth noting that the fact that my own breakfast (sans Vega) is so well-rounded has a lot to do with Brendan and his work. The Thrive Diet was one of the most influential books I read as I transitioned into raw food: it taught me the importance of proper nutrition, and it taught me how to translate protein, iron, EFA, and fat needs into the paradigm of a high-raw vegan diet.
One of my favorite things about Brendan is his sincerity about helping people live well: Vega is his business, but he doesn't wish to hold a monopoly over its benefits. Instead, he teaches people how to eat a nutrient dense diet without the aid of a supplement or product. He openly shares the Vega formula (bars, drinks, and so on) in his books, because his main goal is for people to be well nourished—even if they're on a budget and can't invest in his line. That's a rare kind of selflessness in an entrepreneur, and only one small part of what makes Brendan admirable.
So, the upshot? My breakfasts are pretty solid (and filling). But for those days when I want an extra boost of the vitamins, minerals, and probiotics that boost my health just a little further, Vega is an essential part of my diet. And, reluctant though I usually am to endorse anything on my site, no product gets more of a hearty thumbs of from me than this one.
How does your breakfast stack up? Try taking the Vega challenge yourself, or simply learning more on the Vega Facebook page or by following along on twitter. And I'd love to hear what your own favorite nutrient dense breakfasts are!!
xo