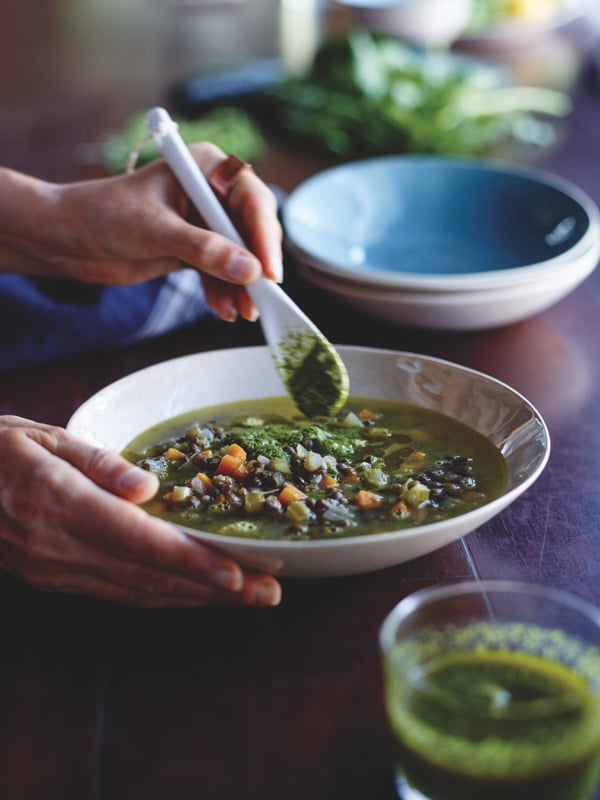 As I write, the wind is howling outside of my window, blowing flurries of snow off tree branches. I woke up to a winter wonderland this morning, which was a little hard to fathom since it had been 60 degrees yesterday afternoon. No complaints, though: it's beautiful right now, and since it's a snow day, I get to listen to excited peals of kids' laughter as they play outside, throwing snowballs and stomping around in their little boots. The only thing that would make the moment more cozy would be a steaming bowl of soup or stew or something hearty, so I'm currently fantasizing about Tess Masters' gentle lentils.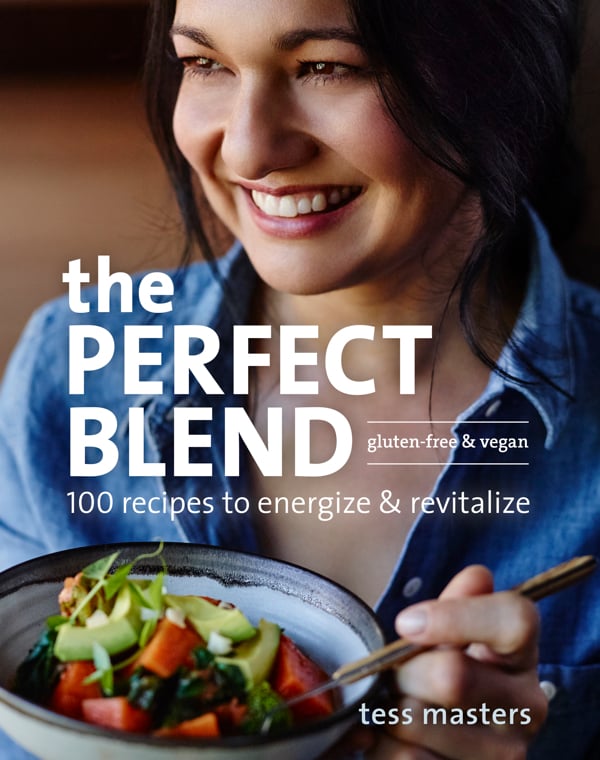 This is a recipe from Tess' newest book, The Perfect Blend. Tess is known for whipping up delicious, healthful recipes with the blender, from her characteristic smoothies to sauces and soups. Her recipes are always beautiful to look at, flavorful, and creative.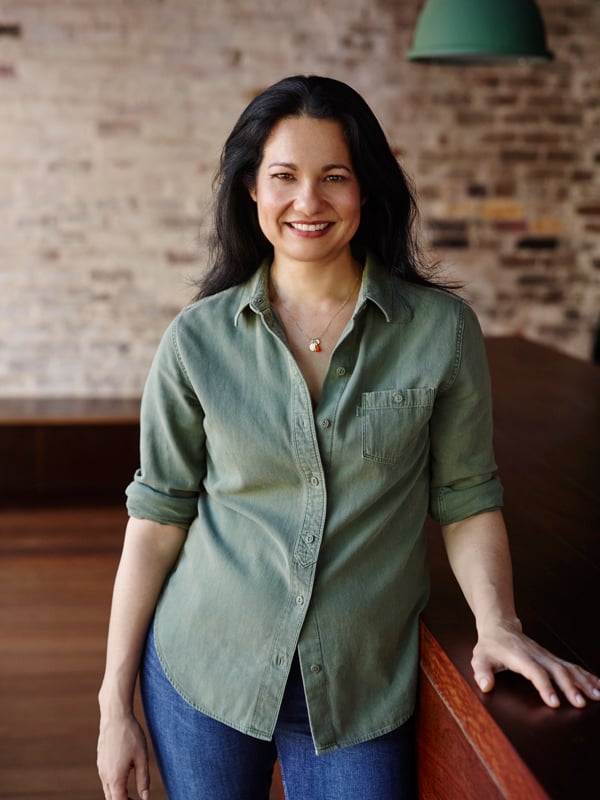 Tess is a dynamo, a spokesperson, recipe developer, actress, and performer who brings energy to everything she does. I've known Tess for years, and I can vouch for her vivacity and warmth. It's difficult to imagine that she struggled for years and years with health challenges that included Epstein Barr virus and subsequent chronic fatigue.
Tess' health journey led her to dietary changes that included macrobiotics, eating plant-based, eliminating gluten from her diet, blending, and juicing. She's "The Blender Girl" not only because she loves to blend, but also because she found her way to healing by "blending" different dietary approaches and philosophies. She says,
Combining different concepts, flavors, and philosophies plays a crucial part in my ideal balance of food, exercise, work, and fun. While my approach isn't a system exactly, it does add up to a recipe for success and happiness, and one that I believe is worth sharing.
Not surprisingly, given this perspective, Tess' work always feels inclusive and generous. She's passionate about the connections between food and wellness, but she's not dogmatic about any particular approach; instead, she celebrates a personalized healing experience. She's also a food lover, and her recipes feel as vibrant and abundant as they are wholesome.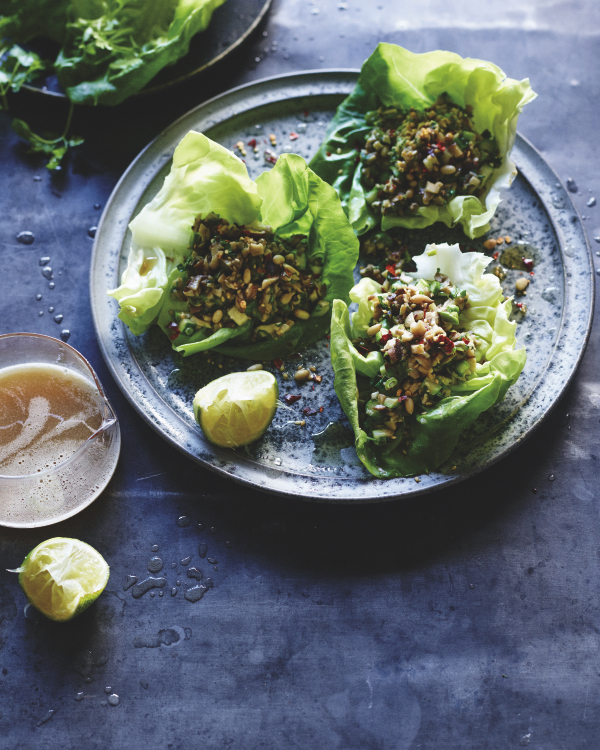 The Perfect Blend is a tribute to the ingredients that have shaped Tess' well-being. The book is organized around different health goals, such as enhancing energy, boosting immunity, or reducing inflammation. Each section features superstar plant-based foods that can contribute to the goal (so, the immunity section features ginger and turmeric, while the energy chapter features complex carbs, like banana and brown rice). Of course, different ingredients end up overlapping in the recipes, because so many plant foods are ideal for serving different health goals at once.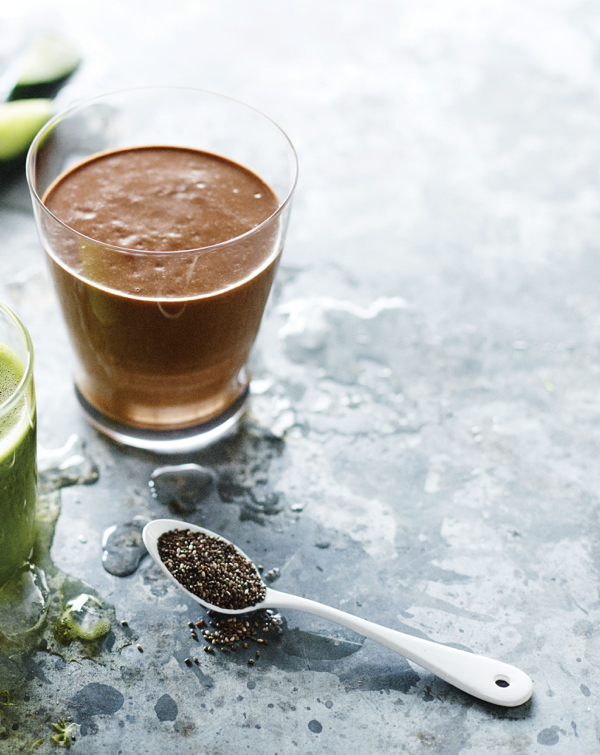 As usual, Tess' food is rich and varied. Breakfast options include the mojo magic smoothie (which features a touch of espresso as well as banana and almond butter–yum!) you see above, as well as a decadent vegan French toast with caramelized bananas.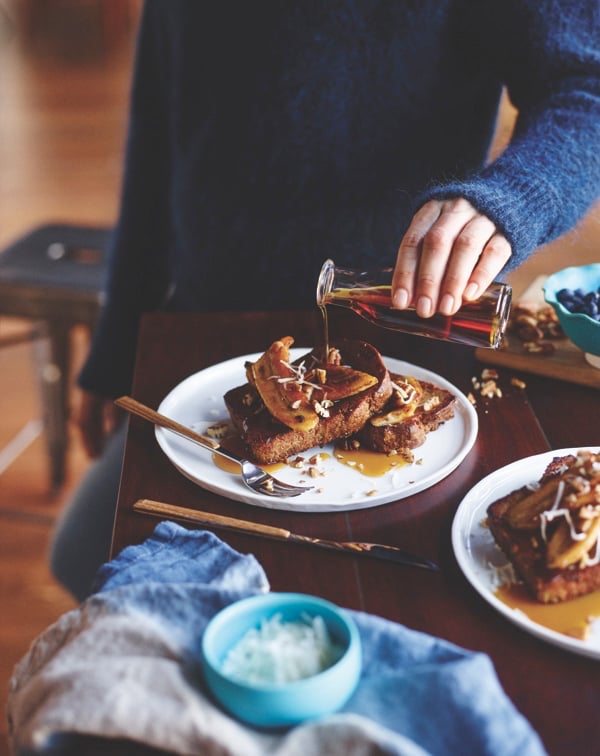 In spite of the chilly climate outside, so many of Tess' salads and slaws are calling my name, including her Thai slaw, which features a creamy, cashew-based sauce spiked with lime zest.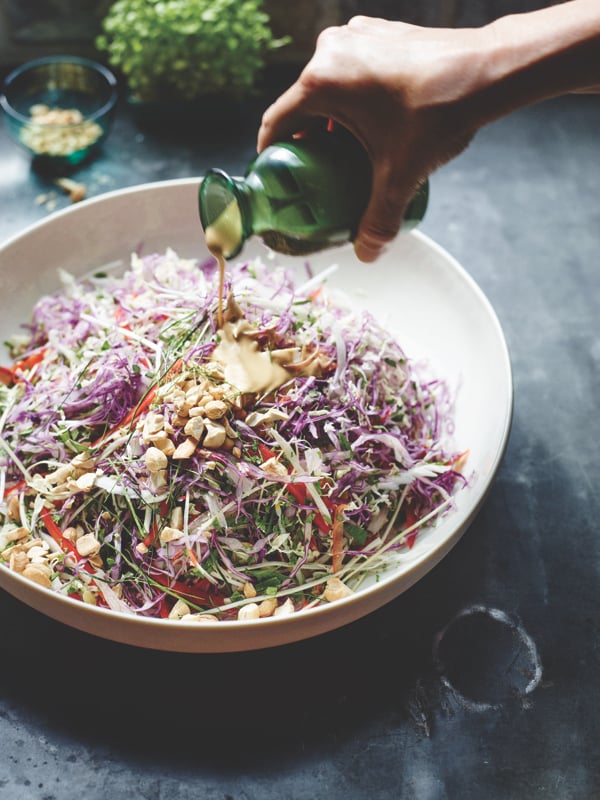 Tess has a knack, too, for making rich desserts with nuts, seeds, and other plant-based foods. Her raw chocolate orange torte is one of my all-time favorite recipes, and now I'm dying to try her classic cheesecake, just as soon as strawberries are back in season.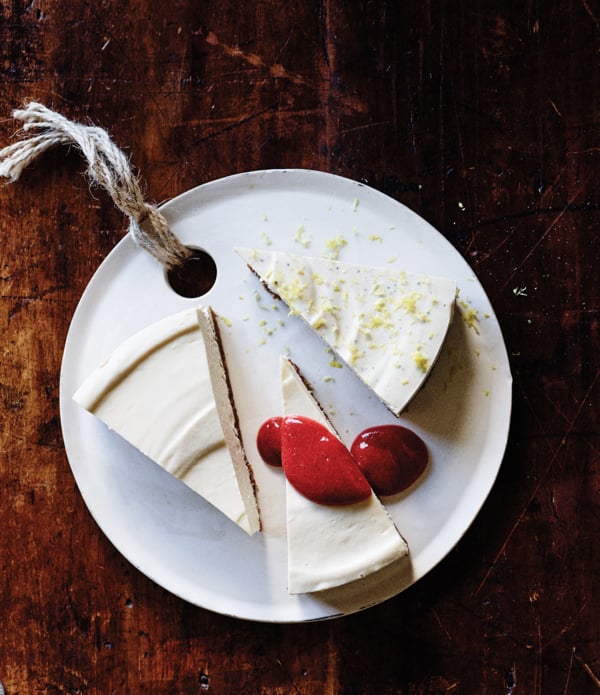 There are so many enticing recipes in the collection, but it's these lentils that are calling my name. I love the combination of an earthy lentil soup and an herbaceous sauce–something to warm up with while also experiencing a bright punch of flavor. Like so many of Tess' meals, it's a blend: a blend of textures, tastes, qualities, and cooking techniques.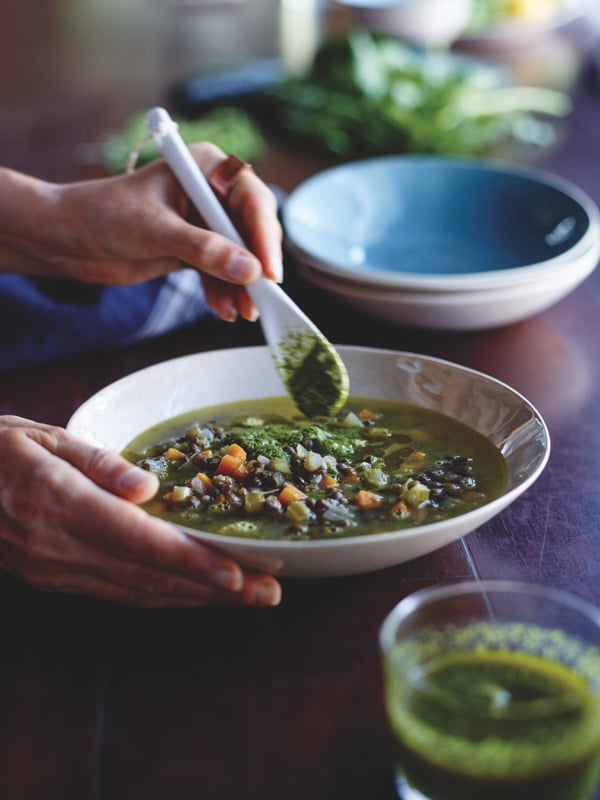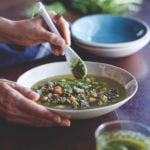 Gentle Lentils with Basil-is-the-Bomb Sauce
Author -
2

tablespoons

grapeseed oil or extra-virgin olive oil

2

teaspoons

minced garlic

about 2 cloves

1

cup

150g diced yellow onion

1

cup

132g diced celery

1

cup

160g peeled and diced carrot

1

teaspoon

natural salt

plus more to taste

2

cups

370g dry green lentils

1

tablespoon

finely chopped fresh thyme

plus more to taste

½

teaspoon

ground black pepper

8

cups

2 l vegetable broth

Fresh lemon juice

Optional: avocado

pea greens

1

cup

240ml Basil-Is-the-Bomb Sauce with the red pepper flakes booster
Basil-is-the-Bomb Sauce:
½

cup

120ml extra-virgin olive oil

2

cups

50g loosely packed basil leaves

¼

cup

20g finely chopped green onion (white and green parts)

1½

tablespoons

fresh lemon juice

2

teaspoons

minced garlic

about 2 cloves

¼

teaspoon

apple cider vinegar

¼

teaspoon

natural salt

plus more to taste

Optional boosters: 2 teaspoons capers

drained, 1 teaspoon wheatgrass powder, 1/8 teaspoon red pepper flakes, plus more to taste
To prepare the basil-is-the-bomb sauce, throw everything into your blender, including any boosters, and blast on high for 30 to 60 seconds, until smooth and emulsified. Tweak the salt and pepper flakes to taste. This is best served immediately, but will keep, sealed and chilled, for about 5 days. Makes 1 cup.

Heat the oil in a large saucepan over medium-low heat and sauté the garlic, onion, celery, carrot, and ½ teaspoon of the salt for about 5 minutes, until the vegetables soften slightly. Stir in the lentils, thyme, pepper, and broth. Increase the heat to medium-high, bring the mixture to a lively simmer (not a full boil), and cook for about 5 minutes. Lower the heat to medium-low, cover, and simmer for about 20 minutes, until the lentils and vegetables are tender but not mushy. Add salt to taste.

Ladle the soup into bowls and add about ¼ teaspoon lemon juice to each serving. Drizzle 1 tablespoon of the Basil-Is-the-Bomb sauce over the top of each bowl and serve with a few of the avocado slices, a dollop of sour cream, and some of the pea sprouts. Pass the remaining Basil-Is-the-Bomb sauce and more lemon juice at the table.
Reprinted with permission from The Perfect Blend, copyright 2016 Tess Masters. Published by Ten Speed Press, an imprint of Penguin Random House LLC.
In addition to the sumptuous recipes, The Perfect Blend features truly exquisite photography and sweet headnotes that include acknowledgment of all of the culinary inspiration that Tess' friends have given her. It's a generous and lovely collection, and I'm happy to have a chance to share it today.
Below is a giveaway for one copy of The Perfect Blend, which will run between now and next Friday. The giveaway is open to US and Canadian residents, and I'll post the winner on the widget when the giveaway wraps up!
Wishing you all a cozy start to the weekend.
xo
Photography copyright 2016 by Anson Smart.