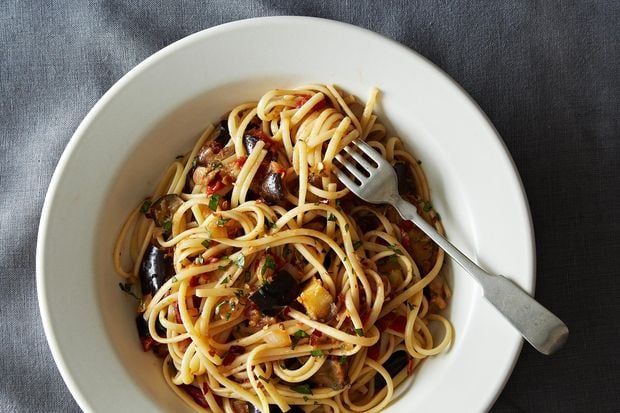 Photos courtesy of James Ransom for Food52.
Happy Thursday, friends! It's time for another New Veganism column over at Food52. This week, I'm calling attention to the versatility and all around awesomeness of eggplant, with a simple and delicious bowl of spicy eggplant pasta.
Eggplant was probably the star of my summer meals this year. For whatever reason, I went through an eggplant renaissance. My favorite dish was my millet pesto summer salad, which was so tasty that I'm already looking forward to next summer, and a crop of fresh tomatoes and zucchini.
In the meantime, I will enjoy this linguine bowl. I roast the eggplant in this dish first, to bring out sweetness and flavor, then I fold it into a simple tomato sauce that's infused with red pepper flakes and oregano, and garlic. Speaking of garlic, the version I make is garlic free, but I tested the recipe with garlic to give it authentic flavor. You can go either way! In this weeks' column, I talk about how eggplant can help to create a "meaty" texture in dishes, as well as its handy ability to soak up flavor. I hope you'll enjoy the recipe, which you can find here.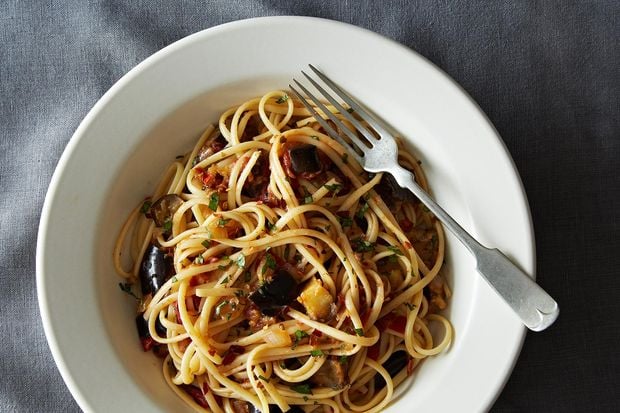 Gluten free folks can of course use quinoa or brown rice pasta (or whichever GF option you like).
For more eggplant recipes, check out these five favorites:
Smoked eggplant and red lentil dip
Quinoa with roasted eggplant, red peppers, and balsamic vinaigrette
Eggplant and arugula wraps with tomato basil cashew cheese
Till tomorrow!
xo