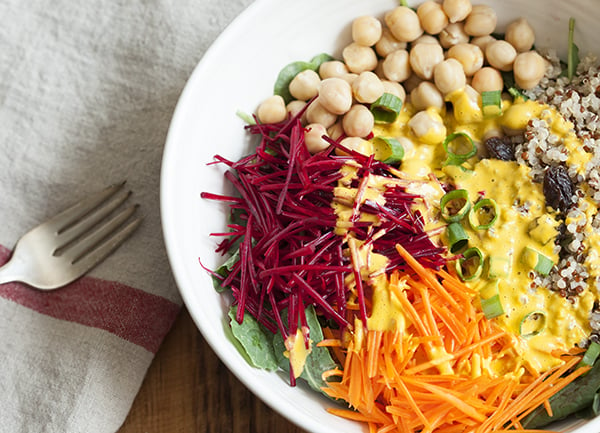 Last summer and this summer, my boyfriend and I made a journey to Provincetown, to visit his family. Among P-Town's many charms–long stretches of beach, restaurants and shops aplenty, a cluster of fantastic coffee shops, bustling nightlife–is 141 Market on Bradford Street, a small but richly stocked market that features organic produce, foods prepared by local artisans, and a huge array of fresh, in-house made salads, soups, and hot bar items. Steven and I love stopping by for casual lunches; the food is reliably delicious.
A few weeks ago, I picked up a beet, carrot and kale salad at 141 that featured a creamy cashew carrot dressing. I'm pretty fanatical about dressings, and I tend to have high standards, so it's no small matter to say that I couldn't stop raving about how tasty this dressing was. When Steven tried it, he was equally impressed, and we said that I'd have to try my hand at recreating it at home.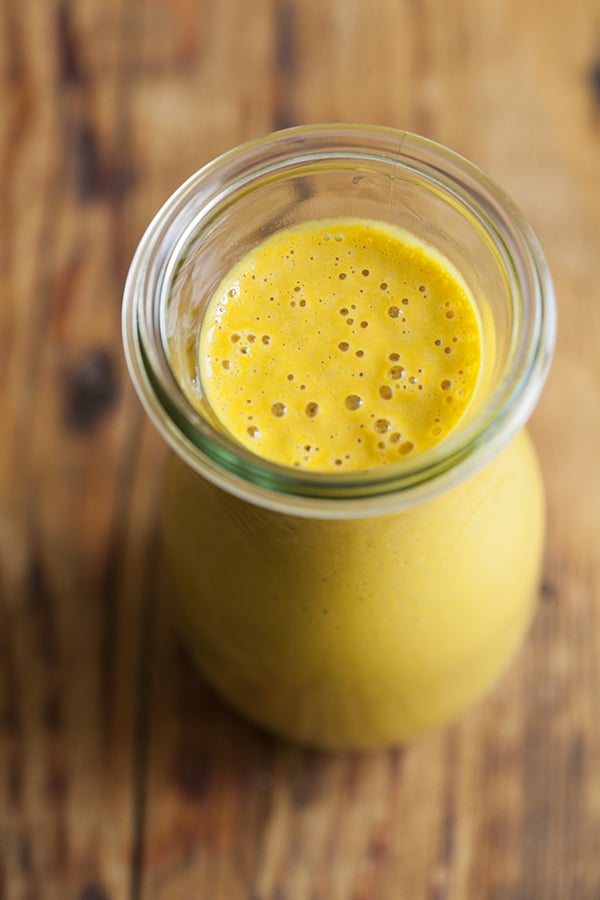 While the dressing I'm sharing today isn't an exact replica of the 141 concoction, it's similar. At the least, it captures that dressing's creamy texture and wonderfully sweet/salty flavor. Sweet and salty tends to be my salad dressing default, so forgive me if this recipe feels overly familiar. But it's really wonderful, and I hope I can entice you to give it a try.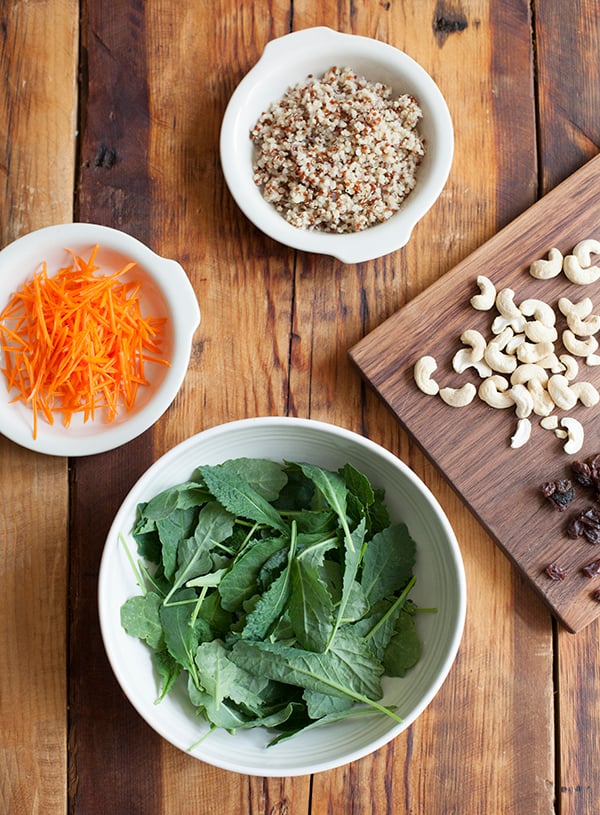 Beneath every great salad dressing is a great salad, of course, and so I wanted to share a new salad bowl recipe along with the carrot cashew mixture that inspired this post. I settled on a nutrient dense combination of cooked quinoa and chickpeas, baby kale, carrots, beets, raisins, and green onions. It's colorful, full of texture, and satisfying–everything I love for a salad to be!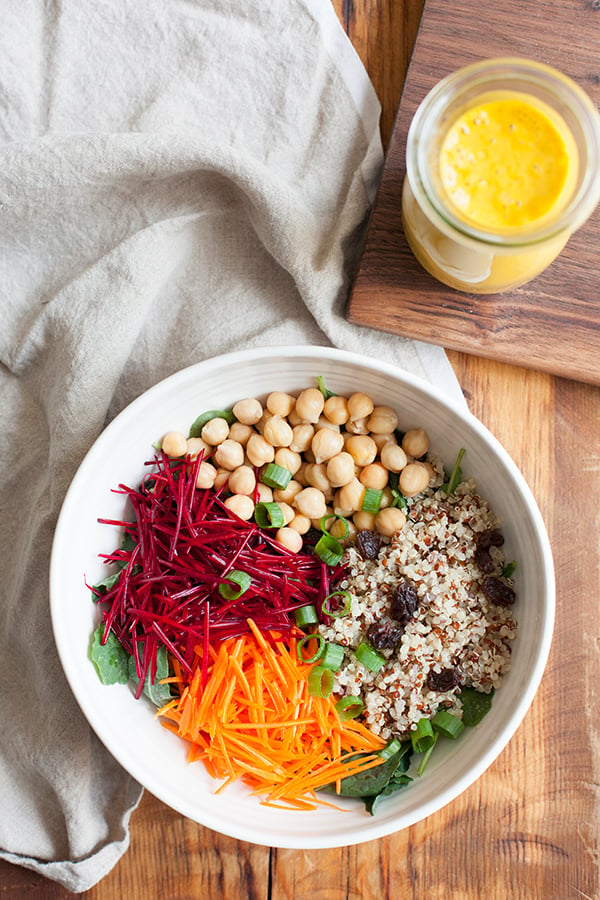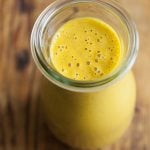 Totally Addictive Creamy Cashew Carrot Dressing and Quinoa Bowl (gluten free)
Author -
Yields:
2
salad bowls; 1 1/2 cups dressing
For the Salad Bowl:
3-4

cups

baby kale

or baby spinach, arugula, or any other type of dark salad green

1

cup

shredded carrot

1

cup

shredded beet

2

tablespoons

raisins or currants

2/3

cups

cooked chickpeas

1

cup

cooked quinoa

I used a combination of red and white

1

green onion

tops only, chopped

For the Creamy Cashew Carrot Dressing:

3/4

cup

cashews

soaked for at least two hours and up to overnight, drained

3/4

cup

carrot juice

any organic brand, such as Odwalla, is great, or if you can get fresh carrot juice at a juice bar or make it at home, go for it!

2

tablespoons

lemon juice

2

tablespoons

low sodium tamari

1

pitted medjool date

substitute 1 tablespoon agave or maple syrup

1

small clove garlic

roughly chopped

1/2

inch

piece ginger

roughly chopped
To prepare the dressing, put all ingredients into a powerful blender and blend until smooth. Dressing will make about 1 1/2 cups.

To prepare the salad, divide all ingredients into two bowls. Drizzle with dressing (about 3 tablespoons each). Serve. Dressing will keep in an airtight container in the fridge for up to four days.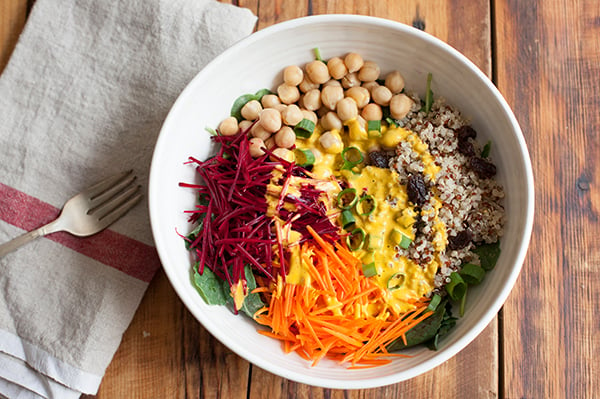 Of course, this bowl is only a suggestion. The carrot cashew dressing will work wonderfully as a dip or a dressing for any salad that you love. You'll taste the ginger, but the amount I used was relatively moderate, so that other flavors could shine through.
I have a feeling that this bowl is going to be a new staple for me, and I'm glad I made a lot of quinoa and chickpeas this week while I was testing the recipe, because it means that I get to enjoy leftovers all week long.
As for the dressing…well, there's a reason I titled this post the way I did. Just try not to drink this stuff by the spoonful when it's fresh from the blender.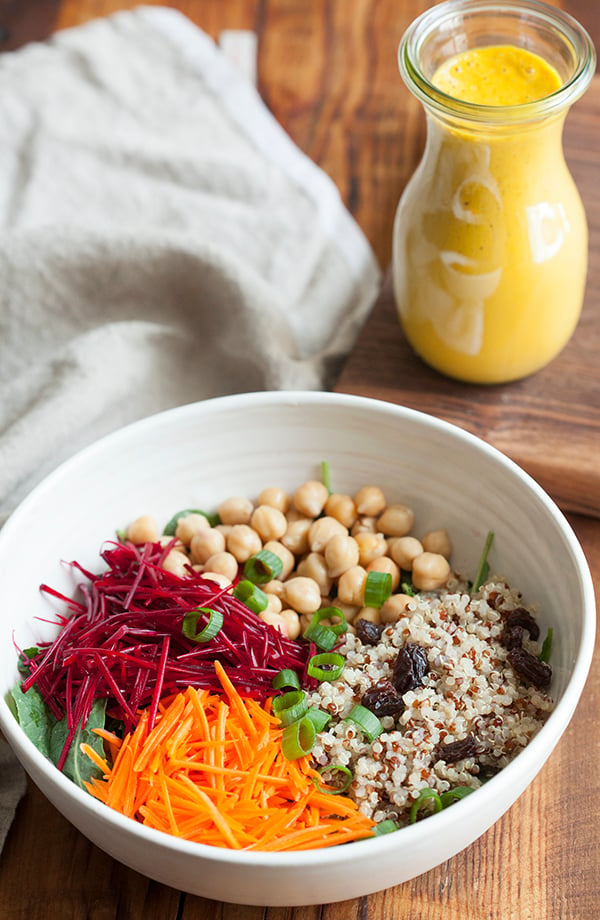 Enjoy the salad and the dressing, separately or together. If you use the dressing on another salad bowl, I'd love to hear about it. And I'll be back on Thursday with a sweet new giveaway (literally!). Till soon!
xo