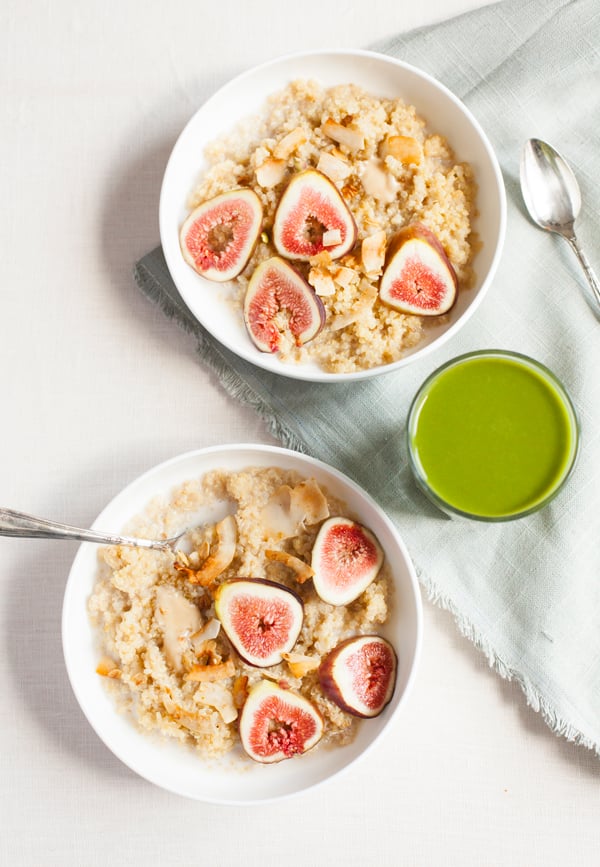 Porridges are my go-to breakfast all year round, so it seems a little silly for me to make a special to-do about them as we head into September. But I think there's something special about a bowl of warm cereal on a cool, crisp autumn morning–a particular kind of comfort and satisfaction.
New York was hot and muggy at the start of this week, but when I woke up and stepped outside this morning it was dry and cool and brightly sunny. In spite of the fact that there are plenty more hot days in store, I can't help feeling fall in the air. This makes it a particularly appropriate day to be sharing the delicious vanilla maple quinoa porridge you see above. And it's a great day to be telling you all about the decadent maple cream that makes this recipe special–courtesy of Roxbury Mountain Maple.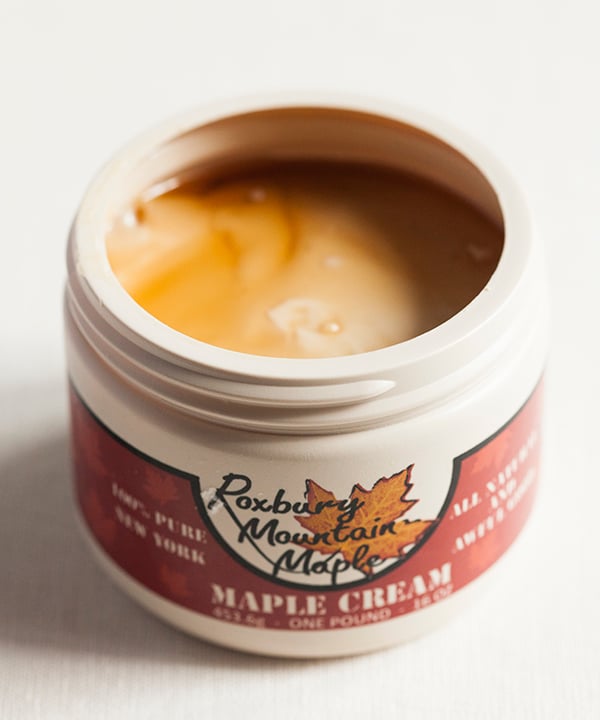 Early this summer, the Holscher family, who owns Roxbury Mountain Maple in the Catskill Mountains of upstate New York, reached out to me. As it turns out, they've been reading Choosing Raw for a while, and they have a special interest in vegan blogs generally, since many of their maple products are particularly well suited to vegan diets.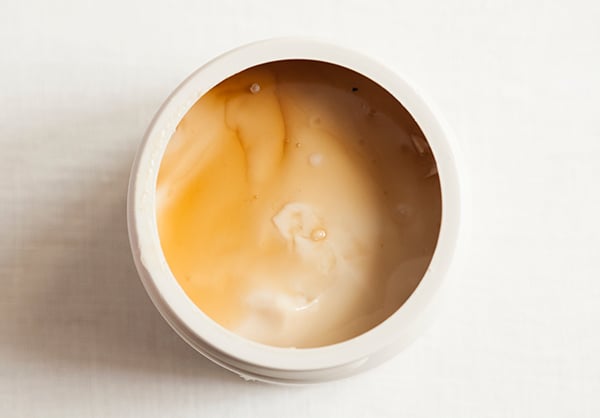 Conventional sugar isn't part of a vegan diet because it's typically bleached and refined with bone char. Among unrefined sweeteners, honey, which is featured in many health foods and products, is also not vegan. Vegans have plenty of alternative sweetening options, including organic cane or demerara sugar, coconut syrup and sugar, brown rice syrup, pitted medjool dates, and agave.
Among syrup sweeteners, maple syrup is most definitely my personal favorite; I love its characteristic flavor and versatility. Roxbury Mountain Maple sells plenty of maple syrup, but it's also famous for it's remarkable maple cream.
I was first introduced to maple cream by Angela, who brought me a Canadian sample when we met up for coffee at Vida Vegan II. In spite of the fact that I spent chunks of my childhood in New Hampshire, I had never tasted maple cream before, and I was instantly hooked on its incredible sweetness and rich texture.
Maple cream is actually a form of maple syrup–maple syrup that's been boiled down and reduced into a spreadable, pale colored cream. It's so much more delectable than the regular syrup, if you ask me, and it's ideal for spreading on toast, drizzling onto fresh granola and fruit, whipping into frosting, or–best of all–spooning into warm oatmeal or other porridge. The Roxbury brand is great, and you'll have a chance to win some for yourself in my giveaway below. But you can try your hand at making maple cream, too, using Food52's tutorial.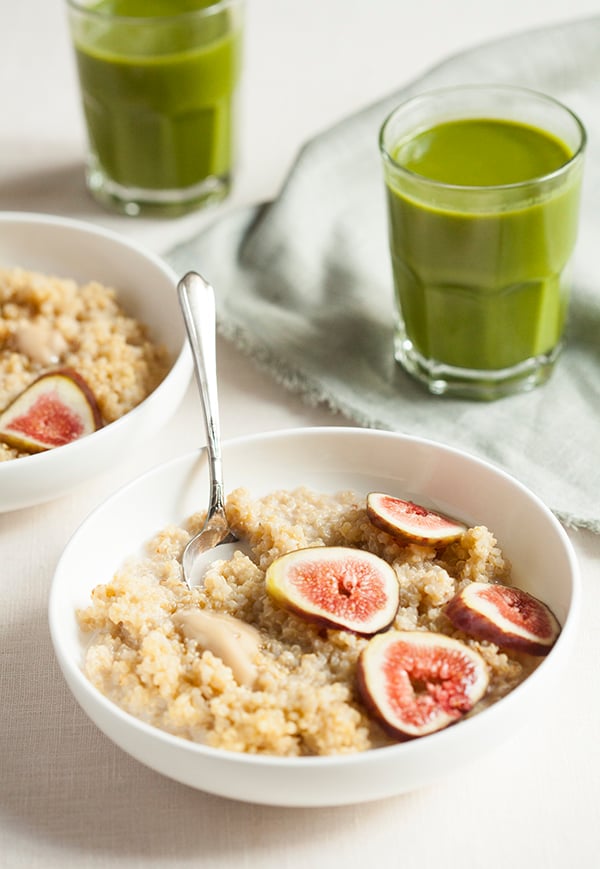 In this recipe, I've chosen to pair the flavor of maple syrup and cream with vanilla and one of the season's most wonderful treats: figs.
I've only recently come to relish fresh figs (I've loved the dry ones for a good long time), and right now, while they're abundant, I'm taking any opportunity to make them the shining ingredient in salads, toast, and breakfast bowls. It's hard not to love the subtle sweetness and the bright, beautiful color they add to recipes. I used brown Turkish figs in this recipe because they're what I found, but you could certainly use black mission figs or Calimyrna figs instead–whatever you can get your hands on locally.
I love this recipe because it's easy, but it feels like a special treat. Quinoa is such a nutrient dense and satisfying grain to eat in the morning, and it cooks up quickly. I also like this porridge because the quinoa and figs give it a light, bright touch–it's a perfect hot cereal to transition with as we move from warm to cooler weather. Sweet vanilla and maple flavors, coupled with some optional crunchy toppings (like toasted coconut flakes or nuts) seal the deal. Here's the recipe.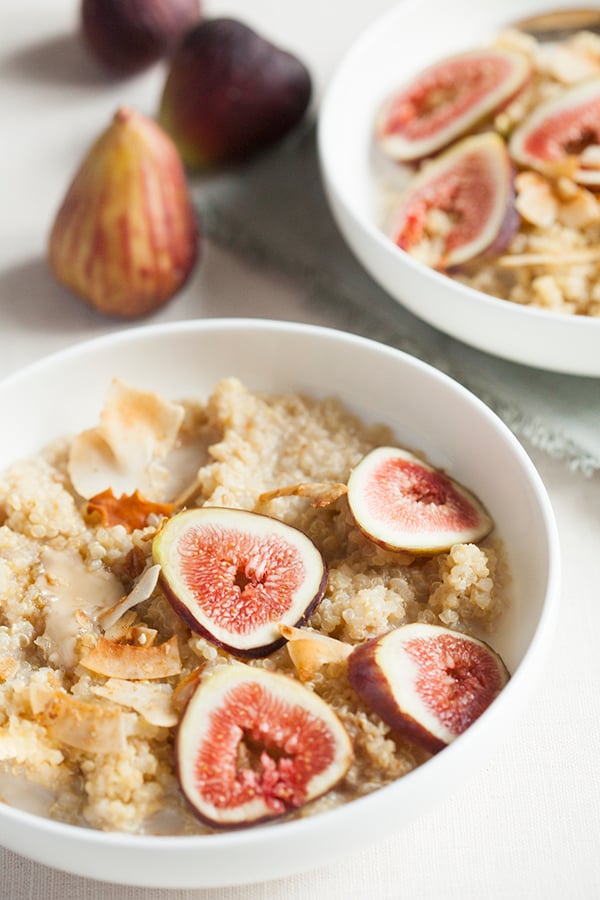 Maple Vanilla Quinoa Porridge with Fresh Figs (gluten free)
Author -
1

cup

quinoa

1 1/2

cups

almond milk

plus extra for drizzling

1/2

cup

water

Tiny pinch salt

1

cinnamon stick

1 1/2

teaspoons

vanilla extract

2

tablespoons

maple syrup

4

heaping teaspoons maple cream

substitute additional maple syrup

4

figs

quartered or sliced lengthwise

1/4

cup

toasted walnuts

almonds, or coconut flakes (optional)
Rinse the quinoa through a fine sieve for about a minute. Place the quinoa, almond milk, water, salt, cinnamon stick, vanilla, and maple syrup in a medium sized pot. Bring the mixture to a boil. Reduce to a simmer and simmer for 15 minutes. Remove the quinoa from heat and allow it to rest for about ten minutes.

Transfer the quinoa into four serving bowls. Top each with an extra splash of almond milk, along with a heaping teaspoon of maple cream, a sliced fig, and a tablespoon of toasted nuts or coconut. Serve, topped with extra cinnamon if desired. Leftover porridge will keep for up to three days in an airtight container in the fridge.
The recipe is easy to adapt with other fruits–and I'm sure I'll be doing that when figs are out of season. Try using chopped pear or apple, fresh citrus sections, berries, or sliced banana. You can also vary the spices a little–both cardamom and ginger would be nice additions!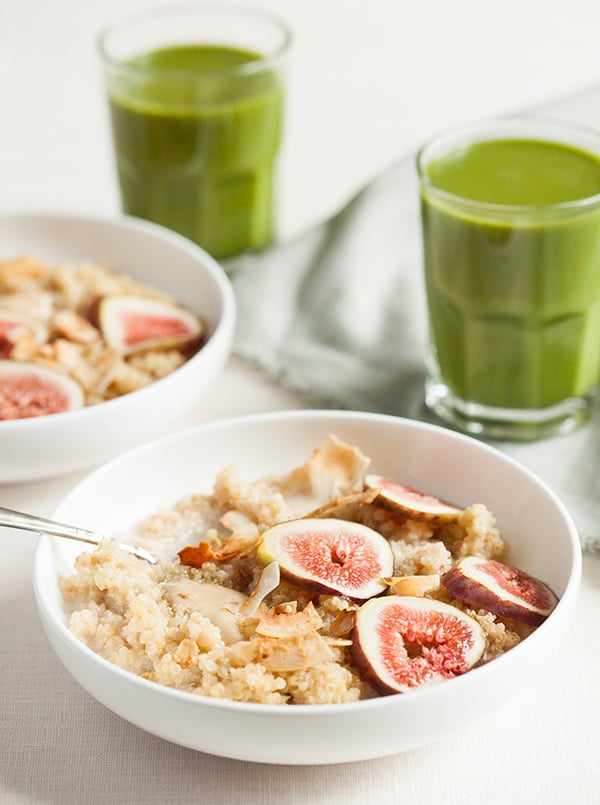 The porridge is fairly filling on its own, but to make this an even more substantial breakfast or brunch option you could pair it with a light green smoothie or additional fresh fruit.
Now for the fun part of this post: the folks at Roxbury Mountain Maple have been kind enough to offer an awesome sweetener giveaway package to one Choosing Raw reader! The company is really trying to get the word about their maple products out to vegans and other folks who are trying to focus more on natural sweeteners. A few more facts about Roxbury Mountain Maple:
•Set in the beautiful Catskill Mountains of upstate New York, Roxbury Mountain Maple has been providing the region's finest, purest maple syrup since March 2011.
•Roxbury Mountain Maple is a new adventure on an old farm—an old farm with fifty acres of sugar maples. Years ago, some of the trees were tapped by hand and the sap was boiled down in an old sugarhouse that now serves as a bicycle shed.
•Roxbury Mountain Maple is a family operation. From the owner, Dave Holscher, to the youngest of his eight children, Joel, nearly everyone in the Holscher family is involved, either in the preparation of the facility or the production of the syrup.
In addition to the heavenly maple cream and several varieties of maple syrup, the company also produces granulated maple sugar. This product is brand new product to me, and I think you guys will love it–sprinkling it lightly on any food imparts a distinct maple syrup and light sweetness, and it's perfect as a baking substitute.
If you want to read more about Roxbury Mountain Maple and what the company's up to, you can check out the Roxbury Mountain Maple website. If you're ready to check out some maple cream and sugar for yourself, the easiest place to find Roxbury Mountain Maple products is the company's convenient Amazon store
. There, you'll find the maple cream, the maple sugar, and the company's stellar grade B maple syrup. If you're in the New York area, you can also find Roxbury Mountain Maple at the Union Square Farmer's market, or you can visit the sugarhouse and farm in Hobart, NY.
Want to try Roxbury maple cream and maple sugar for yourself? Enter below to win:
•One container of pure, Grade B maple syrup
•Two 16 ounce and one eight ounce tubs of pure maple cream
•One large shaker of maple sugar
The giveaway is open to US residents only, and it'll run for two weeks. Good luck!
And in the meantime, I hope you'll all soon be digging your spoons into this nutritious and wonderfully sweet breakfast bowl. A note to fellow students and all of you who bring breakfast to work: leftovers of the quinoa porridge keep really nicely. Just store your toppings separately, warm it, and put it all together when you're ready to dig in!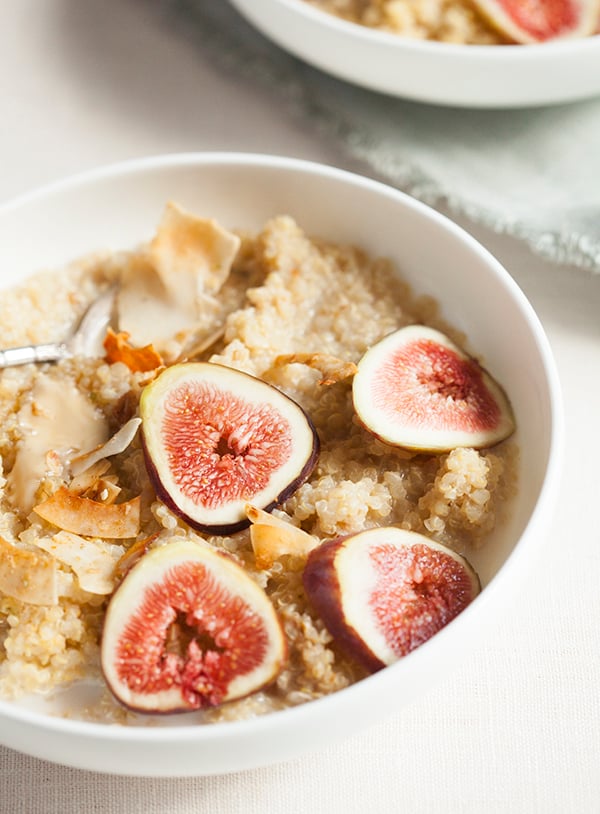 Have a wonderful end of the week, and I'll see you all on Sunday for weekend reading.
xo
This post is generously sponsored by Roxbury Mountain Maple. All opinions expressed are my own.