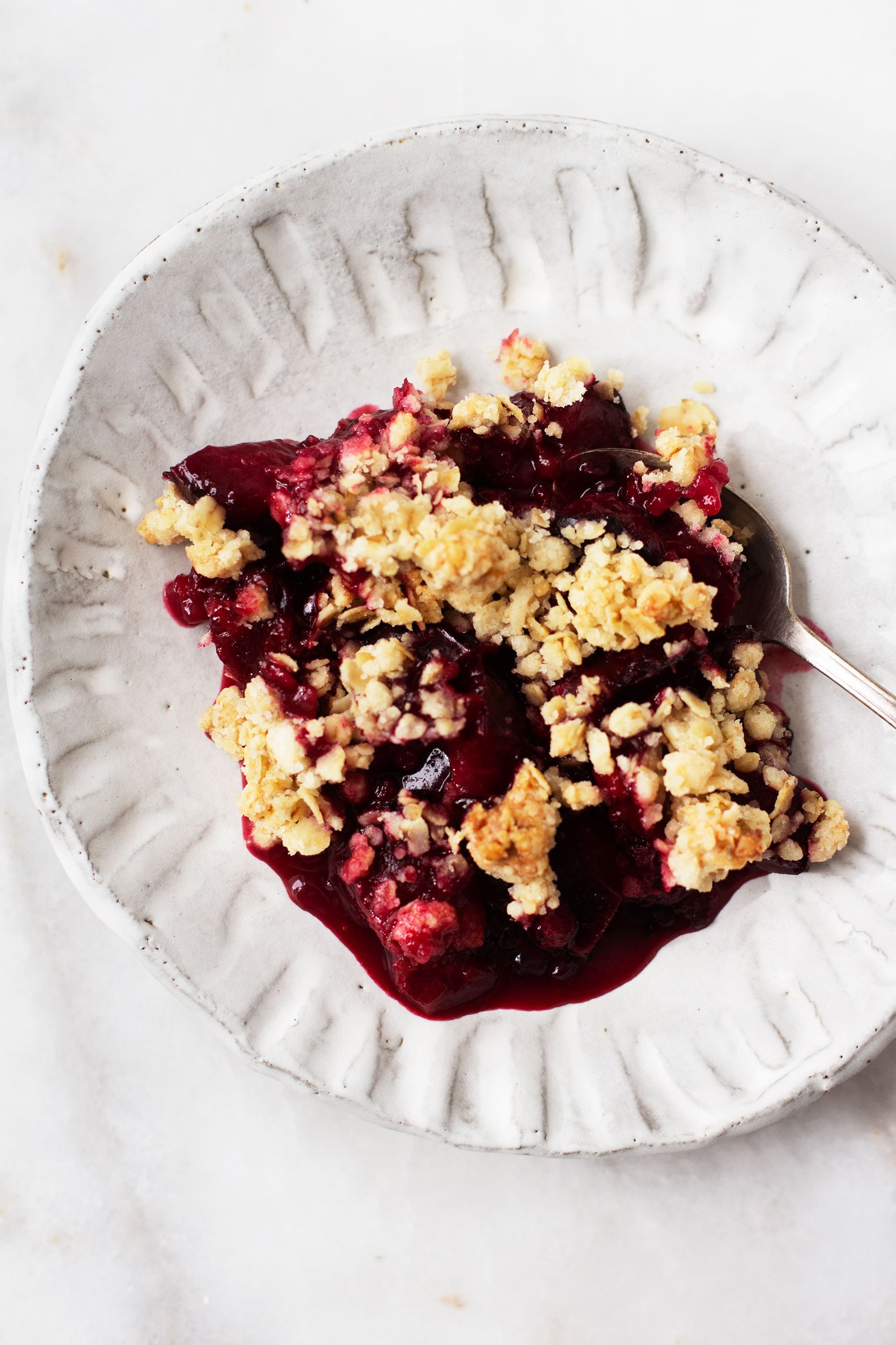 Technically speaking, this is a "back to school" post, though it's hard not to be a little wry about returning to school when one has done it not once, but four times over. My first trip back to school was when I started blogging–at the time, I got my holistic nutrition training via a distance program while working, and I also starting to explore the groundwork of an R.D. with a few introductory nutrition classes. My second and most tumultuous journey back to school was my pre-med, post-bacc, which lasted nearly four years (if you've just started reading, I've written about the post-bacc here and here).
My third trip back started last fall, as I was reconfiguring my future, figuring out what would fill the void that had been left when my plan to practice medicine evaporated. It suddenly felt so clear that deepening my nutrition work was what I should have been doing all along. And so, in spite of some post-post-bacc fatigue, I set about retaking the classes that I'd struggled in, clearing up the last of my R.D.-specific pre-reqs, and applying to programs here in New York. Tomorrow, I'll be beginning a new chapter as an R.D. student at Columbia. I feel so grateful and fortunate to be finally settled on this path.
I feel a little trepidation, too. The last year has been such a gift, a chance to dive back into writing, blogging, and counseling with purpose and pleasure. I'm not necessarily made for student life. Even in college, I couldn't help feeling a certain resistance to the confines of a campus, a desire to be out in the world and working. But for all of my proclamations about how student life never was/is for me, I've spent the better part of the last six years as a student, either full or part time. And this wouldn't be the case were I not certain that this education I'm getting–a more thorough understanding of nutrition science and how it works–is precious.
The nice thing about this trip back to school is that it feels nothing like my post-bacc. For one thing, it feels solidly and indisputably "right." There was always a part of me that worried, even before the post-bacc started, that I medicine was too far afield for me. Nutrition work feels so natural and enjoyable that I think I used to take it for granted. Not anymore. What a blessing it is to be returning to school with a sense of certainty that I'm studying what I should be studying, for all of the right reasons.
I also made the decision last spring to complete the R.D. program part time. This means that it'll be about three years of course work, not including my D.I. (dietetic internship). It sounds like a long time, but no matter. I've been in school for a long time already. And the nice thing about going back part time is that I won't have the sense, as I did during my post-bacc, that I've surrendered my entire existence in the pursuit of one single goal. I'll still be doing my counseling work, writing, blogging, living. I hope that my life will feel multifaceted and integrated at the same time–a combination of work I love and an education that serves and deepens the work.
Finally, and perhaps most importantly, I'm approaching this return to academic life with a sense of humor. This isn't to say that I don't intend to take my studies seriously; of course I do. But if my post-bacc gifted me with anything, it was a capacity to regard my own missteps without complete dismay. I am no longer a nineteen year old who must get A's in everything in order to feel legitimate and worthy. Life is too short. I will work hard, I will apply myself with rigor, and I will enjoy the material. But there will be things I don't grasp easily, and mistakes will be made. Life will go on, and I'll cherish the learning process anyway.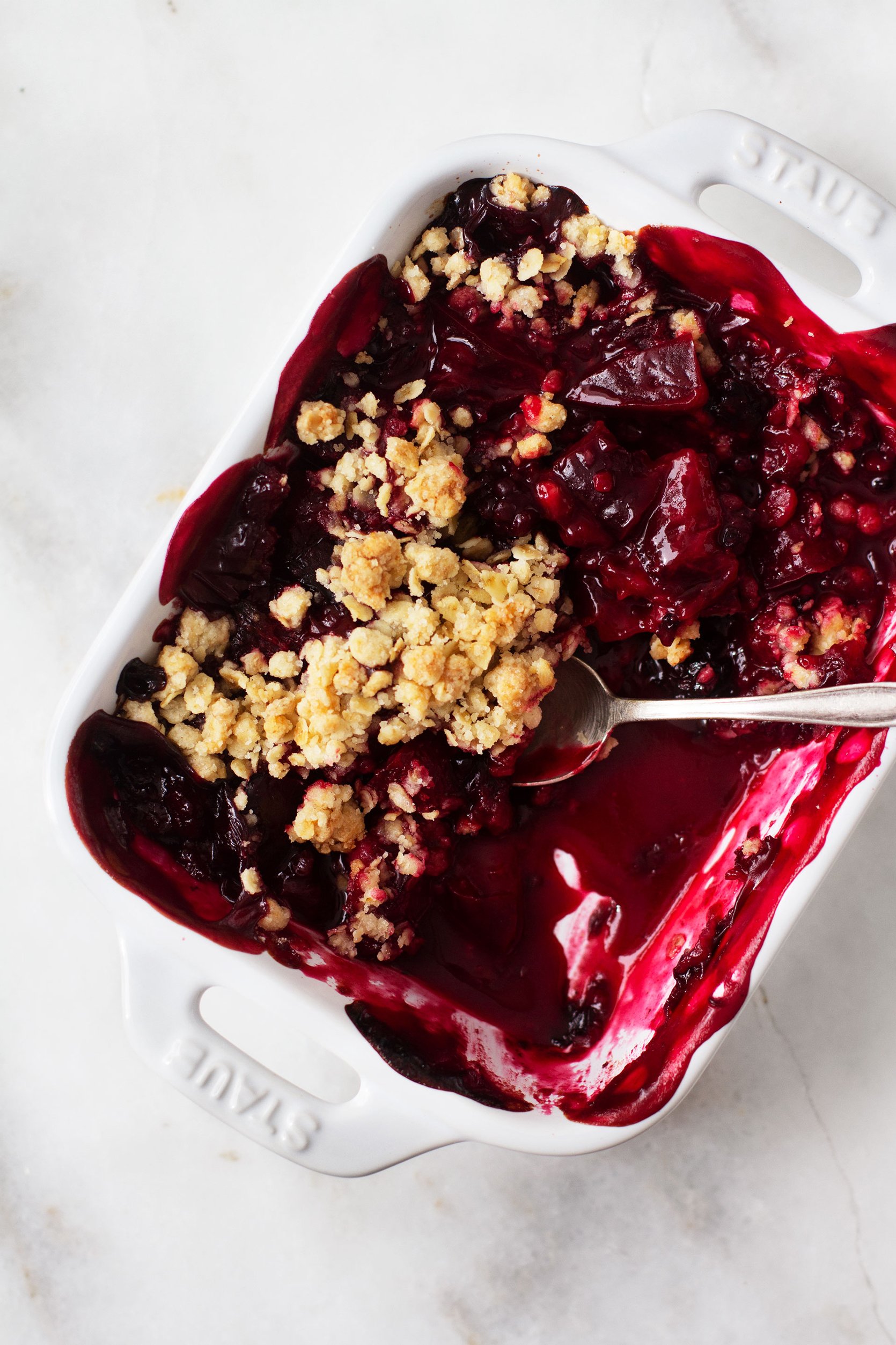 Mistakes and messiness are, I guess, the segue way into today's recipe. I hope to sustain my culinary adventures through the upcoming semester, but I know that, once school is in full swing, weekday baking projects will probably be fewer and farther between. The focus will be on batch cooking, planning dinners for the busy weeks ahead, and fueling myself for the combination of work + study.
So, this week, eyeing some beautiful plums at the farmer's market, I decided to bake a crisp, one last little farewell to August and my summer-long reprieve from work/school juggling.
Here's the good news: the crisp is delicious. And for something that I thought of as a "project," it's actually super simple to create. The bad news is that this crisp, like most crisps, bubbles and spatters, and so the finished project was a little messy.
At first I was ready to ban it from the blog on the grounds that it wasn't pretty or neat enough. But who am I to talk about embracing missteps and messiness and then overlook a perfectly wonderful dessert because it's not entirely photogenic?
So, here is my tasty, messy, and bubbly end of summer plum and blackberry crisp. It features a tart, sweet-but-not-too-sweet, brightly purple filling and a delightfully sweet topping. The topping is abundant, because crisp/crumble toppings are the best part.
Serve it with a scoop of non-dairy vanilla ice cream for a perfect August/September treat. And then try not to eat leftovers for breakfast.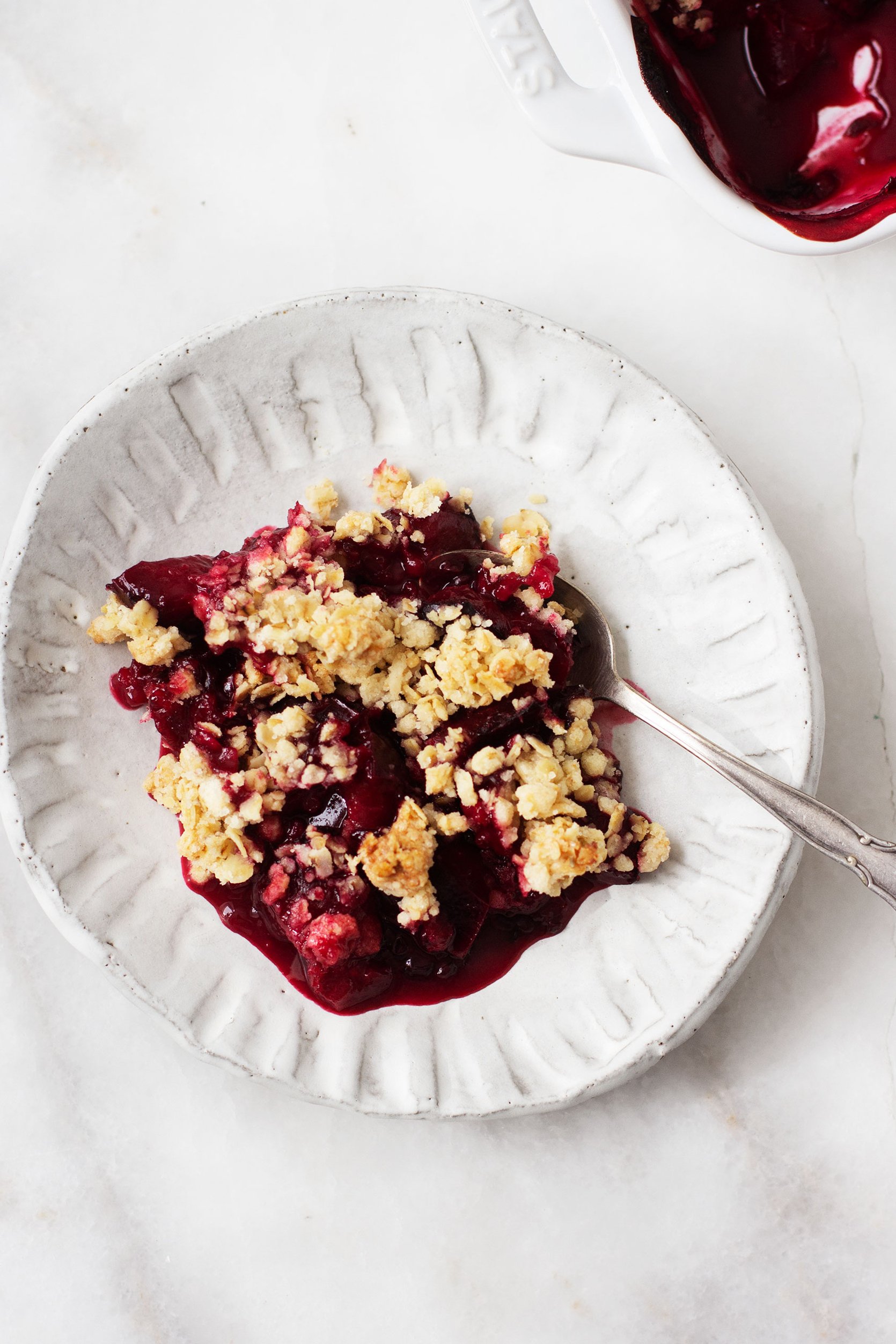 Vegan Blackberry Plum Crisp
Author -
1 1/2

pounds

sweet plums

1

heaping cup blackberries (about 1/2 pint)

1/3

cup

+ 3 tablespoons cane sugar

1

cup

+ 1 tablespoon unbleached, all purpose flour (or gluten free, all purpose flour)

1

cup

rolled oats

1/2

teaspoon

salt

1/2

teaspoon

ground cinnamon

8

tablespoons

vegan butter or solid coconut oil (refrigerated before use)

1-2

tablespoons

water
Preheat your oven to 350F. Toss the plums and blackberries together, along with the 3 tablespoons sugar and the 1 tablespoon flour.

Place the 1/3 cup sugar, the 1 cup flour, the oats, the salt, and the coconut oil or Earth Balance together in a food processor, along with a tablespoon of water. Pulse until the mixture has formed large crumbs. Add another tablespoon of water if it's too crumbly. When it's all crumbs, you're done. Alternately, you can mix the crumble topping together by rubbing it all together with your fingertips until it has that nice crumb consistency.

Lightly oil a deep, 9 inch pie dish or an 8 x 8 or 9 x 9 square baking dish. Place the plums and blackberries in the dish and distribute the crumb topping over them. Bake for 40-60 minutes, or until the filling is very bubbly and the top is browning. Allow the crisp to cool somewhat before serving, so that the filling isn't too runny. Leftovers will keep in an airtight container for up to four days.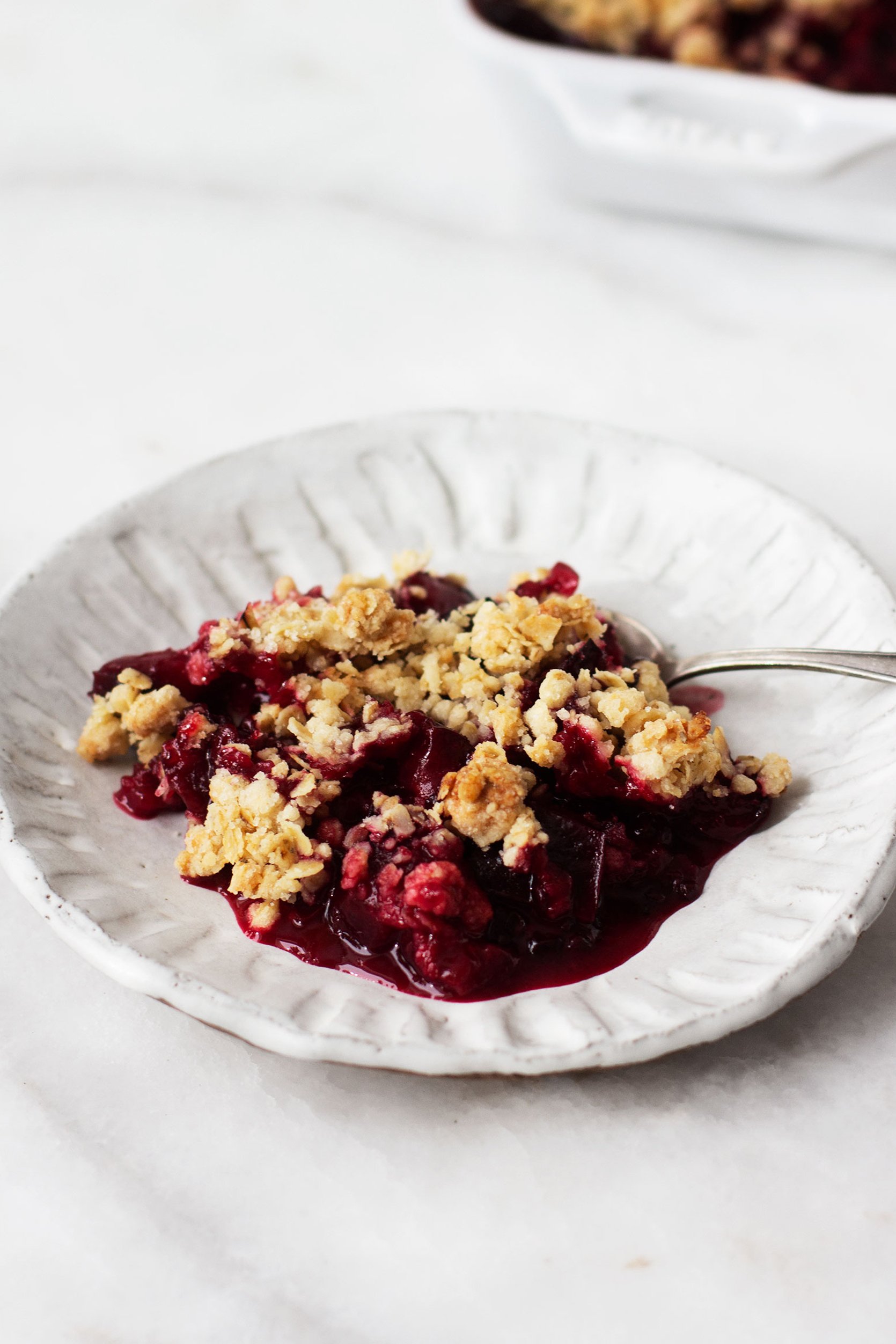 Of course, crisp is one of those "template"-like recipes that can be customized with plenty of different fillings. If I'm lucky, I'll be repeating it this fall with pears or apples.
Back to the topic of school, the next time I check in, I'll have a few classes behind me already! On the docket this semester:
•Food Ecology
•Nutrition and Human Development
•Advanced Nutrition I
I'm excited for all of the classes (after so many years of pre-reqs, it feels exhilarating to be diving into nutrition studies in earnest!), but particularly about Food Ecology, which is a renowned course in the program. It'll be fun to report back to you on what I'm learning from time to time.
I also plan to share with you some of my strategies for meal prep and planning as a part-time student. This was something I really wanted to do more constructively during my post-bacc, but those years were so chaotic that I never really shared in a way that was helpful. I work with a lot of students and part-time students and busy clients, and I'm increasingly eager to share the strategies I give them here on the blog.
So, you can expect more posts on weeknight dinner planning, batch cooking, slow cooking, and the like. As well as some exciting and overdue blog updates, which should be unveiled later this month.
On that note, everyone, have a great night. And enjoy the beautifully messy crisp.
xo