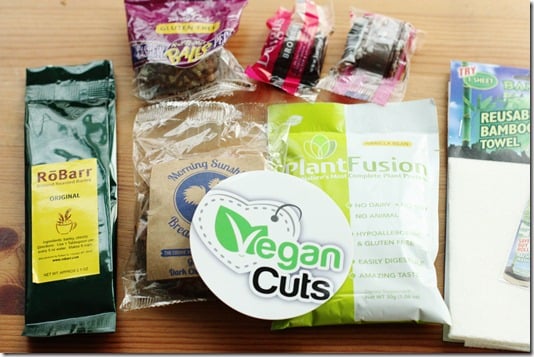 It's no great secret that I adore the folks at Vegan Cuts, a Groupon-esque site that allows you to purchase some of the best vegan snacks, ingredients, supplements, apparel, accessories, and jewelry at deep discounts. Run by a vegan couple, Jill and John, whom I've had the great pleasure of meeting in person, the company actively promotes small brands and start ups with compassionate visions. I'm a huge fan of their work, and really admire the dedication with which they find and work with vegan artisans.
Recently, the folks at Vegan Cuts asked if I'd like to review their new snack boxes, which feature a monthly assembly of some of the best products being sold on the Vegan Cuts site. It is a subscription service, and the introductory rate is only $19.00/month along with free shipping. I think it's a great way to become familiar with the foods being sold at any given time on the Vegan Cuts website; sometimes it's hard to choose!
The box that Vegan Cuts ultimately sent me was so fun to explore! It included a generous sampling of snacks, desserts, and even a breakfast treat.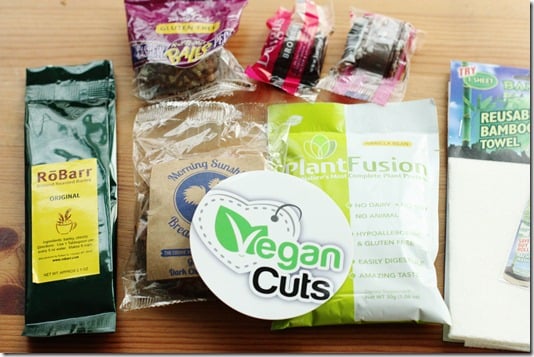 Going (kind of) clockwise from the left, that is RoBarr roasted barley coffee alternative, Betty Lou's Cashew Pecan Nut Butter Bars, Kur Delights superfood chocolate bites, a bamboo towel, Plant Fusion protein powder, a sweet Vegan Cuts sticker, Morning Sunshine breakfast cookie, and some New Tree chocolate samples, which you can bet I ate before I even got to taking photos of anything.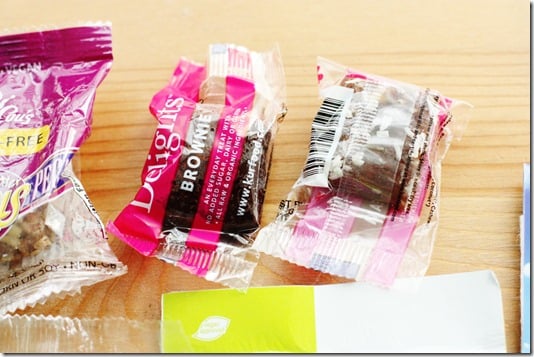 So many items in this box seemed perfectly timed. I've been exhausted with school and running around a lot, so I relished the little snack bites from Betty Lou's and Kur Delights (which are delicious) and especially the Morning Sunshine breakfast cookie. Gluten free and laced with dark chocolate and flax, these cookies aren't sugary sweet, so they're perfect for breakfast (though I personally needed to eat them with either fruit or veggies to feel full). I really enjoyed them!
The RoBarr coffee made me smile; it was as if Jill and John happened to know that I've been fighting the battle of "Gena vs. java" lately as I head into finals, and were dispatching me a new set of armor. I am a true lover of coffee, and think it can certainly be enjoyed as part of a healthy lifestyle in moderation, but lately, one cup has become two has become three, and so on. I'm using it to replace the sleep I don't get, and as a result, I'm feeling even more worn out. Having a coffee "replacement" around will be very helpful in my effort to drink much less of the real thing. I will confess that the taste of RoBarr is…different, but when mixed with my homemade coffee creamer, it isn't so bad
Finally, I want to mention that the Plant Fusion protein is a winner! Mild vanilla taste, but not too sugary, and all raw, vegan, gluten free, and non-GMO ingredients. I keep talking about this protein powder review I'm going to write, and I'm going to stop, because nothing is more annoying than a blogger constantly alluding to recipes she's going to post and posts she's going to write without her actually doing it. So I'll just say this: Plant Fusion is really tasty, and I'll likely write more about it at some point. For now, should you wish to try it, the Vegan Cuts deal is REALLY reasonable, and worth checking out.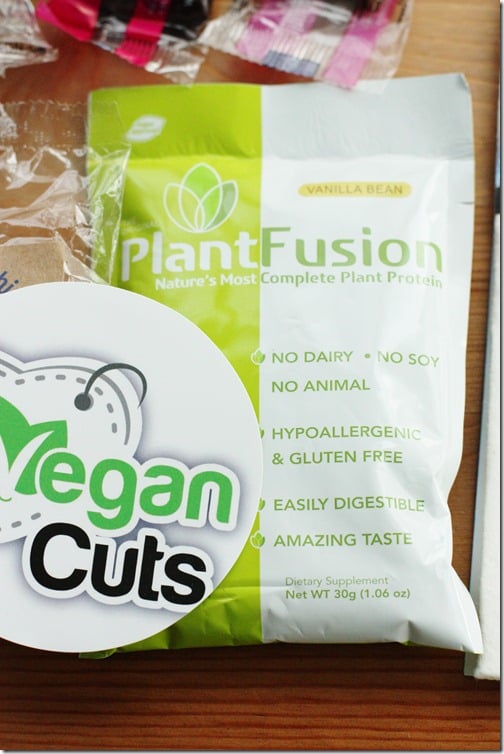 If you have $19.00 to spare monthly, I recommend the Vegan Cuts snack box not only for what you'll receive (which will likely be super tasty) but also because it'll allow you to get to know products on the site. This means you can be selective and smart about which of the deals you choose to invest in, full well knowing you'll love what you get. I've discovered so many cool vegan brands through Vegan Cuts, and expect to do a lot of my holiday shopping there!
And speaking of the holidays, if you want to get someone you love a vegan gift box, Jill and John are also promoting a holiday care package that includes:
Sweet & Sara Marshmallows
JJ's Sweets Cocomels
Obsessive Confection Disorder Fudge
Chocolate Inspirations Cashew Brittle
Mom's Vegan Kitchen French Toast Mix
Holy Kakow Chocolate Syrup
Gone Nuts! White Chocolate Cashews
Uncle Eddies Cookies.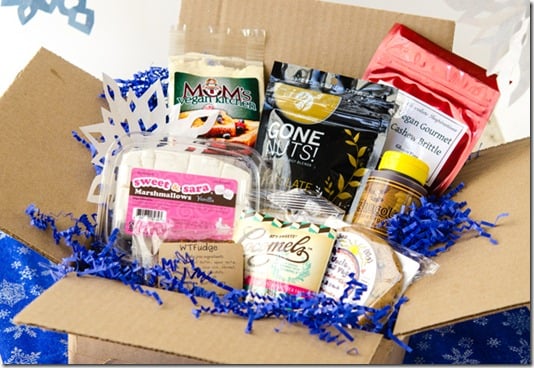 Yum! You can check it out here. What an impressive collection of treats!
With that, I wish you a happy weekend.
xo