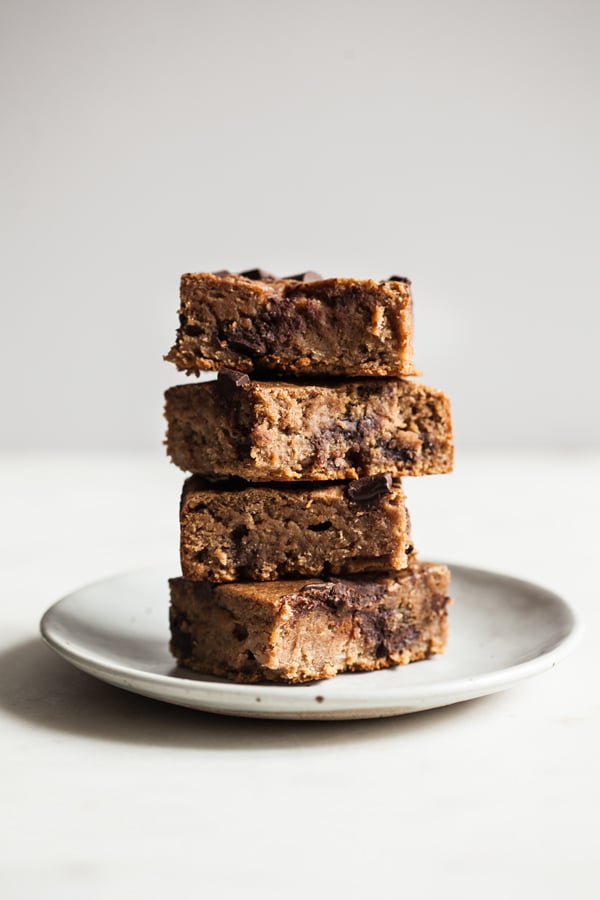 I'm not quite sure that I'm ready to make the statement that I prefer blondies to brownies, but it's within the realm of possibility. I've always loved blondies–it's that contrast of a soft, almost caramel-like center with the bold and slightly bitter taste of chocolate. With brownies, chocolate is all you taste (well, maybe there's a hint of espresso, too). The chocolate chunks in a blondie stand out precisely because they don't predominate.
Listening to me wax poetic here, it's hard to believe that this is the first blondie recipe I've posted on the blog! These vegan, gluten free banana bread blondies combine two of my favorite things–banana bread and blondies–into one rich, gooey, and absolutely delicious little treat.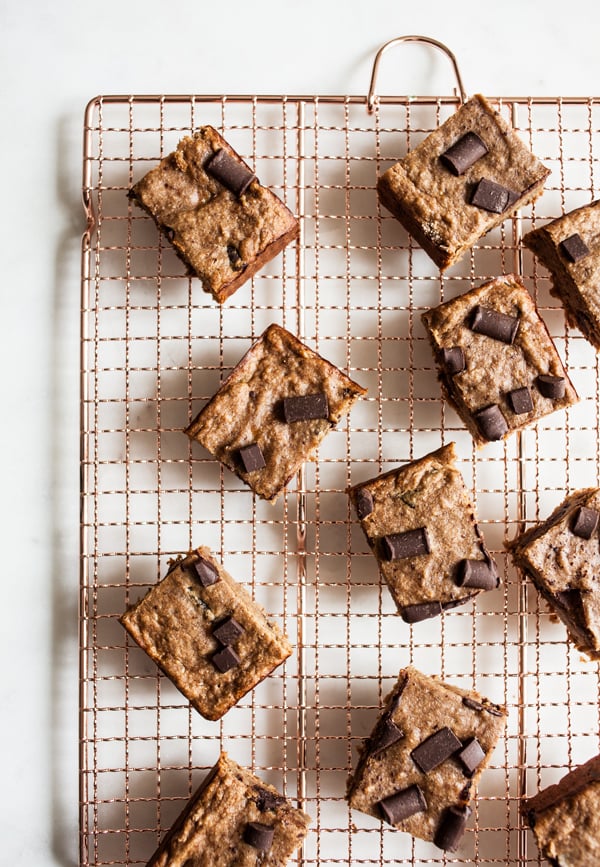 I've been patting myself on the back this week for having gotten through a big chunk of recipe testing for the next cookbook, with results that feel genuine and exciting. After some culinary writer's block earlier this summer, finding a "flow" feels great.
But there's a downside to all of the cookbook testing, which is that everything I've been cooking has been in service of that project. I can't remember the last time I made a meal that wasn't either for the blog or for the book. Part of what I love about cooking is that it encourages me to be spontaneous and listen to my intuition–a way of being that does not come easily to me–and when spontaneity is drained from the process, I start to miss it.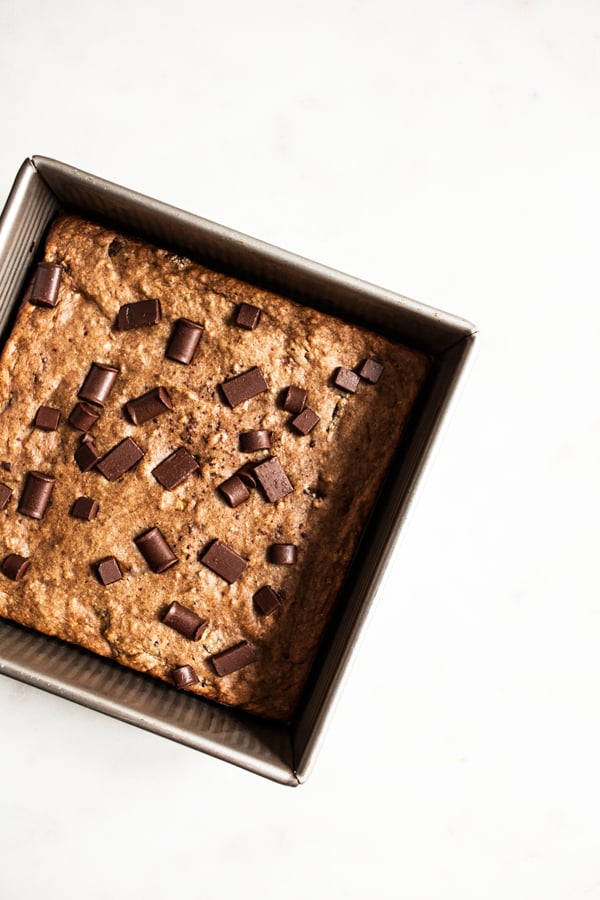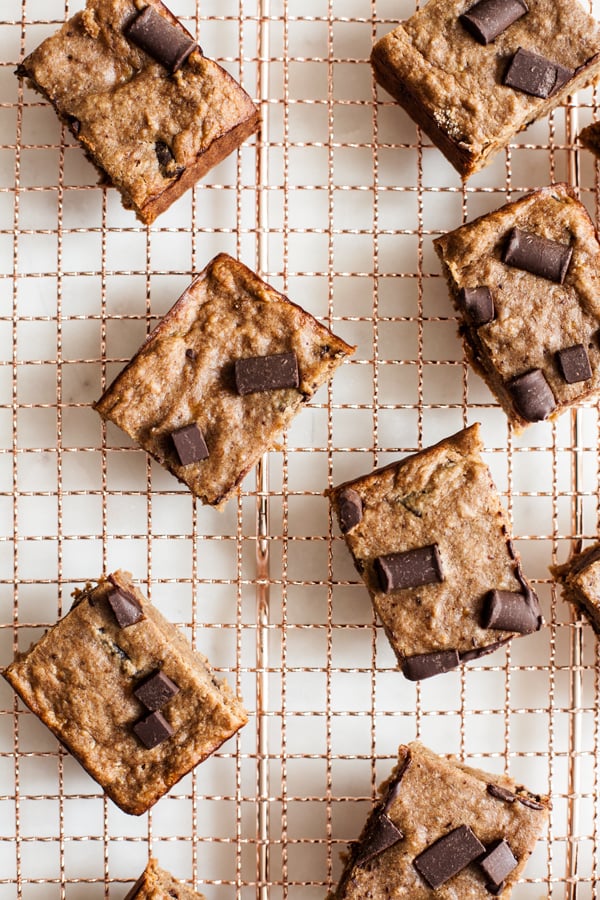 Baking isn't the most spontaneous form of kitchen activity, but my recent blueberry corn muffins have me excited about summer baking possibilities. Plus, one of the things I love about baking is that the things it produces aren't always functional. They're treats, which means that they feel both special and out of the ordinary. I've had my nose to the culinary grindstone, so to speak, and this week, it felt lovely to make something that was just for fun. And then it was so tasty that I couldn't help but share.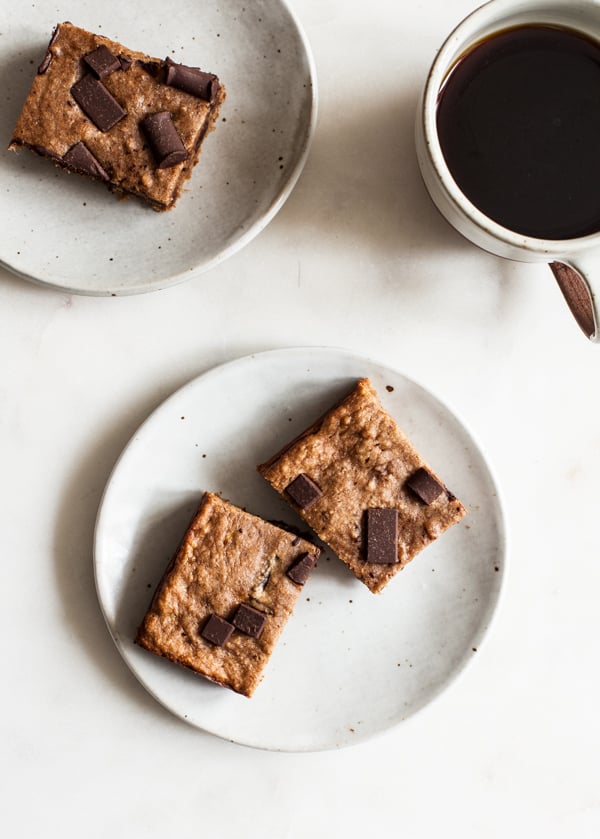 I've been enjoying these all week, often with a cup of coffee, and always with gratitude for cooking as a form of self-care. When I talk about "self-care" through food, I'm usually talking about nutrition, about selecting foods that nourish our bodies with particular vitamins and minerals and macronutrients. But the self-care is so much bigger than that. It involves tuning into what we need–not only physically, but humanly, too–and allowing our kitchen endeavors to satisfy those needs.
This week, I needed a little break from cooking that has been largely purposeful. These blondies were the answer. Maybe they'll be a welcome treat, indulgence, or source of culinary play for you, too.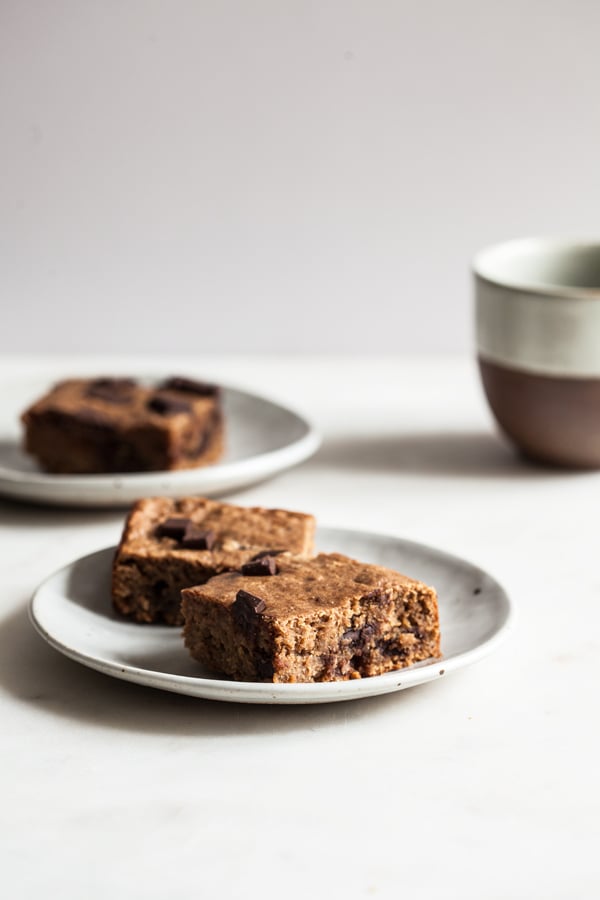 Vegan + Gluten Free Banana Bread Blondies
Author -
Dry ingredients:
1 1/2

cups

180 grams oat flour

3/4

teaspoon

baking powder

1/2

teaspoon

salt

1/2

teaspoon

ground cinnamon

2/3

cup

dark chocolate chunks

I use Enjoy Life mega chunks; you can also chop up a bar of your favorite dark chocolate
Wet ingredients:
1

tablespoon

flax meal mixed together with 3 tablespoons warm water

a flax "egg"

1

heaping cup mashed

ripe banana (2 large or 3 small bananas)

1/2

cup

coconut sugar or brown sugar

2

teaspoons

pure vanilla extract

1/3

cup

almond milk

1/2

cup

smooth almond butter

substitute peanut, cashew, or sunflower seed butter
Preheat your oven to 350F and lightly oil an 8x8 square baking dish.

Whisk together the dry ingredients in a large mixing bowl.

Whisk together the banana, sugar, vanilla extract, almond milk, and almond butter. Stir in the flax egg. Add this wet mixture to the dry ingredients and use a spoon or spatula to combine evenly. Fold in 1/2 cup of the chocolate chunks. Transfer the batter to the prepared baking dish and sprinkle the remaining chocolate chunks on top.

Transfer the baking dish to the oven and bake for 25-30 minutes, or until the top is glossy and the edges of the blondies are just turning golden (I recommend checking them after 22 minutes, just to be sure they're not baking more quickly than you expected). Allow the blondies to cool on a cooling wrack completely before cutting into 12 rectangles and serving.
In place of the oat flour, you can use light spelt, whole wheat pastry, or all purpose flour instead.
Wrap leftover blondies individually in saran wrap and store in the fridge for up to 4 days. You can also freeze individually wrapped blondies for up to 3 weeks.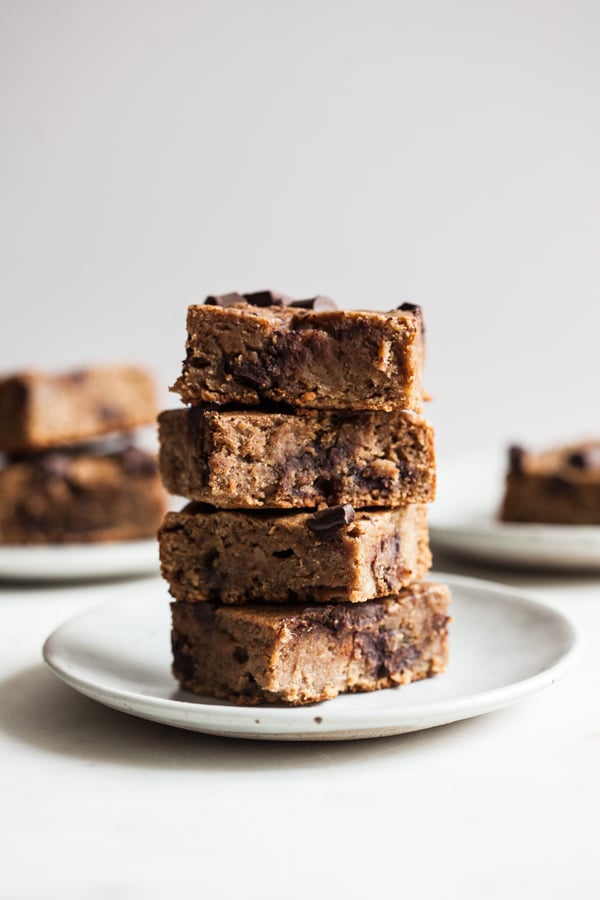 This is a simple recipe, and you can adjust it a little to suit your tastes (for example, you can use a little more or less sugar, or play around with different banana to sugar ratios). If you don't have almond butter on hand, peanut butter will work perfectly, as will cashew butter. For those with tree nut allergies, sunflower seed butter is a great substitute.
And what if you don't share my love of banana bread–or you don't want to combine that love with your love of blondies? I suspect that applesauce, pumpkin puree, and prune puree might all work well here in place of mashed banana. I haven't tried them, so I can't officially vouch for the results, but I may have to try the pumpkin version as soon as September/October roll around. If you happen to experiment with them first, let me know!
On that note, friends, I'm powering down for the evening. I hope you'll get as much pleasure and satisfaction from this recipe as I have.
xo