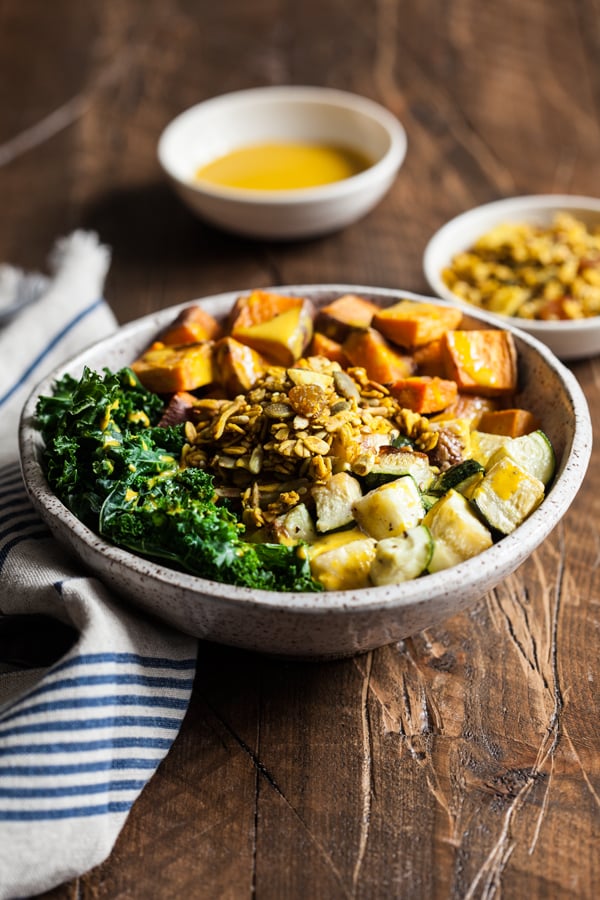 On Tuesday, I shared my new favorite snack, savory granola. As I suggested in that post, it has been turning up everywhere, finding its way onto my salads, spreading out generously over trays of roasted zucchini or cauliflower, and even sneaking into a yogurt parfait or two. It's so good, and I'm having a lot of fun finding different uses for it. This sweet potato breakfast bowl may be my favorite yet.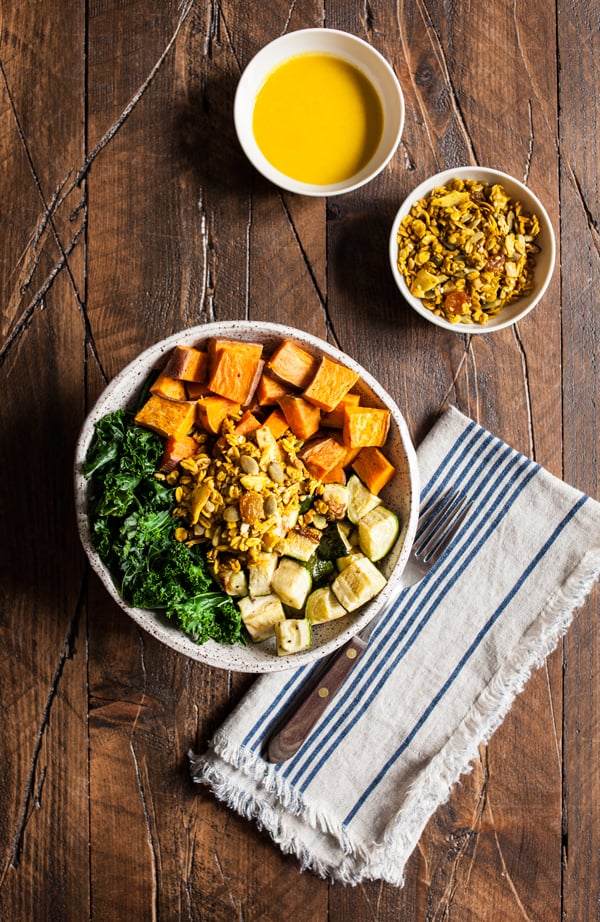 It's no big secret that I'm a big savory breakfast person. I think Steven is finally getting used to the smell of leftovers in the morning, even if he still occasionally stares at me incredulously as I heat up a bowl of curry or pilaf. Especially now that I'm in the thick of frenzied recipe testing for the cookbook, I've got a lot of leftovers to contend with at home, and savory breakfasts make it easy for me to use them up. But even without the surplus of food to motivate me, I'm partial to savory breakfasts: I often find them to be more varied and filling than sweeter options.
For a while, savory oats–either my steel cut version, or my favorite turmeric chickpea oats–were my go-to. I still love them, but now that summer is here and a piping hot breakfast doesn't always call to me, I'm expanding my options. Since lunch bowls are a mainstay for me, I'm exploring some breakfast bowl options, too.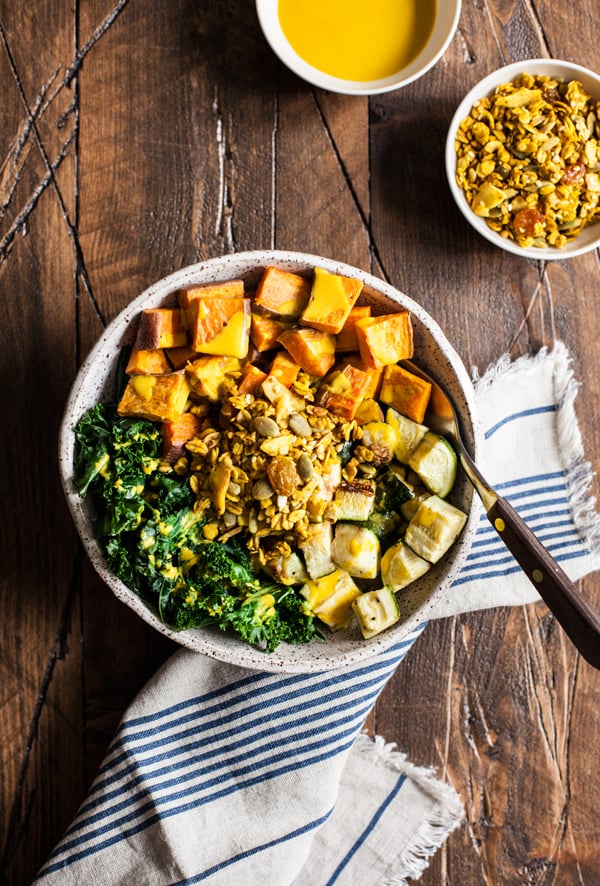 What I love most about this particular bowl is the contrast of texture: tender sweet potato, chewy steamed kale, crispy granola. I also love the color, the vibrance of the bowl, and the fact that it's so adaptable. If you don't have zucchini (or it's not in season), play around with cauliflower, broccoli, or eggplant instead. And if you'd like to switch up your greens, try collards, chard, bok choy, or mustard greens. The bowl is also good with raw greens; this morning, I tried it with baby spinach. It saved me the step of steaming, and it added a different texture to the meal.
In order to pick up the turmeric and curry in the granola, I chose to drizzle my anti-inflammatory turmeric tahini dressing (a favorite) over the bowls. You can definitely make bowl assembly faster by preparing the dressing and granola in advance! If you don't have the dressing handy, you can swap another dressing of choice, or you can simply add a hunk of avocado to the bowl.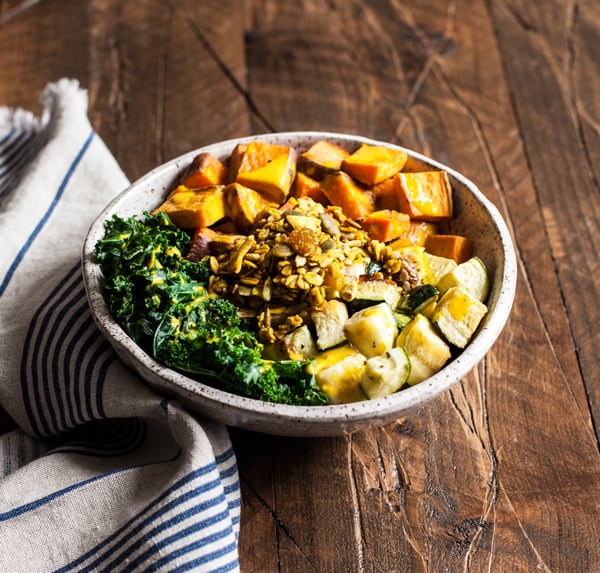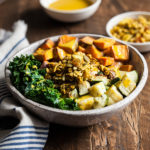 Sweet Potato Breakfast Bowls with Savory Granola
Author -
2

small sweet potatoes

scrubbed clean

2

small or medium sized zucchini

quartered lengthwise and then cut crosswise into 1-inch pieces

2

teaspoons

olive oil

Coarse salt and pepper

6

cups

tightly packed

raw kale (or another leafy green of choice), stems removed and torn into bite-sized pieces

2/3

cup

savory turmeric spice granola
Preheat the oven to 400F and line two baking sheets with parchment. Prick the sweet potatoes a few times each with a fork. Toss the zucchini with the olive oil. Transfer the sweet potatoes to one sheet and the zucchini pieces to the other. Sprinkle the zucchini with salt and pepper, then transfer both baking sheets to the oven.

Bake the zucchini for 25-30 minutes, or until the pieces are turning golden, stirring once halfway through cooking. When the zucchini are ready, remove them from the oven and allow the potatoes to bake for another 10-25 minutes (40-45 minutes total), or until they're totally tender when pierced with a fork. Remove the potatoes from the oven, and when they're cool enough to handle, cut them into pieces or rounds.

While the vegetables are baking, bring a pot of water to boil and attach a steamer insert. Steam the kale till bright green and tender.

To assemble the bowls, divide the kale, zucchini, and sweet potato into two bowls. Top each with 1/3 cup granola and a generous drizzle of the turmeric tahini dressing. Serve.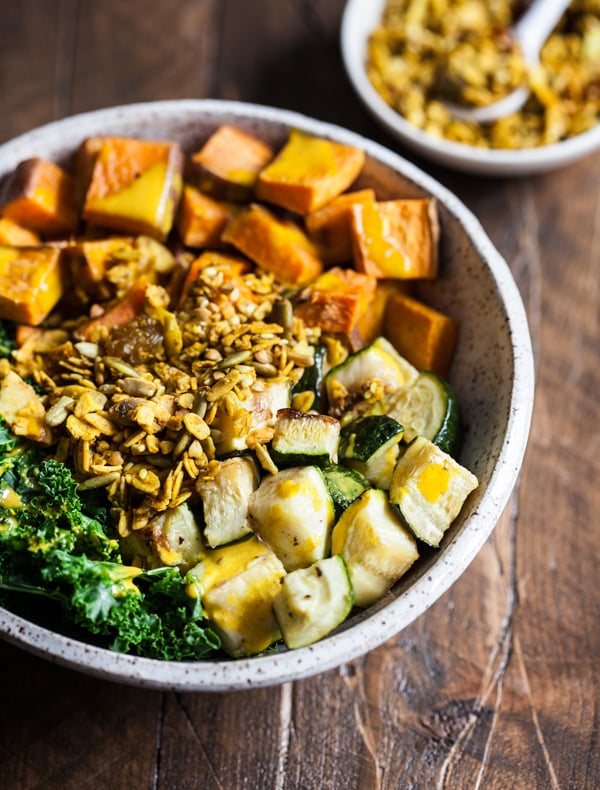 These bowls are an altogether wonderful way to start the day. You can prepare the components in advance, the simply steam the kale and put them together when you're ready to eat. If you're having company over for brunch, you can easily double the recipe, too! I'm eager to make it more often as we transition into fall, perhaps using some different, roasted winter squash (especially kabocha) in place of the sweet potato.
Hope this green and golden bowl of goodness strikes your fancy. And happy early weekend to you all–see you for a link roundup on Sunday!
xo