When we left off, I mentioned that my last night at the Dole Summit culminated in an Iron Chef cook's challenge. What did this mean, exactly? It meant that we bloggers were divided into six teams, one for three courses of a meal: salad, entree, and dessert. For each of these courses, two teams were cooking off against each other for fifty minutes, using only the five ingredients in a mystery bag, and a number of condiments and foods laid out on a communal table. As the rules were being explained, I raised my hand to ask whether or not we'd have to work with animal proteins. Thankfully, the answer was no: vegans had been put on vegan-friendly ingredient teams. For me, this was dessert team B:
My teammates were—lucky me!—Lori from A Cowboy's Wife and Rachael from La Fuji Mama. I love that our team included three women with totally different foodie perspectives, from all-American to international to raw vegan! I was representing in my OLD t-shirt:

Eat raw, live long, right Sarma?
We were dying to know what was in our mystery bag, of course. When we emptied it out, we found:
Fresh pineapple
Canned pineapple chunks
Frozen mango chunks
French baguette
70% dark chocolate
The obvious thing to do, we knew, was to make some sort of dessert bruschetta, slicing the bread and topping it with chocolate and pineapple. As Rachael pointed out, the judges were awarding points for creativity, and so it seemed like a bad move to give them a predictable dish.
Instead, she suggested, why not try to process the bread with some nuts, and turn it into a tart crust, which we could then top with chocolate and pineapple? It seemed like a genius idea to me, and Rachael rolled up her sleeves like a woman on a mission. I was lucky to be working with her, because lord knows I know little about baking and dessert making that doesn't come from a cookbook. When it came time to make our mango-pineapple "coulis," however—and by the way, that's just what we decided to call our blended mango and pineapple drizzle on the tart—I assured my teammates, "I got this." If there's one thing I CAN do, it's show a Vita-Mix who's boss.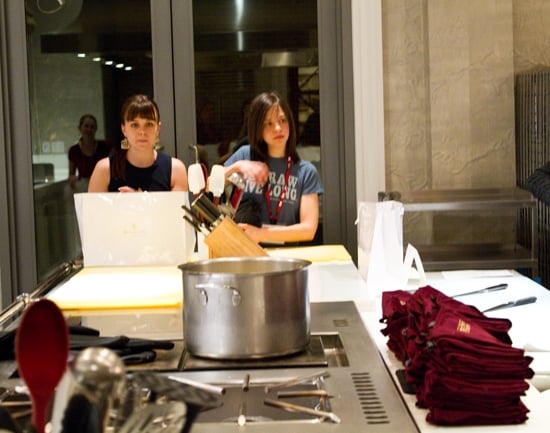 I wish I could say that all of our good intentions resulted in an incredible dessert. In the end, what we produced was…well, let me get to that in a moment.
First, our team took a break for a one hour nutrition lecture with Erika Wong, MS RD. After that morning's nutrition talk, I was a little wary, but I was happily surprised. Ms. Wong was assertive, knowledgeable, friendly, and balanced. During the lecture, I raised my hand often to ask about nutrition topics that were specifically relevant to vegan diets, such as "what's your take on the saturated fat in coconut oil" (her response: fine if you're not consuming much saturated fat elsewhere) to "how do you feel about soy isolates"? (her response: acceptable 2-3x weekly; I'd actually say less than that is better, or none at all). Oftentimes the frustrating part of speaking with non-vegan RDs is that they simply don't know anything about a balanced vegan diet. A non-vegan RD who's knowledgeable about veganism is always a welcome surprise—even if we have different world views.
Erika gave us her top ten health tips:
Eat more fruits and veggies
Eat less red meat (no more than 2x weekly)
Use healthy fats in cooking (mono and polyunsaturated)
Eat less processed food
Eat more nuts
Add a vegetarian protein to your diet at least a few times weekly
Increase fiber

Eliminate soda

Reduce alcohol consumption to one drink nightly (for women)
Eat more fish(3-4x weekly)
All of these tips were ones I might give to any client of mine, with the exception of the last. I asked Ms. Wong, "is it truly fair to categorize fish consumption as a mandatory health tip?" She immediately shot back that, if one takes a vegan DHA-supplement—algae derived, naturally—that's equally acceptable. I do know many people–vegans and omnis alike–who thrive without DHA supplementation. However, it's not a bad move to try a supplement or supplementary food if you're interested in getting more DHAs than you do. I love the Vega EFA oil blend and Udo's Choice DHA blend, both of which I've mentioned in this post on Omega-3s in vegan diets. I'd also recommend a vegan DHA pill supplement for pregnant women—Kristen can tell you more if you're curious!
I appreciate that Ms. Wong clarified that it's not fish, per se, that's mandatory for health, but rather the DHA in fish; oftentimes consumers mistake injunctions to eat more Omega-3 and Omega-6 acids with injunctions to eat fish. Fish are one very efficient source of these fatty acids, but not the only source, and certainly not a magic food in other ways. In fact, eating fish 3-4x weekly may put you at a higher risk for mercury problems, depending on what fish you select, and it may also contribute to the eradication of various fish populations in our oceans.
What do you think of the top ten tips above? Agree? Disagree?
After our lecture, we returned to the kitchen for judge's table. First up were entrees, and I enjoyed watching  Anne present her (winning!) entree, a salmon dish: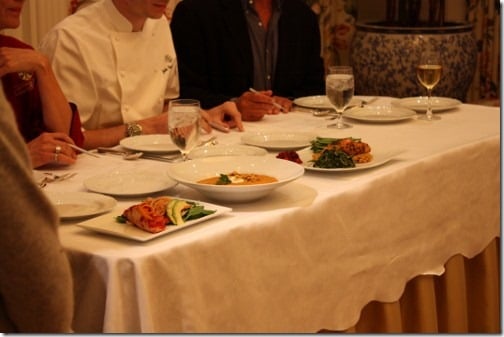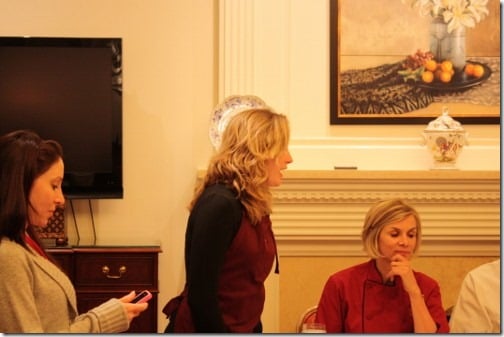 Someone went home with a new whisk and potholder!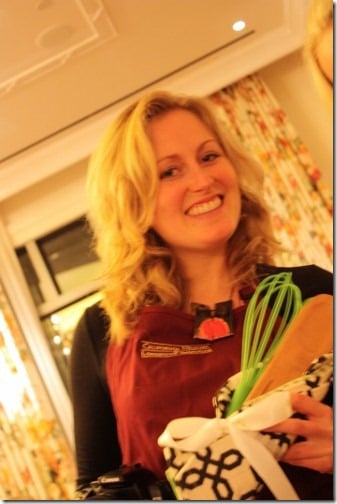 I was designated to present our dessert for the judges. I did my best, delivering a 80 mph catalog of the dish's health benefits: vitamin E and healthy fats from the almonds, antioxidants from the fruit, reduced sugar, vitamin A from the mango and C from both mango and pineapple; bromelain from pineapple.
No amount of persuasive nutrition talk, however, could have persuaded me that what I was selling tasted good. I couldn't try the dish for myself, since Smart Balance had been used and I wasn't sure if the bread was vegan, but my teammates reported that it tasted awful. And in truth, it looked kind of awful. Like, so awful that I didn't take a photo. THAT awful.
As the judges bit in and made faces of stifled revulsion, I watched Rachael and Lori lose their cool in peals of laughter:
I was losing it, too. The judges were so obviously fighting the urge to spit our dessert out that I wanted to offer them a napkin myself. Needless to say, the other team won.
Note to us: creativity doesn't always trump common sense. Baguette tarte crust?!
After the iron chef challenge, we were all hangry. Fortunately, soup was on the way, courtesy of chef Matt:
Who set aside vegan portions for me and Kathy:
Terrific! Cauliflower puree with truffle oil. There were also several salads, roast veggies, and a risotto. I just went for a giant plate of veg:
Seconds came later. I loved my last dinner with Kathy and Anne—what fun to spend two days with these ladies!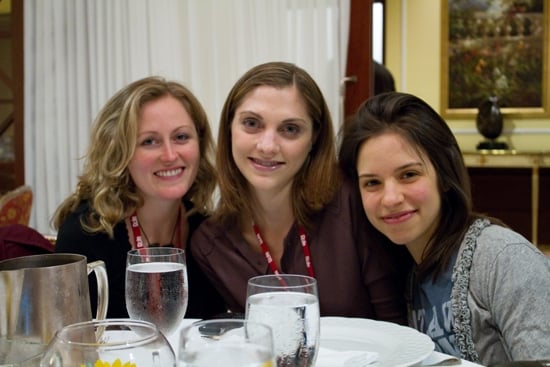 On Friday morning, I woke up sorry to be leaving the luxury of the Four Seasons Westlake Village. After a final gym visit, I gave Anne a giant hug goodbye (till December in DC, Anne!), and made my way to the buffet breakfast offered: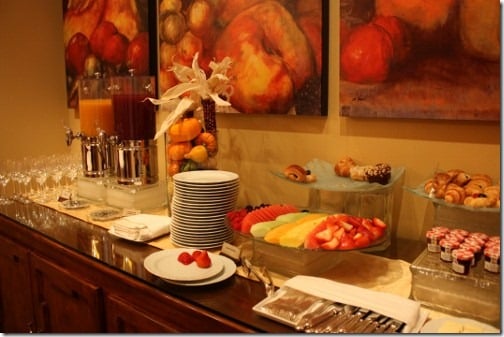 Obviously the pastries didn't appeal, so I settled for coffee, delicious berries, and a Vega bar (love!) I'd brought from home. Incidentally, Brendan and I had been planning on breakfast that day, but there wasn't time in the end. Till January, my friend!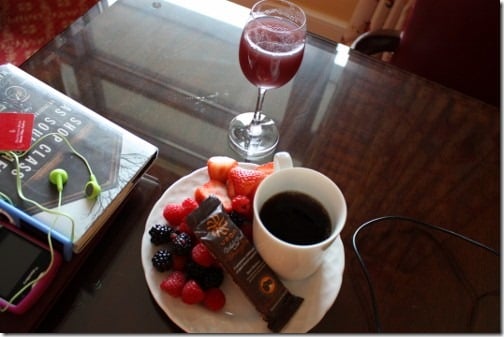 Dole had served some pineapple blueberry juice with breakfast, which I tried and absolutely loved. M and I have to make this at home:
A few hours later, Kathy and I were at the airport. As she snacked on a soy chai, I made a little health drink. I'm typically no fan of Naked or Odwalla smoothies—I'm fairly sensitive to sugar, and find them too concentrated in sweetness for me—but they're good for travel emergencies. I mixed about half of a green Naked smoothie with a packet of Vega Smoothie Infusion I had in my bag: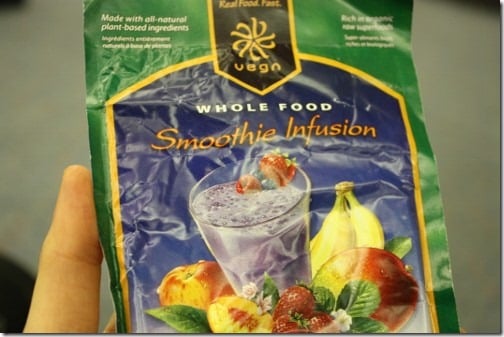 I promise that Brendan does not pay me to endorse his products. I just really like them. (Though if you'd like to send me a tub of whole foods optimizer and a crate of bars, Brendan, that would be swell. I'm running low. Thanks.)
It looked like sludge, but tasted good:
And with that, it was back to my beloved city. Looking back on these three days, I feel so lucky to have been a part of the Dole Nutrition and Wellness Summit! It was truly an honor. When I was first invited to the event, I didn't realize that it would be so heavily focused on health and wellness; I imagined more of a "foodie" event. I was delighted to find that the true interest was in nutrition science.
A couple of you have asked me about Dole's labor practices and/or Montsanto. Truthfully, not much was said about either of these things, and perhaps the omission was deliberate. But the stated purpose of the event was to talk about food and health, and in that regard I think the Dole representatives were very thorough. I left with a much better sense of Dole's attitude toward spreading nutrition awareness—even through packaged foodstuffs—than I had before.
Most of all, I made new friends! Kathy and Anne were the only two bloggers I knew before I arrived in Westlake; now, I have a whole new branch of my food blogger family tree. So that you can get to know these wonderful women, too, I've included their blogs and twitter handles:
What a talented group! Big thank you to Chris, Marty, Jennifer, and everyone at the Dole Nutrition Institute and the California Health and Longevity Institute for such a special trip. Hope it won't be the last!
I leave you with some final photo images, courtesy of Kathy:
Anne and Gena, kitchen queens: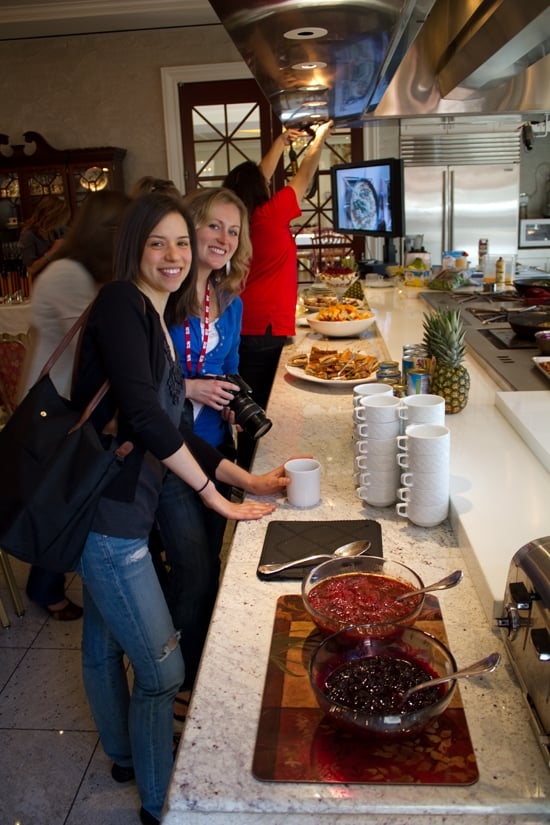 Vegan salad attack: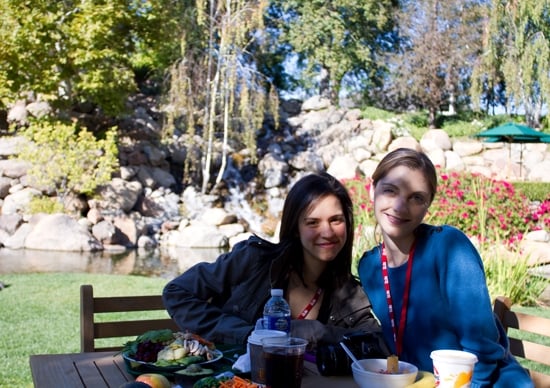 Me and Jennifer from Savoring The Thyme–love her!
Kathy and I at the welcome cocktail party: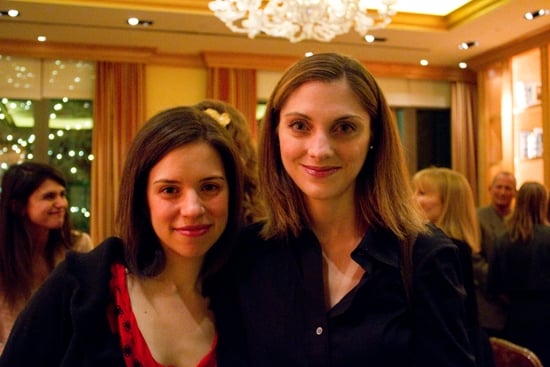 The lovely Kathy: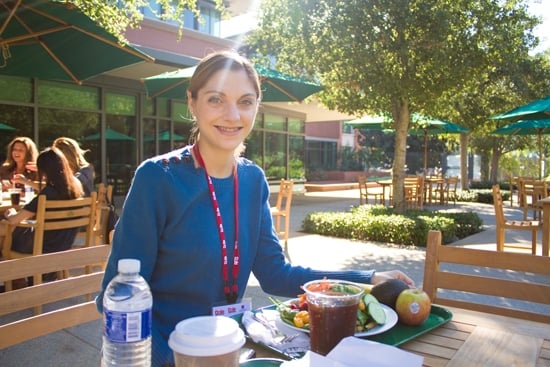 Me, Ann-Marie, Jacquie from Dole, and the fabulous Brooke–Brooke is ridiculously fun!: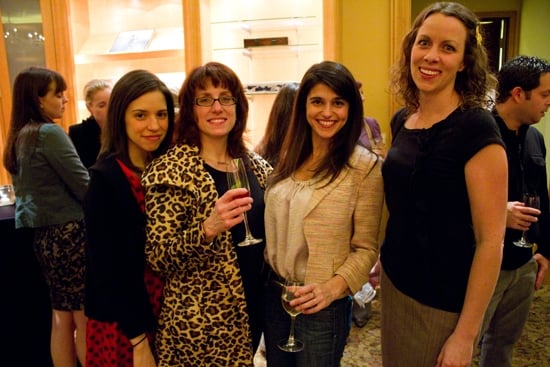 Back tomorrow with a round up of my favorite Thanksgiving or Thanksgiving-friendly fare—semi-raw, all vegan!
xo