First of all, I just want to thank everyone who read and commented through the course of NEDA week, especially my body dysmorphia post yesterday. I know it was a lot of heavy stuff, but I hope I ended up on a hopeful note, and that the process of sharing was as meaningful to you all as it was to me. I'll be responding to comments tomorrow.
I'm back on the East Coast and getting back to business as usual tonight. This means a special, Monday edition of weekend reading. Hope you enjoy the links.
Let's start with something sweet, right? If Ashlae's sea salt chocolate chip cookies taste as perfect as they look, I'll be making them far more often than is reasonable.
And if you're looking for something sweet, but just a little more crunchy, you can check out Golubka's fantastic sweet potato buckwheat snack bars.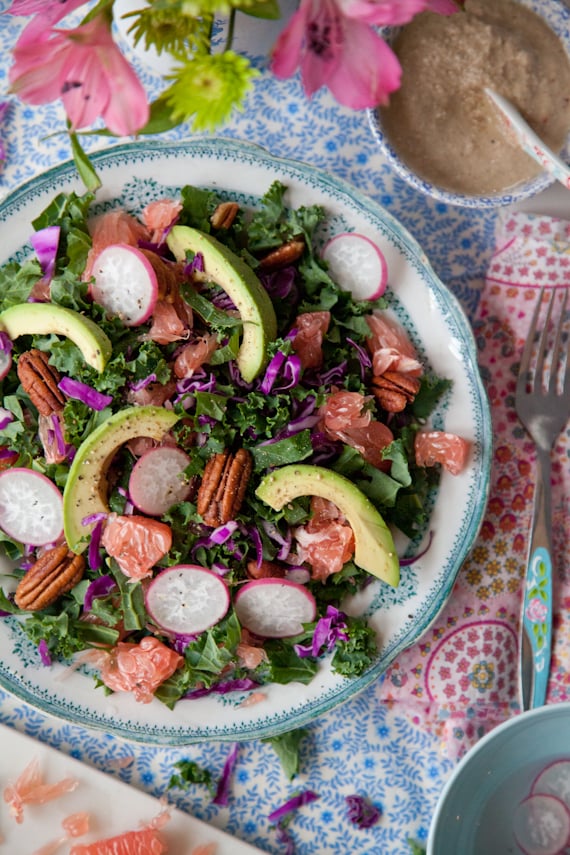 Switching gears, I don't even know how to handle the beauty that is the alkaline sisters' ginger creamed pecans and chopped kale with pomelo and avocado. Mind = blown.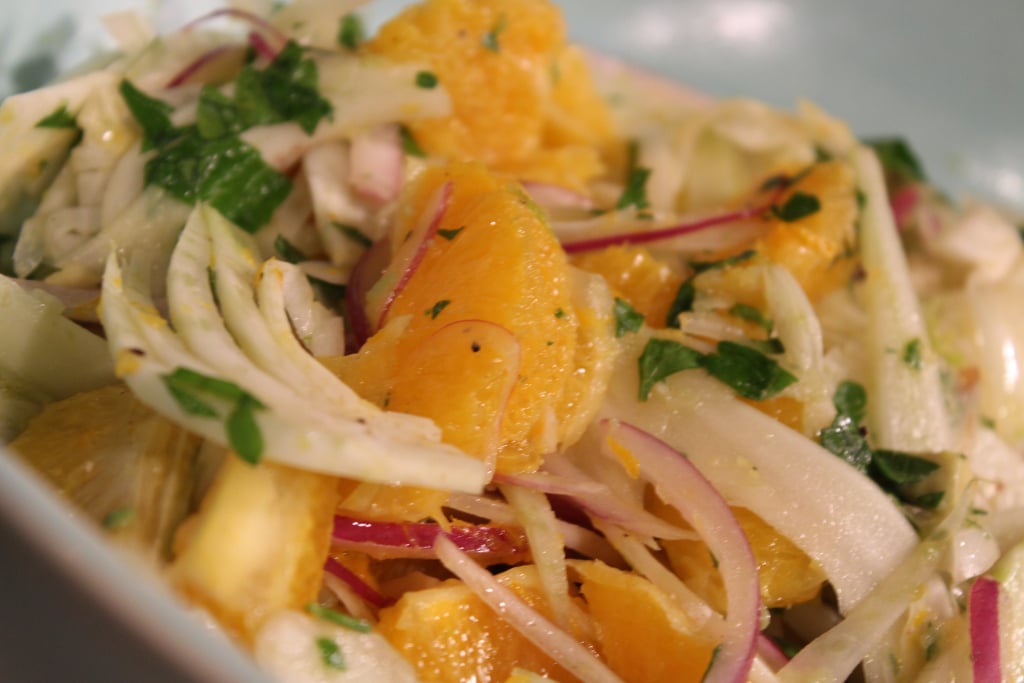 Jaime's orange and fennel salad with avocado looks equally refreshing, and it's perfect for late winter.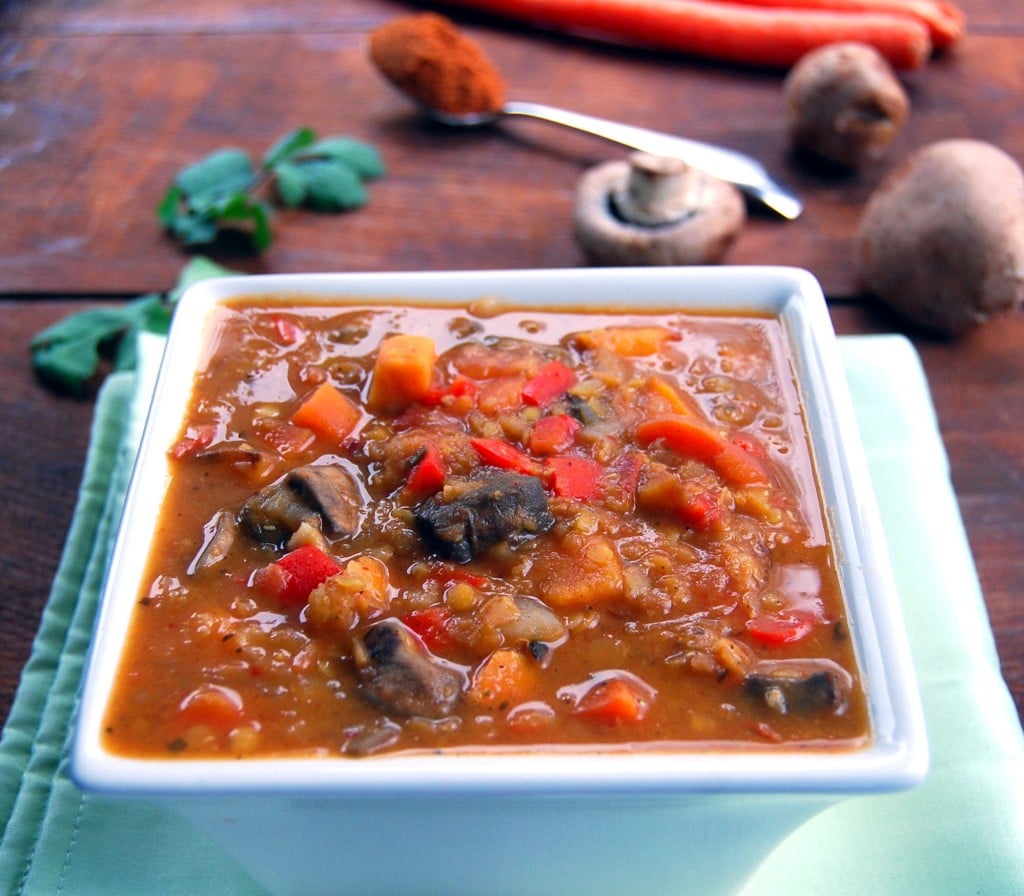 Speaking of winter, I'm currently readjusting to DC temperatures. As is my neighbor, Vaishali, whose Ethiopian lentil stew looks fabulous.
Reads
1. Interesting article about "aisle 6" (situated in the center of grocery stores, and famous for housing primarily packaged foods) from Michael Powell.
2. Dan and Mike, who write The Gay Vegans, are two of my favorite bloggers. They are passionate, they are warm, they are kind, and they are incredibly honest. Last summer, when I spoke at Vida Vegan, they sat in the front and asked a ton of questions. Dan told me that he was trying to go deeper with his writing, and in the last year, I think he's more than made good on that intention. His posts lately, which often focus on echoes between social justice movements (gay rights and animal rights) have been particularly real. I like his post on "coming out" as vegan, posted this week. It definitely brought me back to the days when I was eating a vegan diet, yet still incredibly shy about sharing my choice with others, lest they associate me with any of the stereotypes I was scared of: "angry vegan," out-of-touch, whatever. I found it tremendously rewarding to start identifying publicly as vegan–matching my intentions with the language I used to describe myself–and it seems as though Dan had a similar experience.
Of course, everyone feels differently about labels, and I don't think anyone ought to pressure him or herself to talk about lifestyle choices prematurely, or use words that don't feel authentic. But I agree with Dan that speaking openly about one's veganism can often lead to interesting, productive, and candid conversations.
3. This isn't really food or health related, but I'm going to share it anyway. I'm an admirer of Dinaw Mengestu's writing, and I particularly like his essay on Tayeh Salih's Season of Migration to the North. Mengestu focuses in particular on the ways in which Salih's writing creates a vision of empathy and shared humanity. He focuses on this passage of Salih's:
I preferred not to say the rest that had come to my mind: that just like us they are born and die, and in the journey from the cradle to the grave they dream dreams some of which come true and some of which are frustrated; that they fear the unknown, search for love and seek contentment in wife and child; that some are strong and some are weak; that some have been given more than they deserve by life, while others have been deprived by it, but that the differences are narrowing and most of the weak are no longer weak. I did not say this to Mahjoub, though I wish I had done so, for he was intelligent; in my conceit I was afraid he would not understand.
Mengestu admits that such a bold declaration of universal humanity at the start of a novel may come across as sentimental, but holds that the narrator's doubt and questioning prevent it from entering such territory. I agree, and I love his closing words:
I came to writing as a supplicant, out of debt and gratitude. If it was necessary, under some dramatic form of duress, to state what the value of literature, or the novel is, I would most likely recite that passage from Salih, not because I'm certain those sentiments are true, but because like the narrator I come to books hoping to find that they just might be.
4. Another much needed, well researched, and evidence-based article from Ginny Messina, about whole grains. Such a vital reality check in this moment of anti-grain hysteria, thanks to books like Wheat Belly (which call on plenty of research, but do so selectively and while also making tremendous generalizations and conflations of facts). Important reading, I think, for anyone who has been scare-mongered into fearing these nutritious foods.
5. Not tired of NEDA week yet? My friend Jenni (whom I had the pleasure of meeting in LA this week) just wrote an incredible post about her ED experience. This is, I know, one of the first times she's discussed her history on her blog, and I am really proud of her, not to mention touched by her story. I recommend checking it out, along with her blog, which is always thoughtfully written. Jenni, thanks for sharing.
And now, my jetlagged brain is going to retire. Night, friends.
xo