Happy Sunday! I hope you've all had nice weekends so far. Yesterday was all drizzles here in the NYC, but today has delivered that wonderful fall weather I've been pining for. I also took a little time away from work this weekend to relax with the boy, and I'm feeling so glad I did. While I was at it, I found some delicious recipes and reads for you all.
I love, love, love the combination of tomatoes and rice. I think it might be a Greek thing. But anyway, I'm just drooling over Merrill Stubb's tomato rice, via Food52. Substitute Earth Balance for butter, and you have the best kind of dinner: easy, filling, delicious, healthy.
Also via Food52, an avocado and marinated kale sandwich. So, all of my fave things in between bread. Cool. (Omit the cheese to make it vegan!)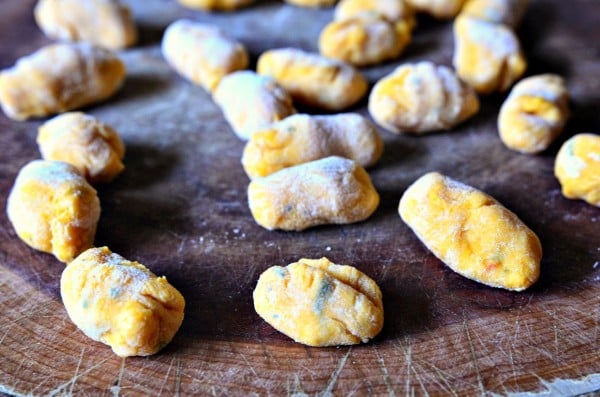 Hannah's butternut squash gnocchi look seasonal and fantastic.
Nava Atlas is one of my culinary heroes. Allyson shares her scrumptious recipe for pasta with hearty lentil and spinach sauce–as well as a review of her new book–on her blog.
For dessert, Heathy's raw carob cream squares. Enough said.
Reads
1. A lot of incredible articles this week. First, a haunting piece from Yoga Journal about yoga and eating disorders. The piece left me feeling sad and, frankly, a bit unsettled, because I like to think about yoga as being such a safe space for body issues. Nevertheless, I can't say I haven't observed a lot of the behaviors touched upon in the article, and of course there is something about yoga practice that can feed the desire to be "light."
Yoga was integral to my recovery, and I am so glad that it never evoked those urges for me. But I think it's the responsibility of all yogis to be aware of these issues and to continue having a dialog about them.
2. So, a company in the Bay Area called Real Vegan Cheese is developing a vegan cheese that will use the milk protein casein, but without the input of a cow. The casein will be manufactured from baker's yeast and will be totally vegan, as well as GMO free. For the many folks who are curious about going vegan, but feel that life would be unbearable without cheese, this is a very real and very powerful potential solution.
My friend Ginny wrote a blog post about it this week. In it, she addresses on a scientific basis the fears some vegans have expressed about the casein in cheese. Those fears were based upon studies in which rats were fed high amounts of isolated casein, and the problem, as Ginny rightly notes, is that a) rat studies are hardly a foolproof indication of what would happen in human bodies; numerous rat studies have yielded data that couldn't ultimately be applied to humans, and b) isolated casein and casein in dairy are not one in the same.
As Ginny notes, it's hard to make a scientifically founded case against moderate dairy consumption, because the data we have simply doesn't support it. "And as it turns out," she goes on to say, "it may actually not be in our best interests—or the best interests of the animals—for us to try to make that case. It's possible that efforts to portray all animal foods as deadly to human health will leave us with fewer options for helping animals. Because, if vegans believe that casein causes cancer, they are less likely to support a product—like Real Vegan Cheese—that can help more people go vegan and save millions of animals."
I know that there will be a lot of resistance to Real Vegan Cheese on the grounds that it's been developed in a lab, too. This reminds me of a lot of the pushback against Just Mayo. But I'm all for these products, because a) they're intended to save thousands upon thousands of animal lives and b) just because they're developed with the aid of technology and biochemistry, that doesn't make them harmful to our health. Not everything we eat must be plucked directly from mother earth; the point is to eat fresh food more often than not. Taking an absolutely rigid stance against everything that isn't technically a "whole food" can become a bit myopic, not to mention impractical. The hemp milk in my fridge right now (commercial) didn't come straight from soil or branch, and neither did my Earth Balance, or the frozen veggie burgers in my freezer, nor the carton of Luna and Larry's gingerbread ice cream I swooned over on Friday. Yet these are all pretty healthy products (OK, maybe not the ice cream, but it's healthy to have a little dessert now and then, too!).
If a product comes about that has no ill effects upon our health, serves a vital purpose in helping animals, and has been created with the help of science and innovation, then I say bring it on.
3. According to Radar Programs (an eating disorder treatment facility), 69 percent of young girls in a study said that magazine models influence their idea of the perfect body shape. Out of those, 47 percent said magazine photos influence them to want to lose weight, but only 29 percent were actually overweight when the study was conducted.
Sobering, but not surprising facts. And now Seth Matlins, a former advertisement executive, and his wife, Eva, are trying to fight back against impossible body ideals put forth in the media with their Feel More Better movement. Matlins has joined forces with with various ED advocacy groups to get legislation introduced in Congress that willthat will call on the Federal Trade Commission (FTC) to regulate Photoshop in the United States. His petition has received 35,000 supporters. You can read more about his work and intentions here.
4. Great (really really really great) article from my friend Liz Dee on exerting influence as a vegan in restaurants. Via Our Hen House.
5. An interview with Benjamin Mazer, the med student who's trying to place regulations on quakery and bad science being put forth on the Dr. Oz show. Ben has started a site, Doctors in Oz, that spreads information about bad claims made on the show and gives people who have suffered from misconceptions put forth by the show a platform. Mazer also wrote policy for the Medical Society of the State of New York [where Dr. Oz is licensed] and the American Medical Association asking them to more actively address medical quackery on TV and in the media. The New York policy was passed in modified form.
It may seem like a whole lot of vitriol pointed at one person — after all, countless physicians, wellness professionals, gurus, and personalities endorse quack medicine, and/or mislead the public. But Mazer's argument is that Oz has an unprecedented platform, and that his recommendations can (and often do) introduce mistrust or conflict into physician patient relationships (i.e., a physician suggests an evidence based approach to weight loss, which a patient resists because he or she saw a supplement on the Oz show that's purported to have the same, or a faster, effect).
I'm on board with most all of this, and I have very strong feelings about quack medicine and how harmful it can be. But I do think that this dialog misses an important point, which is that, for all of the problems with the Dr. Oz show, it's a program that seeks to make people feel empowered. That sense of empowerment, of belief in one's body and its capacity to heal without excessive drugs or intervention, is not often enough respected in what I'll call "mainstream" medicine.
Is healing always possible without drugs or surgeries? No, of course not, and thank goodness we have them. But it's a profoundly discouraging experience for a patient who could actually experience lifestyle change through diet, sleep, fitness, and mind-body care to be told otherwise, or prescribed a drug pro forma. And until more physicians learn to incorporate information about diet and lifestyle into their practices, patients will be so frustrated that they'll seek out such information elsewhere. Sometimes they'll find it from credible sources, and sometimes they'll find it from unreliable sources. But those sources alone aren't to blame. This is a systemic problem, a failure of evidence-based medicine to understand that patients are hungry to take a more proactive role in their own healing. Dr. Oz and his miracle cures are a symptom and a result, not a root cause.
So much to think about this week! I'll return soon.
xo