There's nothing quite like assembling my weekend reading picks while Vegan Mofo is in full force. So many delicious recipes to choose from, and so little time. It's always hard to pick among the incredible vegan dishes that abound online, and it seems especially hard at this time of year.
Anyway, it's a tough job, but someone's gotta do it. Here's what caught my eye this week.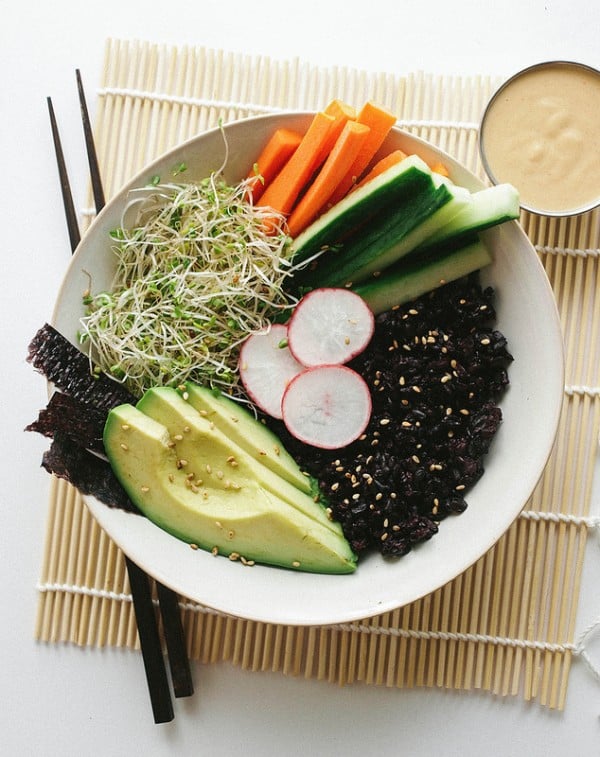 I can always count on Julie for gorgeous, simple, healthy recipes. Her black sushi rice bowl with dynamite sauce (which looks exactly as good as it sounds) is no exception.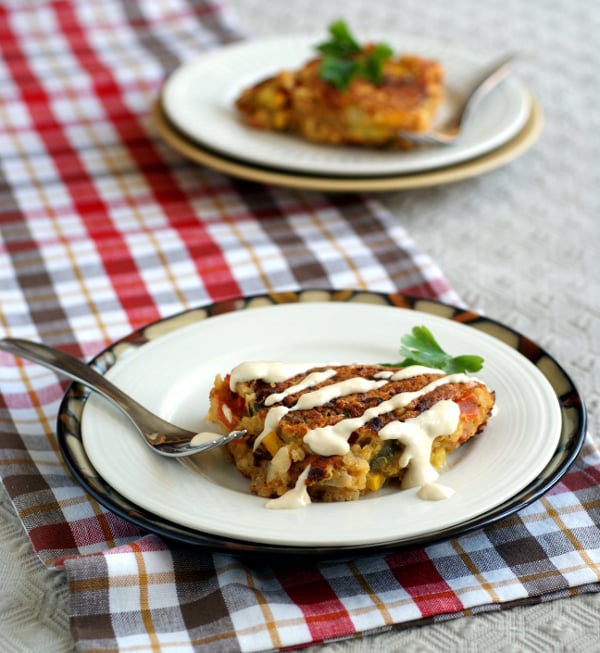 Looking to breathe some new life into your breakfast routine? Try something savory, and start with Ricki's innovative quinoa frittata.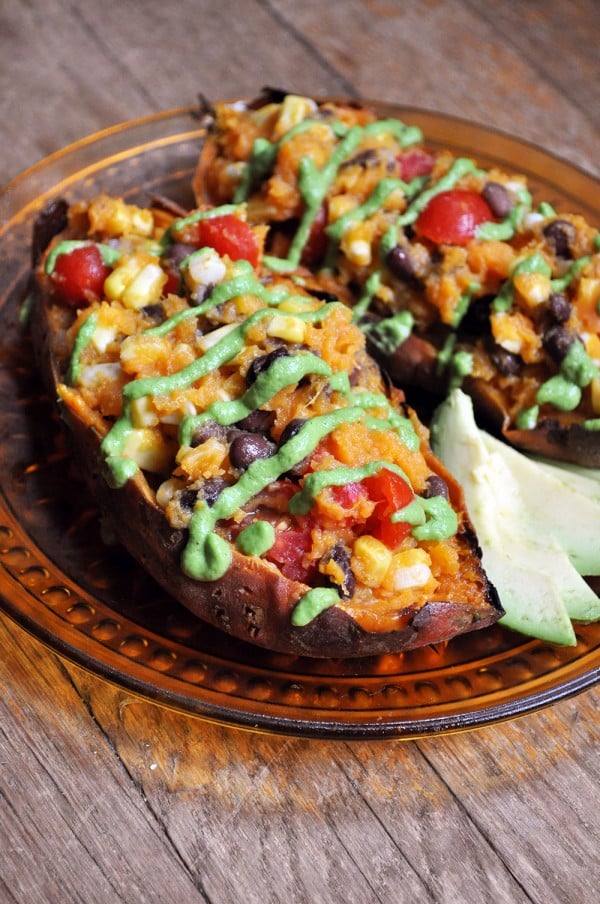 These Southwestern stuffed sweet potatoes are comfort food at its finest. Great recipe from Hell Yeah It's Vegan!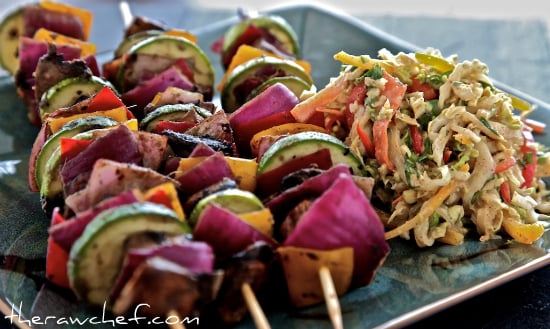 Russell James works such miracles with raw food; the raw portobello mushroom kebabs with Asian slaw you see above are a perfect example. All that color and texture; love it!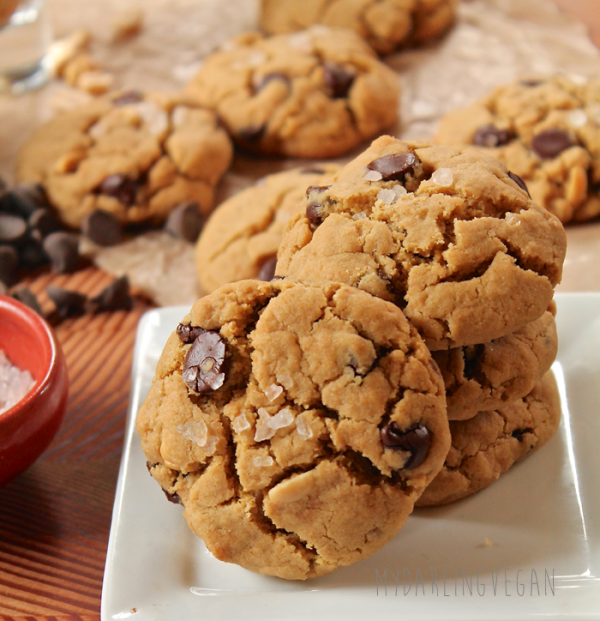 Salted chocolate chip quinoa cookies from My Darling Vegan. Sarah, you had me at "chocolate" and "salted." And "quinoa."
Reads
1. Just when you thought that nothing new could be said about oatmeal,  The Kitchn goes and does an ultimate guide to oatmeal. So, excuse me while I geek out on oatmeal porn for a while.
2. Great article from my friend Ginny Messina on the future of veganism, which resides in young people. Ginny shares some key nutrition tips for teens, which teen readers of my blog (and/or their families) should read!
3. I'm an enormous fan of Sharon Gannon and all she does (for yogis, for veganism, for animals). So it's no surprise that I loved this interview with her, and can't wait to check out her new book. Fave quote? "There's so much violence in the world, it's out of our control. What you eat, you can do something about. By choosing to eat vegan, you're contributing to a decrease in violence…If we want to be happy and free, to cause unhappiness and to take away animals' freedom would not contribute to that project."
4. Every year, more than 500 Americans are struck by lightning. Most–roughly 90% of them–survive, but often with lingering physiological and neurological effects that scientists don't entirely understand. This fabulous article from Outside magazine takes a look at what it's like to be struck by lightning, and live to tell the tale.
5. I was really moved by Marla Rose's article about in-fighting in the vegan community. I never really used to think about this phenomenon, but lately it's on my mind. I started mulling it over in earnest when a reader (and friend) pointed out that I'd made a slightly dismissive/critical remark about very low-fat vegan diets. My first instinct when I heard this feedback was to get defensive: as a nutritionist, don't I have a right — nay, a duty — to point out when I think a particular diet is potentially inadequate or not suitable for some folks?
In some ways, I think I do. At the end of the day, though, I don't want to spend time criticizing other approaches to a plant based lifestyle, because we're all fundamentally united by our enthusiasm for and faith in a diet that's still very much outside of the mainstream. Veganism needs all of the united and enthusiastic voices it can get.
Likewise for criticizing other activist tactics. There have been times in my blogging life when I really did feel that it was right to speak out against activist approaches that I thought were harmful or damaging to the integrity of veganism, because they came at the expense of compassion to other human beings. But for the most part, I'd like to support and celebrate anyone who's doing tireless work on behalf of animals and plant based living. Sometimes, this will mean accepting and acknowledging that, within any activist movement, there will inevitably be differences of opinion and strategy. That's OK. There is ultimately so much more that unites than divides us, and what matters much more than any small disagreements is that we're fundamentally in agreement about wanting to help animals.
I think it's fair for members of a small subculture, or shared cause, or activist community, or whatever you want to call it, to voice dissent and disagreement. If we didn't do that, we'd feel stifled by the "cause," and that's not healthy for anyone. But at the end of the day, we have factory farming and animal exploitation to consider most of all, and if we're all committed to fighting those things, then perhaps we should try to focus less on disagreement, and more on a shared vision of what we can do to help our animal neighbors. Thanks to Marla for her thoughts.
With that, I'm off. Happy Sunday.
xo