I skipped Weekend Reading last week because I was a little drained from my birthday post. I can't tell you how nice it is to revisit my Sunday morning routine of browsing my favorite sites for drool-worthy recipes and images. As always, I hope that you enjoy these five exquisite dishes, as well as the articles I'm sharing.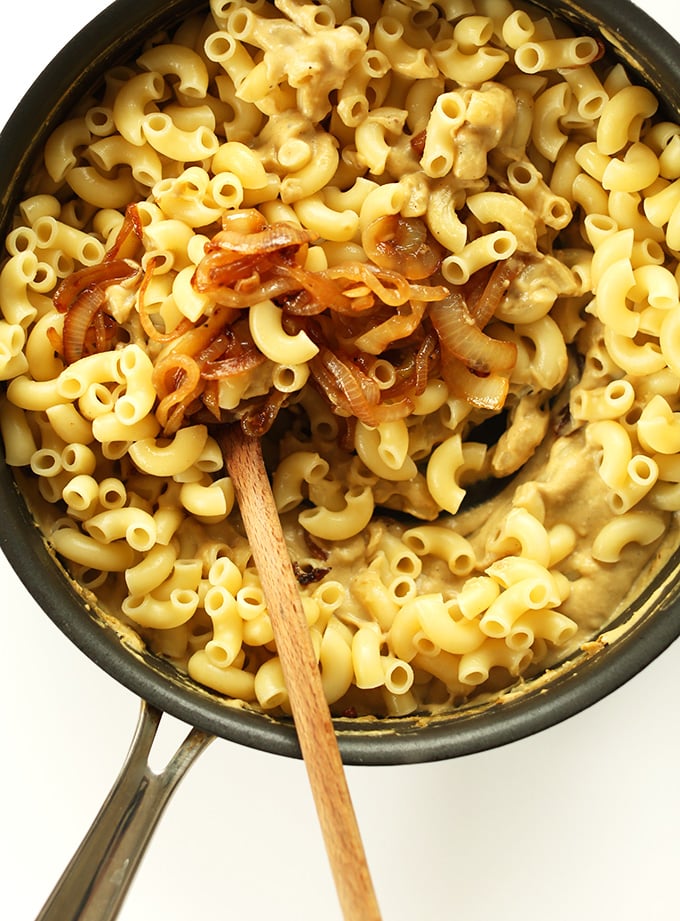 Vegan caramelized onion mac n' cheese? 10 ingredients? Holy shnikes. Dana and John have done it again.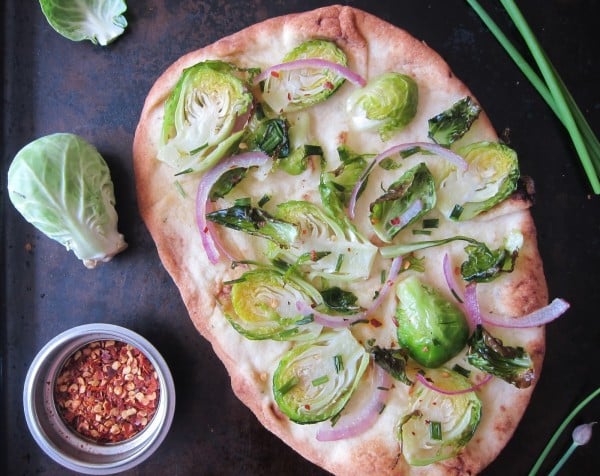 This brussels sprout and chive pizza looks fancy, but it's deceptively simple. A wonderful recipe from Jess of Cupcakes & Kale.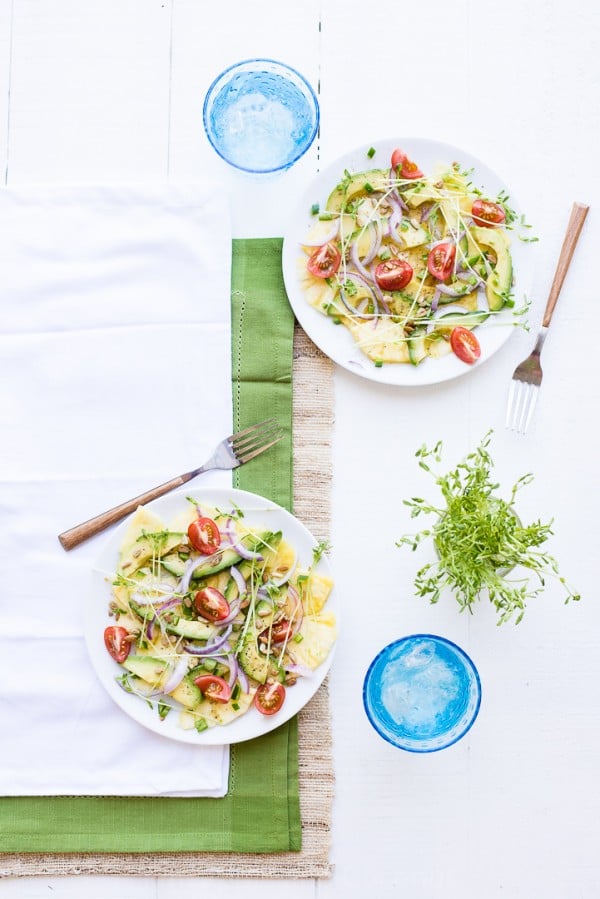 I can't imagine anything more refreshing than this pineapple, avocado, and pea shoot salad. I bet it would work nicely with mango or citrus, too.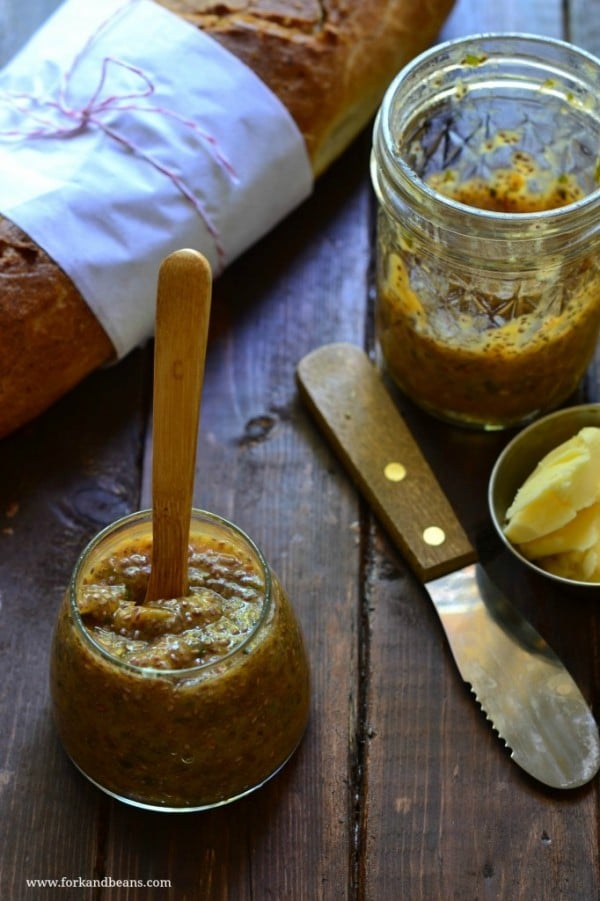 I made chia seed jam for the first time this year, and I love it.  Cara puts a summery spin on it with a peach and basil chia jam–yum!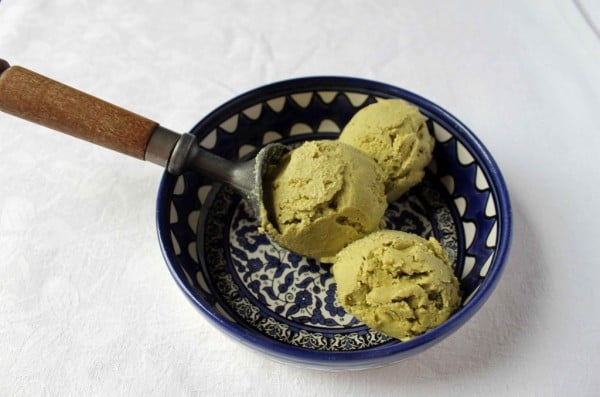 Finally, for dessert, avocado and pistachio ice cream. AKA heaven AKA gimme AKA holy yum.
Reads
1. My editor at Food52 brought this article to my attention. It tells the story of an iconoclastic iced almond-macadamia milk latte, so exquisite and tasteful that it's winning over even the most diehard coffee lovers in LA. "Pretty sure this almond-macadamia milk latte is @choosingraw's soul in a beverage," she wrote.
She's right. This latte is my spirit animal. It is my muse. And I am going to recreate it at home, goshdarnit, even if I've never tasted the original beverage. G&B Coffee, I tip my hat to you. 
2. Have you ever wondered how much sleep your favorite genius got? This article, via New York Magazine, may have the answer. Thomas Mann's 12am-5am is making me feel a little bit better about the fact that 5-6 hours is my norm (not insomnia; I just don't tend to sleep much). Then again, I'm no genius, so I should probably stick to 6-7 hours…
3. This.
4. An great article by James Hamblin on sugar. It focuses in particular on some of the hysteria surrounding fructose these days (and products that contain a lot of fructose, including HFCS and agave). Hamblin isn't defending the ubiquity of high fructose, concentrated sweeteners in our food chain, and neither am I. But he does clear up a lot of misconceptions that seem to be circulating lately about what fructose is, how it's absorbed, and how it compares to glucose or sucrose. I think it's an important article, because it serves as a detail-oriented and nuanced counterpoint to vitriolic YouTube videos and oversimplified accounts of what's making Americans (and people worldwide) obese.
5. In response to last weekend's birthday post, and the thoughts I shared about moving on from the pursuit of something, one of my readers directed me to this lovely interview with Mara Kofoed, author of A Blog About Love. It was a timely reading recommendation, since at least one CR reader had left me a comment saying that my words had evoked some of the feelings she has experienced in trying to decide whether or not to continue fertility treatments.
Mara Kofoed describes with tremendous frankness the end of a long and painful IVF journey:
"After ten years, I don't have any more stamina to continue the pursuit. Moving on is one of the most complicated things I've ever faced. But every ounce of myself is done with pursuing, pursuing, pursuing. It's like someone has died and instead of dedicating a life to changing what is, we are going to move on and try our very, very best to life the best life that we can. And we're trying to cultivate as much excitement and hope that we can for a life that looks nothing like what we had planned."
I certainly can't pretend to know what it's like to have tried for a baby for ten years, nor have I experienced the particular kind of grief that Kofoed describes. But I do know what it's like to feel finished with something, even when it surprises some people that you don't want to continue fighting for it. "Most people are very, very shocked that we don't currently have plans to adopt or do more medical treatments," she says. "I think most people just don't understand why we just couldn't continue trying."
As a society, we embrace and celebrate tenacity. We encourage each other to keep going when we've been knocked down, to shove aside all obstacles that stand in our way, to try, try, and try again. It's a wonderful, courageous impulse, and I'm glad that we hold it so dear. In all of our enthusiasm for the long and arduous fight, however, we may sometimes lose sight of the value of letting go, of being able to turn the page when effort has failed us. Sometimes, being doggedly committed to a single dream may even prevent us from recognizing the value of a new direction.
It all reminds me of the famous Joseph Campbell quote: "We must be willing to let go of the life we have planned, so as to have the life that is waiting for us."
We are the only ones who can ever know whether a second or third or fourth attempt at something is the right choice or not; it's something that outsiders can't possibly understand. My post-bacc experience has definitely made me more sensitive to this; whereas a few years ago I valued perseverance so much that I'd likely encourage anyone who was struggling with something to "never give up," I now recognize that it often takes as much courage to stop striving as it does to persist.
On that note: Happy Sunday.
xo