Oh hey: a sweet treat in time for February 14th! Given how routine my eats have been lately (soup, salad, grain, repeat), it was fun to create something a little festive this past weekend. In spite of being no bake, these raw, vegan linzer heart cookies certainly demand a little more time and effort than the desserts I usually make. But they're so darn cute, it's hard not to relish breaking out the cookie cutters anyway.
The first step to creating these cookies is, if you like, to make the raspberry chia jam I filled them with. I say "if you like" because it would be totally fine to use your favorite store bought (or regular homemade) jam instead. I got a kick out of making this jam, and pleased to find that it was easier than I expected, but it's definitely more tart, and a little less thick, than traditional jam. Give it a try, though, if you're so inclined; I think it would be great on toast, or stirred into a bowl of hot oats.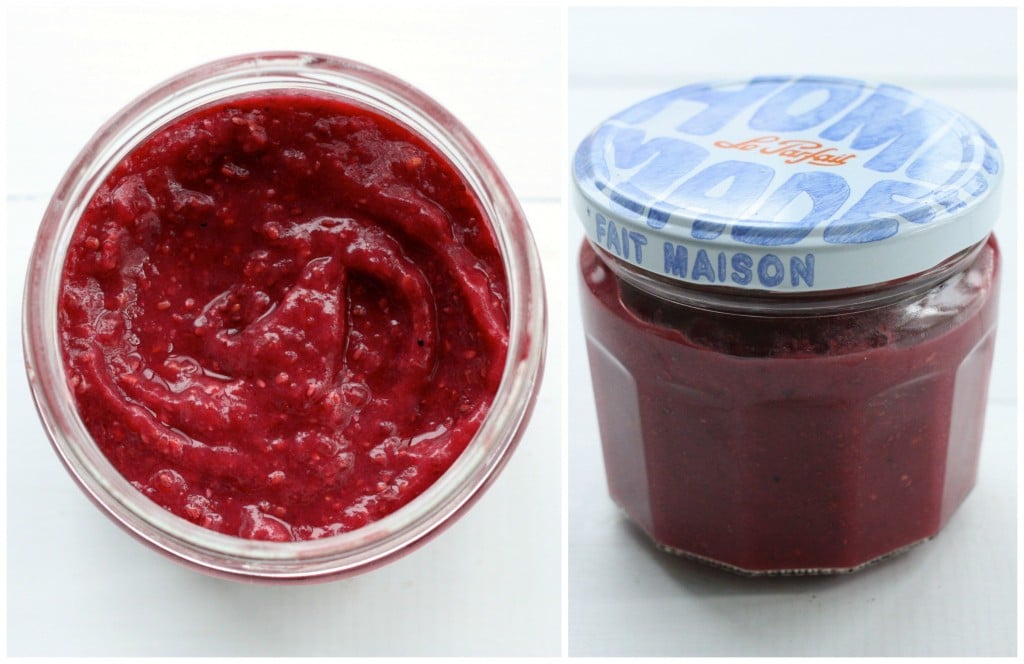 | | | |
| --- | --- | --- |
| Raw Raspberry Chia Jam | | Print |
Ingredients
2 cups raspberries
3-4 pitted medjool dates (adjust to taste)
2 tablespoons chia seeds
Instructions
1. Blend the raspberries and dates in a high speed blender till smooth.
2. Transfer the mixture to a container. Stir in 2 tablespoons of chia seeds. Let sit for a few minutes, and then stir again, and a few minutes after that. Let jam thicken in the fridge for a few hours before using, and add more chia seeds as needed.
Once you've got this part out of the way, you just need to prep the raw "cookie dough." Like most of my raw desserts, I used a base of nuts and dates, including hazelnuts for authenticity. But I added some almond flour, too, which worked nicely for the recipe. If you don't have it, you can substitute whole almonds, and grind them in in step one all the same.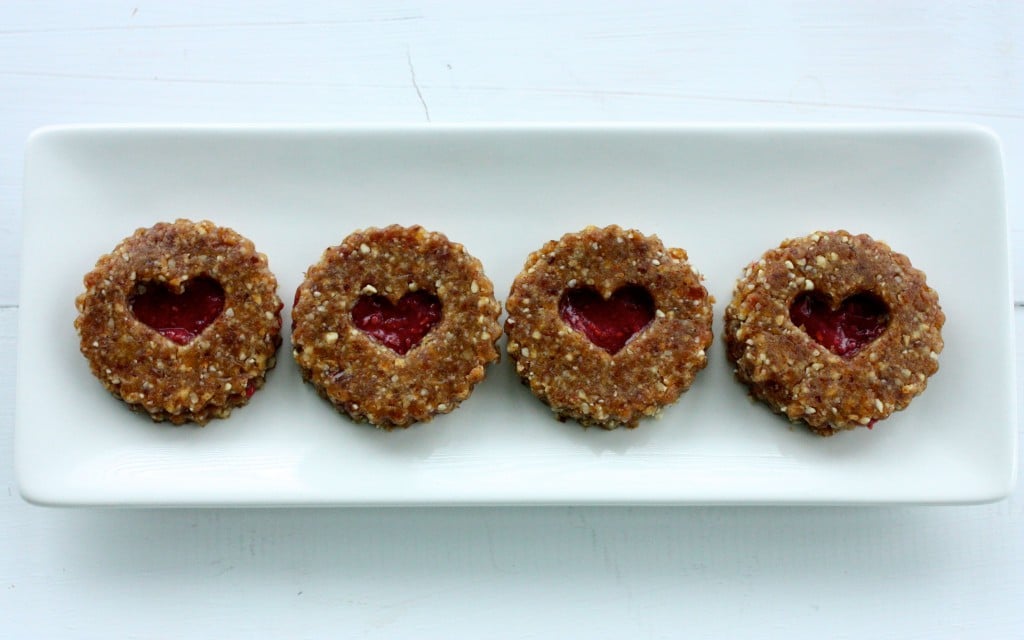 | | | |
| --- | --- | --- |
| Raw, Vegan Linzer Heart Cookies | | Print |
Serves:
Approximately 20-24 cookies
Ingredients
1 cup hazelnuts
1 cup almond flour
Pinch sea salt
1½ cups pitted medjool dates
2 teaspoons maple syrup
Oat flour (for rolling)
⅔ cup raw raspberry chia jam
Instructions
1. Using a food processor fitted with the S blade, grind hazelnuts into a coarse flour.
2. Add the almond flour, sea salt, and dates. Process until mixture is finely ground, even, and sticking together slightly. Add the maple syrup. When you can squeeze a bit of the mix in your hand and it sticks easily, it's ready. If you find that it's too crumbly, add a few more dates or syrup.
3. Divide the mixture in half. Lightly dust a dry surface with oat flour. Roll one half of the mixture out till it's about ¼ inch thick (or a little less). Cut it into circles or squares with a cookie cutter.
Repeat with the other half, and then use a heart cutter to cut hearts out of the center of those cookies. Transfer all of the cookies--the ones with and without heart cutouts--to the fridge and let them chill for 30 minutes.
4. Spread a dollop of raspberry jam into the center of each cookie that doesn't have a heart cutout, and then top it with a cookie that does. Repeat till you've used up all of the dough. Store cookies in the fridge till you're ready to enjoy them.
Are they a dead ringer for the traditional cookie? Not quite. But they're still pretty adorable:
Hope the cookies will brighten your day (or the day of whomever you share them with). I suspect there will be at least one more sweet treat in store this week. If you're looking for a dessert or two in the meantime, feel free to try last year's no bake tartelettes with raw chocolate ganache filling: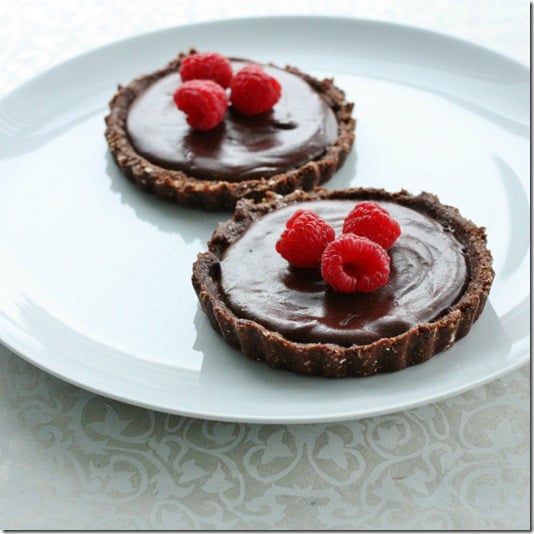 Or the year before's ten minute, raw chocolate covered strawberries: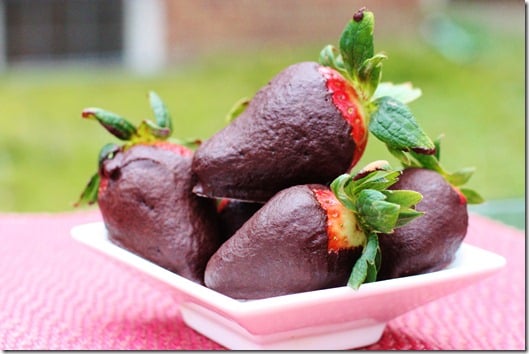 For now, it's bedtime, and I've got an easy meal idea to share with you tomorrow. Night all.
xo