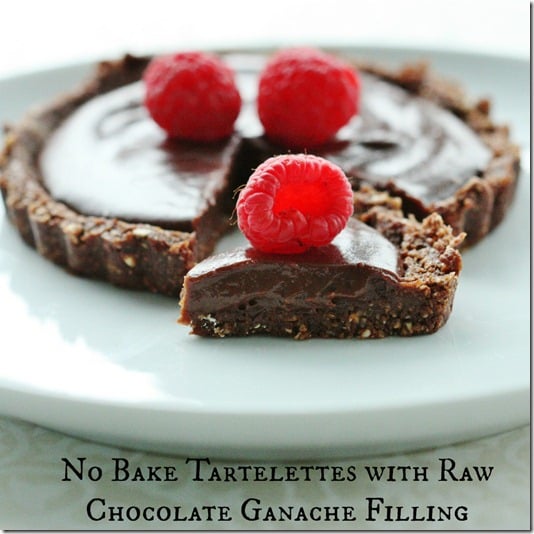 I'm kind of proud of myself tonight. After five years of making and experimenting with raw foods, I have finally made my very first high raw, vegan tart. Tartelette, to be precise. And it was worth waiting, because this rich, indulgent, chocolate creation is absolutely dreamy.
What is a tart, anyway? Let's see:
Tart, adj.

1. agreeably sharp or acid to the taste (a tart apple)
2. marked by a biting, acrimonious, or cutting quality (a tart rejoinder)

Tart, noun

1. a dish baked in a pastry shell : pie: as a) a small pie or pastry shell without a top containing jelly, custard, or fruit, or b) a small pie made of pastry folded over a filling

2. [earlier slang, girlfriend, probably short for jam tart, rhyming slang for sweetheart]
I love all of these definitions, except for the last one—or at least its present day suggestion of promiscuity. I've got a special penchant for tart foods (I'm often accused of adding too much lemon to recipes), and I certainly love a good, biting rejoinder. Now that I've finally made my first ever tart at home, I think I can safely say that "small pie or pastry shells with a top containing jelly, custard, or fruit" is yet another meaning of the word "tart" that I love.
These tartelettes were made possible by the simple investment in a set of two mini tart shells on Amazon. Well worth it, since I'm far more likely to make and eat two smaller tartelettes on my own than polish off an entire tart before it starts to lose its freshness. The recipe makes enough for four 4-inch tartelettes or 2 6-inch tartelettes. And there will definitely be ganache leftover. Poor you

Raw desserts that go above and beyond chocomole have always intimidated me a bit. Whenever I get around to making one, though, I'm reminded of how easy it really is to create incredible raw desserts without a lot of work. I find it a lot easier than baking, and often a lot more creative and fun. For this recipe, you'll need only some straightforward ingredients (cocoa or cacao powder, cashews, walnuts, rolled oats, vanilla, and coconut oil) as well as the patience to let the tartelettes cool in the fridge till they're set. Good luck with that.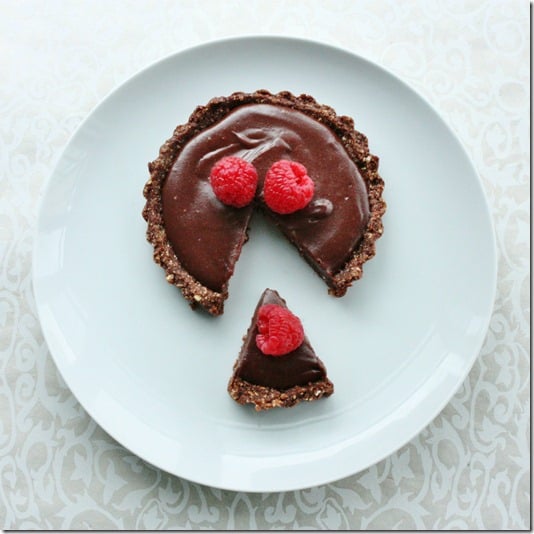 No Bake Tartelettes with Raw Vegan Chocolate Ganache Filling
Author -
3/4

cup

rolled oats

3/4

cup

walnuts

1/4

tsp

sea salt

plus an extra pinch for the filling

3

tbsp

and 1/3 cup cacao powder

or cocoa powder, divided

6

large

pitted medjool dates

1

tbsp

and 1/3 cup maple syrup

divided

1

cup

cashews

soaked overnight or for at least four hours

1/3

cup

coconut oil

1

tsp

vanilla

1/4

cup

water

Fresh raspberries

optional
To make the crust, grind oats in a food processor fitted with the S blade till powder. Add walnuts and grind till they're quite crumbly. Add sea salt and 3 tbsp cacao and pulse to combine.

Add the dates to the processor and process till mixture is sticking together. Add 1 tbsp maple syrup and continue to process till mixture is holding together really well.

Press crust into your tartelette pans, making sure to keep the thickness even and get the sides nice and high. Refrigerate for one hour or more (up to a day or two).

In a high speed blender, blend the cashews, oil, 1/3 cup maple syrup, 1/3 cup cacao or cocoa powder, vanilla, water, and a pinch of sea salt. Let it blend for as long as necessary to make it completely, silky smooth.

Pour the filling into the tartelette shells. Refrigerate for several hours before serving, to let the ganache set. Top with fresh raspberries if desired!

Makes 2 4.75-inch tartelettes, with a little extra left over.
These guys really did come together quickly, and fabulously.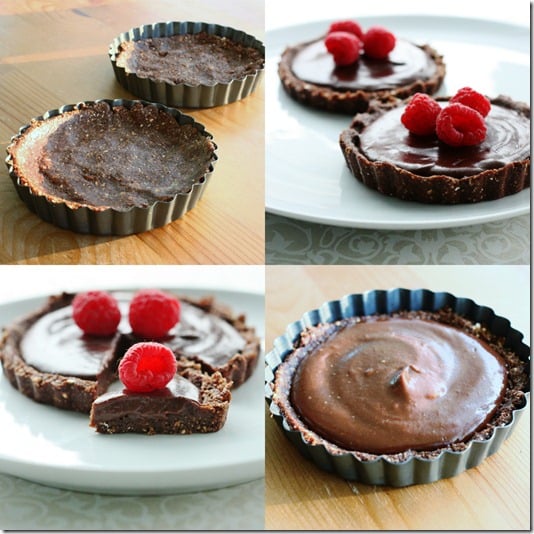 Note that, if you're a strict raw foods eater, you can certainly use a crust of 1 1/2 cups walnuts, and no rolled oats. I like the texture that some oat flour lends, but it's totally up to you. And if you don't have a high speed blender, you can definitely still make the ganache in a food processor, but note that soaking the cashews is really essential! Or else you'll have an uneven ganache. Smoothness is what you're going for.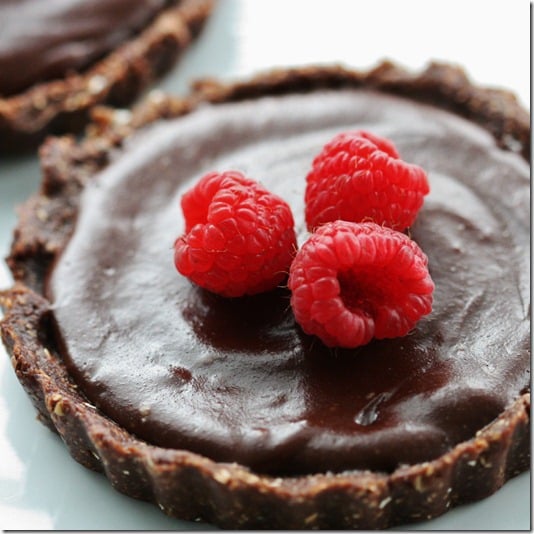 These tartelettes, in spite of their diminutive size, are very rich and very filling. So you'll likely be able to split one with a friend, a family member, or even a Valentine. I dare you to show off how delicious raw and vegan desserts can be!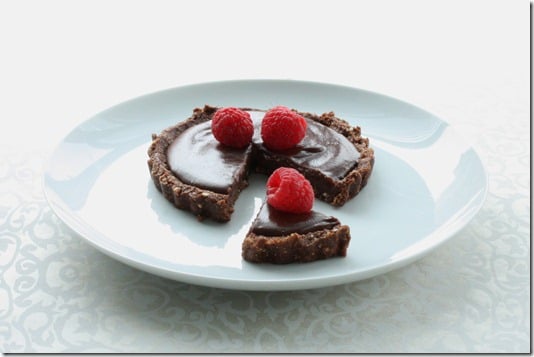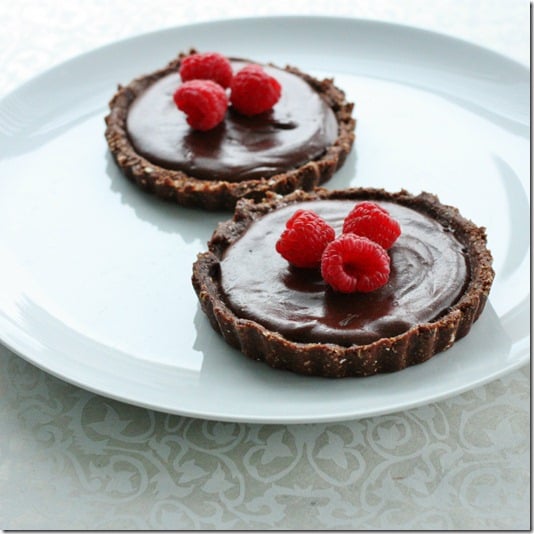 Wherever you are, and whatever you're doing, I wish you a happy Valentine's Day tomorrow. Mine will involve…studying. And some more studying. Kind of like last year. But if I play my cards right, a viewing of Manhattan may be in order as an end-of-day reward. With a generous helping of chocolate, of course.
xo