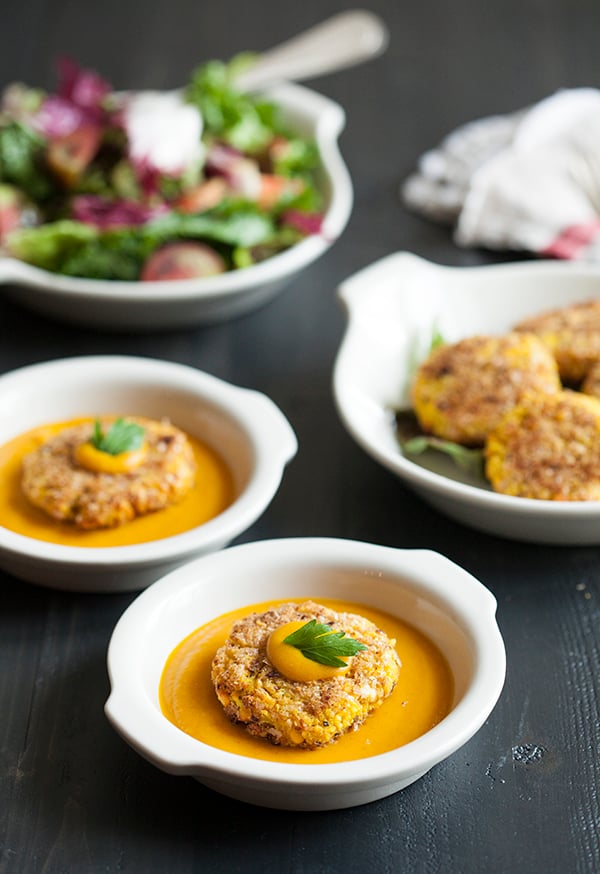 Back in May, I had a chance to team up with the US Dry Pea and Lentil Council on some recipe development for the International Year of Pulses. It was a real treat, a chance to show off my love for the versatility and nutrition of lentils, peas, and beans (and the result was a tasty lentil tamarind barbecue burger).
I was excited when the USADPLC circled back to me and asked if I might be interested in another recipe collaboration–this time not for a contest or for the Year of Pulses, but simply as a chance to show off another great use for lentils and/or peas. Given how often I eat and enjoy these foods, it's always a joy to think about a new recipe concept, and today's yellow split pea and millet cakes are no exception.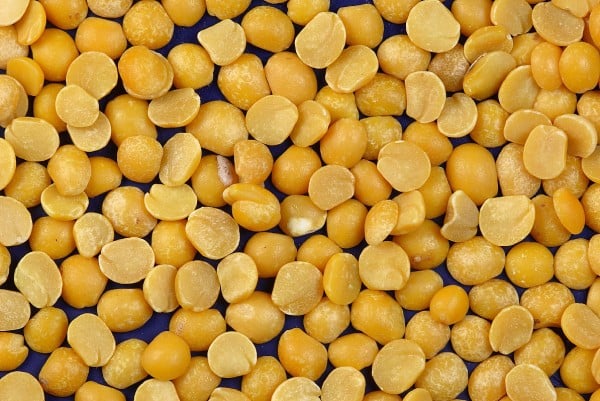 Split peas sometimes seem get short shrift in the legume world. We use them in split pea soup, of course, and in dal recipes, but they have a lot of potential beyond soups and stews. I love their chewy texture and the way they hold their shape when you boil them. I also love their nutrient offerings, including a ton of fiber, protein, folate, and Thiamine. They're a wonderful addition for salads and grain pilafs. And they're also wonderful in these crispy, flavorful little patties.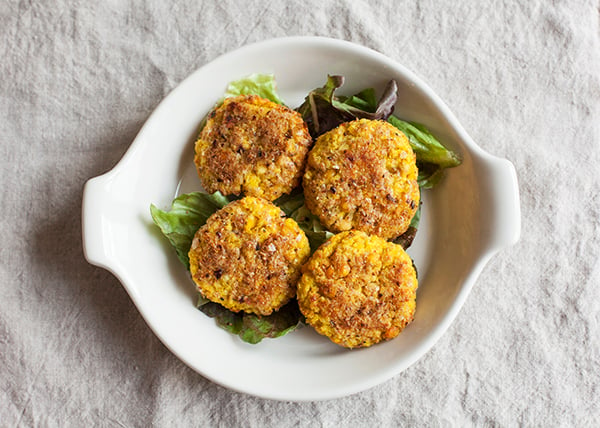 My original intention with this recipe was actually to use red lentils. But, given that I shared a red lentil cake recipe not too long ago, and I use red lentils pretty frequently overall, I decided to branch out and give yellow split peas a try. Combining them with millet resulted in a nice, firm texture (texture is always the issue with vegan burgers and cakes!).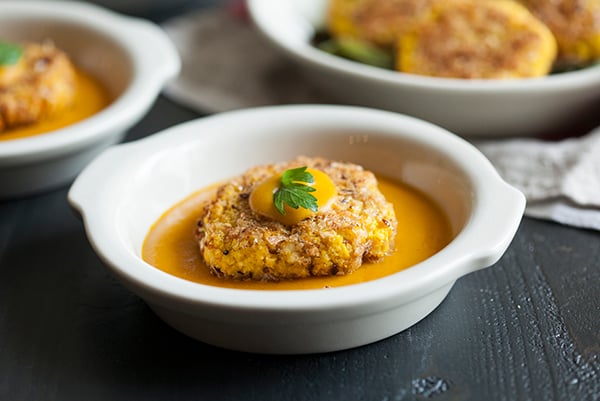 The cakes are full of garlic and ginger flavors, as well as some onion and a touch of turmeric and black pepper. But what makes the dish sing is the carrot miso sauce, which can be served under or over the patties (as pictured). It's also a super flavorful and healthy sauce to keep in the fridge whether you use it in this recipe or not; I served my leftover sauce over brown rice, quinoa, and as a veggie dip.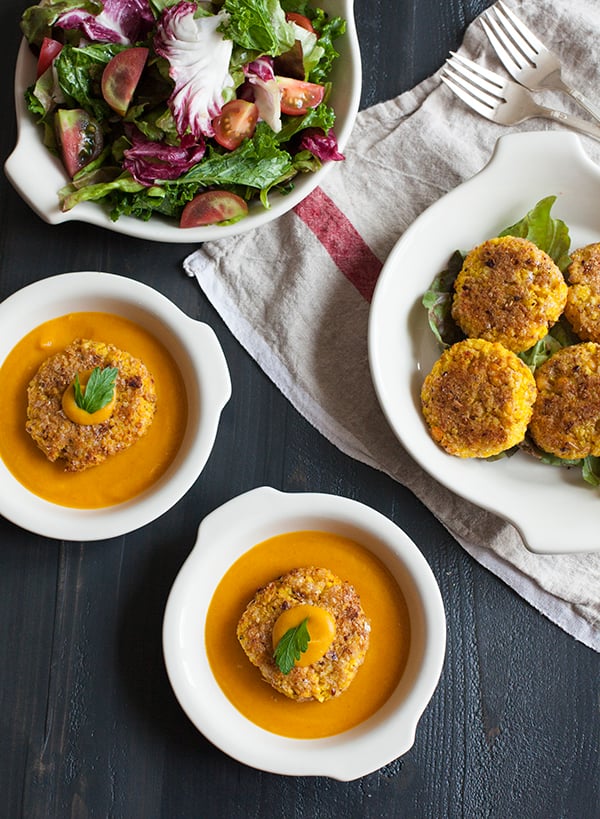 You can serve these cakes with sauce and a big, fresh summer salad, along with a grain dish, or maybe with some grilled tofu or tempeh. They're also great stuffed into pita with the carrot sauce for a quick lunch! Here's the recipe.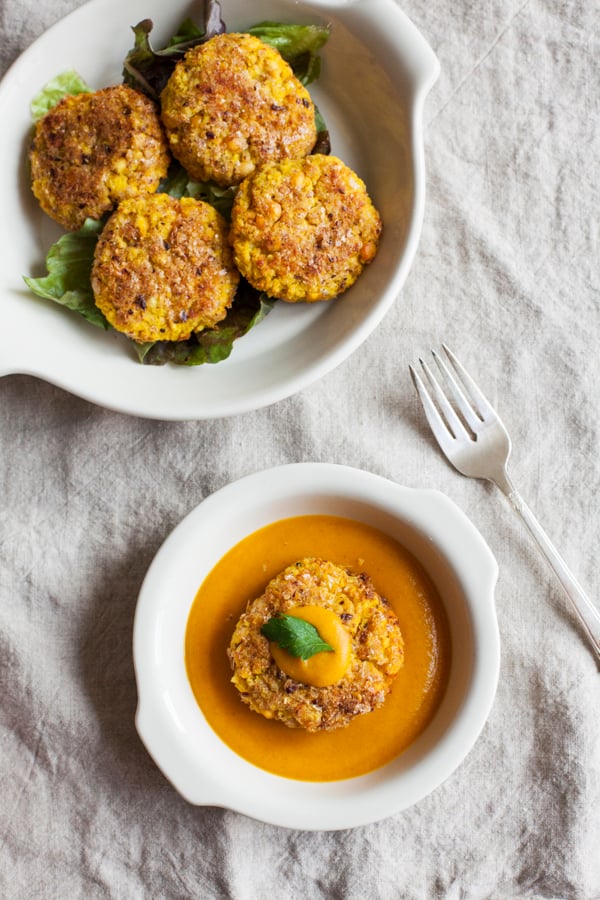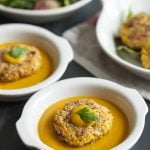 Yellow Split Pea and Millet Cakes with Carrot Miso Sauce (gluten free)
Author -
Yields:
12
cakes, or 4-6 servings
*For the Yellow Split Pea and Millet Cakes*:
1/2

cup

yellow split peas

1/2

cup

millet

1/2

cup

cashews

walnuts and pecans will also work nicely

2

teaspoons

olive oil

1

white or yellow onion

diced

3

cloves

garlic

minced

1

tablespoon

grated ginger

1/2

teaspoon

turmeric powder

1/2

teaspoon

salt

Pinch

black pepper

1/2

cup

whole grain or gluten free bread crumbs
*For the Carrot Miso Sauce*:
2

cups

steamed carrots

1/2 - 2/3

cup

water

2

teaspoons

low sodium tamari

1

tablespoon

rice vinegar

1

tablespoon

miso paste

I like to use mellow white miso, but brown or red would be fine

1

pitted medjool date

or 2 teaspoons maple syrup

1

teaspoon

sesame oil
To make the carrot miso sauce, steam or boil the carrots till they're tender (about 15 minutes). Drain them and transfer them to a blender. Add the water, tamari, vinegar, miso, the date, and sesame oil. Blend till smooth. Add extra water as needed, depending on how thick you'd like the sauce to be. Dressing makes about 1 3/4 - 2 cups, and will keep in a sealed container for up to five days in the fridge.

Rinse the split peas and add them to a small pot with enough water to cover them by a few inches. Rinse the millet and add it to a small pot, along with 1 1/4 cups water. Bring both pots to a boil. Simmer for 20 minutes, or until the millet has absorbed the liquid. Fluff the millet with a fork, cover it, and allow it to sit for a few minutes. Check the peas by fishing out a few and tasting them; they should be tender but firm, and hold their shape. If they're not done, give them an extra 5-10 minutes. When the peas are ready, drain them and transfer them to a large bowl. Add the cooked millet.

Heat a small or medium sized frying pan over medium low heat. Add the cashews and toast until they're fragrant and golden. Transfer them to a food processor fitted with the S blade and process into a fine meal.

Preheat your oven to 350F. Add the two teaspoons of olive oil to the frying pan and add the onion. Sautee the onion for 5-8 minutes, or until it's very tender and clear and golden. Add the garlic and grated ginger and sautee for another 2-3 minutes, or until the mixture is super fragrant, adding a few tablespoons of water to prevent sticking if needed. Stir in the turmeric powder and salt.

Mix the onion mixture into the millet and split peas. Transfer 3/4 of the mixture to your food processor, adding them to the ground cashews. Pulse continuously for about 30 seconds to break the mixture down. Add this mix to the remaining, whole split peas, millet, and onions in your mixing bowl, combine everything well. Using clean hands, shape the mixture into 12 small cakes. (If the mixture seems overly dry, you can add a few tablespoons of water.)

Press each cake into the bread crumbs, if using, covering both sides. Transfer them to a lightly oiled or parchment-lined baking sheet. Bake for 25-30 minutes, or until they're crisp on the outside, flipping once halfway through. Serve with the carrot miso sauce and some chopped parsley, if desired. Leftover cakes will keep in an airtight container in the fridge for up to four days.
To streamline the process, you can prep the split peas and the millet a day or two in advance. You can also prepare the sauce in advance (it makes a fair amount, so you can definitely use it in other ways through the week). If you happen to have other cooked pulses handy, such as lentils or navy beans or green split peas, you can use those in place of the yellow split peas, too.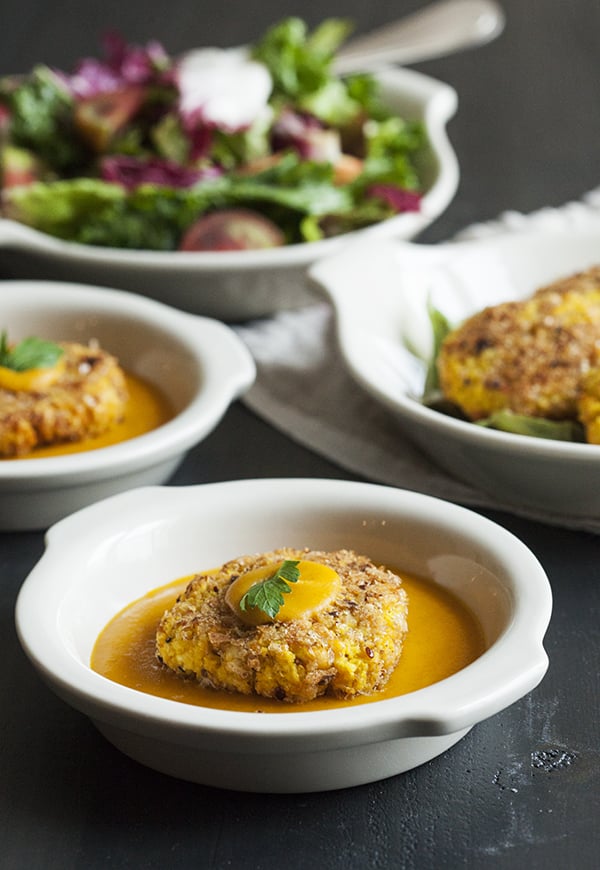 I hope you enjoy the recipe! It's a nice one to share with friends, too–either as a main attraction or as an appetizer. For more about cooking with pulses (and a ton of recipes), you can check out the USADPLC's website.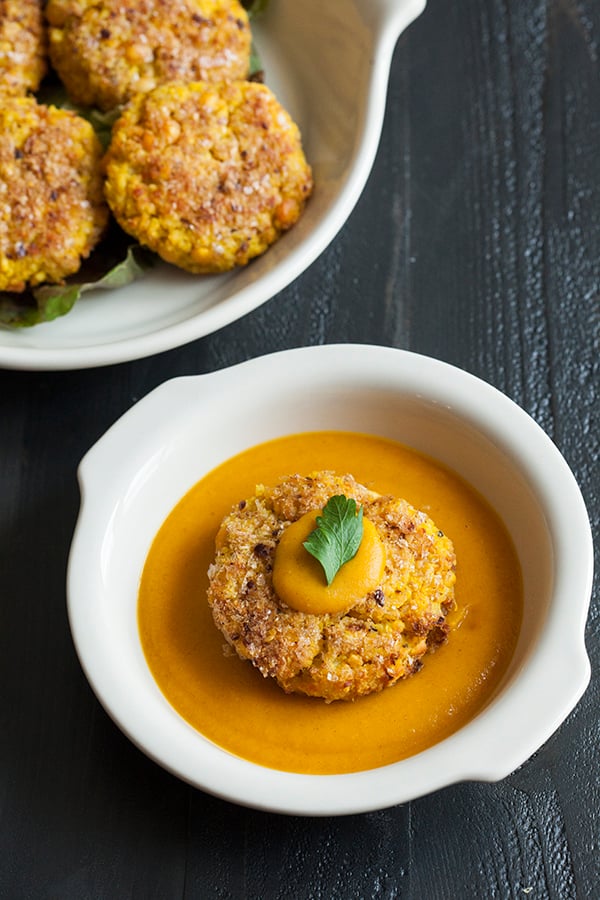 I'm writing this post from New Orleans, where I'm paying Chloe a weekend visit. It's hot here, but I always love being in this city. I'll be back on Sunday for the usual roundup of reads and recipes. Till then, I wish you all a lovely weekend!
xo
Yellow split pea image courtesy of Wikipedia.