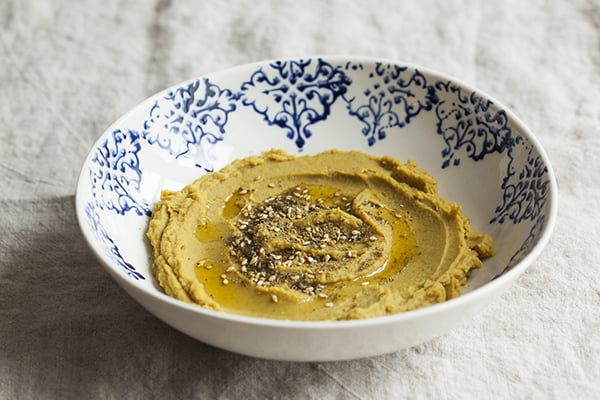 Back when I first went vegan, and my mother became aware of my growing obsession with hummus, she told me about a dish my grandmother used to make. It was apparently just like hummus, a thick chickpea spread prepared with garlic and lemon. But, after mashing the chickpeas, my grandmother would place them into a mold. When it came time to enjoy the dish, she'd liberate it from the mold, cut it into slices, and drizzle it with olive oil. It was called fava, my mom said, and it was delicious, a hummus lover's delight.
Last week, I shared a yellow split pea recipe, and this week I found myself with a half pound of yellow split peas begging to be used in some fashion that isn't soup. I thought back to a dish I'd tried at a Mediterranean restaurant in DC, a yellow split pea hummus that was divine. When I started to research yellow split pea hummus, it turns out that it's a Greek dip called–you guessed it–fava. The fava my mother remembers was most likely a chickpea version of what is typically a split pea dip recipe in Greece. This "fava" has nothing to do with fava beans: it's almost always a split pea or lentil base, unless you're my grandmother and you decide to do things a little differently 🙂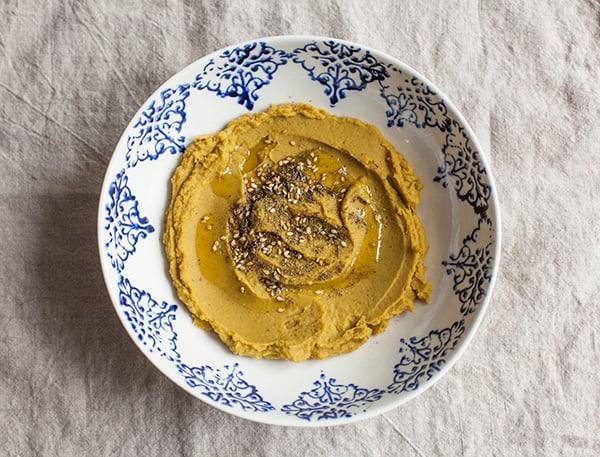 When I was researching fava online, I read that Santorini is famous for its yellow split peas. Who knew? Perhaps my love of pulses has something to do with my Greek heritage.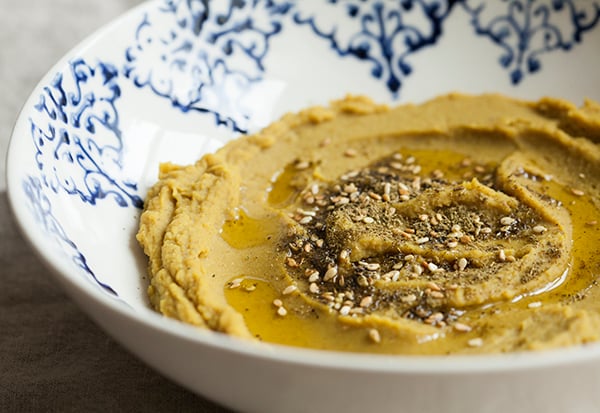 Much as I want this dish to be a tribute to Greek cooking (and a nod to my family's culinary traditions), I took some liberties with the recipe. One of them was to spice the dip with sumac, and another was to top it with a sprinkle of za'atar. These spices are typically associated with Middle Eastern, rather than Greek, cuisine. Still, they added a wonderful bright, lemony flavor to the dip, and I stand by them. If you don't have sumac, you can omit it altogether and simply add a little extra lemon juice or zest to create that bright, citrusy flavor. I was lucky enough to visit Mona's Cafe and Deli last weekend in New Orleans, where they sell Middle Eastern specialty ingredients in bulk for incredible prices. I now have a lot of za'atar on my hands–which is hardly something to complain about. If you're ever looking to spice up toast (avocado toast, tomato toast, hummus on toast), za'atar is a delightful way to go.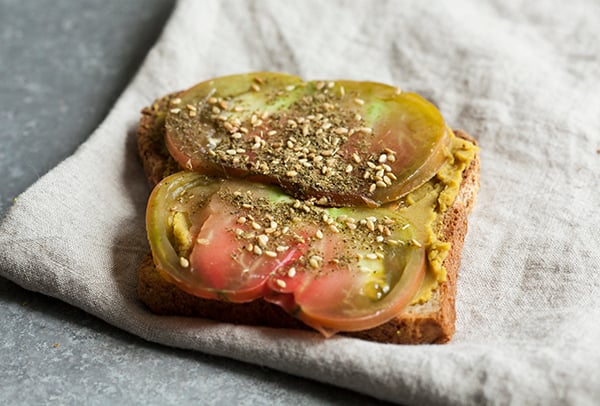 Speaking of toast, this fava makes a wonderful toast topper. I tried it today with sliced heirloom tomatoes and za'atar on one slice, and cashew cheese and chives on the other. I loved them both.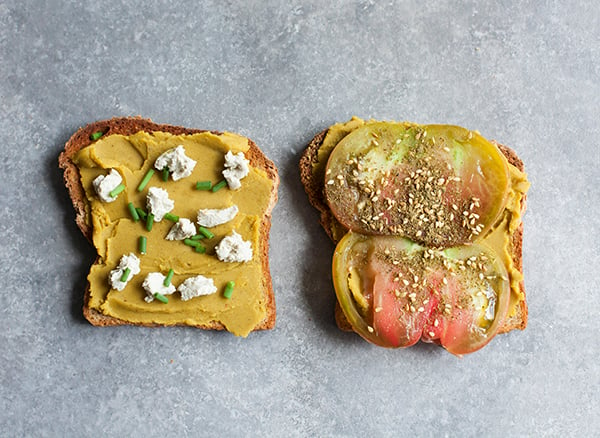 Making some toast squares is one way that you could turn fava into a crowd-pleasing appetizer. You could also serve it with pita chips, crackers, or veggie slices.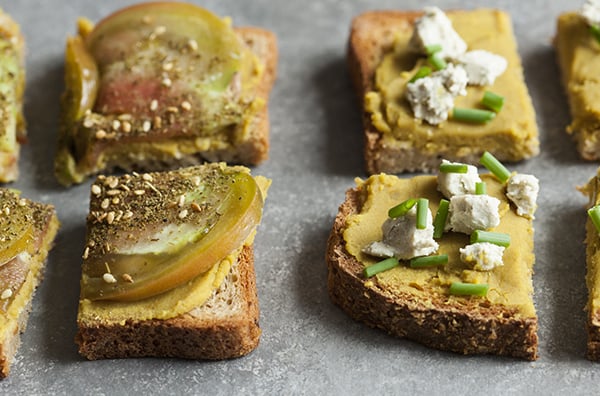 Here's the recipe.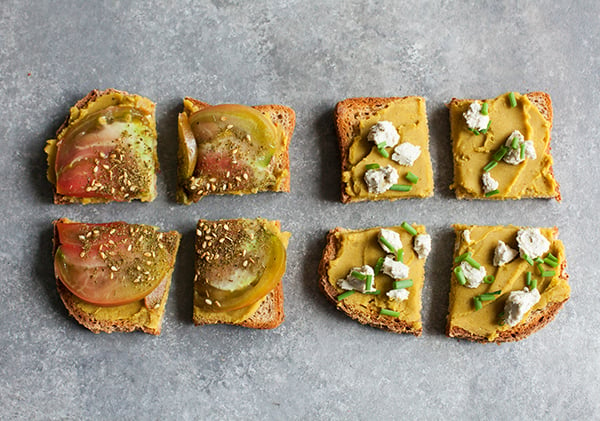 Yellow Split Pea Dip (Fava)
Author -
Yields:
3
cups, or 12 servings
2-3

tablespoons

olive oil

1

white or yellow onion

chopped

4

cloves

garlic

minced

1/2

pound

about 1 1/4 cups dry yellow split peas

3 1/2

cups

water

2

tablespoons

lemon juice

1/2

teaspoon

salt

1

teaspoon

ground cumin

1/2

teaspoon

sumac

optional

Dash red pepper flakes

optional

Optional toppings: Za'atar

fresh or dried oregano, chopped green onion tops, sun dried tomatoes, olives, lemon zest
Heat a tablespoon of the olive oil in a pot over medium heat. Add the onion. Sautee the onion for 5-7 minutes, or until it's clear and soft. Add the garlic and cook for 2-3 minutes, stirring frequently, or until the garlic is very fragrant.

Add the split peas and the water to the pot. Bring the water to a boil and reduce to a simmer. Simmer the split peas for 30-35 minutes, or until they're very tender. Most of the water should be absorbed into the split peas, but the mixture should be moist--similar to a thick soup.

Transfer the whole mixture to a food processor fitted with the S blade and add an additional tablespoon of olive oil, the lemon juice, salt, cumin, sumac, and red pepper flakes, if using. Process until the dip retains some of its texture, but is fairly smooth (you can also continue blending until it's totally smooth, if you prefer a uniform texture that's similar to hummus). Add a few splashes of water or another tablespoon of olive oil if desired, to create a thinner dip.

Top the dip with a drizzle of olive oil and any toppings of choice. Serve the dip warm, with pita chips, crackers, or veggies. Dip will keep in an airtight container in the fridge for up to four days.
Much as I love hummus, it's always a joy to experiment with different legumes in creamy, vegan dips and spreads. This one is already a new favorite of mine. And its backstory came into lovely relief this evening, when Steven and I had my mom over for dinner. She tasted the fava, paused thoughtfully for a moment, and broke into a smile. I know it wasn't the dip she remembers from childhood, but she clearly enjoyed it. And that was the best stamp of approval I could have hoped for.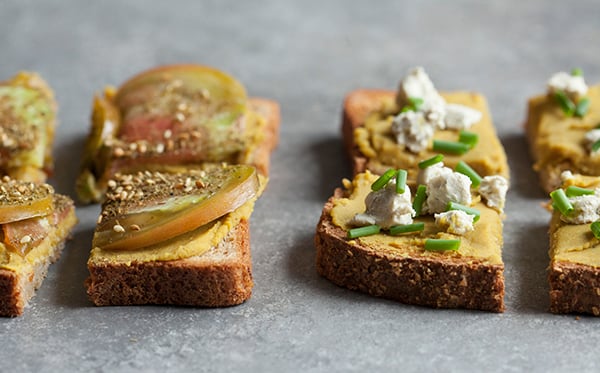 Enjoy the recipe, all. I had planned on posting a few more dishes this week, but it's been a busy one, and kitchen time has been scarce. More soon–and in the meantime, I wish you a great start to the weekend.
xo