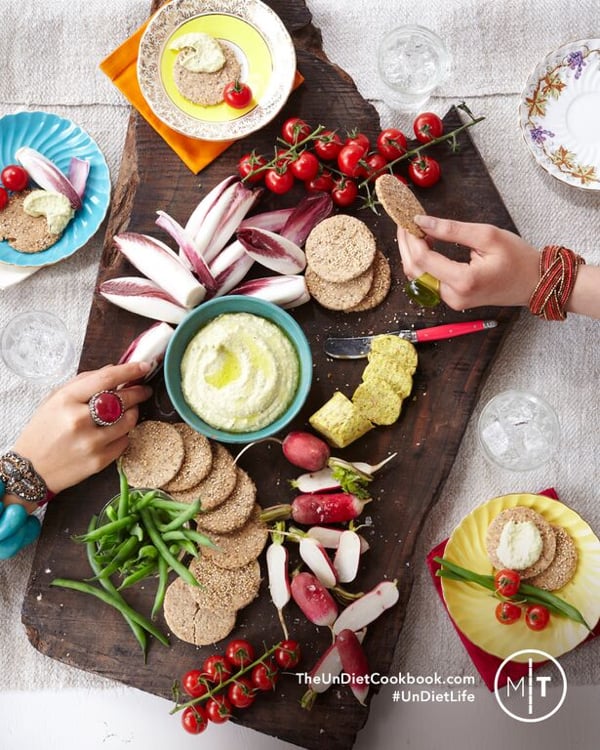 Zucchini hummus is a classic raw food recipe–and it's one of the very first that I learned how to make. I adore chickpea-based hummus (and have plenty of favorite recipes along those lines), so I've never really seen zucchini hummus as a necessary alternative. But zucchini hummus is its own entity, and it has its own merits.
For one thing, it has a light, almost fluffy texture, which makes it a lovely counterpoint to denser, traditional hummus. It's so light that I've often used it as a salad dressing, scooping it on top of greens and mashing it all over the place to create a super flavorful bowl. Zucchini hummus is also a nice option for those who have a hard time digesting legumes or have an allergy to them. And if you're lucky enough to have a garden and a glut of summer squash, it's a perfect way to put some of the extra produce to use!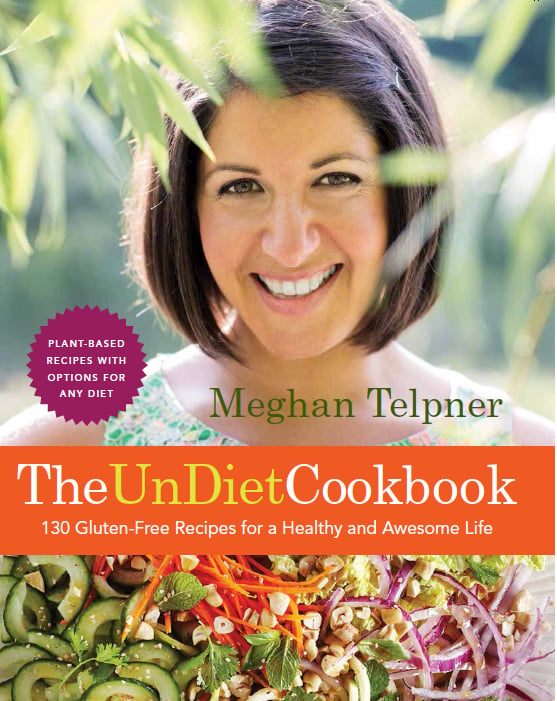 The hummus recipe I'm sharing today is from Meghan Telpner's awesome new cookbook, The UnDiet Cookbook. The book is a follow up to her last book, UnDiet, which I reviewed two years ago, and it's an extension of the philosophy that she shares every day on her website, in her training courses, through summits she organizes, and through the work she does as a wellness advocate.
Meghan has a unique perspective within the health and wellness space. She is a tireless advocate of self-exploration and self-empowerment when it comes to health, encouraging her audience to listen to their bodies and defy being pigeonholed. Meghan comes from a history of autoimmune illness, and she demonstrates tremendous sensitivity to those who are grappling with mysterious or hard-to-explain illnesses and symptoms.
Through her own health journey, Meghan has learned to eat and live in a way that allows her to thrive, and she's also learned to disregard the notion of a one-size-fits-all approach to healing. As a result, the main focus of her work is helping people to find the diets and lifestyle choices that work for them. She advocates a plant-oriented, whole foods, low-allergen diet, but her real emphasis is on individuality. She has a big sense of humor, an appetite for fun, and she's a champion of soulful, authentic living.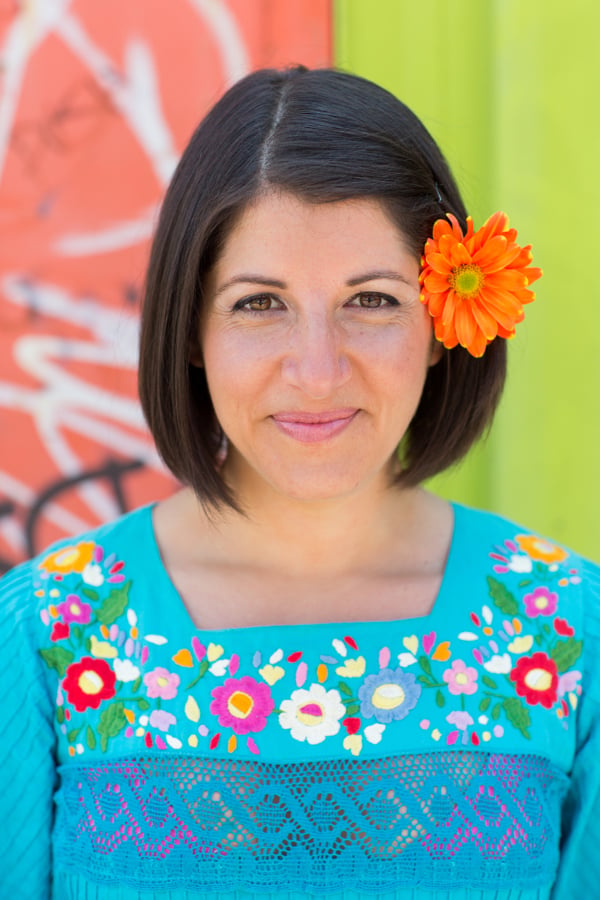 The UnDiet Cookbook is a collection of 130 recipes that follow the health and wellness principles that Meghan has laid out in her work: whole foods, no gluten or dairy, a foundation of plant-based ingredients, lots of color, and a mix of culinary traditions and flavor profiles. The recipes are as diverse as vegetable dumplings, cauliflower couscous, stuffed sweet potatoes, and raw pie. Each features clear instructions, a color coded system to indicate common allergens, and user-friendly tips.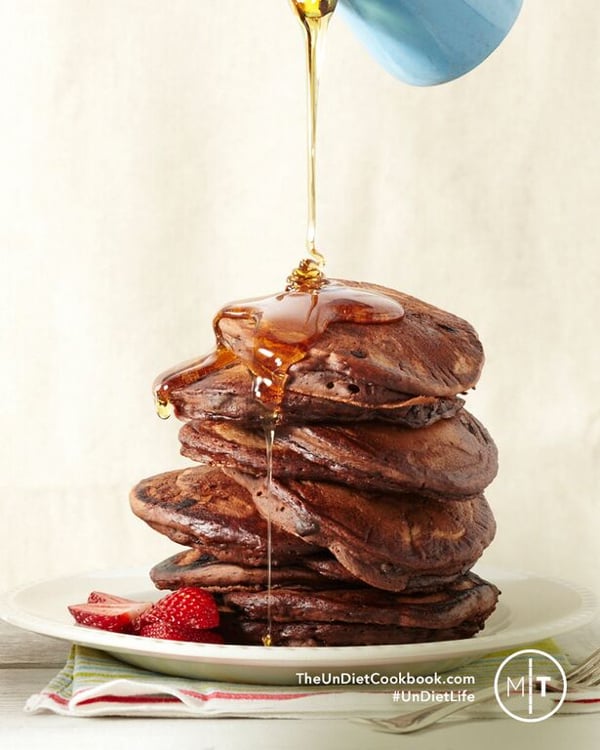 What I've always loved about Meghan's sensibility as a recipe developer is that she's diverse and eclectic, and this is my favorite feature of her new cookbook, too. I love the mixture of cuisines (you'll see Italian, Indian, and East Asian influences), styles (from raw food to hearty, slow-cooked entrees), and ingredients.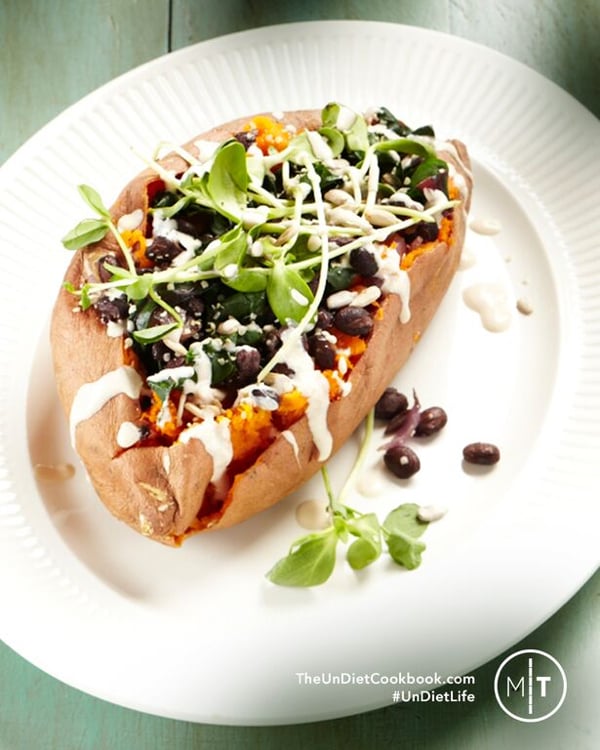 And as always, the recipes are infused with Meghan's characteristic sass and energy. She so clearly wants these recipes to spark more than culinary enjoyment — she wants them to make you feel energized and inspired.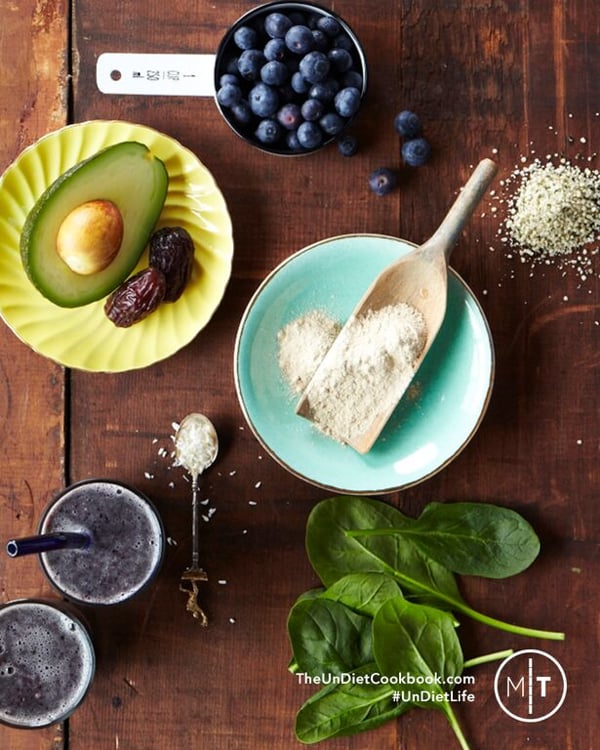 There are so many recipes I could have shared today, but I chose the zucchini hummus because it's an old favorite of mine, and I'm always impressed when a cookbook or blog can reignite my excitement about a recipe. Meghan adds avocado to her zucchini formula, which makes it amazingly light and creamy and the same time. The recipe is tree nut free, soy free, and grain free, which means it can be suitable for a number of specialized diets. And it has all of the bold, garlicky, lemony flavor of traditional hummus.
Best of all? It's really easy to make.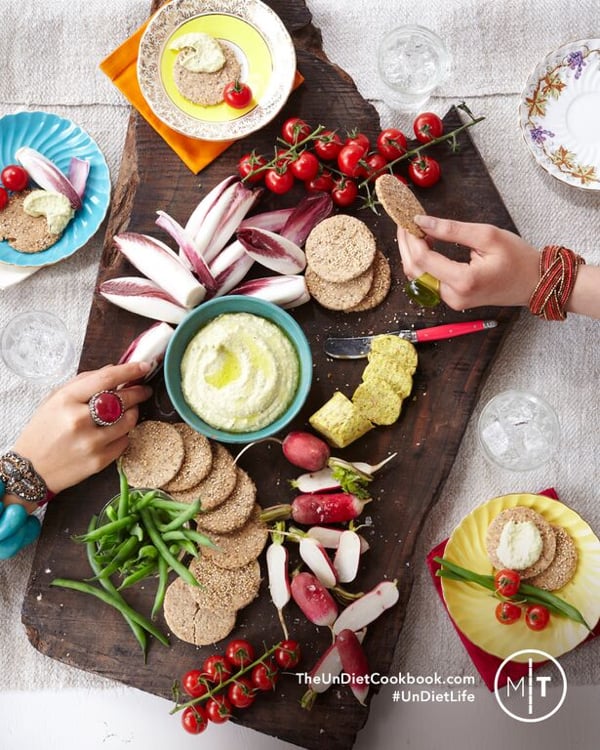 Zucchini Hummus from The UnDiet Cookbook
Author -
1

zucchini

peeled and chopped (about 2 cups)

1/2

avocado

1/4

cup

tahini

1/4

cup

fresh lemon juice

2

Tbsp

olive oil

1/2

inch

fresh ginger

1/2

clove

garlic

or a full one, if your friends can handle it

1/2

tsp

salt

Pinch

of cayenne

optional
Place all the ingredients in a food processor or a high speed blender and process until smooth.

Stop occasionally to scrape down the sides of the bowl with a rubber spatula.

Store in the fridge in an airtight container for up to 4 days.
Excerpted from The UnDiet Cookbook: 130 Gluten-Free Recipes for a Healthy and Awesome Life by Meghan Telpner. Copyright © 2015 Meghan Telpner. Photography Copyright © 2015 Maya Visnyei and Catherine Farquharson. Published by Appetite by Random House, a division of Random House of Canada Ltd., a Penguin Random House Company. Reproduced by arrangement with the Publisher. All rights reserved.
If you're curious about The UnDiet Cookbook, then today is your lucky day: Meghan and her publisher have agreed to share one free copy of the book with a lucky US or Canadian reader. Enter below to win!
On that note, phew, I'm so glad it's Friday! This was a long week, and a busy week. I'm looking forward to catching up with some friends this weekend, in addition to the usual batch of school reading and meal planning for my clients. As usual, I'll be rounding up my favorite recipes and reads for weekend reading, and look forward to sharing them soon.
xo