Happy Easter!
I can't believe it's Sunday already; this weekend has flown by. The good news is that it's been full of nice activities, including, but not limited to:
A visit from my bestie, who's in the midst of planning her June wedding (!!)
Catching up on the approximately 19379347 submissions I've got to read for work
A bloggie meet up on Friday
Church this morning, and Easter festivities with said bestie this afternoon (if gossiping and movie watching count as Easter festivity — does it?)
A tiny bit of cooking this afternoon
Good times! Let's rewind to Friday, when I got to hang out with a blogger you all know and love: Ms. Kath. Kath and I have been friends for some time; her no-BS, supportive-yet-tough-love emails helped me get through quitting nearly two (!!!) years ago, and we've since hung out in New Orleans, at the Healthy Living Summit, and in NYC. Kath was in town this weekend spontaneously to work with some of the folks at Open Sky. Little did she know that Open Sky happens to be one floor above me in my office building! What an unbelievably small world! It was fun having a visiting friend so close all day; we felt like de facto coworkers.
And lucky me, Kath brought me a mid-afternoon snack on Friday, just as my stomach was rumbling for a little something: Great Harvest bread and Naturally Nutty Cinnamon Vanilla Sunbutter.
Um, holy yum! This was scrumptious! The bread was soft and hearty without feeling stiff or heavy. I loved the little pumpkin seeds atop it. And as for the Sunbutter, well, it was love at first bite. I love anything with cinnamon OR vanilla, and I love the combo even more. Two thumbs waaaay up!
Later that evening, Kath and I took a little walk through the Flatiron district (thanks to Kath for being our photojournalist for the evening — mama has mad camera skills!):
And then grabbed dinner at one of my absolute fave NYC spots: Angelica Kitchen.
Alas, there was a bit of a wait. Knowing that Angelica is BYOB, though, we thought it would be fun to hop over to nearby Liquiteria for some juice with which to make mocktails.
We settled on Liquiteria's famous grasshopper, a pineapple, mint, wheatgrass concoction that's always a winner:
Me with the booty:
We picked up some fizz, and returned to Angelica to claim a table. We were ravenous!
To say I worship at the Angelica altar is really no exaggeration. With its emphasis on wholesome, organic cuisine, it's cozy setting, it's friendly wait staff, it's extensive menu (which features raw AND cooked options — just the way I like it!), not to mention it's famous vegan cornbread, Angelica is high on my list of favorite NYC dining spots — even, dare I say it, a contender for #1 ranking! My fave dishes include the thai me up (a raw carrot and daikon dish), the curried cashew spread, the roast vegetable salad, the hearty combo bowls (wherein you can pair a grain, veggies, sea veggies, and beans in any combination you like), and the pantry plates (wherein you can likewise pair up cold appetizers, spreads, and salads). Angelica's millet, cooked in carrot juice, is notoriously incredible, so I usually opt for a combo bowl with millet as the base. In celebration of spring weather, though, I was more in the mood for a cool plate of raw and cooked foods.
Before I get to the chow, though, let me show you our mocktails! One part grasshopper, one part fizz, these were stellar:
Can you tell I'm a happy camper?
Kath and I began with Angelica's signature walnut and lentil pate, served with veggies: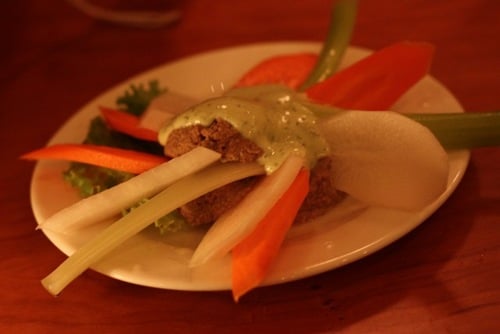 …which was sweet, tangy, and salty (in a good way) all at once.
I then moved onto a pantry plate with hummus, simple salad, roast caulifower, and baked tempeh. I don't tend to eat tempeh too often, but it is my favorite soy dish, and I love the way Angelica prepares it, with a simple marinade. The goods:
Yum!
Later that evening, Kath and I met up with Maggie, Shane, and my homie, Mel, for cocktails and mineral water at Flatiron Lounge. And as we split a cab uptown, I introduced Kath to the incomparable joys of Bonobos coconut chai. She swooned, I swooned. The end.
Fast forward two days later, and I was still dreaming of Angelica's wonderful cuisine–especially that walnut and lentil pate. Now, I've flipped through the Angelica cookbook before, and noticed that the pate is all cooked: the lentils are cooked, and the walnuts roasted. I'm cool with that, but I did think it would be fun to raw-ify the recipe a bit, using raw walnuts instead of roasted ones (added health benefit: roasting nuts can bring out rancidity, so while it's 100% cool to enjoy them this way once in a while, you may want to opt to eat them raw when you can).
I also happen to know that the original pate calls for quite a bit of sauteed onion and garlic. Kudos to Angelica; neither Kath nor I were offended by the taste, and neither of us are garlic fans — let alone onion fans!! To bring that bit of onion to my own version, I simply used a touch of onion powder; keep in mind that you certainly could add some fresh onion to it if you like.
Could you make this all raw by using sprouted lentils? You sure could. I have a serious problem with sprouted legumes–the starchy, hard texture just kills me–but for those of you who dig them, go for it.
Here's the recipe:
Gena's Walnut and Lentil Pate (yields 1 3/4 cups)
1 cup raw walnuts
1 1/2 cups cooked lentils
2 tbsp water
1 tbsp tamari or nama shoyu
2 tbsp lemon juice
1 tsp tarragon, dried
1 tsp thyme, dried
1 tsp parsley, dried
1/4-1/2 tsp onion powder (or a bit of fresh onion, chopped, if you like)
2 tbsp extra virgin olive oil
Place walnuts in a food processor and process till they're ground finely. Add all remaining ingredients except for oil and process till smooth. You may need to scrape down the sides of the bowl a few times, and you may also need to add a little water to thin it. After the mix is well combined, add the olive oil in a thin stream with the motor running, reserving just a drizzle to top the spread with.
Serve this with crudites, pita chips, or in raw collard wraps for a healthy and exceptionally protein-packed treat!
My version:
Angelica's version: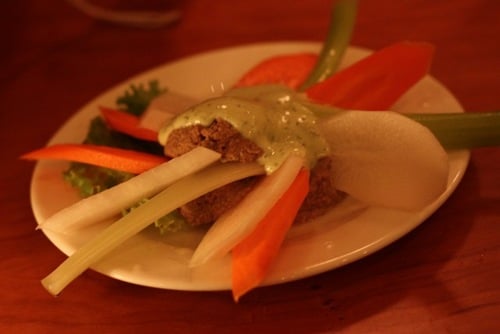 So I didn't have a fancy tofu dill sauce to top it with, and it's not quite as pretty, but I think it turned out alright. And it sure tasted delicious!
A few of you have asked me lately if I always note when a dish is miscombined. I don't — I think the effect of that is to lessen a good meal, and you all know by now that I think combining should be a selective process — but I will start tagging well combined dishes. This pate isn't well combined by more complex standards, but from a simplified standpoint, it's fine: beans are part protein, and nuts are also proteins.
This is by far one of my favorite dips so far, and I hope you all get a chance to enjoy it soon. I love using restaurant food for kitchen inspiration, and when the restaurant in question specializes, as Angelica does, in precisely the kind of food I love to make, inspiration comes easily.
I hope you all had a wonderful holiday, and will be back soon.
xo