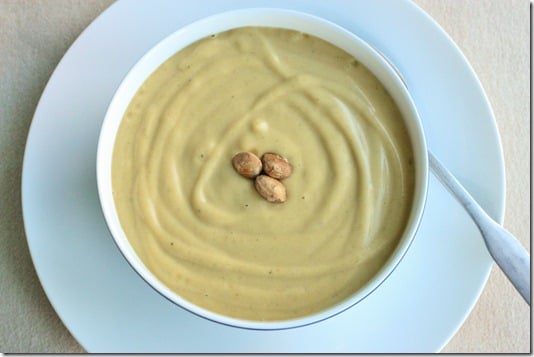 Sacha inchi may be my favorite foodie find of the year. Plukenetia volubilis, which also goes by the name of "mountain peanuts" or "Incan peanuts," and is native to the Amazon rainforest. Sacha inchi seeds are good sources of protein, but their main nutritional claim to fame is the fact that they are one of the richest plant-based sources of Omega-3 fatty acids, which may play a vital role in cardiovascular health and in fighting inflammation. A bottle of sacha inchi oil is 48% Omega-3 fatty acid—a stellar Omega 3:6 ratio! (For more on Omega 3 and Omega 6 fatty acids, check out this post.)
My favorite source for all things sacha inchi is the wonderful Sacha Vida company, based here in DC. I've featured their oil before, in my raw Brussels sprout slaw: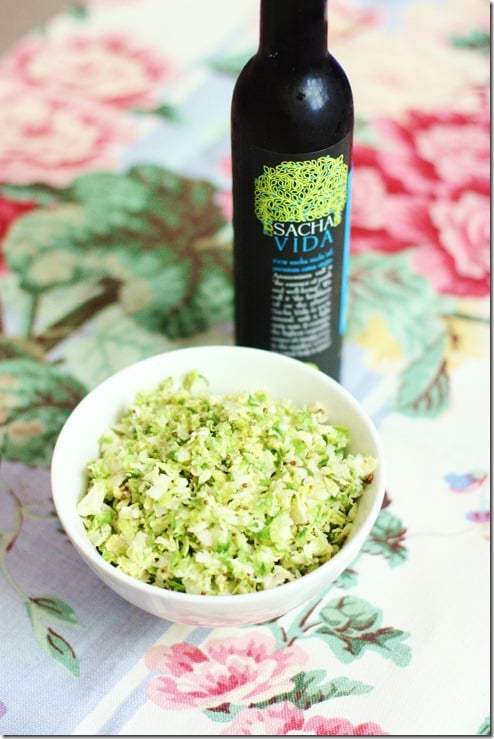 I adore sacha inchi seeds as well: if you've never tried them, I recommend seeking them out! You can find them through Nuts.com, The Raw Food World, or Vega, and I believe they'll be on the way from Sacha Vida soon! The "jungle peanut" name is apt; they taste quite a bit like peanuts, especially when roasted. Some folks find that they're slightly "fishy," as are most Omega-3-rich foods, but I don't personally detect that: I just taste a unique, nutty flavor.
The soup I'm about to share happened by accident. I had an acorn squash, which I wanted to turn into a simple, minimalist soup. I also wanted to make it a little rich and creamy, so I though it might be good to blend in some cashews or walnuts. But then I spied some of the sacha inchi seeds in my pantry and thought, why not make things a little more interesting? As it turns out, the rich, roasty sacha inchi seeds paried perfectly with the sweet flavor of acorn squash, and the rest is history.
The good news about this simple fall bisque is that you do not have to use sacha inchi seeds at all, especially if they're hard for you to find. Just use peanuts instead! And if you do happen to sample some sacha inchi seeds soon, I hope you'll appreciate the complexity and health properties they lend to this warm, sweet dish.
Acorn Squash Bisque with Roasted Sacha Inchi Seeds (vegan, gluten free, soy free)
Serves 2-4
2 acorn squash
1 tbsp coconut oil
1 yellow onion, finely chopped
Sea salt salt and ground pepper
1 3/4 cups organic vegetable broth
1/4 cup hemp or almond milk
1/3 cup roasted or raw sacha inchi seeds or roasted peanuts (or 1/4 cup peanut butter)
1. Preheat oven to 450 degrees. Slice squash in half along the equator and scoop out the seeds with a spoon. Line a baking sheet with aluminum or parchment, and place the squash, skin-side-down, onto the baking sheet. Sprinkle with salt and pepper. Roast for 35-45 minutes, or until the squash is very tender and skin can be pierced with a fork. Roast in oven for 45-50 minutes, or until flesh is tender and skin is starting to turn golden brown. Remove from oven and allow to cool. Once it cools, scoop the flesh out of the skin and set the flesh aside (you can discard the skin).
2. Heat oil in a pan over medium heat. Add the onion and sautee until golden and tender (about 10 minutes).
3. Transfer the onion and squash to a blender. Add the broth, almond milk or hemp milk, and sacha inchi seeds. Blend till very smooth, season to taste with salt and pepper, and blend again. Serve warm, with a drizzle of sacha inchi oil and/or extra seeds as garnish!
So rich, sweet, and delicious! Try it soon, and don't be afraid to use the peanuts or peanut butter if that's what you have.
Speaking of squash, I was recently given this amazing squash as a gift.
What does it remind you of?? I saw this:
So cool!
Does anyone know what kind of squash it is? I think it's a green hubbard, but I'm not an expert! Anyone?
xo