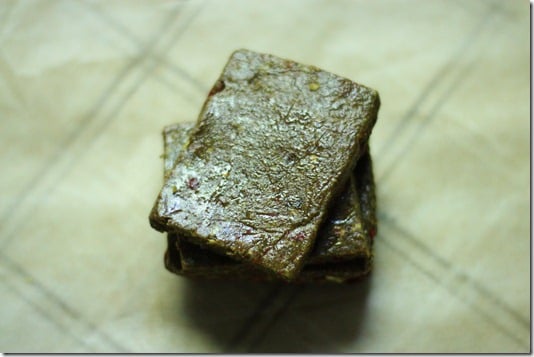 Have you ever made snack bars in your Vitamix? I've always known you could, since people make plenty of raw "ball" recipes in high speed blenders. But it always seemed to me that making them in the Vitamix would be too hard, that they'd either turn out too crumbly or too mushy, and that cleaning the darn thing would be such a pain that I'd end up wishing I'd just picked up a snack bar at the student center instead.
While there's no real reason to use a Vitamix instead of a food processor for snack bars—either one will work for this recipe—I was curious to see how it would work, and whether it would be faster. The results are in: it was faster, and it was not the major headache to clean that I thought it would be! In fact, it was ridiculously easy, and the resulting snack bars—a superfood mix of hemp, goji berries, oats, almonds, coconut oil, and a touch of sweetener—are absolutely delicious.
It really couldn't be easier to throw these bars together. Allow me to walk you through it.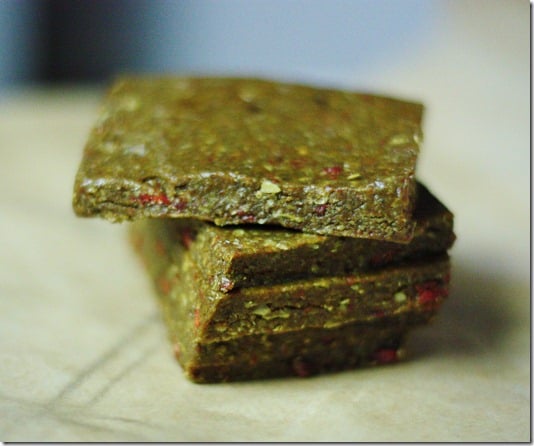 Almond, Oat and Goji Berry Protein Bars (vegan, high raw, gluten free with suitable oats, soy free)
Makes 8 Bars
1 cup almonds, raw (not soaked)
1 1/4 cup rolled oats (purchase GF certified if you have a gluten allergy)
1/4 cup chia seeds
1/4 cup hemp protein powder
Pinch of sea salt
2 tsps cinnamon
1 cup goji berries
2-3 tbsp coconut oil
1/4 cup agave nectar or maple syrup
*Superfood ingredients courtesy of Navitas Naturals!
1. Place almonds, oats, chia, protein powder, sea salt, and cinnamon in the Vitamix. Grind (with the power on medium high) till the mixture is ground up, but still has texture (you don't want a powder!).
2. Whisk together the coconut oil and agave or maple syrup. Add the goji berries to the Vitamix, along with the oil and sweetener. Turn the motor on again, starting on low power and raising to high. Use the tamping attachment to help the machine out as it grinds it all up. It'll make noise and get angry, but it'll do the job!
3. When the mixture is well mixed–that is, the gojis are basically broken up and it's taking on the texture of a Larabar or other raw snack bar when you squeeze a bit of it in your fist–turn the "dough" out onto a piece of aluminum foil or parchment and cover with another sheet. With a rolling pin, flatten it out between the sheets and refrigerate for at least 1 hour. Cut into bar shapes when it's firmed up, and wrap up with cellophane or parchment to store! They should keep in the fridge for a week, at least.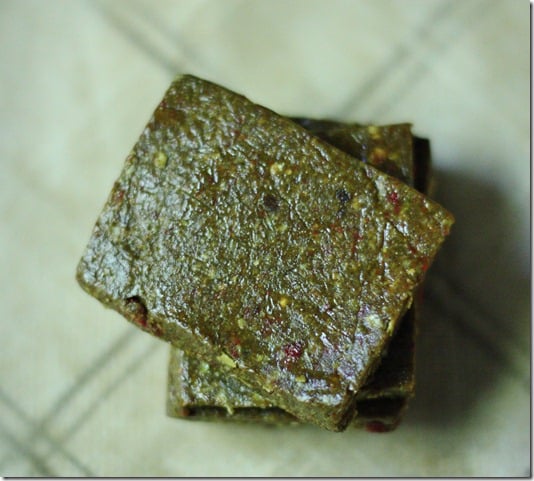 A couple of things about this recipe:
1. Goji berries are expensive. I happen to have a ton of them because I got some samples from my friends at Navitas Naturals, who provided all of the superfood ingredients in this recipe! And then a friend of mine purchased a bag, decided she hates goji berries, and gave it to me. So it's a goji berry explosion at CR headquarters, and I need a way to eat them that doesn't involve sprinkling them on chia pudding. If you don't have goji berries, or can't afford them, you can use raisins, dates, or dried cherries.
2. You can follow all of these instructions using a food processor instead, no problem. As I said, the recipe works either way!
3. Rice protein, or any other vegan protein you have, is a fine substitute for hemp protein! Hemp seeds, chocolate chips, and cacao nibs would all be great additions. Be playful, and enjoy.
4. To clean your Vitamix, just let some soapy water sit in it for about an hour after you mix. Then clean as directed.
So before I go, I wanted to get some feedback on upcoming blog content. I'm heading into a very, very hectic semester that includes the usual course load, MCAT prep, new and exciting work with a local health practitioner (which I'll hopefully share more about in the coming months), volunteer work, and CR. So far this month, I've made very little headway in the realm of "recipe development"; I'm not home a lot, and when I am, it's late and I'm tired and I usually have genetics problems to work on.
So this leaves me at a bit of a creative standstill with food. As it just so happens, I will have a new recipe for you tomorrow, but lately, the stuff I'm living off of is really, really simple. In the past, I've been adverse to blogging about my meals in a "WIAW" style—I don't like meticulously documenting my food with photos (I find that level of attention/diligence a little uncomfortable), and I also know from some experience that it invites a tremendous amount of criticism, ranging from "that portion size looks tiny to me" to "I can't believe you use agave in your food!"
That said, such comments are not a norm from this very supportive, special community, and so I'm wondering if you guys would be OK with me showcasing more of my everyday meals? Not all the time, of course: cooking is my #1 creative outlet, and I make recipes out of joy, not solely to post on this blog, so you can count on recipes, too. But I was thinking that, starting next week or the week after, I could post some of my "packed lunches," a la Valerie, along with more of the simple food I make for dinner and snacks, and tips on planning ahead. I seem to have a ton of student readers, so I'm guessing this might actually be welcome. And aside from all that, it'll give you a sense of how I create whole, balanced plates.
What'd you guys think? OK with some repetition and simple stuff? Like packed lunches? Or would you rather I post less, but show up with more creative food when I do? I'm all ears…
xo