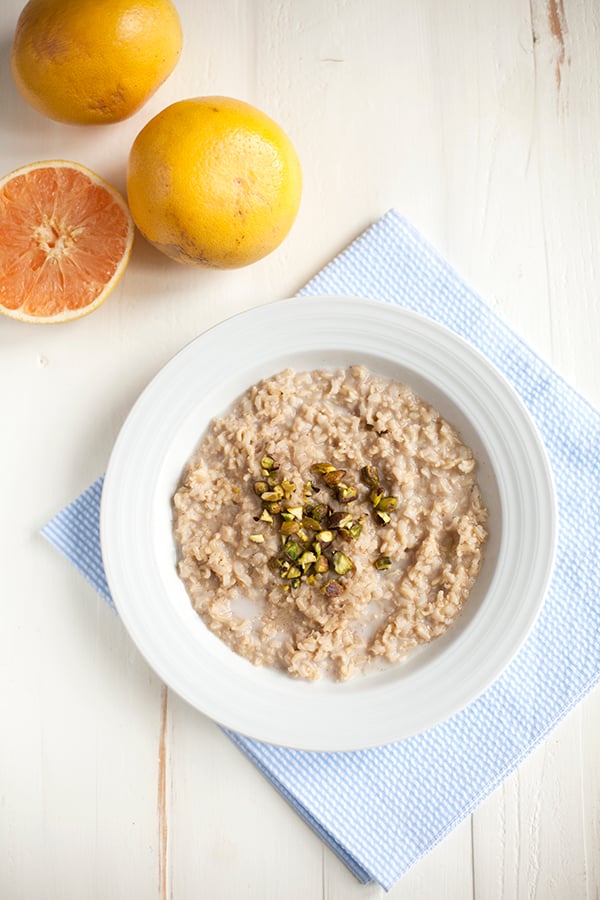 Rice. In all of my enthusiasm about trying new whole grains (lately, buckwheat) or using ancient grains in my recipes, I sometimes forget about simple, wholesome, nourishing rice. It was the first whole grain that I taught myself how to cook on my own (burning many a pot and pan), and it was pretty much the only whole grain I grew up with.
For this reason, rice has a very special and comforting place in my heart. Just the smell of it brings back memories of my grandmother's kitchen; she used to simmer rice with broth and butter and then top it with glazed, pan-popped cherry tomatoes. It was also, of course, a staple food at Greek Easter, though not in vegan recipes. This weekend, I hope to whip up a batch of my vegan avgolemono as a tribute to the holiday.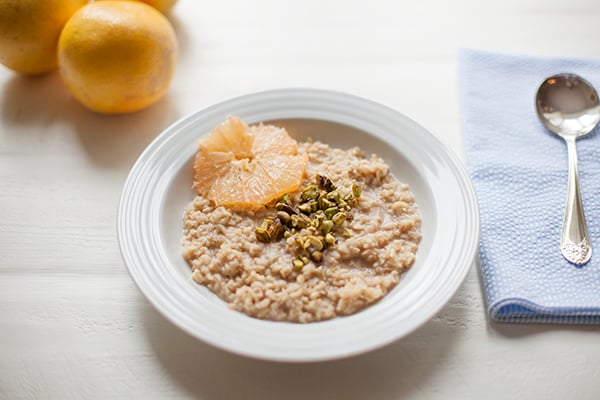 But first, I'll be busy enjoying this lovely breakfast porridge, which is made with sbrown basmati rice, almond milk, and spices. It's a little more time intensive than some of my porridge recipes, because I soak and toast the grain before I do anything else. I've found that this gives the best results with basmati rice, and it's the sort of ritual that can feel comforting if you make it a habit.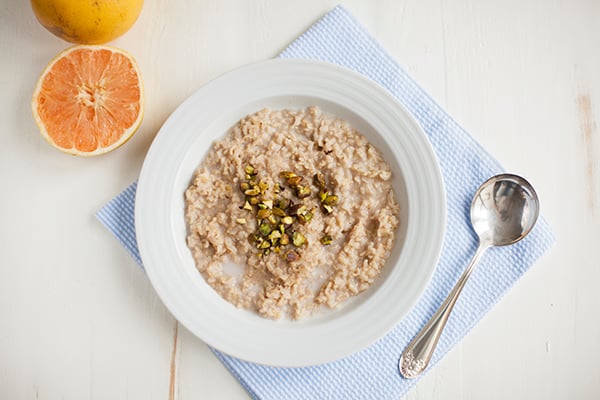 In fact, as I made this recipe, I realized how nice it was to give some real time and attention to breakfast. I'm so accustomed to hurriedly cooking up oats or oat bran these days. It's all good (I never complain about oats), but once in a while, a more time-intensive porridge is a good change of pace. And, once you do prepare this particular recipe, you can enjoy leftovers for days to come.
As you'll see, I give instructions for cooking the rice before you actually make the porridge. It would, I guess, make sense to cook everything all at once, but in some ways I like keeping the rice cooking separate because you can do it a day in advance. Or, you can cook a double batch, devote half of the rice to this porridge, and half to dinner or lunch recipes (that's actually what I did when I whipped this up today–and now I have both porridge and pilaf in my fridge, ready to keep me full for a couple of days). So, forgive the extra step–it's all for the sake of giving you a little more freedom!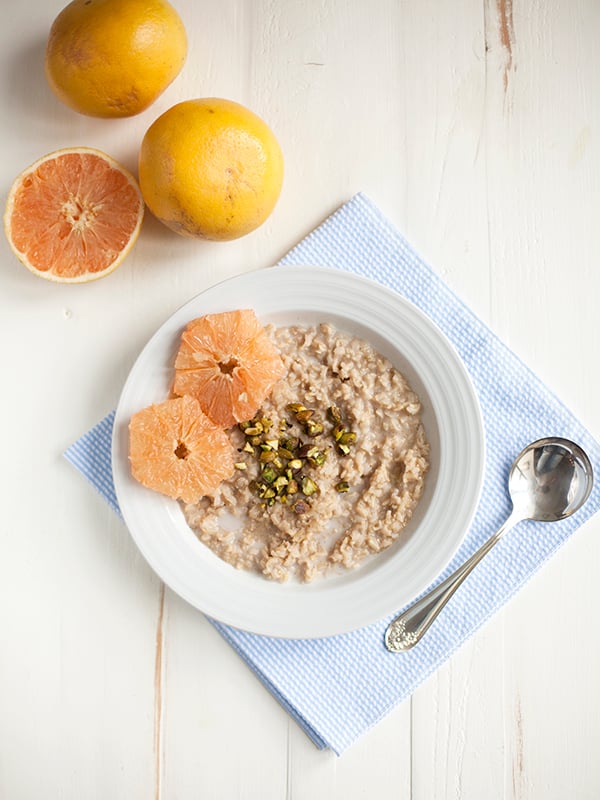 Basmati Rice, Cardamom, and Pistachio Porridge with Grapefruit (gluten free)
Author -
*For the cooked rice*:
1

cup

brown basmati rice

2

cups

water

1/4

teaspoon

salt

2

cinnamon sticks

1

pod star anise
*For the porridge*:
4

cups

cooked brown basmati rice

as per the instructions above

1 1/2

cups

almond milk or non-dairy milk of choice

1/2

teaspoon

ground cardamom

1

teaspoon

vanilla powder or extract

2

tablespoons

maple syrup

1/4

cup

chopped

shelled pistachio nuts

1

grapefruit

sliced or sectioned
Rinse the rice well and place it in a large bowl. Submerge it in enough water to cover it by 3-4 inches, and soak it overnight. Before cooking, rinse it again and allow it to drain.

Heat a medium-sized pot or Dutch oven over a medium-low flame. Add the drained rice and toast it, stirring constantly, until the rice is dry and smells slightly nutty.

Add the two cups of water, salt, cinnamon, and star anise to the pot. Bring to a boil and reduce to a simmer. Cover the pot and simmer for 30 minutes, or until all of the water is absorbed. Fluff the rice gently with a fork, cover it, and allow it to rest for 10 minutes. You can refrigerate the rice overnight if you'd like to prepare it in advance, or you can proceed to the next step.

To prepare the porridge, add the almond milk, cardamom, vanilla, and maple syrup to the pot. Bring the mixture to a simmer once again and allow it to cook for 10 minutes, or until it's thick and creamy and most of the milk has been absorbed.

To serve, divide the porridge into four bowls. Top each with a tablespoon of pistachio nuts and some grapefruit slices or sections.
I love the contrast of this porridge. The sweetness and richness of the rice is balanced perfectly by the tart grapefruit and the bit of crunch from pistachios. It's such a good marriage of ingredients.
Much as I obviously love rice, you could use other whole grains, like quinoa or buckwheat, in the recipe as well. And if you like, you can substitute almonds or cashews for pistachios. Whatever you've got handy. Just don't skimp on the spices–they're what make the porridge sing!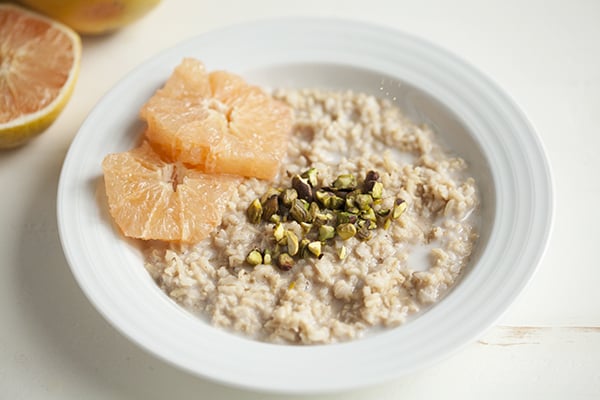 Enjoy this warm, comforting bowl before citrus season passes. And I hope you all have a great evening.
xo