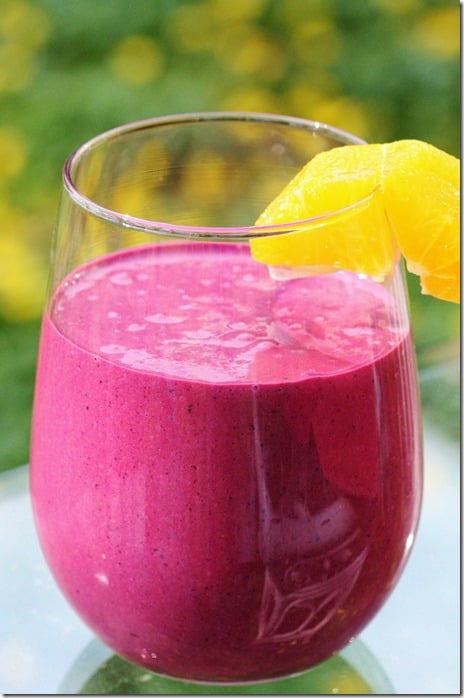 Yesterday, after posting a scrumptious new recipe beet and hemp granola, I warned you that you'd soon be seeing another recipe that made sneaky use of beets. Why? Because beets are delicious, filled with antioxidants, and in spite of that a lot of people have a slight or a strong aversion to them (Valerie, I'm a-talkin' to you). I can see why: if you don't cook them properly, beets can get slimy, mushy, or not get soft enough. The color can be foreign, and strange. So, just as I love to come up with fun ways to make my readers get comfy with kale, it's now my mission to warm you all up to beets, one recipe at a time.
While I was in NOLA recently, Chloe showed me a recent New York Times recipe for a beet and berry smoothie. I thought it looked fantastic, though of course I thought the suggestion of yogurt was unnecessary—glad they offered up coconut milk, too! I immediately thought I'd like to try the recipe at home, and yesterday, in the midst of biochem cramming, I finally did.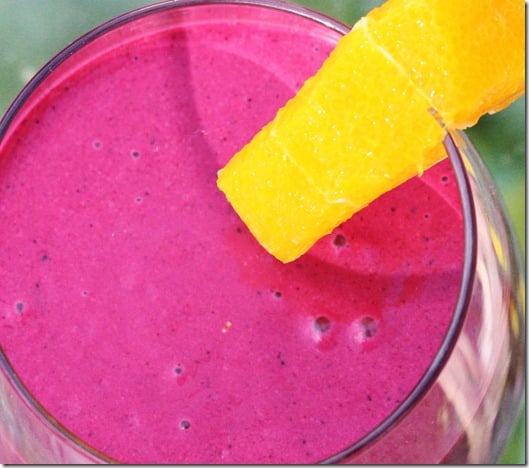 If you think that beets are a odd smoothie ingredient, I promise you you'll change your mind after you try this drink. The sweetness of the beets blends perfectly with the tartness of the berries, and some fresh orange brings it all together (I opted to use whole orange rather than OJ, which is in the Times' recipe). I also used homemade  almond milk, which made it very creamy, but you can also use commercial almond milk and a tablespoon of hempseeds for the same kind of effect. You can also modify which berries you use based on taste, and substitute pineapple or mango for the orange. No matter what, you'll be delighted with this refreshing and subtle concoction!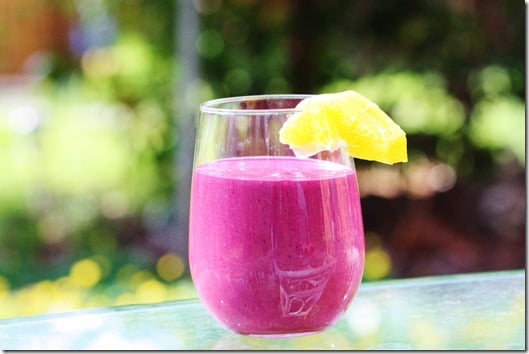 Beet and Berry Smoothie (raw, vegan, gluten free, soy free)
Serves 1
1 medium beet, steamed, roasted, or raw (if you don't have a high speed blender, use steamed or roasted)
1 cup fresh or frozen mixed berries
1/2 cup fresh orange, sectioned
3/4 cup homemade almond milk or 3/4 cup commercial almond milk and 1 tbsp hempseed
Optional:
stevia or dates to increase sweetness
hemp, rice, or pea protein for a protein boost
greens
added nut butter/seeds for extra fat
Blend all ingredients together, and serve with orange sections for color!
Speaking of color, I think this drink goes beautifully with the new spring foliage in the backyard behind Hobbit House, don't you?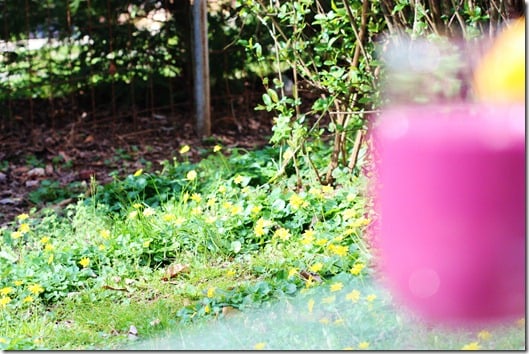 This is a wonderful transition recipe for springtime—it still features wintery produce in the beets and citrus, but tart berries are a prelude of May and June. And if you choose not to use frozen berries, it'll be a warmer temperature—a good tip for those of you who haven't quite gotten the unusually warm weather that we've been having in D.C.!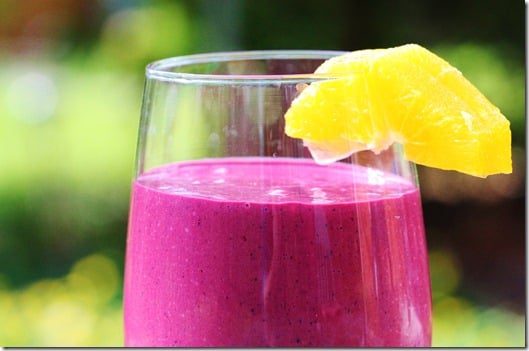 Beets are rich in folate, vitamin C, and compounds called glycine betaines that may have a positive impact on cardiovascular health. But when they taste this good, I hardly need to give you another reason to enjoy them

Happy weekend, friends.
xo