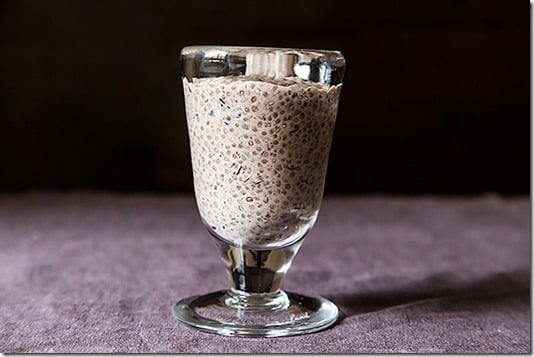 By now, you all know that I'm slightly obsessed with chia pudding. It's a favorite breakfast, snack, and dessert around these parts; just look at my chia seed recipe tab to see how many variations I love and make often. Chia puddings are quick, versatile, nutritious, and portable. This makes them an ideal food for students (I've eaten more chia pudding in the last year than I ever have in my life), but you certainly needn't have a syllabus in hand to appreciate how tasty and simple this vegan dish is.
Like many kinds of recipes, chia pudding has a learning curve. The most common mistake is to make it either too runny or too thick. My own chia puddings often need some thinning with non-dairy milk to reach the right consistency. If you've ever made chia pudding and felt as though the texture just wasn't right, you could probably perfect it with just a little tinkering!
Today, I'm talking all about chia pudding: the process of making it, the benefits, and, of course, I'm presenting a brand new recipe. If you've never thought to pair blueberry and cardamom together, I highly recommend trying the combination out. And what better inaugural recipe than this one, which is simple, tasty, and elegant?
Tonight, head on over to Food52 to check out my new recipe for blueberry cardamom chia pudding. I hope you'll love it as much as I do!
xo