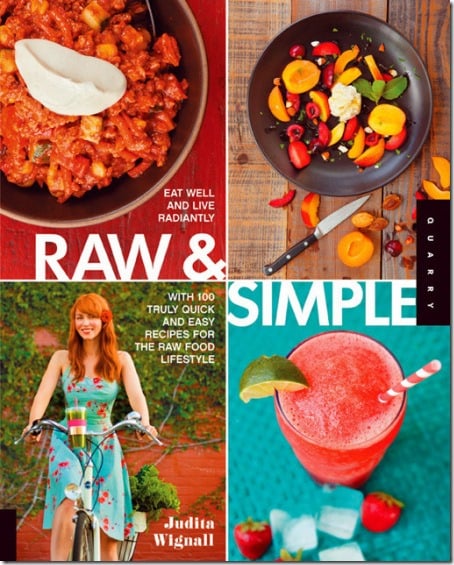 When I was still doing nutrition coaching, I was often asked by my clients how I managed to be so creative in the kitchen. They'd tell me how hard it was for them to come up with new, inspired recipe ideas, and describe how easy it was to fall into a routine of the same foods, day in and day out.
The honest truth? I'm not always that creative. Like everyone else, I fall into ruts. This isn't necessarily a bad thing—there's a lot to be said for simply listening to your body, and, if it requests favorite staples, giving it what it asks for. But I also love to create new and unusual dishes, and as a student, I've had little time and energy for it. Thankfully, I was given a new raw cookbook last week that is stoking my creative culinary fires and getting me back into the kitchen. It's all thanks to Judita Wignall.
Judita has been blogging for as long as I have (maybe longer?) and I've actually met her in person; we were both eating at Pure Food and Wine on the same night a few years ago! I have always admired the beauty of her food and her cheerful approach to sharing it. She always seems to be beaming with enthusiasm. See?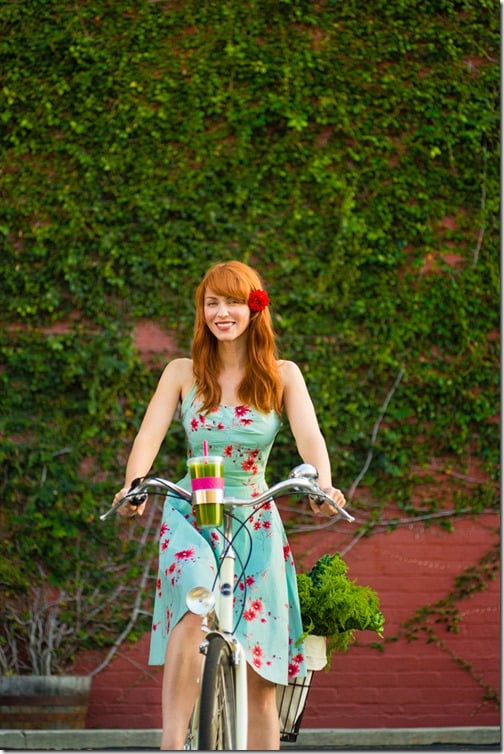 Judita is already the author of one book, Going Raw, which is a wonderful introduction into the raw foods lifestyle. Her new book's theme, however, appeals to me even more. It's titled Raw and Simple, and the goal of the book is to present quick, easy, and low prep raw recipes. The focus is smoothies, blended soups, salads, and basic entrees. I've always been a "low-prep" raw foodie, but my post-bacc has made me even more drawn to recipes that feature simple ingredients and preparation methods. The clean, streamlined ethos of Judita's new book appeals to me tremendously. It's worth noting that not all of the recipes are vegan—some do contain honey—but the vast majority of them are, and it's more than easy to replace the honey with maple syrup if you don't consume it.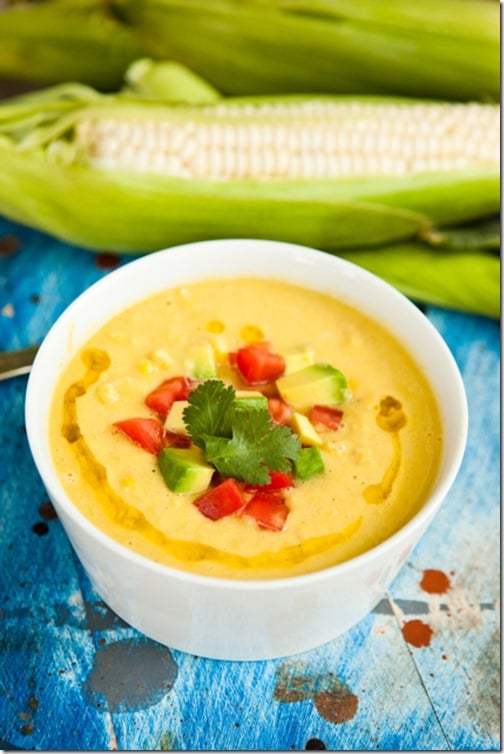 Raw Corn Chowder, © Raw and Simple by Judita Wignall, Quarry Books, 2013
Judita and I share a love of raw soups, avocados, leafy greens, and chocolate. We also share an appreciation for raw foods that doesn't veer into fanaticism or preachiness. Judita demonstrates her love of raw food through sharing recipes that she has clearly developed with love—not by pounding you with health factoids or dogma. I think she is the most effective and appealing kind of raw foods spokesperson!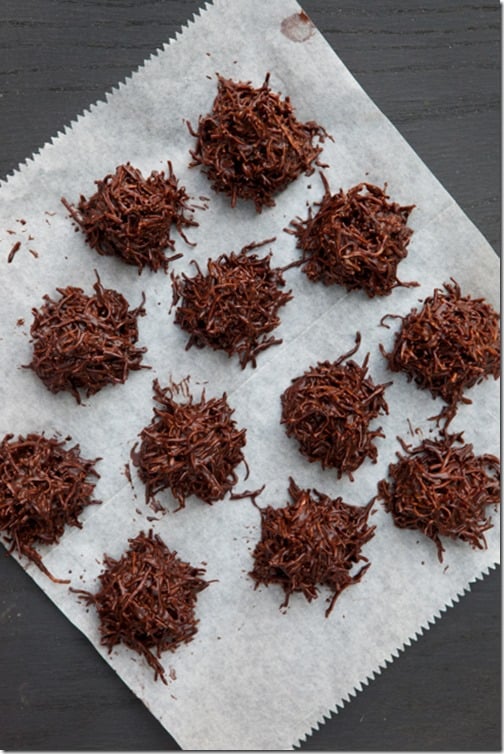 Choco-Haystacks, © Raw and Simple by Judita Wignall, Quarry Books, 2013
The book is also full of really beautiful photography and clear, concise instructions. A few of Judita's basic tutorials—for example, how to make coconut water kefir—are really helpful, and have inspired me to get a little more DIY than I have been lately!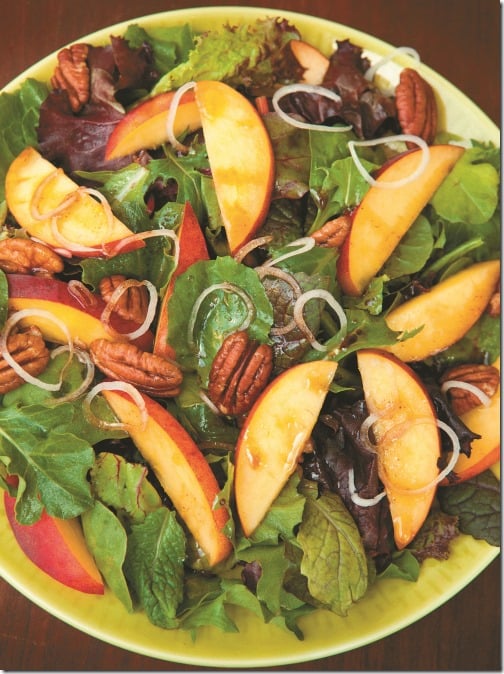 Sunny Peach Salad, © Raw and Simple by Judita Wignall, Quarry Books, 2013
It was very hard selecting a recipe to share with you guys—as you can see from the photos above, there were so many beautiful ones to choose from. In the end, though, I wanted to give you an example of the kind of quick, easy, yet absolutely delicious treats Judita is so talented at creating, so I'm sharing her recipe for walnut oatmeal raisin cookies. They take only minutes to prepare, and they're totally addictive.
Oatmeal Walnut Raisin Cookies by Judita Wignall. © Raw and Simple, Quarry Books, 2013.
Make sure there are no children in the room when you taste these chunky, chewy cookies because you might start cussing at how incredibly tasty they are. Or am I the only one who swears like a sailor when I eat something crazy good?
Makes 20 cookies
Prep Time: 20 Minutes
2 cups (200 g) walnuts
1 cup (30 g) (178 g) packed Medjool dates, pitted (soak for 15 minutes if they are very dry)
1 cup (80 g) rolled oats
½ tablespoon (7.5 ml) vanilla extract
1 teaspoon cinnamon
1⁄₄ teaspoon sea salt
½ cup (73 g) raisins
Additional
2⁄₃ cup (80 g) chopped walnuts
1⁄₄ cup (20 g) rolled oats
Put the walnuts into a food processor and process until they almost turn into walnut butter. Add the dates and process again until it becomes doughlike, then add oats, vanilla, cinnamon, and sea salt and process until well incorporated and doughy.
Transfer the mixture to a bowl and stir in the raisins.
Take one heaping tablespoon of mixture at time in your hands and shape into twenty balls. If your mixture isn't sticking together, sprinkle it with two teaspoons of water.
Spread chopped walnuts and oats onto a clean surface work area. Press the balls into the chopped walnuts and oats and shape into cookies.
Chill the cookies in the freezer for a chewier texture or in the refrigerator for a softer cookie.
Store in an air tight container in refrigerator or freezer for one month.
Yum! I hope you'll all check out the cookies, and, more importantly, that you'll check out Raw and Simple! A really great raw foods primer.
For more about Judita, you can:
Have a great evening, friends. Tomorrow, the tempeh tutorial I have long alluded to!
xo